Is Your Mobile App Not Making Any Money?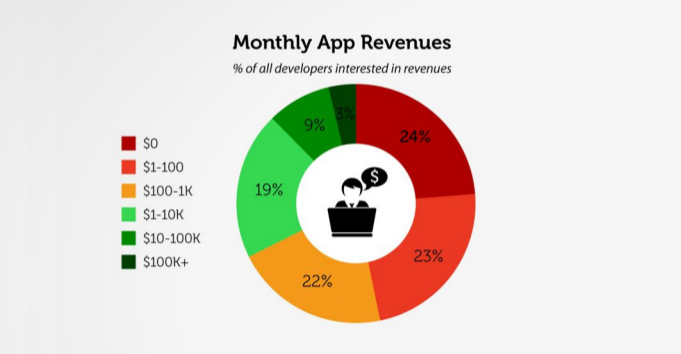 In the tech world, every app developer dream to build a mobile app that will transform their idea into enormous riches. That dream has led designers, developers and marketers around the world to spend countless hours into ideating, analyzing, designing, programming, and marketing their apps and games. Though the app stores continue to fill up with ever more mobile applications and have made a few Indie developers and companies immensely wealthy. The reality is that most of the app development businesses are not sustainable businesses. Let's take an example, according to reports Flappy Bird creator Dong Nguyen earned more than $50,000 a day from his little game before pulling it from the iOS and Android app stores. But, the vast majority of app developers inspite of having a unique idea, hardly manage to make anything at all.
Apps are not a gimmick, but a game changer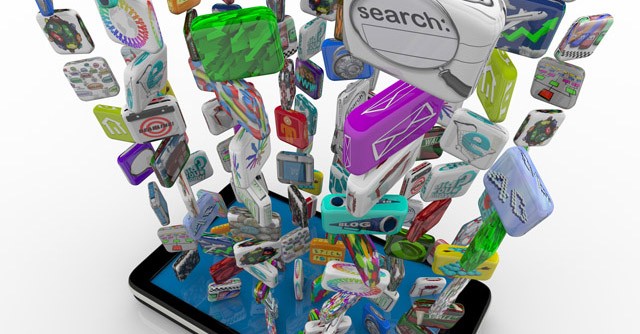 According to VisionMobile's Developer Economics report, half (50%) of iOS developers and even more (64%) Android developers are operating below the "app poverty line" of $500 per app per month. This report included the responses from over 10,000 developers from 137 countries worldwide, taking place over 5 weeks in April and May 2014. However, those developers and publishers who plan their app right from the ideation to launch earn thousands of dollars per app per month. Many apps in app stores that includes alluring designs, kink-free coding and receive a fair share of publicity seem to break out as a true blockbuster. And, promoting your app through various channels is one of the reasons that can make your app a big hit. Here are a few ways of promoting your app that can help iPhone/iPad developers and Indie publishers:
1. Look for a niche or an up-going trend: While brainstorming for your app check each and every accessible information on the Internet. Have a look what's people buying and if you think there's still some $ for yet another similar kind of app then go ahead, otherwise look for other category and come up with something that is not already on the stores. And, make the difference between an over-saturated market and an opportunity market.
2. More work does not mean more revenue: Get to know your competitor, be sure they don't have big advantage on you in advertising and promoting and make sure you'll get the real $ value of the hours you intend to put in your idea.
3. Check if your app is not already existing: This is probably one of the most common mistakes that potential developers do. Don't just spend hours, days and weeks, dreaming about what features and functionalities your app will have and how captivating will it look and so forth and so forth. If you have an idea – open app stores and spend some time to make a research.
4. You have 2 seconds to turn a visitor into a customer: Most visitors on your app will have had decided whether to buy or not after the first 2 seconds. However, its possible that they may stay longer on your app's page – even browse around to read features and functionalities, but they will rarely change their minds after that first impression.
Your most precious marketing assets are your icon, the app name and the very first line of app description. These are what the visitor will notice first while searching an app. If those don't convince them to buy your app, it's almost over for you. But, that doesn't mean that your screen-shots should not be convincing. If your app icon is catchy be sure your screen-shots are too – this is the next criteria that people look at and it let them decide either to buy now or move to another app.
5. Don't over-complicate: You might be a skilled programmer or a first-time app developer – that does not really matter – code is just code and sooner or later it gets written and does what you want the way you want it. What really matters is you should know that how much effort you should put into it and whether you can spend less time and get better quality in the same time. There's a ton of frameworks out there, some are commercially supported, but still free to use and some are community developed, which still provides you with lots of opportunities.
6. Decide on a business model: Before you put any time and effort into designing, coding, testing and planning for marketing campaigns. Be sure you know what your business model will be and you feel comfortable with it. It has the capability to either make your app idea a big hit or fail.
7. Make buzz about it: Now what? You are all done with designing, development and testing and you are planning to launch your app. Don't rush it! Many developers and publishers have a wrong perception that marketing starts after launch. But it's wrong, marketing start right from that day when you have decided to get your app work started. Pre- launch marketing is one of the important factors that should not be ignored. Apart from that most popular way is advertising it. However, many campaigns could fail to yield quantifiable results. And, if you are a new comer, hiring any skilled app marketer can help you in promoting your app.
Hope the above-mentioned points help you. However, many times, successful people make horrible decisions, but they also get back up with fresh learning from their failures and try something else. Move onto the next app idea if the current one does not get you results.