Jelly Bean nears 60% installation rate among Android users – KitKat accounts for just 1.4%
The latest data from Google shows a small gain in the number of devices running its newest KitKat flavor of Android, but Jelly Bean continues to be the variation that is seeing highest growth among users.
The latest figures put the installation rate of Jelly Bean among active Android devices — that is, those who use the Google Play Store app — at 59.1 percent, up from 54.5 percent last month. Two-month-old KitKat is still very much in its infancy with few rollouts so far, and that is reflected in its 1.4 percent adoption rate, which is up from 1.1 percent in November.
Gingerbread may be two years old, but it continues to account for a substantial chunk of users (21.2 percent), while Ice Cream Sandwich accounts for 16.9 percent. Google doesn't say how many active Android devices are out there, but we know that more than 1 billion have been activated to date.
For comparison, Apple's newest iOS 7 platform hit 78 percent adoption last month.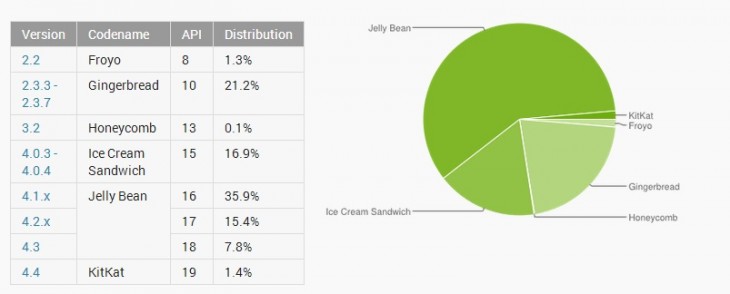 Get stories in your inbox twice a month.
Source: TheNextWeb (T.N.W)