Ed Tech Apps – What you can Expect by 2025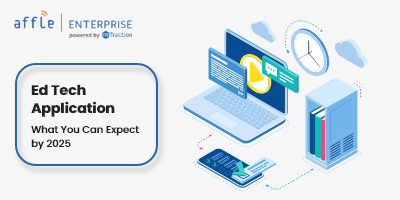 Education is the backbone of a country's workforce development and overall economic growth and prosperity. And today, the education sector stands the cusp of a digital revolution, thanks to technology. Although eLearning and mobile learning (mLearning) were present in the background for a long time now, the ongoing pandemic has pushed the entire world's education system into an indefinite remote learning experiment. 
The World Economic Forum states that as per the latest UNESCO stats, nearly "1.3 billion learners around the world were not able to attend school or university as of March 23, 2020."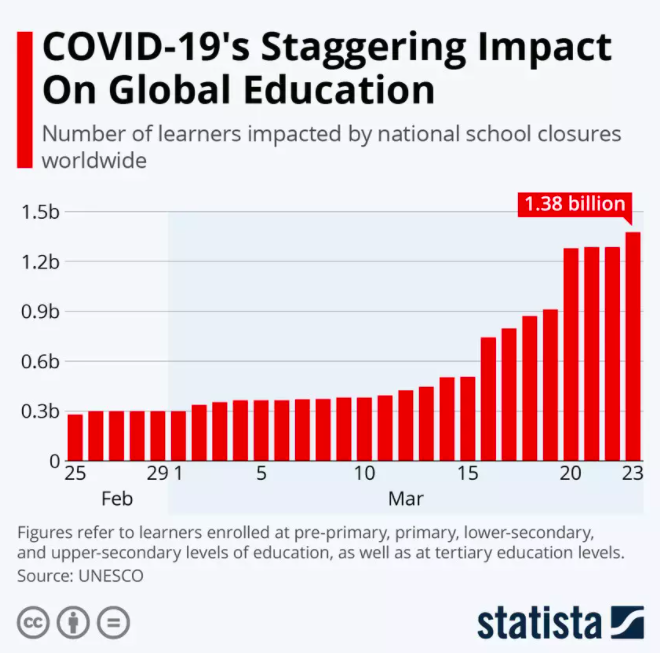 The COVID-19 pandemic not only wreaked havoc on the healthcare and economic infrastructures of over 200 countries, but it also left global education into a state of disarray. However, this presents an excellent opportunity for the Edtech industry. It's no wonder why VCs are increasingly investing in Edtech startups and Edtech app development!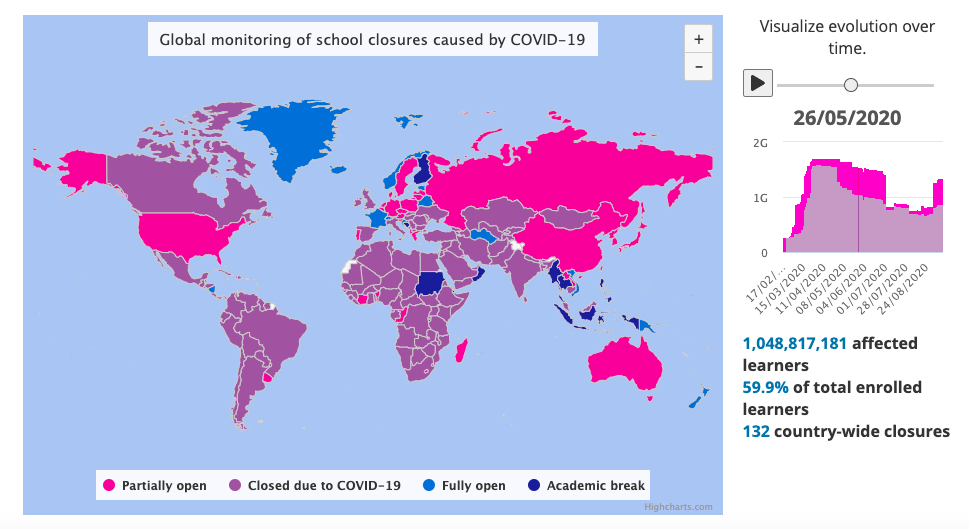 The Edtech market size
We've recently witnessed a significant shift in the learning curve, with teachers and students connecting via Edtech apps and mLearning platforms. Technology plays a crucial role in education delivery, content distribution, and the performance assessment of learners. 
Naturally, the Edtech sector, particularly Edtech app development, has witnessed a substantial investment and expenditure increase. HolonIQ predicts that the global Edtech funding will stand at US$ 87 billion by 2030. Projections show the e-learning market worldwide is forecast to surpass 243 billion U.S. dollars by 2022. In fact, the Edtech industry will likely triple in growth by 2025 to reach a net worth of US$ 350 billion – a whopping increase from being a US$ 107 billion market in 2015. 
As for India, the pandemic has proved to be a major driver for the country's Edtech sector. A report by RedSeer and Omidyar Network India stated that by 2022, online education solutions for classes 1-12 would increase 6.3 times to reach a market size of US$ 1.7 billion. It further maintains the post-K-12 market will grow 3.7 times, creating a US$ 1.8 billion market. 
Numerous factors contribute to the exponential expansion of India's eLearning market and the Edtech app development scene. The rapid proliferation of smartphones, increasing access to quality Internet services, a steady rise in disposable income of middle-income households, and a large youth consumer base are major drivers for India's booming Edtech industry.
Five ed-tech trends to look out for by 2025 
With emerging technologies like AI, IoT, and AR/VR fuelling Edtech app development, educators can now personalize learning experiences for students across the globe. As Internet access is penetrating every nook and corner of our world, the demand for innovative eLearning solutions is also skyrocketing. 
The biggest benefit that Edtech offers is cost-efficiency. After all, it is much easier to provide quality Internet services than set up a physical educational institute! This is why educational institutions and corporations are inclined towards Edtech app development now more than ever. 
If used right, technology can help overcome any problem and bridge the learning gap during such uncertain times. Here are five tech trends that will heavily influence the Edtech app development scene by 2025:
1. Artificial Intelligence
AI will be one of the leading technologies dominating the Edtech sector. The latest reports estimate that the global market for AI in education will grow at a CAGR of 47%, reaching US$ 3.68 billion by 2023.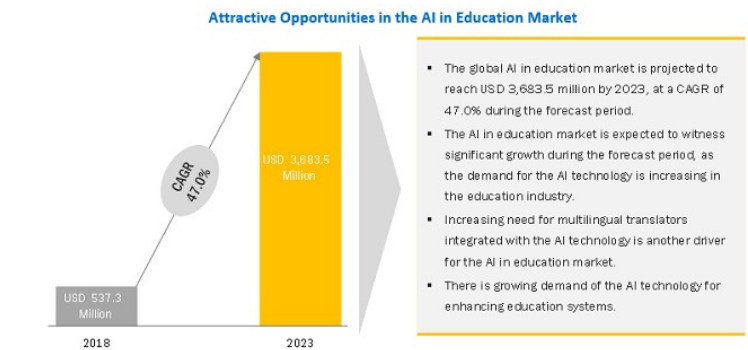 When it comes to Edtech mobile app development, AI can be used for content creation, personalizing learning processes, performance evaluation, automating grading, and real-time communication. Moreover, educational institutes can use AI applications like facial recognition to track attendance and prevent unauthorized individuals' entry into the campus.
2. IoT
Like AI, the Internet of Things (IoT) technology holds immense potential to transform the digital learning space. For instance, schools can use IoT sensors to share the performance evaluation reports with students' parents/guardians. They can also allow parents to keep track of their child's attendance in real-time.  
By 2023, the global market for IoT in education is projected to grow to US$ 11.3 billion at a CAGR of 18.8%. 
3. Blockchain
Blockchain is no longer limited to the BFSI sector. Today, it is gaining increasing popularity in Edtech app development, thanks to its decentralized and immutable nature. The global Blockchain market size will grow from US$ 3 billion in 2020 to US$ 39.7 billion by 2025, at a CAGR of 67.3%.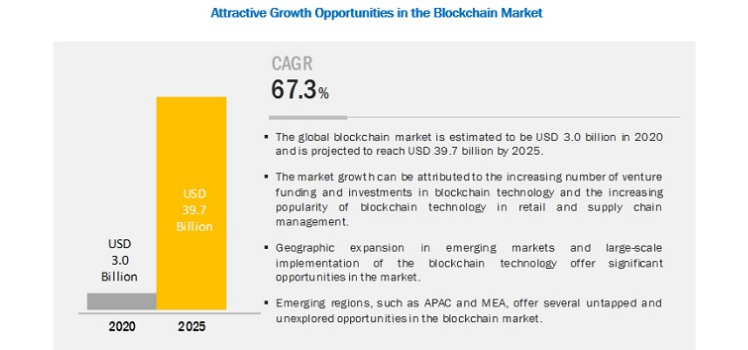 Blockchain tech can allow for delivering high-quality educational experiences to students. For example, Blockchain can facilitate communication between tutors and learners in a safe environment and enable data sharing between universities for student transfer, scholarships, and semester exchange. Institutions can use Blockchain ledgers to store sensitive information and records securely. 
4. Immersive Learning (AR/VR/XR)
Immersive Learning powered by Augmented Reality (AR) and Virtual Reality (VR) is revolutionizing education. AR/VR tech can create visually appealing learning environments by incorporating a mix of virtual elements and situations. The best part about Immersive Learning is that it encourages learning through experience. According to an Accenture report, experiential learning is a highly effective learning approach that can improve the learning quality and knowledge retention by nearly 75%.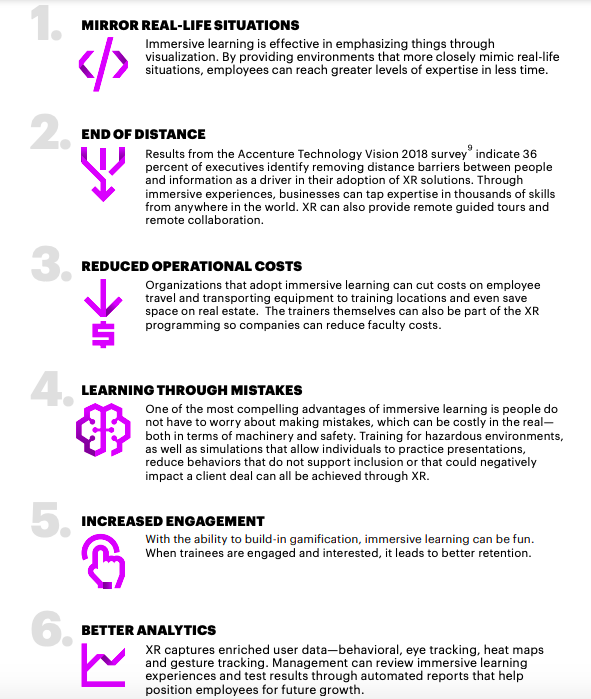 For example, biology students use Immersive Learning to view theoretical concepts in 3D and simulate critical surgeries to hone practical skills. 
5. Chatbots
Chatbots are the new rage across multiple industries, and why should education fall behind on adopting this trend!  AI-powered bots can understand the human intent behind queries, requests, and complaints, and respond accordingly.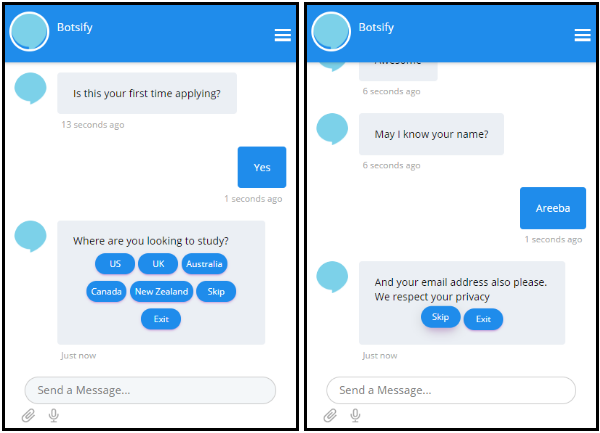 Educational institutes can integrate chatbots in their Edtech apps for enhanced user experience. AI-enabled chatbots can take FAQs to the next level by resolving user queries and offering real-time support. Since chatbots can communicate with humans, they can answer questions on different matters, including course details, course fees, etc. Apart from being excellent customer service tools, chatbots can pave the way for secure feedback, both for students and teachers. 
Wrapping up
Disruptive technologies have already begun to change the face of the education industry. The inclusion of emerging tech trends in the Edtech app development process brings forth new and exciting learning opportunities for students and working professionals. The best part – Edtech solutions fuelled by new-age technologies like AI, ML, IoT, Blockchain, etc., are making learning fun, inclusive, and affordable for learners everywhere. 
Get stories in your inbox twice a month.
We at Affle Enterprise grasp your business challenges & ideate a personalized user experience to solve complex business problems. Connect with our team at enterprise@affle.com for a quick mobile app development consultation.