How Mobile Apps are Transforming the Education Industry?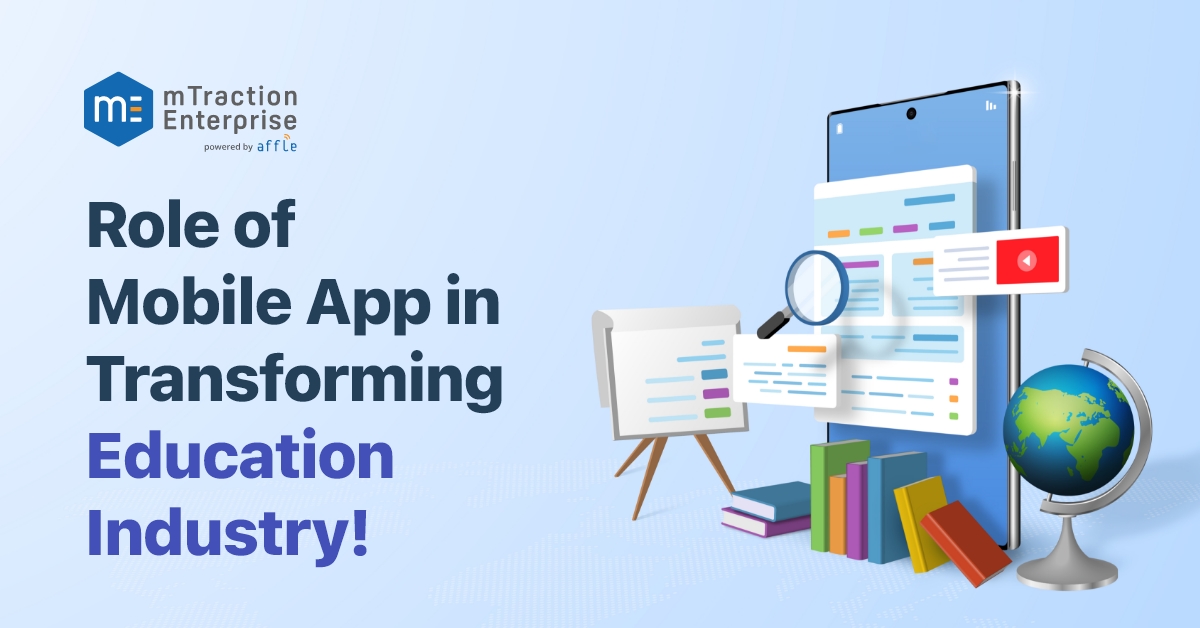 The 21st century belongs to technology, which has brought a dramatic turnaround in nearly almost all industries. It impacts all disciplines & industries, and the advent of technology has brought digital transformation to the education industry. The basis of this vigorous transformation has been the evolution of Smartphones and mobile applications. The current pace of technology is exerting profound changes in the way people live and work.
The educational system in the global arena has gone through a drastic change over the years. Education is the foundation of everything in the world. Additionally, Without education, a civilization would stop progressing & become still. According to recent statistics, mobile educational apps are the third most frequently downloaded mobile phone application, with the current rate at 8.47%. Besides, the number of educational apps on the Google Play Store and Apple App Store has spiked.
With the start of digitization, Education has seen a lot of changes in the past few decades. Education apps have been developed to provide one-stop solutions to students of all age groups with salient features. They also encourage the students to learn and gain more knowledge, despite any hurdles. With the advent of Technology and Mobile access, students can learn nearly everything anytime and anywhere.
According to Statista, Projections show the e-learning market worldwide is forecast to surpass 243 billion U.S. dollars by 2022. Nowadays, e-Learning mobile apps have created a buzz in the industry as most of the content on the internet is accessible through mobiles. The majority of people prefer the convenience that smartphones provide.
Here are some of the ways how mobile apps are transforming the education industry: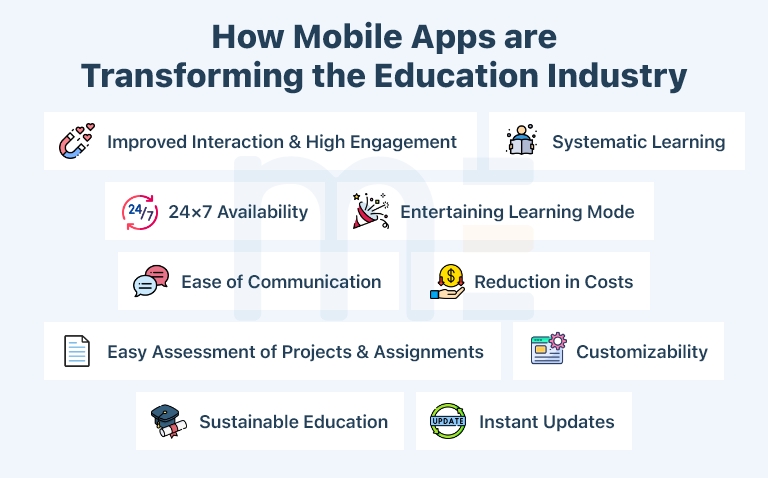 Improved Interaction and High Engagement –
The most important factors in the education industry are interaction & engagement. If students fail to engage with teachers or textbooks, they are likely to take more time to learn. The eLearning mobile app helps the students run with the pace of knowledge as it provides an enormous interactive user- interface.
Furthermore, one of the main reasons why educational mobile app development is transforming the education industry is by providing and adding an option of various creative games which led to brainstorming and allow unleashing of creativity. These apps are usually developed with a user-friendly interface and attractive design that led to improved interaction and high engagement. With the help of an educational app, students can interact 24/7 with their professors.
Educational apps have made learning systematic & more informative. Most schools and teachers follow a particular style of teaching that follows a well-defined syllabus & course structure. These education apps encourage systematic learning and allow students to learn with a new perspective and explore their interests at their own pace.
With mobile apps, there are practically no restrictions & no boundaries in learning and one can learn at any place and time. Mobile apps have made learning a lot more effective than traditional classroom programs as it is a fun, easy, and convenient process.
Just like you browse Facebook and chat on WhatsApp, education apps allow you to learn anytime and anywhere in the world 24/7. With the help of educational apps, students have full flexibility & access to information and study material 24/7.
Entertaining Learning Mode –
The eLearning mobile apps introduced 360-degree digital transformation in the education industry. It has made learning a fun experience with the feature of entertaining graphics, imaginative illustrations, and various games. Educational apps have made learning entertaining by featuring various types of games, puzzles & quizzes for the students to keep them busy and make the session interactive.
With the advent of technology, communication has become very easy & convenient. Educational apps help to establish an easy communication system between the students, teachers & parents that further help to increase the effectiveness of the educational system.
This feature of educational apps allows parents to track attendance, assessment reports, and other remarks about their child.
Another important feature of the educational app is customizability. Every educational organization has its own teaching modules, training modes, goals, and ways of educating.
With educational apps, educational institutions can customize the apps and ways of teaching in their way.
Easy Assessment of Projects & Assignments –
Gone are the days when teachers had to check hundreds of test copies or assignments. With mobile e-learning apps, teachers can easily conduct tests & assessments in various formats like long-answer, short-answer, multiple-choice questions, and more. These education apps also allow students & teachers to submit their assignments and evaluate them by providing grades with remarks.
Educational apps also support the elimination of papers & support the concept of saving paper. These apps also help to ease the work of collecting hard copies, managing them, and doing everything manually.
One of the most common problems that educational apps eliminate, and students face is missing important announcements and notices. With the advent of technology and mobile apps, one can fix this problem with instant updates & push notifications. With mobile apps, teachers and schools can instantly send notifications to students about rescheduling meetings, campus maps, events, and staff directories. This feature assures guaranteed delivery of notifications.
Mobile apps are transforming the education industry in several ways along with promoting sustainable education. Education apps limit the use of papers and other resources to create learning materials. Everything can be accessed online with a single click. Ultimately, these apps are making way for a greener and more sustainable environment.
In the case of learning via mobile apps, it can be said that the costs involved are cheaper when compared to the traditional learning system. Hence, it is undoubtedly an excellent option for those who cannot afford educational institutes above their affordable limits. On the whole, mobile apps make quality education available to everyone at a much-reduced cost.
Sum-up!
Get stories in your inbox twice a month.
We at mTraction Enterprise grasp your business challenges & ideate a personalized user experience to solve complex business problems. Connect with our team at enterprise@affle.com for a quick mobile app development consultation.