Short Guide for Top Seven eLearning App Development Trends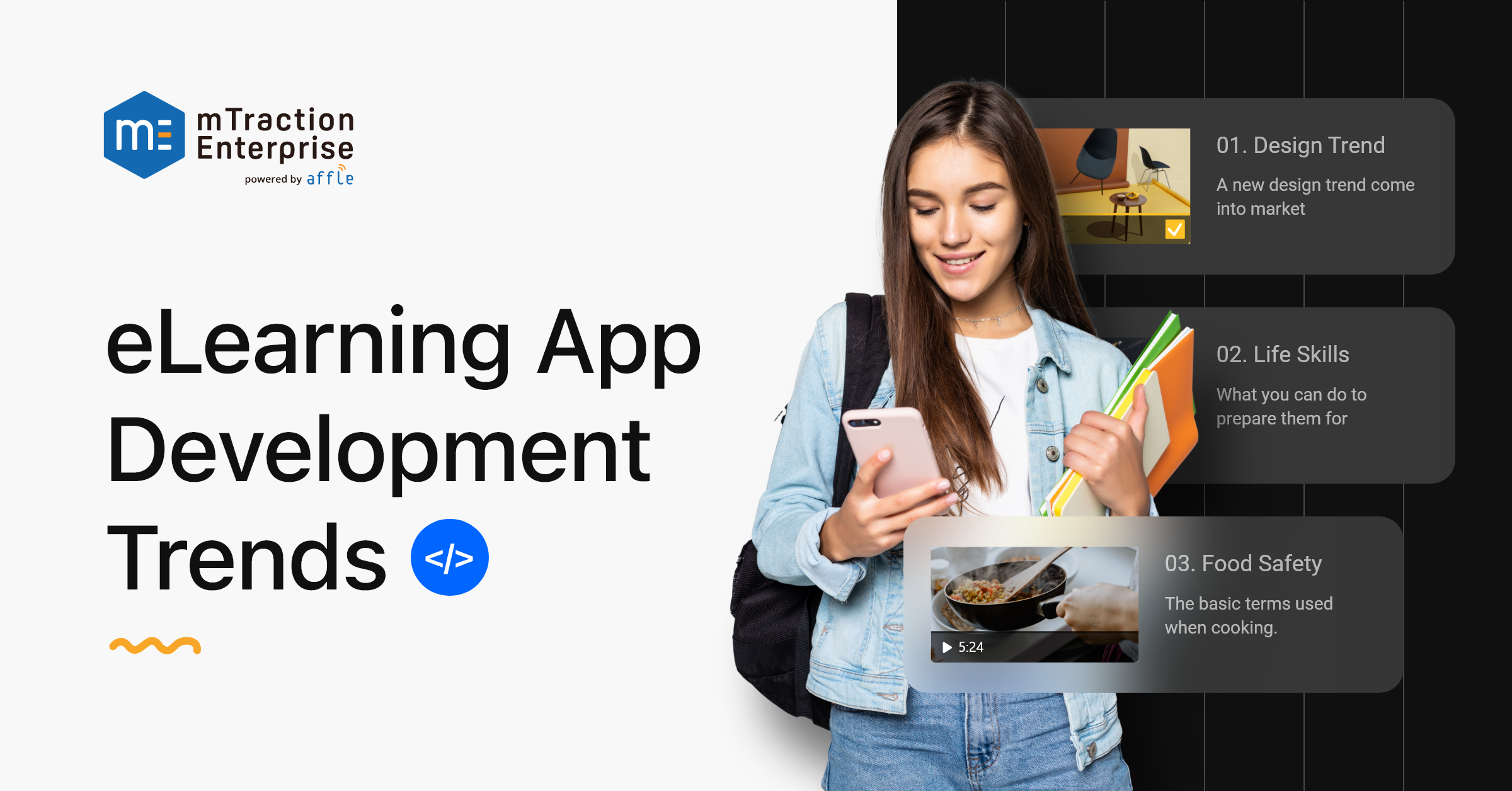 According to Statista, mobile apps have generated $188.9 billion in revenue via in-app advertising and app stores in the late year 2020, which is expected to increase in upcoming years. This is a tremendous opportunity for entrepreneurs. The current era of digitization denotes that entrepreneurs must invest in the mobile app market to run in the long haul. Before investing in mobile app development, business owners must know that thousands of apps have already secured a place in the market.
Worldwide Mobile App Revenues in 2014 to 2023
Every app developer has to think uniquely to stand out of the rush. You need to show a fantastic product that works with zero glitches. With the propagation of mobile applications, there has been a sudden surge in modern app development in the market. Industries have already moved ahead to opt for mobile app solutions to maximize their productivity and digital experience. Like any other industry, the education sector is also flourishing with eLearning mobile applications.
Tech-trends are Transforming E-learning Education System
Technologies are continuously growing and supporting industries to strengthen their online presence. With the advent of the eLearning app, a variety of features and functions are enhancing the digital learning experience. The new way of online learning has made it easy to access learning institutions and study materials.

Also, the online education system has improved the learning experience via gamification. Learners find studying more fun than ever before. As technology continues to reshape the education sector, eLearning app development services have emerged with various functions that boost engagement and participation in eLearning activities.
Worldwide eLearning Mobile App Downloads from Q1 2017 to Q1 2020
Through eLearning app development, companies save a substantial amount of money as compared to the traditional approach of learning. The online education system makes learning quick, easy and reduces a lot of training time. Also, it minimizes the cost of trainers, travel, study materials, and accommodation along with the personalized learning experience. Furthermore, it uniquely improves the learning experience for trainees. For example, learners who use gamification can learn concrete material while enjoying a unique learning experience.

Like gamification, each learning method provided below has unique qualities that contribute significantly to the eLearning experience. To create eLearning mobile apps, businesses need to watch out for the latest trends to incorporate them into their eLearning solution. So let's begin the discussion for eLearning mobile app development trends.
Top Seven Trends for eLearning Mobile App Development

1. Artificial Intelligence
It is agreeable that artificial intelligence (AI) has created a significant impact on online education systems. Today, Microsoft's Cortana, Apple's Siri, and your everyday text-based chatbots, Artificial Intelligence, have offered at-home integration across the globe. The incorporation of AI into eLearning apps can perform multiple tasks that need human intelligence. It offers an array of solutions like speech recognition, reduces manual efforts, informed decision making, and much more. The technology helps learners with complete automation and on-the-fly personalization.
2. Video Content
Video content is the easiest way to share information and make viewers understand it in a better way. Integrating video content like webinars while eLearning app development is the most effective way to promote informative content for learners. Do you know, YouTube gets over 30 million visitors every day, and not all the visitors are there to find funny kittens only? SmarterEveryDay, National Geographic, AsapSCIENCE, TED-Ed, Vsauce are trendy educational YouTube channels. Video content enhances the overall learning experience, providing students easy-to-follow visuals, and giving a detailed explanation for certain concepts that are pretty hard to communicate by text.
3. Micro-learning
Micro-learning has become the hottest trend in the online education system as it simplifies the learning process and paves the way for convenient learning opportunities. It's a widespread problem among learners regardless of their age to deal with large-sized or multi-phase projects. Such candidates and collaborative classrooms have the best way to break up learning materials, lessons, and projects into manageable chunks. These chunks may manifest as readable text, video lectures, and interactive activities.
4. Mobile Learning
As technology is continuously overgrowing, the education sector has made various adjustments to adapt to the tech advancements. The eLearning app has enabled learners to access study material for their preferred courses anytime, anywhere. Mobile learning has become the rising trend in the online education sector that promotes Formal Training, Informal Training, Instant Learning Ads, Self-Directed Learning, Social or Collaborative Learning.
5. Gamification
Gamification has removed the age barriers and made learning a fun experience for students of different age groups. Gamification allures learners into courses by introducing it as a 'play thing'. The idea to implement gamification in the eLearning mobile app revolves around encouraging trainees to take active participation in their learning. If you are willing to integrate this trend into the eLearning mobile app development process, then you can focus on adding elements like stories, visual design, rewards, feedback, etc.
6. Augmented & Virtual Reality
Graphics overlays, explorable interface, 360-degree visuals are some of the AR-enabled features in eLearning mobile apps. Augmented Reality and Virtual Reality allow education professionals to completely immerse their students in subject matters. Mobile learning, video learning, and gamification have never been so immersive when combined with AR and VR, and the technology is creating innovation every next day.
7. Big Data
Big Data has gained massive popularity in the learning mobile app market. It simplifies the collection and analysis of an enormous volume of data and converts them into learning behaviors. It helps educators know about their students' progress and learning ability and creates a personalized learning experience for every individual learner. Organizations modify their training techniques by harnessing the power of big data.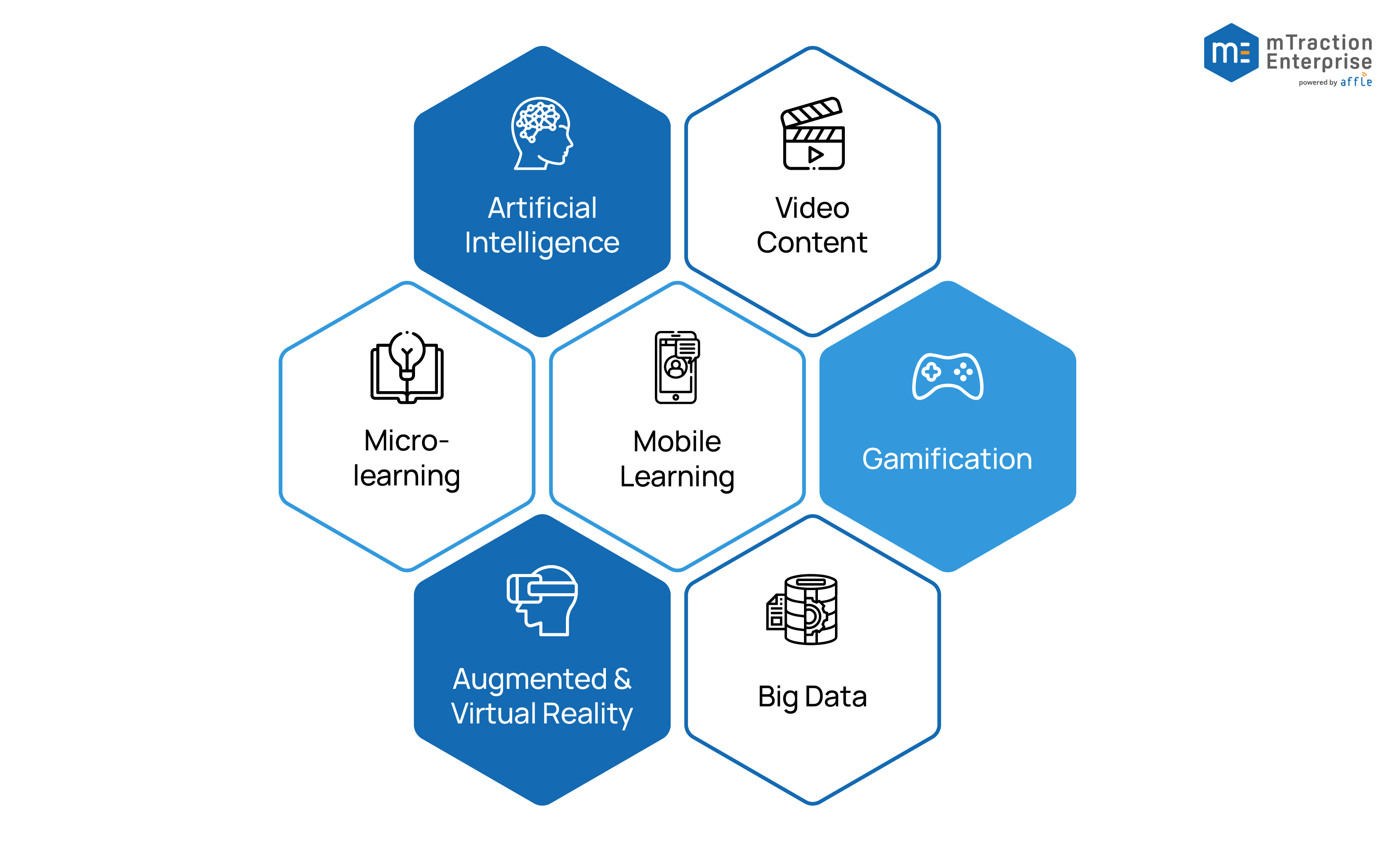 Conclusion
No matter which Edtech trend you prefer to incorporate into your app, the advantages are precisely clear. The eLearning app development trends mentioned above allow education institutions to enhance the online learning experience. We at mTraction Enterprise keeps on following the latest mobile app development trends to fulfil the diverse business needs. We help industries to build productive IT solutions to reinforce their online visibility. Our team concentrates on project aspects and incorporates technologies that contribute to multifunctional mobile applications.
Get stories in your inbox twice a month.
The education sector is undergoing rapid transformation. Businesses are looking for the best education app developers to convert their vision into reality. Team mTraction Enterprise utilizes different techniques like Project & Problem-Based Learning, Cooperative Learning, and Gamification to develop advanced eLearning mobile apps and make online education more interactive. Our team follows the best possible way to meet clients' expectations and help them to enhance their brand's online visibility via a robust digital solution. You can share your requirements with us and we will come out with the best solution for your business to help you stay ahead in the competitive world.