The Benefits of Cloud-Based Custom App Development for Small Businesses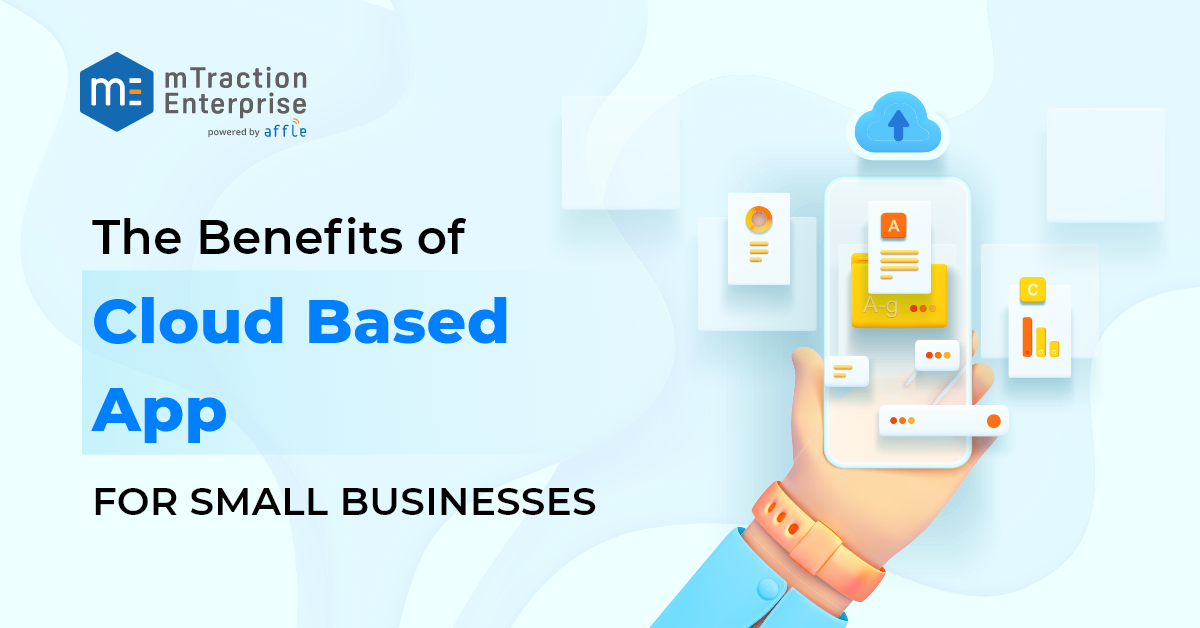 Cloud-based app development solutions drive data gathering more conveniently for enterprises. In addition, security and management are vastly improved and simplified. Cloud app development entitles modern businesses and enterprises to build productivity-based applications to enrich the customer experience and revenue. Cloud-based software development solutions allow companies to invest in low-code application development, which is efficient and cost-effective.
Do you remember the multi-experience cloud-based app solutions? Multi-experience is the future of custom mobile application development, particularly when deployed with cloud computing, IoT (Internet of Things), and AI/ML (Artificial intelligence/ Machine Learning). Cloud computing proffers a conversational and seamless customer experience with mobile apps. All the aforementioned advantages are the reasons for the growing popularity of cloud engineering among organizations. The predicted growth of the global cloud-based applications market is $133.6 billion in 2020 to $168.6 billion by 2025.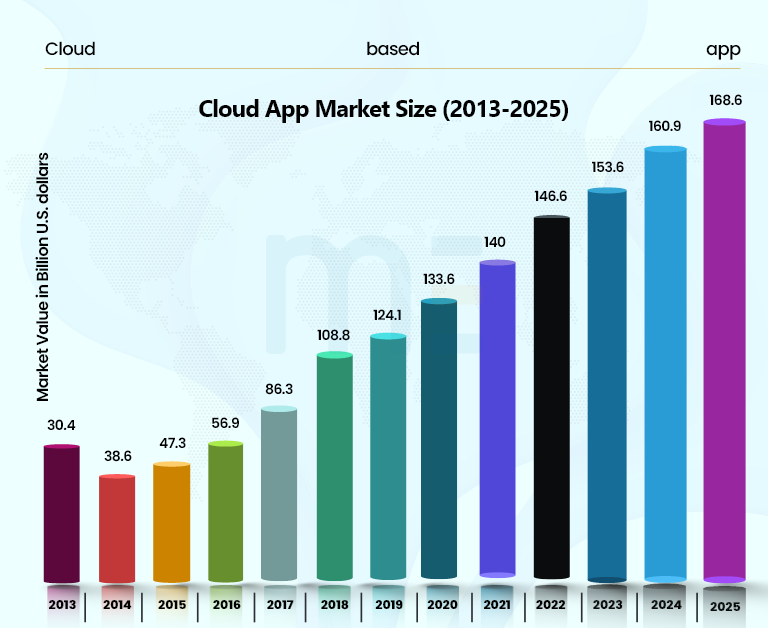 What is a Cloud-based App?
A cloud-based application is a program that runs on the internet and utilizes cloud services for data storage and processing, with some or all of its functions taking place in the cloud. Simply put, a user interacts via a web or mobile browser in cloud-based applications. The information is manipulated remotely through an application programming interface (API) server. A user's device performs only as input in the cloud-based custom app development and does not interrupt the effective method.
Today, as the world is growing digitally in multiple aspects, it become imperative for businesses to hold a robust online presence. Choosing effective cloud solutions can be the perfect move to explore new industry dimensions. A cloud-based app is distinct from a web-based application. To apprehend its peculiarities, it is vital to glance at a few characteristics that depict cloud-based custom app development.
What Are the Key Characteristics of a Cloud-Based Application?
When building applications for the cloud, the data is stored on the cloud, and partial data can be saved on the user's device. This indicates there are the lowest needs for devices to operate the application.
You can organize backup plans and data encryption, compression, and optimization as a user in any way you like.
Cloud-based applications provide access to third-party cloud computing services with API integration and improved customization than a web app.
Any device with an internet connection, such as a computer, tablet, or smartphone, can be used to access a cloud-based application. This helps the user to obtain independent browser capabilities.
When a user is disconnected from the internet, the cloud system can save their data on their device so they can still access it. Once they reconnect to the internet, the cloud app refreshes and sends the information back to the cloud server.
How Does the Cloud Solve Common Business Problems?
Cloud computing lowers or eliminates the requirement for businesses to buy equipment, build and operate data centers. Cloud-based solutions offer adequate savings on hardware, facilities, utilities, and other costs needed from conventional computing.
7 Major Business Problems You Can Solve by Moving to the Cloud!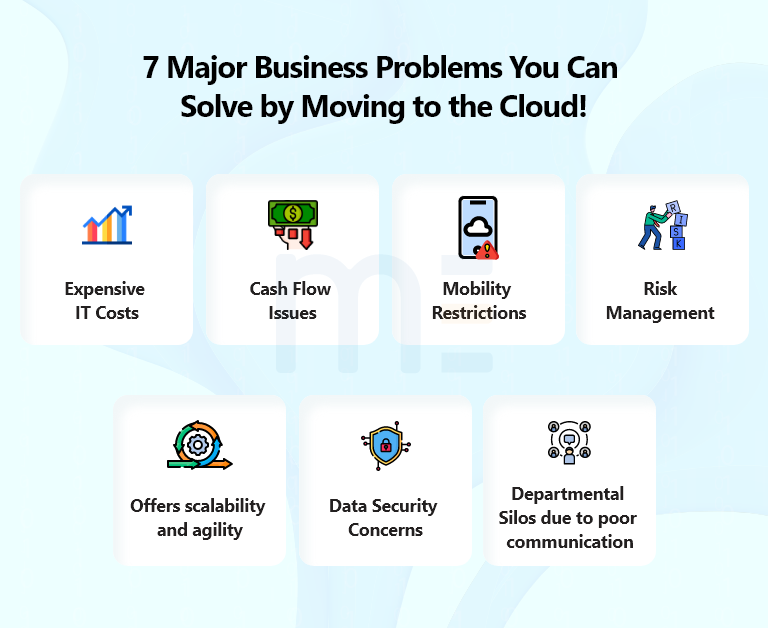 Types of Cloud-Based Solutions Available for Enterprises:
Enterprises have a wide range of cloud-based solutions to choose from. These solutions involve using services, such as databases, data servers, and storage, which a third party provides. This allows users to access the resources and space without worrying about infrastructure, either for free or for a fee.
What Are the Four Standard Classifications of Cloud Deployment Available for Businesses?
Private cloud –This web system provides a secure, private environment for applications, web pages, and data that can only be accessed by one company and is not open to the public.
Public cloud – Public cloud services provide users with cost-effective and flexible options for accessing data, typically requiring customers to use a device with a valid license.
Hybrid cloud – Hybrid for cloud-based custom app development is deemed both public and private. It allows data to be broadcasted between on-device services, third-party apps, and other deployment and optimization options.
Community cloud – Deploying a community cloud is similar to deploying a private cloud, except the data is shared between multiple organizations. For example, the government of a country has various units internally that ought identical resources and infrastructure, and that's where the community cloud comes to employ. Like the deployment services, various cloud application development solutions are open for enterprises.
Three Prominent Cloud-Based Application Development Solutions Are:
Software as a Service (SaaS):
SaaS stands for building cloud applications utilizing web browsers and mobile apps. SasS allows end users to access the applications online without configuring or installing them on the device.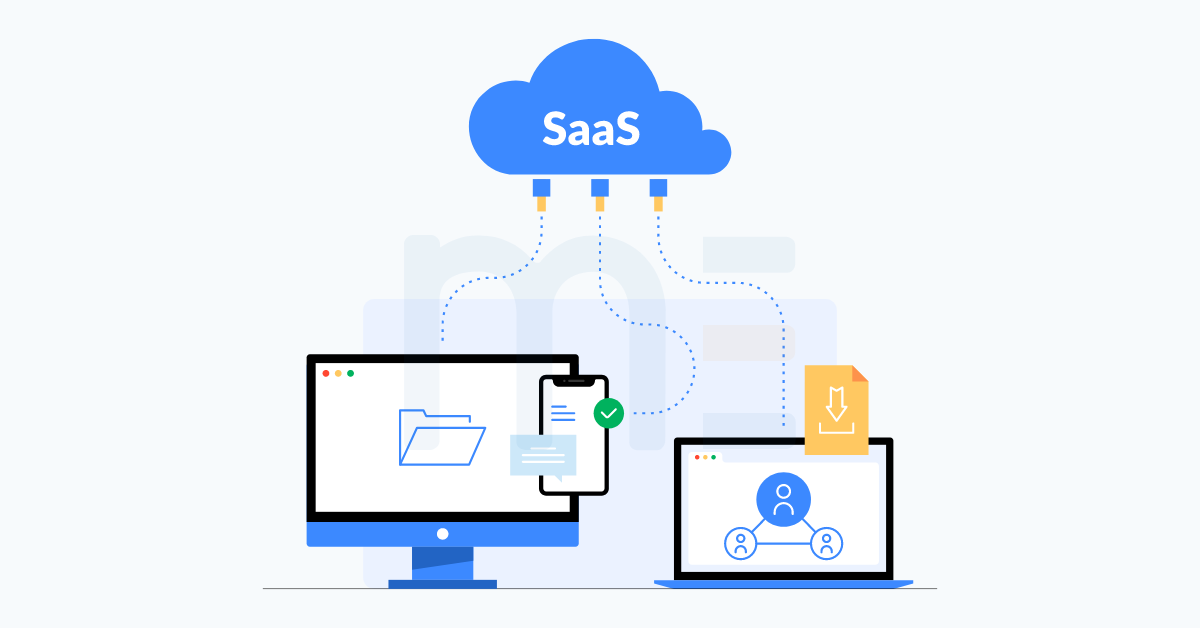 SAAS Cloud Application Development Can Be Used For:
Managing CRM (Customer relationship management) systems and databases of clients
Services and products sign-up automation
Providing email tools and auditing features etc.
Sharing schedules and calendars across the whole organization to create upcoming events
Document handling for file sharing
Some tech goliaths invested in SaaS cloud app development are Google Apps, AWS, Salesforce, Zendesk, etc.
Platform as a Service (PaaS):
PaaS permits you to rent every resource and service you require to design an application depending on cloud providers for infrastructure, development tools, and operating systems. This means you will bring a complete cloud application platform (software and hardware) as a service for creating cloud applications.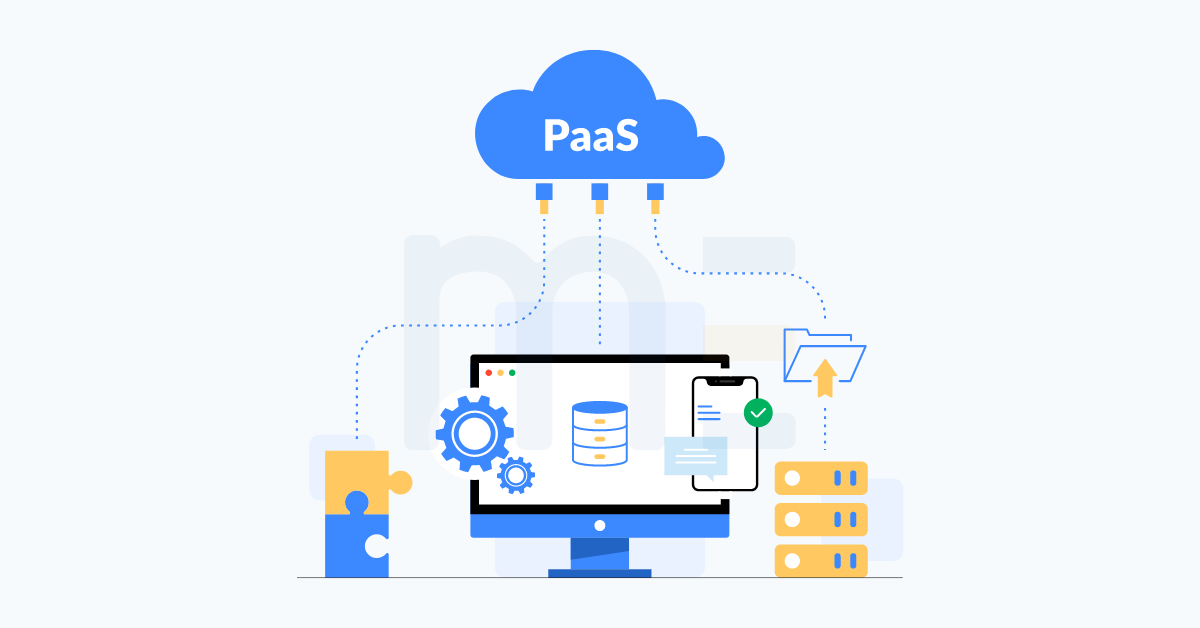 PaaS Cloud Applications Development Can Be Used For:
Operating systems
Middleware
Development tools
Database running infrastructure
Commonly known cloud platforms are Heroku, Windows Azure, and Openshift.
Infrastructure as a Service (IaaS):
In IaaS cloud services, your cloud provider operates your entire business infrastructure, including visualization, network, server, and storage. A private or public cloud can manage this infrastructure. Moreover, along with resource management, IaaS cloud services offer many additional services for cloud-based app development.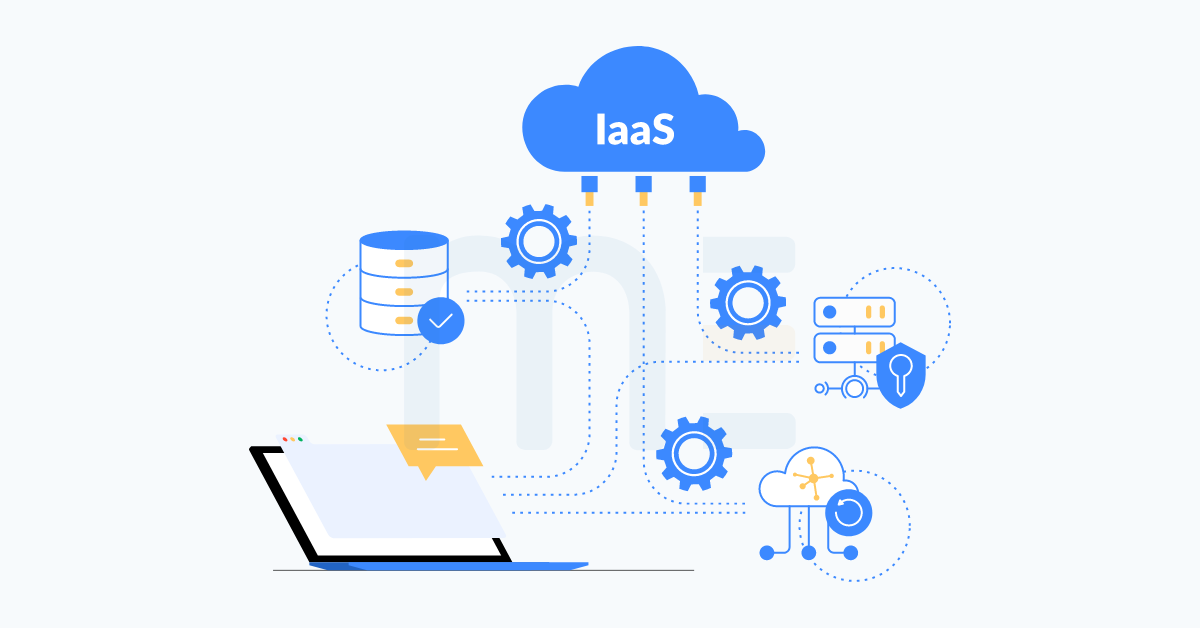 IaaS Cloud Applications Development Can Be Used For:
Detailed invoice
Load balancing
Tracking
Resiliency tools (backup recovery and replication)
Log access
Adherence to strict security standards ( PCI-DSS compliance, data encryption protocols)
Clustering
To utilize IaaS cloud services, you can use an admin panel or API for adequate supervision. Furthermore, you can also organize your programs and operating systems while your cloud service provider handles resources for cloud-based custom app development.
Benefits of Using Cloud-Based Applications for Small Businesses:
Cloud application development is worthwhile to every industry and business since remote servers handle data warehouses and processing problems. Along with that, cloud software or application development unlocks multiple benefits mentioned here.
Benefits of Using Cloud-Based Applications:
Cloud services only charge for required cloud space and feature sets required for your application development model. This pay-as-you-go system applies to every cloud deployment service that reduces the cost and generates higher results.
A cloud host's full-time job is to survey data safety, which is more efficient than a conventional in-house strategy. Cloud software development also makes complying with government security standards more effortless. On top of that, the cloud provides an automated response to updates and data recoveries.
Creating cloud applications offers more flexibility against hosting on a local server. If you need additional bandwidth, cloud services can fulfill that need immediately rather than going on a long update to improve infrastructure.
Competitive edge and sustainability:
Cloud services merged with AI technology, such as chatbots and assistants, also deliver a more pleasing customer experience.
You can access data across any device, gadget, team, or company to stay updated via cloud application platforms. It'sIt's not astonishing to see that companies investing in cloud-sharing services have more satisfactory employee engagement and pleasure than local hosting companies. Cloud-native application development also aids with personalized consumer data insights to facilitate data access rate and experience.
A varied range of solutions:
Cloud-based solutions contribute foremost to the organization'sorganization's victory by expanding the scope of services and resources for the business model. From CRM to ERP solutions, the cloud computing platform addresses everything.
Cloud-based apps can be constructed, tested, and deployed quickly. It permits enterprises to deploy new updates much faster and gives them time and agility to market. As a result, they can resolve issues quickly and be more experimental and thus more competitive.
Furthermore, cloud computing application development upholds data quality and prevents data loss. These benefits exhibit how developing cloud-based solutions can assist your business in reaching new cliffs.
How Much Does It Cost to Build a Cloud-Based Application?
The cost of cloud-based application development depends on the below-mentioned aspects:
Regarding cloud app development, you also require a dedicated cloud hosting service. Amazon Web Services (AWS), Azure, and Google Cloud Platform (GCP) are the prevalent cloud platforms providing affordable hosting services for assorted project necessities.
AWS Cloud Hosting Services:
Amazon offers free hosting for one year if you sign up for an AWS account. After that, it can be up to $30 per month, founded on the server'sserver's use. Similarly, you can also avail a wide range of other AWS services (160+ services) on a premium basis. With AWS free tier, you can access 60+ AWS services for 12 months. It possesses 750 hours of Amazon EC2, RDS compute capability, 5GB Amazon S3 storage space, 25GB Amazon DynamoDB storage, one million complimentary requests per month for AWS Lambda, and much more.
Microsoft Azure Cloud Hosting Services:
Like the AWS cloud, Azure proposes a pay-as-you-go pricing prototype where you exclusively pay for the resources you have used. You can pick to pay hourly or monthly for their cloud hosting services. Azure hosting services are more affordable as compared to AWS. Plus, you gain 12 months of free cloud services. With this, you get 750 hours of computing space for Windows and Linux-based virtual machines, 5GB file storage, 15GB network bandwidth, 5GB Blob Storage, 250GB SQL database, and more.
GCP Cloud Hosting Services:
The GCP pricing model is equivalent to AWS and Azure. However, with GCP, you can opt for a pay-per-seconding billing plan which is relatively inexpensive. Besides, you get several exceptional benefits and discounts relying on cloud use. For instance, you can save up to 30% on workloads that operate on Cloud SQL and Compute Engine for a substantial amount of time. With GCP free tier, you acquire free credit worth $300 and 20+ free products and services. Again, there is no upfront price, and you can discontinue at any moment without paying any extra charges.
What Challenges May You Face in Cloud-Based App Development?
Cloud-based product development is technically challenging and formidable. You must also know common snags in the cloud development process and the expected advantages. Below are some of the most often encountered challenges:
Defining Service Design – 
Cloud apps must be tightly associated with service logic and performances in a consumer-centric world. While straightforward in principle and infrastructure, it can be a fierce period for cloud application developers to design flexible and reusable elements that are adhered to service features.
Application protection above authorization has constantly been an area of concern for users. Due to the state of browsers, your cloud app should assure a vital safety beyond the browser. You can utilize reverse proxy and strong data encryption measures to address possible security concerns.
Interoperability and portability – 
When operating with the cloud framework, interoperability is the capability to write code well-versed with numerous cloud providers simultaneously, despite the platform discrepancies. Nonetheless, the pressing issue is the communication of diverse platforms via one code structure. For this, cloud application developers need rigid and standardized operating protocols that are painless to execute.
Sometimes, scalability can also be a problem; regardless, you can opt for hybrid cloud architecture for the highest scalability. We suggest not using predefined software that delivers instantaneous scalability features; instead, consult a reliable solution with your cloud app development company.
How Can Mtraction Enterprise Help You With Cloud-Based App Development?
mTraction Enterprise is a prominent mobile app development company with expertise in cloud computing, AI/ML, AR/VR, data analytics, and many other cutting-edge technologies. As part of our application and software development services, our professionals can assist you in choosing a cloud model (IaaS, PaaS, SaaS) that aligns with your business requirements.
Our experts provide world-class cloud consulting services for every industry requirement, whether an on-premise data center or a third-party host. We deliver cloud consulting, machine learning, cloud-native development, and flexible cloud management services that produce results.
Get stories in your inbox twice a month.