The Rise and Rise of Apps- Mobile App trends 2017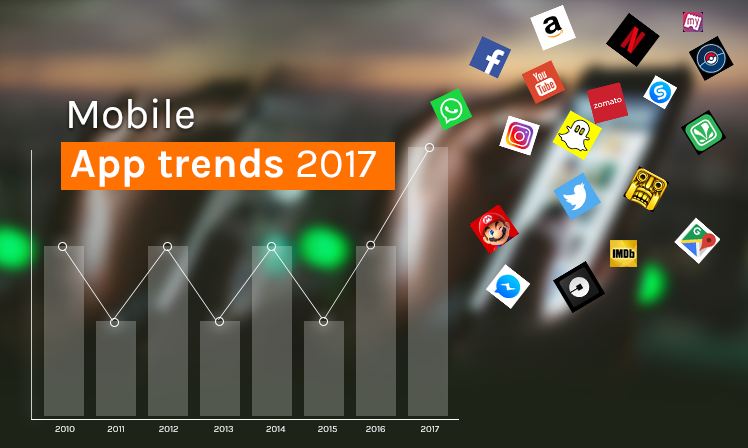 The App market continues to grow at a furious pace. After generating a revenue of $88 billion in 2016, it's expected to reach $189 billion by 2020. The market as we know it is a duopoly, with Android and iOS being way above the rest. The Play Store leads the charge with 2.8 million apps, while App store is second with 2.2 million.  
How did we come here?
During the early years, apps were promoted as mono purpose device transformers. Converting phones into say a calculator, a messenger or a map! Gradually or rather exponentially the apps evolved to serve more wants. By 2015, the 'home screen domination era' was coming to an end, now it was time for subtlety. Apps were becoming more contextually aware. The focus was on usefulness rather than on cramming extra features. Taking contextual signals like location, hardware sensors, usage history and predictive analytics, apps were focusing more on giving a tailor-made experience. In today's time product development has become deeply integrated with analytics. Every interaction tells a story, every movement monitored. We at Affle are proud to have witnessed this journey from the very start, pioneering the App revolution in India and Singapore.
What's happening!
The apps are no more limited to the phone space, they're moving beyond. With IoT on the rise, apps are required in a host of different devices ranging from smartwatches to IoT farms. Everything is dependent on the integration of apps. Example, Nest thermostat app that allows you to remotely control its thermostat from anywhere.
The rivalry between Android and iOS means both are coying developers to get more and more apps in their app stores. Continuous O.S updates are rolled out to keep bugs and other distressers at bay, maintaining a healthy platform for apps to flourish. Special Kits such as ARKit are launched so that app market continues to grow in prospecting ways.
How apps are Influencing business
How O.S drives device sales is well known, but can apps claim a similar hold? The example of android tab market tells us so. One major reason android lags so far behind iOS in the tab market is app optimization. Apart from the native android apps, most other 3rd party apps feel like upscaled phone apps. Things have improved over the years, but not enough. In terms of phones, people hold in-built iOS apps such as Facetime, iTunes in great esteem. Even Intex and Jio have worked to build their own profile.
App Trends  Q3
During Q3, Worldwide app downloads totaled at 23.4 billion. Google Play Store leads the charge with 16.1 bn downloads, while App store was second with its 7.3 bn.
App Store- An overview
The downloads were once again dominated by the games category, witnessing a further growth of 10% year-over-year. Entertainment was second, followed by photo & video at third. Social networking downloads grew an impressive 18%, climbing to the 4th most downloaded category.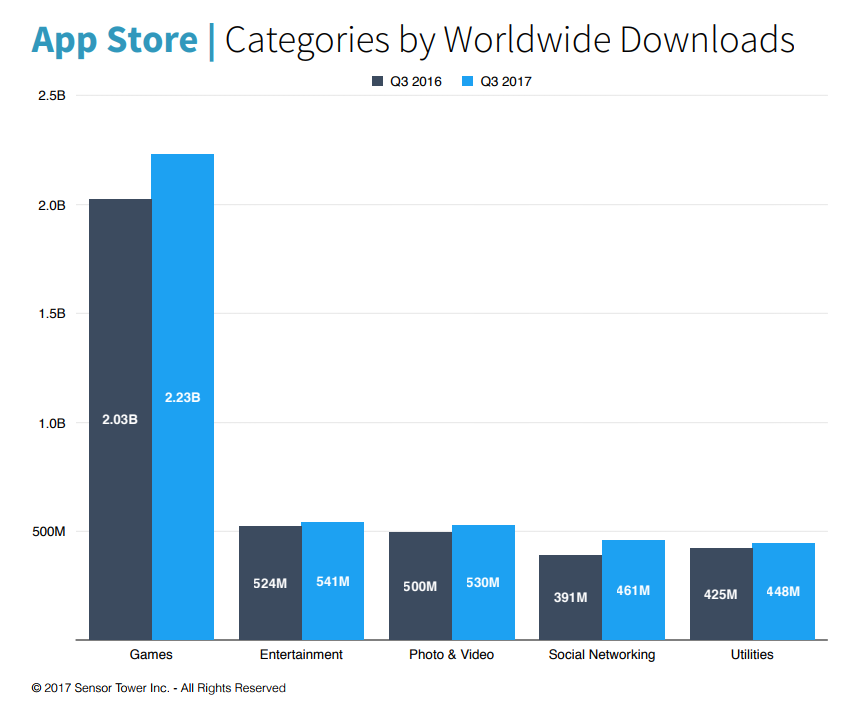 It's a long known fact that iOS apps earn more than Android apps, but by how much?
Recent reports estimate that iOS users spend nearly 2.5 times more on in-app purchases than Android users. So who were the top performing apps?
Categories by Worldwide downloads:
Whatsapp

Youtube

Messenger

Facebook

Instagram

Honour Of Kings

WeChat

Google Maps

Snake VS Block

Tencent Video
Google Playstore – An overview
Much like their rivals, games dominate the Google Playstore too, growing 14% year-over-year. Tools are second here, followed by entertainment and photography.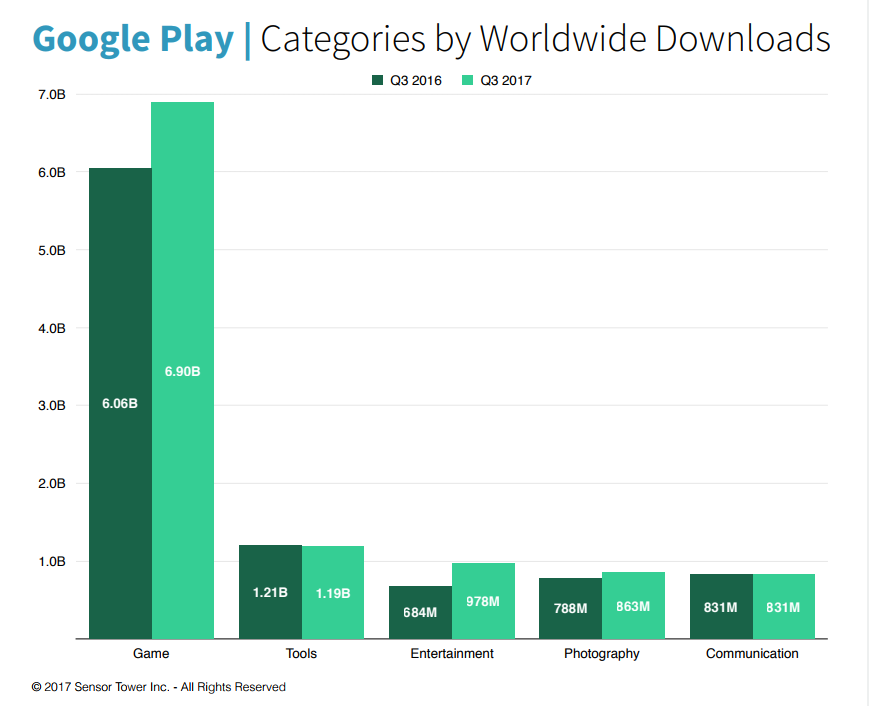 The 3rd Quarter saw Facebook dropping from no 1 on Google play to no 3, replaced by its very own Messenger. Four of the top five apps are owned by Facebook Inc.
Categories by Worldwide downloads :
Messenger

Whatsapp

Facebook

Instagram

SHAREit

Snapchat

Subway Surfers

UC Browser

Uber

My Talking Tom
Who is ruling?
With 99.6% of smartphones running on either Android or Apple, it is undoubtedly a two-horse race. Off late, the battle between the two has reached galactic heights. With Google trying to kill the AI game to Apple pushing Augmented reality into the mainstream. Google dominates the OS market with a mammoth 81.7% share while iOS is second with its 17.9%. But don't let numbers fool you. Even though Android has more than 4 times the market share of iOS, it still lags behind in terms of revenue generation. The consumer spend on iOS is almost double to that of Android(Q3,2017). As for the latest releases i.e Android Oreo vs iOS 11 both have their USP's. While Android Oreo is ahead in terms of a better notification center and AI integration, iOS is making its mark with a more optimized Messaging experience, Apple pay and most of all ARkit. So for a final answer, both are ruling in their own ways. But the ultimate winner of this rivalry are the citizens of these O.Ses, the Apps!
---
Looking to develop an app for Android/iOS or any other platform? Drop us a line at enterprise@affle.com. With a portfolio inclusive of clients such as BCCI, Samsung, BookMyShow, OLX, and Magicbricks to name a few, you shouldn't be looking anywhere else.