Phablets: The New Favourite & The New Opportunity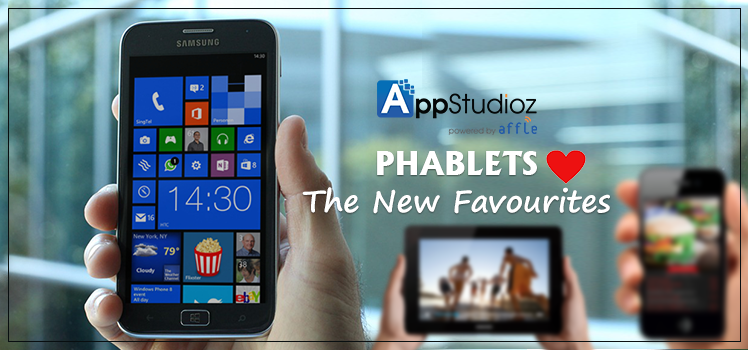 Over the last few years, we've seen that the user preference for 'device size' hasn't been constant. In fact, it won't be wrong to say that mobile devices have kind of gone through the 'ape to human evolution' in the size department.
With the growth in the app ecosystem and the 24/7 user dependence on apps in today's lifestyle, smartphone makers are focused on making gadgets that offer the best user-experience.
It all began with the larger devices going through several phases of size trimming to present users with a much sleeker and smaller version of their favourite handheld devices. Be it a 4 inch screen or 4.5 inch screen, the market had a variety of choicest smartphones available for the users.
But then, users wanted something more. They also wanted to have the option of devices with larger screens. So, then came along tablets with screen sizes varying between 7 – 9 inches.
Source
In terms of meeting the needs of users, both smartphones and tablets worked well. But the search for the ideal screen size did not end here.
Plug in a hybrid device – Phablets.
Essentially, a 'Phablet' is the coming together of a 'Smartphone' and a 'Tablet'. With the amalgamation of multiple features and functionalities of both the parent devices, Phablets offer the best of both the worlds to its users.
Source
With screen sizes ranging from 5 – 7 inches and keeping portability intact, they are built to make the user-experience more awesome for users. Whether it's about the comfort of writing a message or drafting an important document on the go, or let's say, watching a YouTube video or browsing products in an e-commerce app, the apt screen size and long lasting batteries make 'Phablets' an ideal everyday device for users.
A latest study by Yahoo's Flurry Analytics proves exactly that.
Phablets are the new favourties
The 'State of the App Nation in India' study by Flurry Analytics reveals significant insights about the mobile app usage, performance of popular app categories and highlights those with the highest user activity in India. For this study, Flurry had collected data from over 940,000 apps across 2.1 billion global devices from across the world and 58,000 apps across 147 million devices from India.
According to findings of this report, Asia and India are leading the Phablets revolution.
In terms of market share for Phablets, India surpasses the US with a 61% share as compared to the the latter's 48% share.
Source
In the global context, Phablets stand a good chance of emerging as the main form factor of smartphones by mid 2017.
The report also lists down the top performing app growth categories in India, where Music, Media & Entertainment apps are leading the list with an increase of 188% Y-O-Y. Second on the list are Business & Finance apps with an increase of 176% Y-O-Y, followed by Utilities & Productivity apps with an increase of 99% Y-O-Y.
Surprisingly, the Game apps category saw a growth of just 8% Y-O-Y. Also, there was a huge dip in the growth of Personalization apps with a decrease of 32% Y-O-Y. The reason for this decline is attributed to the operating systems integrating the functionality of these apps natively.
Coming back to the preference for Phablets, the most used apps in this device belong to the 'Utilities & Productivity' category as compared to other devices.
What about devices?
As compared to Apple's popularity in the US, it's a neat win for Samsung in India. The affordability factor seems to play a decisive role in India.
Samsung has got a good hold in the Indian market with its large scale offering of diverse mobile devices, which cater to users coming from different income groups. No wonder, Samsung was found to be the most preferred device amongst Indian users.
What does this mean for Developers?
The rise in the popularity of Phablets is definitely good news for developers as higher adoption of Phablets could imply that users find the screen size apt for long duration app usage.
Phablets with screens as large as iPhone 7 Plus or Samsung Galaxy S7, tend to give a great app experience to users. It makes navigation easier, mobile payments more convenient and enriches the quality of social interactions on IMs or social networking sites like Facebook, Twitter, etc.
According to Localytics, 21% app launches happen on Phablets as compared to 4 inch devices and the average session length is 3.5% higher on Phablets as compared to 4 inch devices.
There's a lot of scope for developers to leverage the strengths of the latest popular devices in the market by thinking of additional features and functionalities to make their app's user experience better. For that, we recommend that developers adopt the best practices of responsive design and development to ensure that they build apps that are automatically optimized to match the screen size of Phablets.
User preference for Phablets have opened up new avenues for app developers to reach out to their users and create the best possible user-experience for them. So, if developers want to make the most out of the potential for Phablets, it's time to get ahead in the UI/UX game by reinventing their design process.
Have an app development requirement?
AppStudioz can help!
Just drop me a line at enterprise@affle.com and let me connect you with our App Development experts.