Explicit Guide for eWallet App Development – Cost & Key Features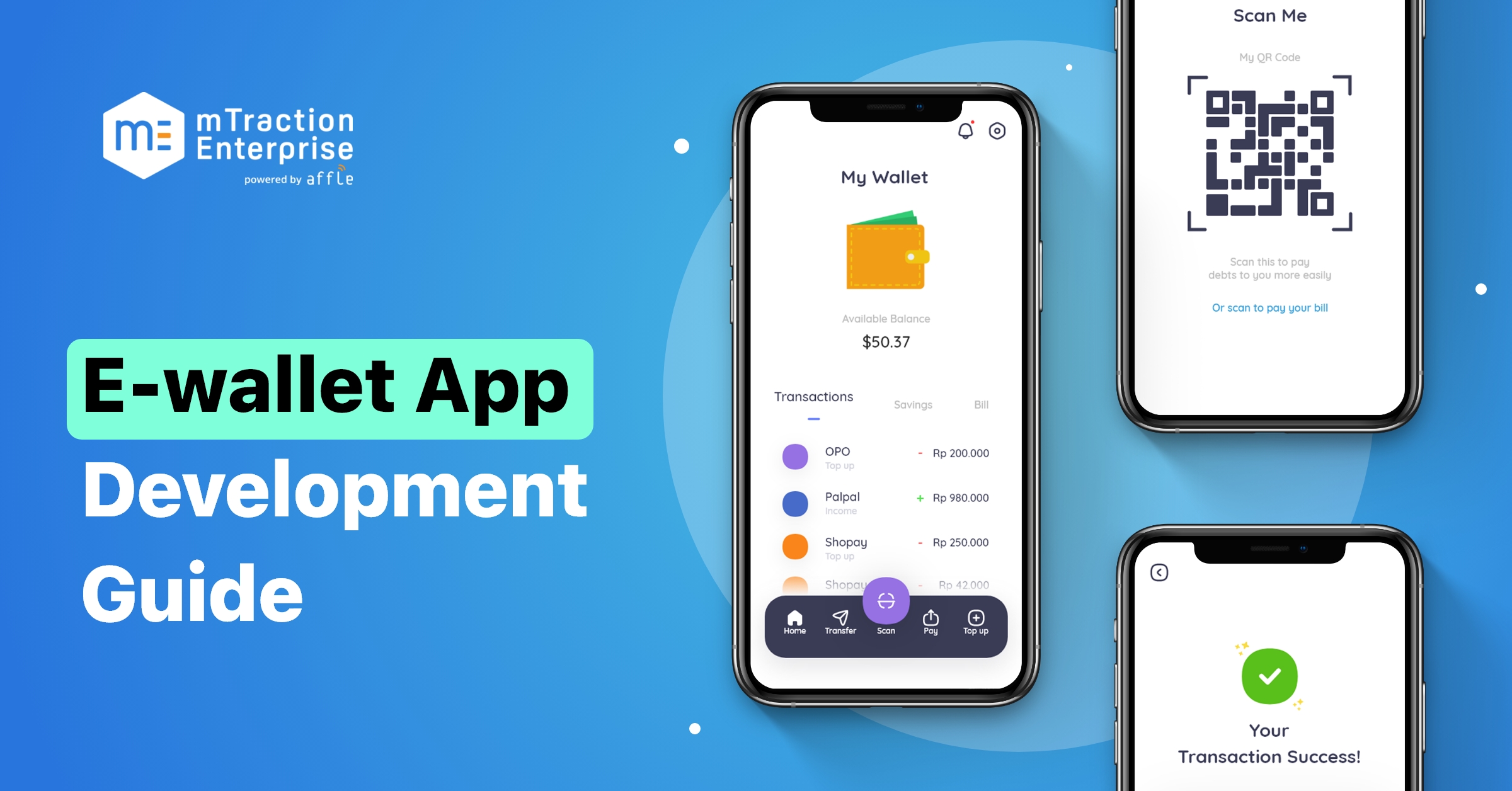 What are eWallet Mobile Applications?
Mobile app wallets, which are globally known as eWallets, are virtual mobile-based payment systems where any individual can perform money transactions under powerful security. The idea of ewallet app development is to support cashless payments and enable quick money transactions with no location and time constraints. Today, businesses partner with eWallet application development companies to create mobile wallet app solutions that improve their business transactions and revenue. Reports by GlobeNewswire reveal that the global mobile wallet market is projected to generate $46,006.0 million in revenue by 2028 and grow at a CAGR of 18.9% from 2021 to 2028.
The Market size of eWallet transactions worldwide in 2020 with forecasts from 2021 to 2025 (in million U.S. dollars)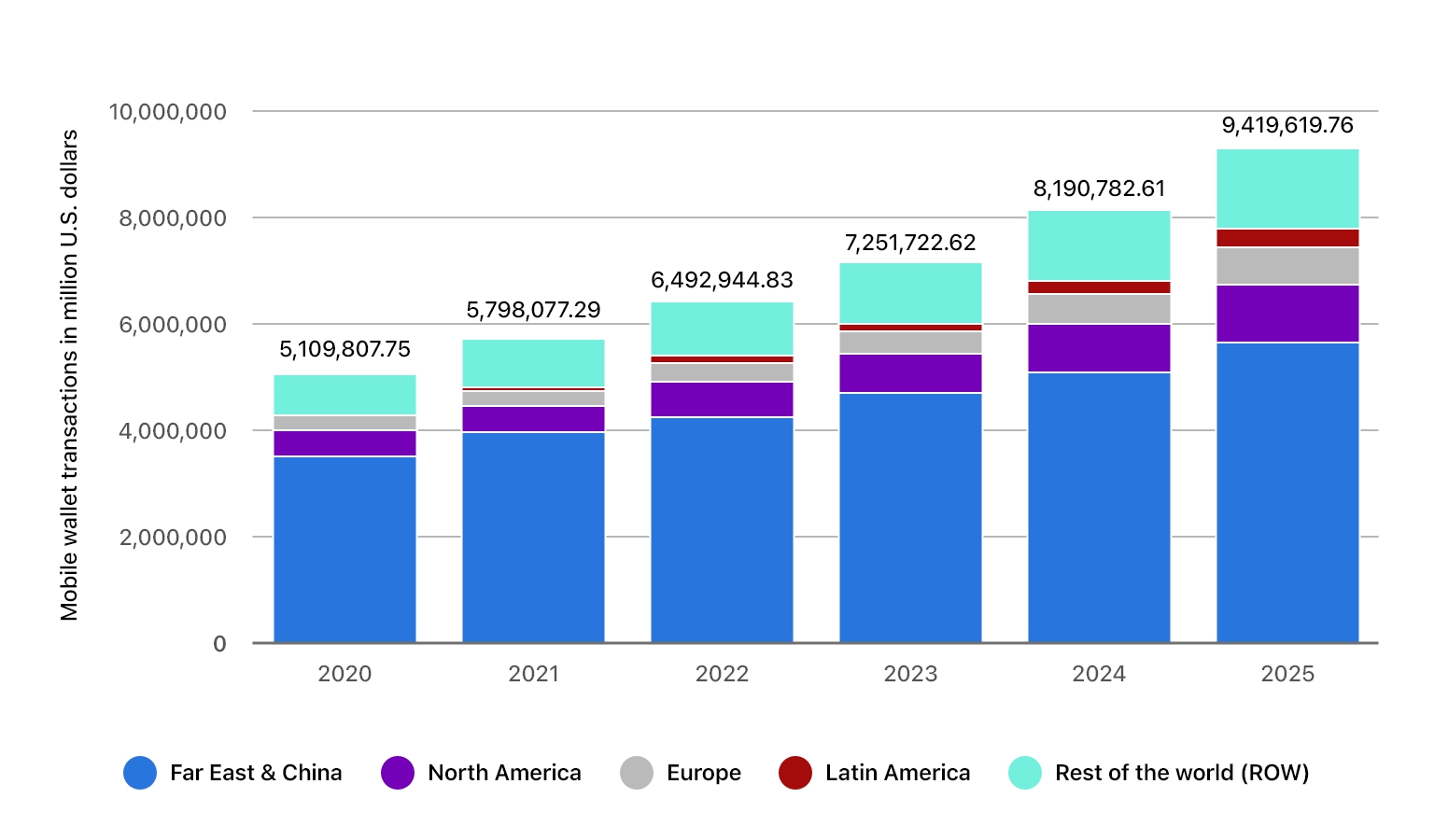 img src: Statista
In order to enhance buying and selling of products and services, ewallet development has become a proven approach for businesses, especially for the eCommerce industry. The launch of UPI has made the money transfer directly from banks faster and easier. It won't be wrong to state that eWallets support the business ecosystem in many ways and reap huge profits. If you are planning to create a custom eWallet mobile application, this guide will help you find the vital factors that come under successful mobile wallet app development.
Types of Mobile Wallet Applications: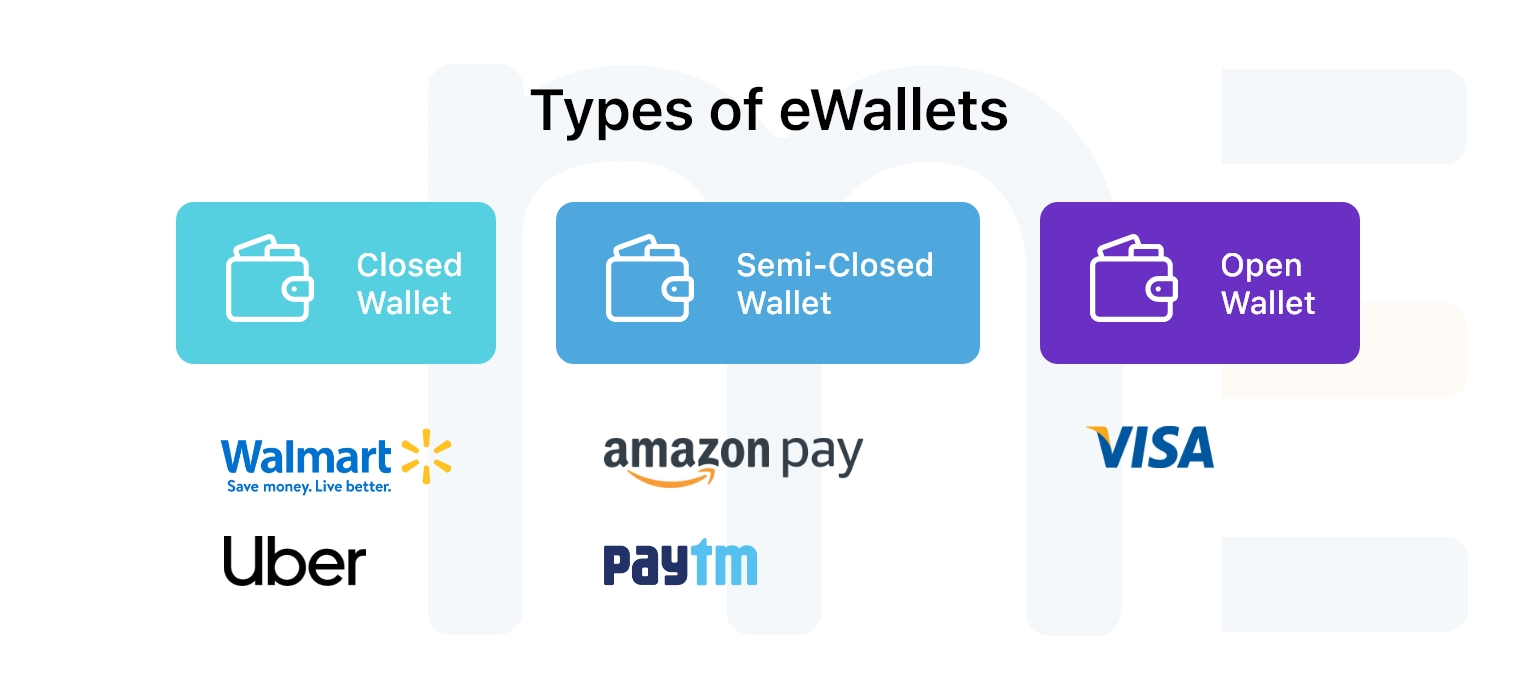 1. Closed Wallet – 
Closed wallets are designed for a specific store, app, or website to perform online transactions. Organizations issue these wallets to create brand awareness and promote products and services to their target audiences. The end users can only use a closed wallet for payment transactions with the wallet issuer. In case of any refund transaction, the refund amount will be sent to the wallet. Ola Money, Amazon Pay are examples of closed wallets.
2. Semi-Closed Wallet –
Organizations sign and accept a mutually agreed contract with the eWallet company to access the eWallet apps' services and features. This enables vendors and store owners to perform money transactions at the listed locations. Apple Pay and Venmo are examples of semi-closed eWallet.
3. Open Wallet –
Open Wallet is the most used type of eWallet on a global scale that enables online transactions using single platforms. The key criteria for sending and receiving money via this type of eWallet application is that both sender and receiver must have an account on the same application.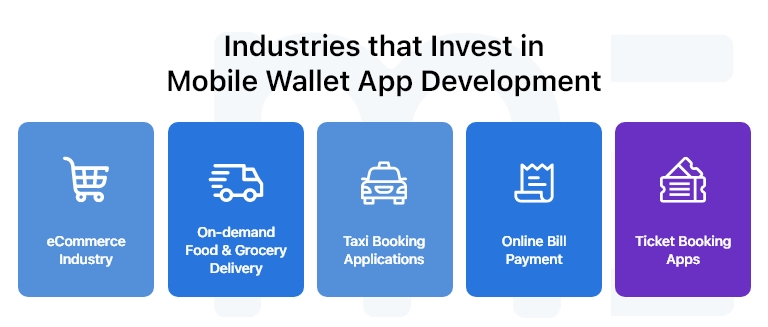 1. eCommerce Industry –
Whether we talk about online food ordering, home decor products, or beauty & healthcare consultation, the mobile apps have made everything easier. The E-Commerce industry has witnessed phenomenal popularity in recent years and created a bridge between vendors and buyers. With the rise of eWallet app development, companies significantly boosted their business performance and customer experience. Due to quick and secure payment gateway integration, the eCommerce industry has made online transactions fully secured and expeditious.
2. On-demand Food & Grocery Delivery –
The growth and escalation of the online food and grocery delivery market are not hidden from any individual. The ease of getting household necessities to the doorstep has been the prime reason behind the surprising hike in this industry. Integrating eWallet development in grocery delivery apps and food delivery app development has simplified the payment transactions for end users. Also, it lets them earn profit and coupon rewards that enhance the customer experience.
3. Taxi Booking Applications –
Going cashless has become a new trend. Incorporating eWallets into taxi booking app development enables travelers to go cashless. The eWallet payment system facilitates fast payment transactions post-ride completion. Users can pay the estimated fare using mobile wallets via UPI Id, QR code scanning, or mobile numbers after successfully reaching the destination.
4. Online Bill Payment –
This is one of the most prominent and beloved features by end customers. Today, small to large enterprises have shifted to online billing/payment services and often send reminders for the same. Even when customers forget to pay their significant bills, the eWallet app will send prior notifications for pending payments along with the due dates. It has removed the need to go out and standing in a long queue to pay phone bills, electricity bills, credit card bills, etc, and made effortless billing systems with just a few clicks.
5. Ticket Booking Apps –
Market leaders like PayTM and Google Pay made the ticket booking process much easier as customers are no longer interested in standing in long queues for window ticket booking. The incorporation of eWallet application development into ticket booking apps helps businesses to grow faster and offers a remarkable user experience. It has made a trouble-free ticket booking system that comforts users in many ways like 24/7 open reservations and hassle-free payment.
Key Features to Incorporate in Your Mobile Wallet: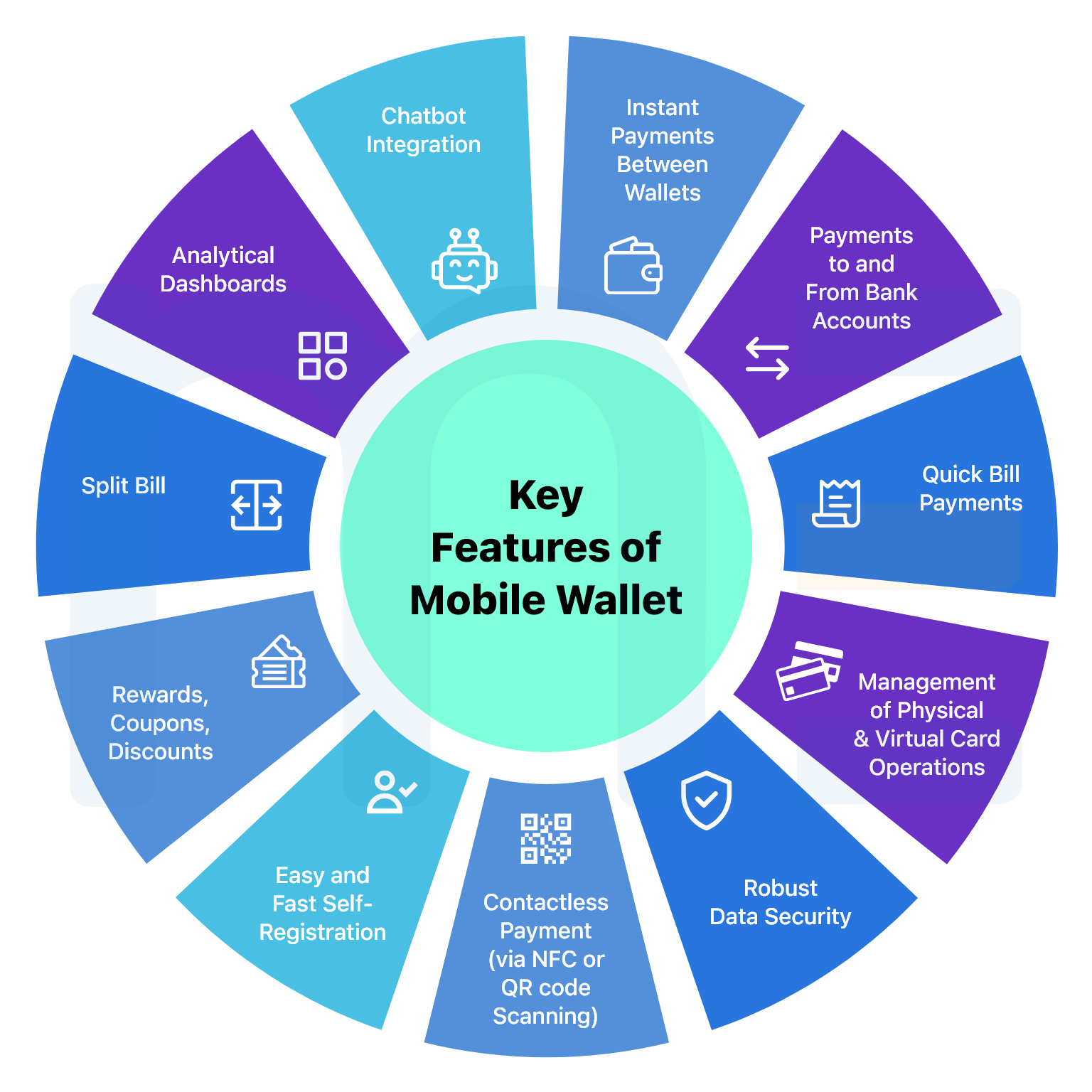 1. Instant Payments between Wallets –
This feature enables quick money transactions between the payer and payee wallets within seconds. Users do not need to wait for hours or specific business days to get the transactions done. This feature facilitates payment options, immediate funding, and enhanced control over personal funds anytime, anywhere.
2. Payments to & from Bank Accounts –
Mobile wallets allow seamless money transfers to any bank account from another bank account. Moreover, users can send money to their own accounts. The eWallet mobile app offers an easy process to send money from one bank to another. Users only need to fill in specific details like IFSC code, bank account number, select bank name and proceed.
3. Quick Bill Payments –
Today people are going digital and prefer to pay every bill via online mode. Be it loans, house rent, mobile bills, credit cards, utilities, etc.; people love to pay eCash. With the mobile wallet app development concept, users can perform effortless bill payments, whether postpaid or prepaid.
4. Management of Physical & Virtual Card Operations –
eWallets can keep track of users' credit/debit card data that can be utilized to make money transactions anytime, anywhere. The ewallet development has streamlined customer finance, aggregating their card on a single platform. Moreover, it eliminates the need to carry a card physically as it stores card details like card numbers in an encrypted format under robust security. Mobile wallets have the capability to manage multiple card operations like pin resetting, account limit, applying for new cards, etc.
5. Contactless Payment (via NFC or QR Code Scanning) –
Needless to say, in the current digital era, entrepreneurs are rapidly looking forward to incorporating new technologies that accept money transactions via a mobile wallet. Retail clients can perform successful in-store payment transactions using eWallets and contactless methods like QR-code scanning and NFC (near-field communication). Users can use their smartphone cameras to scan the QR code and interpret the barcode. Focusing on the growing demand for cashless payment, NFC and QR code payment methods are must-have features in a mobile wallet.
6. Robust Data Security –
When it comes to offering digital transaction services, robust security comes first. Online money transactions must be secure with powerful security features like security questions, end-to-end encryption, tokenization, biometrics, and one-time password (OTP) via SMS. However, online money transactions offer more security than carrying cash, debit, or credit card physically. Still, new users think about security aspects before using the mobile wallet. Hence eWallets must support robust security features and end-to-end security capabilities to gain customer loyalty.
7. Easy & Fast Self-Registration –
As the concept of e-wallet app development revolves around saving people's time and effort, the app should offer a seamless and easy self-registration process. Although the registration process is one of the most critical steps that leave a long-lasting impact on customer experience, you must not avoid adding significant values and data input fields. The one-time registration process should be accurate and easy to keep users engaged with your app.
8. Rewards, Coupons & Discounts –
The power of coupons and rewards is not hidden among marketers and sales teams. eWallets have become an ideal environment to provide deal-seeking customers with these benefits in a relevant context. Therefore, features of easy creation and managing coupons, discounts, tickets, earning loyalty points, etc., are critical for a successful e-wallet app development that can help your app stand out in the market.
9. Split Bill –
Splitting the bill is a no-brainer when it comes to modern features simplifying people's everyday tasks and simplicity can be a winning advantage for your eWallet application. The bill split is an exciting feature for users to split the payment when going for group dinners, shopping, parties, etc. The bill splitting takes place on the eWallet app by simply selecting the friends' phone numbers.
10. Analytical Dashboards –
Periodic tracking of personal financial transactions is a must for every customer. We all need to keep a record of every penny we spend. An analytical dashboard enables eWallets users to track and view their financial operations via stats, diagrams, and figures. Personal financial tracking helps users make informed financial decisions with the transparency of when and where they invest their money across all sources like bank accounts and credit/debit cards.
11. Chatbot Integration –
A chatbot is a software program that establishes communication with end-users. Assisted with AI and NLP, chatbots aid customers when humans are unavailable. The chatbot integration in your mobile wallet app development opens new ways to get engaged with your target audiences and improve customer service. The chatbot integration into your eWallet app makes your services available 24/7 at a lower service cost. Today, consumers expect an instant response on any digital channel. Therefore, chatbots can be a great addition to boosting customer satisfaction.
What are the Security Compliances For Digital Wallet Applications?
When developing a digital wallet application, it is crucial to prioritize security and comply with relevant regulations to ensure the protection of users' financial and personal information. Here are some key security compliance considerations for digital wallet applications:
1. Payment Card Industry Data Security Standard (PCI DSS) – 
Compliance with PCI DSS is essential if your digital wallet involves the processing, storage, or transmission of payment card data. It includes requirements such as maintaining a secure network, implementing strong access controls, encrypting sensitive data, regularly testing security systems, and maintaining a vulnerability management program.
2. Data Encryption – 
Utilize robust encryption algorithms to protect sensitive data such as payment card details, user credentials, and transaction information. Implement end-to-end encryption to secure data in transit and at rest.
3. Secure Authentication – 
Implement robust authentication mechanisms to ensure authorized access to the digital wallet application. Multi-factor authentication (MFA), biometric authentication (fingerprint, face recognition), or strong password policies can enhance security.
4. Secure Development Practices – 
Follow secure coding practices and conduct regular code reviews to identify and fix potential vulnerabilities. Ensure secure configurations, proper input validation, and protection against common web application vulnerabilities such as cross-site scripting (XSS) and SQL injection.
5. User Privacy and Consent –
Comply with privacy regulations like the General Data Protection Regulation (GDPR) or relevant local data protection laws. Obtain user consent for collecting and processing personal information, clearly communicate data usage policies, and provide options for users to manage their privacy settings.
6. Secure Transmission and Storage –
Ensure that sensitive data transmitted between the digital wallet application and backend servers is encrypted using secure protocols such as HTTPS. Store user data securely by applying encryption and access controls to prevent unauthorized access.
7. Regular Security Assessments and Audits –
Conduct periodic security assessments, penetration testing, and vulnerability scans to identify and remediate any security weaknesses. Regularly review and update security controls to align with evolving threats and industry best practices.
8. Compliance with Anti-Money Laundering (AML) and Know Your Customer (KYC) Regulations – 
If your digital wallet application enables financial transactions, comply with AML and KYC regulations to prevent money laundering, fraud, and identity theft. Implement robust identity verification processes and transaction monitoring mechanisms.
9. Incident Response and Data Breach Notification – 
Have an incident response plan in place to handle security incidents effectively. Establish procedures for detecting, reporting, and responding to data breaches. Comply with notification requirements and inform affected users and regulatory authorities in the event of a data breach.
It is important to consult with legal and security experts to ensure compliance with specific regulations and security standards relevant to your target market and the nature of your digital wallet application.
How to Determine the eWallet App Development Cost?
Get stories in your inbox twice a month.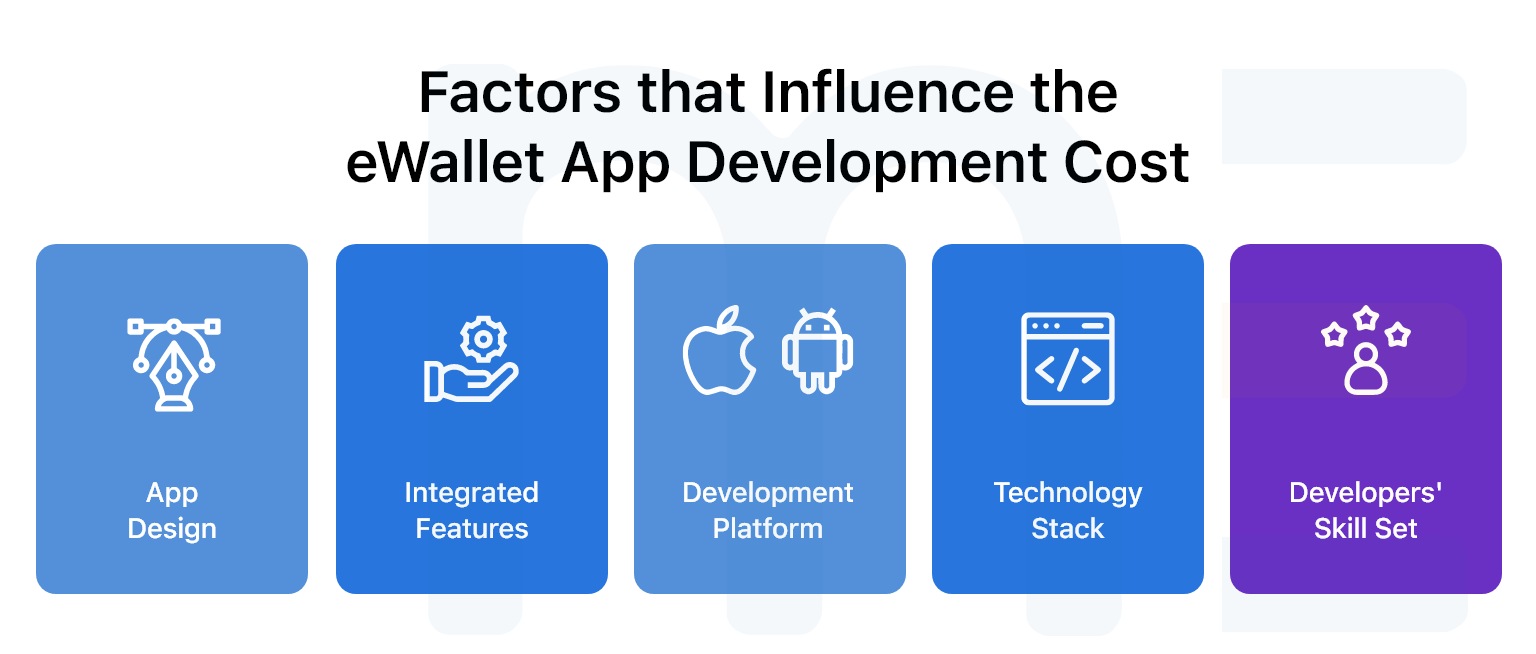 The eWallet application development cost can be calculated by multiple factors. A decisive aspect impacting the overall eWallet cost is whether you opt for in-house app development or hire a top-ranked mobile app development company. In case you prefer choosing a company with a pool of experienced and talented developers, then here are the factors that will determine the overall development cost.
1. App Design –
A mobile application design is the most critical factor in driving customer attention and engagement. For intuitive eWallet application development that delivers seamless performance on almost every platform including emerging technologies, UI/UX app design trends, and creative design elements that comes at a high cost.
2. Integrated Features –
The number of features and functionalities integrated into an app is the most significant factor influencing the ewallet app development cost. If you choose to develop an app's basic version with limited functionalities, then it may fit under your minimum budget. If you choose to add advanced and complex features, the cost will increase accordingly.
3. Development Platform –
The mobile app development platforms also impact the overall ewallet development cost. The cost of an eWallet application developed for iOS platforms will be less compared to Android app development. However, the eWallet mobile apps are majorly developed for both iOS and Android platforms.
4. Technology Stack –
The technology stack used in mobile wallet app development varies the cost. Every single platform and technology comes with pros and cons. Before deciding to choose the tech stack, it is recommended to hire a professional mobile mobile wallet app development company that can help you with robust app architecture.
5. Developers' Skill Set –
Whether you hire junior, executive-level, or senior developers for your eWallet development, the cost will depend upon the developers' skills, industry experience, and certifications. The cost of hiring experienced and senior developers will ask for more payment than employing junior or mid-level developers with limited skillset and domain expertise.
Conclusion!
The rise of mobile wallet app development has revolutionized the market. While online and mobile banking has been around for a long time, eWallet mobile applications have made it easier and faster to transact online and offline. mTraction Enterprise helps businesses follow the market trends and gain the winning advantage with perfect eWallet app solutions.
We are a top-notch eWallet application development company that focuses on innovating and changing your business model with creative digital solutions. We offer end-to-end mobile app development services for global business needs. Our eWallet development process revolves around security, scalability, network testing, and continuous monitoring. Let's make a mature decision today and plan for an innovative eWallet app development that doubles your business growth. Our aim is to support our clients and help them to gain the top position in the competitive world.
FAQs:
How does an eWallet app work?
An eWallet app typically works by securely storing payment information on a user's mobile device, such as credit card details or bank account information. The app encrypts and protects this information. When making a payment, the user can authorize the transaction through various methods, such as PIN, biometric authentication, or password.
What technologies are commonly used for eWallet app development?
The choice of technologies depends on the app's requirements, but common technologies for eWallet app development include:
Mobile app frameworks such as React Native, Flutter, or native development (Swift for iOS, Kotlin/Java for Android)
Secure payment gateway integrations
Backend technologies such as Node.js, Python, or Ruby on Rails
Cloud infrastructure for scalability and data storage
Data encryption and security libraries or APIs
How long does it take to develop an eWallet app?
The development timeline for an eWallet app depends on various factors, including the complexity of features, integration requirements, design complexity, and the development team's expertise. A rough estimate would be several months to complete the development process.