Guide To Successful Food Delivery App Development 2021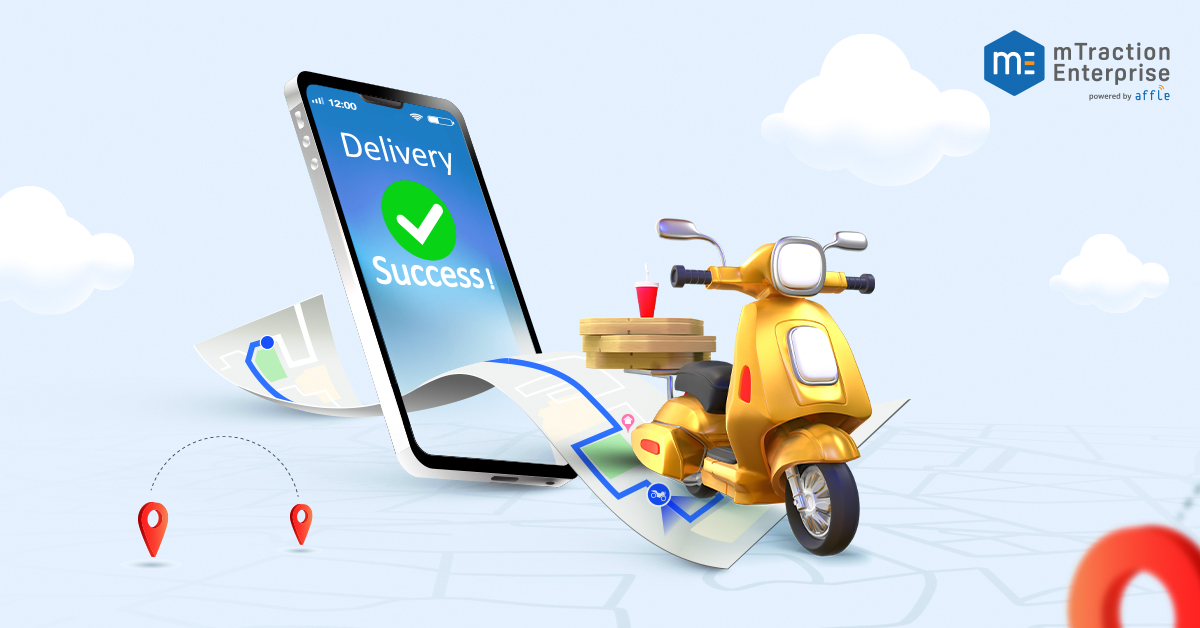 2020 has brought sudden changes to the market, and many businesses have to deal with the crisis. Where numerous small ventures have to leave the marketplace, some have experienced unprecedented growth. Numerous businesses have struggled to survive with the new-normal norms, and the food industry is no exception.
Today, when people are dealing with social distancing guidelines, it becomes necessary for food vendors to provide safe and quick services. In the current scenario, a smartphone is everyone's go-to device. People used to look into their phones for quick and reliable services at their doorstep. Due to the growing usage of mobile devices, the demand for online food delivery applications has increased rapidly.
Yes, if we talk about the recent lockdown scenario when every individual was forced to stay indoors, market leaders like UberEats, GrubHub, and Zomato have done a tremendous job by providing seamless food delivery services on the doorstep. The business giants never fail to offer a wide variety of restaurants, cafes, and delicious food menus to food lovers. 
As per market research, the global food delivery app value will increase by every successive year. Check out the report below to know how the food delivery app value is multiplying every year.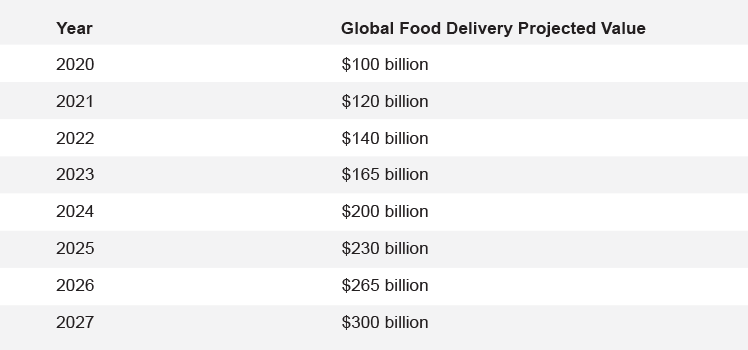 src: businessofapps
Is This the Right Time to Create an Online Food Delivery App?
This is the most common question asked by food business owners. Well, there is no doubt that online food delivery service has become one of the most profitable and successful business domains. The quick availability of products and services, easy access, and secured payment transactions have made on-demand services extremely popular. If you do not own a mobile application for your food business, you will regret it once you know how much profit you lose. Somewhere you are also giving your leads to your competitors having a strong online presence.
Highlights from Statista on Global Food App Market:
In 2019, the global online food service market experienced 107.44 billion U.S. dollars market size.

In 2020, the global market size of online food services had reached 111.32 billion U.S. dollars. (This was mainly due to the noble coronavirus pandemic).

Reportedly, the food app market is expected to grow at a CAGR of 11.51% to touch 154.34 billion U.S. dollars across the globe.

The online food market revenue is expected to expand by 16.6% in 2022.

The online food market is the market's largest Platform-to-Consumer Delivery segment holding the market volume of US$172, 944m in 2021.

User discernment in the online food delivery segment will be at 26.5% in 2021.
Top Reasons to Invest in Food Delivery App Development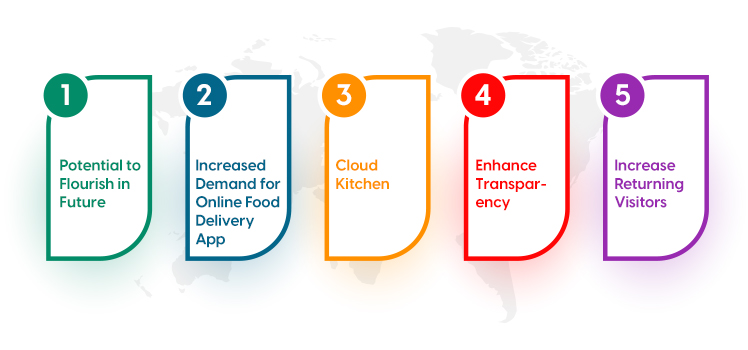 1. Potential to Flourish in Future 
Change is the only constant thing! With the integration of advanced technologies, the food market can adapt to changing market demands. As per the latest market trends, the industry is expected to mature with a growth rate of 3.5% in the future. This is how you can predict the exponential growth of on-demand food delivery services. Developing a food app is the master approach to sustain over the digital realm in the future.
2. Increased Demand for Online Food Delivery App
Due to the impact of a global pandemic, people are instructed to follow the government's strict guidelines. People's lifestyle is going digital. Instead of going out for window shopping, consumers are more likely to purchase online products and services. The food market has witnessed a sudden rise in demand for online services. Entrepreneurs have to look after more audiences than ever before. It clearly shows that this is the perfect time to invest in mobile app development for your food business.
3. Cloud Kitchen

If setting up a commissary kitchen or virtual restaurant is a part of your food business plan, then take a quick step to opt for a food application. It enables business owners to connect with commercial kitchens and introduce their virtual restaurants. Previously, traditional kitchens have declined to accept the cloud kitchen concept. But, with the continuous tech innovation, food businesses are exploring options like cloud kitchen to boost sales and revenue.
4. Enhance Transparency 
The food apps have already gained massive traction and popularity on a global scale. The tech innovations are strengthening the food market by providing enough transparency to both vendors and consumers.
5. Increase Returning Visitors
Customer retention is the most common goal among businesses. A custom on-demand application is helping companies to increase returning visitors and building a strong customer relationship. This made the home delivery apps the need of the hour for various business domains.
Different Interfaces of a Food Delivery Application
1. Admin Panel 
As the name implies, the Admin panel allows the app owner to record the overall app transactions. This panel allows the admin to track everything from payment transactions, modifying menu, special offers & discounts, customer's activities, and driver's actions.
2. Delivery Person Panel
The delivery person can accept or reject the order request, check the user's location, update delivery status, and find the shortest route to reach the consumer's address via this single panel.
3. Restaurant Panel
It simplifies the restaurant owner's job by providing easy tasks management like editing food listing, updating product availability, addressing customers' queries related to services and products, and order management.
4. Customer Panel
This panel allows end-users to explore food menus, restaurants close to their locations, make secure financial transactions, give reviews and feedback, check estimated delivery time, and track the real-time location of the delivery agent.
5. Super Admin (in case of Multi-vendor App Development)
While developing a multi-vendor application, the super admin keeps track of the overall network on the app, including adding a new listing, complete transaction management, privacy setting, and access to plugins.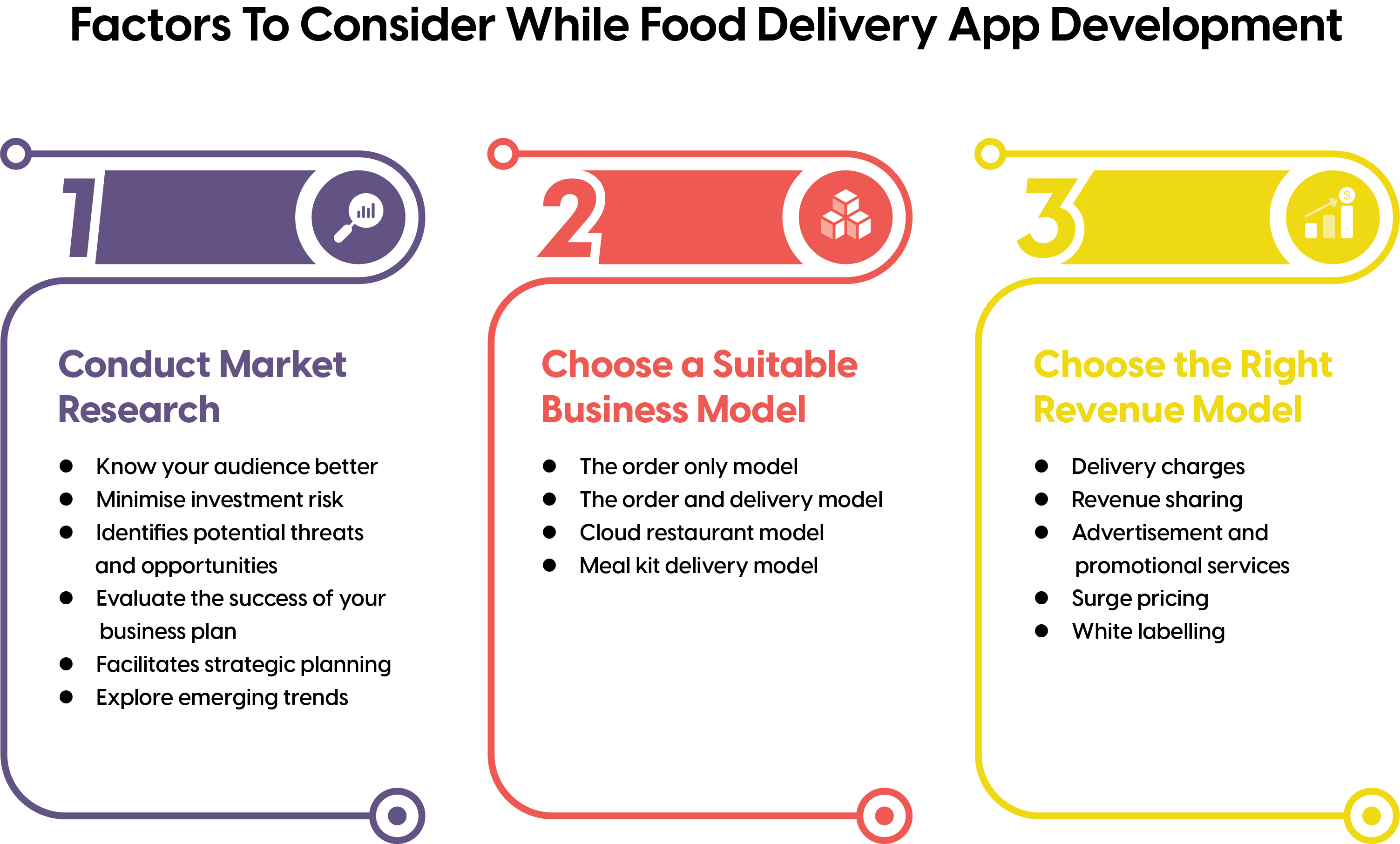 Must-have Features for On-demand Food Application
1. Customer App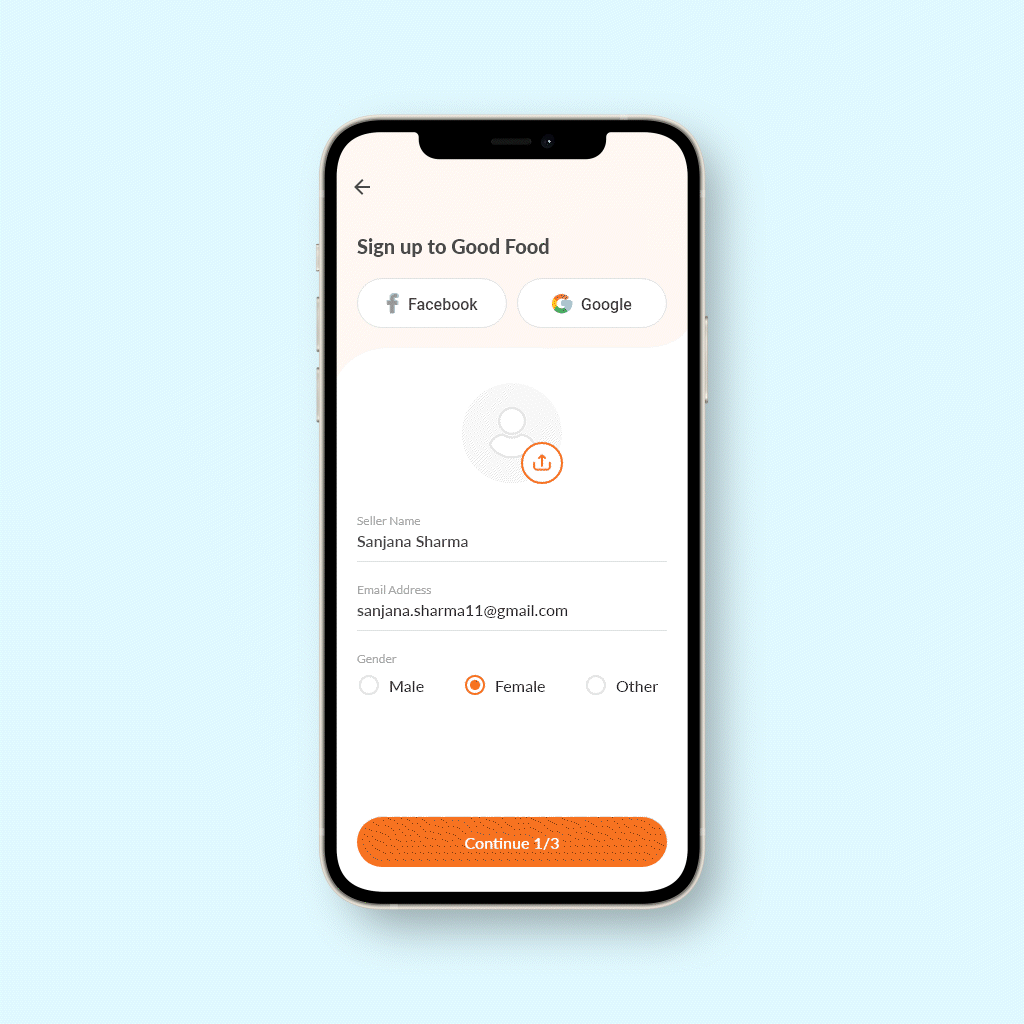 Sign Up & Profile Management- This is an entry gate of the app where users can get themselves registered to avail the further benefits of the application. Users can sign-up using their e-mail id, mobile no., or via social login. Ensure that your app offers a quick and seamless registration process focusing on the user's convenience.
Delivery Address- With the integration of a GPS tracking system, the app can automatically fetch the user's live location. Moreover, users can also save more than one address on their accounts.
Geo-location- This feature enables users to track the delivery person's live location and fetch the restaurant's location.
Payment Mode- This is the crucial feature of online delivery services. Users can select their preferred mode of payment like COD (Cash On Delivery), Credit/Debit card, and eWallets for quick and secure payment transactions.
Restaurant List- It allows users to fetch the list of nearby restaurants. Also, users can check the restaurant's rating and reviews and choose the one having more positive reviews.
Food Cart- Sometimes, customers want to have a variety of food items that they cannot avail from the same restaurants. The food cart feature allows them to add or remove items from the cart. Users can add a variety of meals from different vendors before the order confirmation.
Order History- When users want to repeat their order, they don't need to go through the whole process to place their order. They need to go to the "order history" option and click on the repeat order.
Push Notifications- This is a must-have feature in an online food delivery app as it keeps the users updated about the special offers, coupons, and discounts. They will get notified on their registered mobile no. or e-mail Id.
Review & Rating- The title says it all! This option allows users to share their experiences related to products and services. Based on their experience, they can submit ratings and reviews about the products and services. Also, these features create transparency for the users, as they can predict the service quality by checking on the rating and reviews given to the vendor.
Order Scheduling- Users can schedule the delivery time of their order. It avoids challenges like delays in order delivery or consumers' unavailability at the location.
Multiple Filters- It narrows the users' search and helps them find what they are looking for without any hassle. Users can add search filters based on food type, location, and pricing.
2. Restaurant App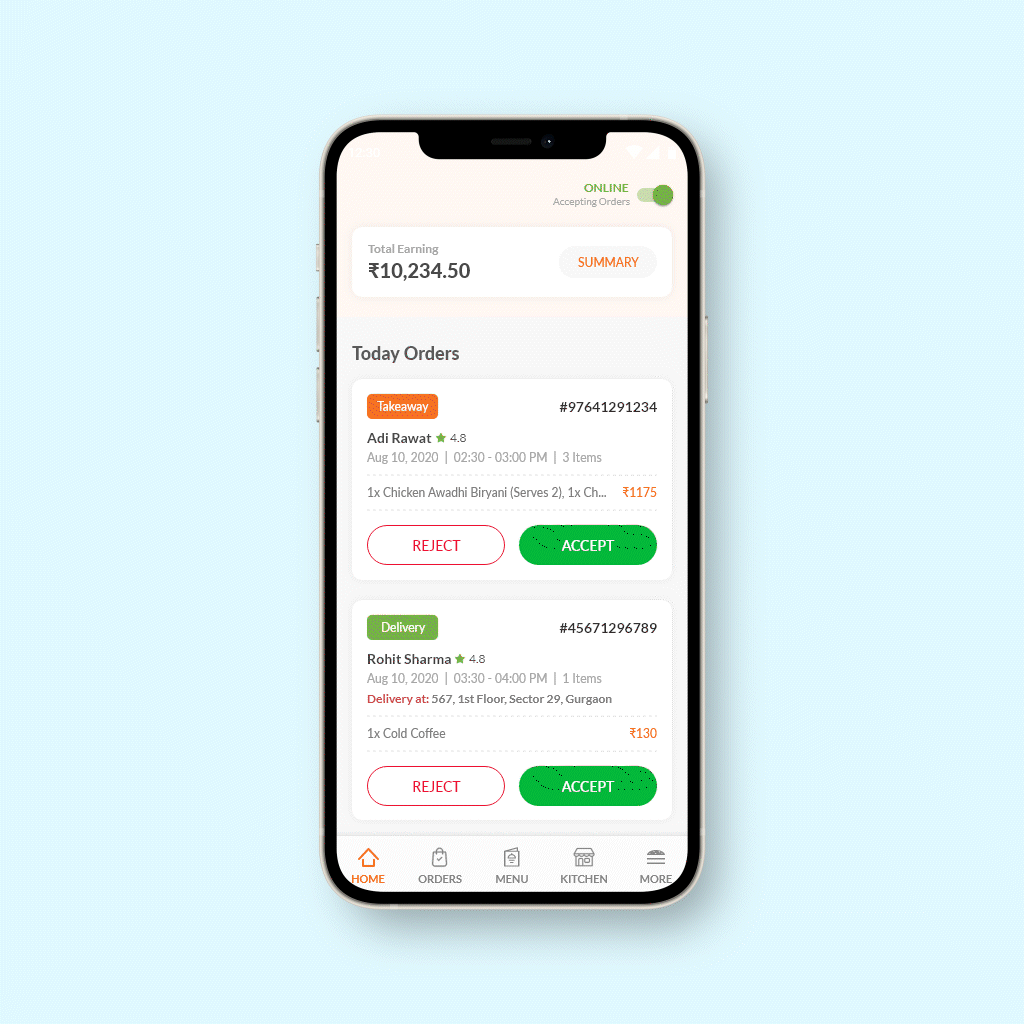 Managing Orders- Restaurant owners can update the order status like "order acceptance" and "your food is being prepared" to keep the user updated. Users can have the expected delivery time by knowing the order status.
Accounts & Management- Restaurant owners can keep track of all the financial transactions that take place on the app.
Dashboard- The dashboard is like the main screen where restaurant owners can look into new order updates, complete orders, orders under preparation, and the total amount received from each order. It helps them to take further steps accordingly.
Restaurant Profile- Restaurant owners can edit food listing, pricing, latest offers, discount rates, and product availability under this feature.
Add Products- Simply put, store owners can modify the food menu by adding some new items and get them reflected on the application in no time.
Accept or Reject any Order- Restaurant owners can accept or reject orders as per the availability of the product.
Brand Management- If a vendor operates from multiple locations, it enables effortless store management.
Special Offers/ Coupon Code Management- Service providers can promote special offers, new deals, discounts, and offers for maximized customer retention.
Track Payments- Restaurant owners can connect their bank account with the application and track transaction status like pending settlements or successful payments.
Order Reports- This is the most vital feature for restaurant owners that shows their business performance. Based on this data, they can plan their business strategy and operations.
Customer Support- Store owners can address the customer's issues related to products and services and get them resolved in real-time.
3. Admin App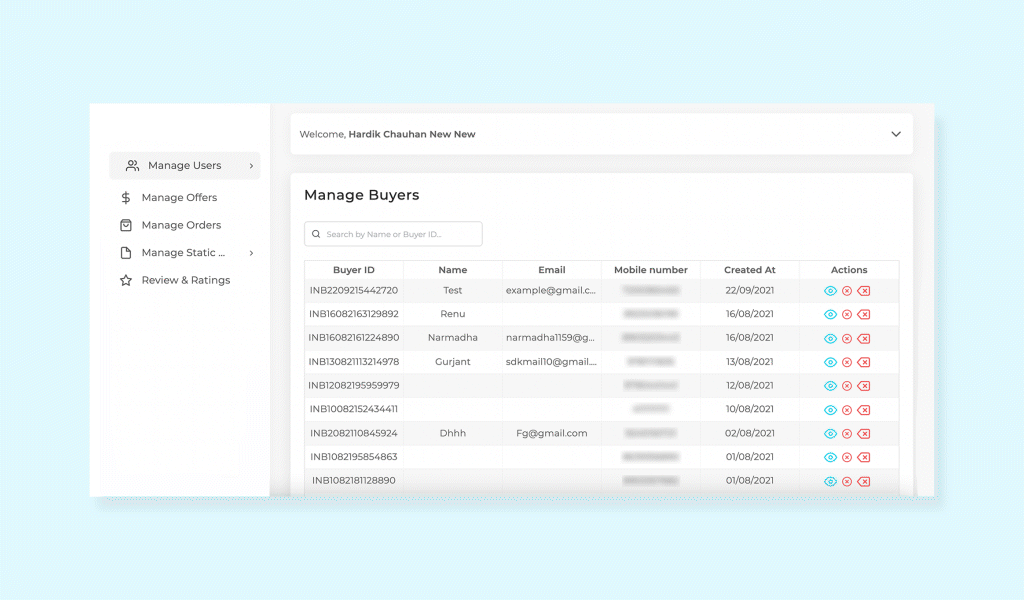 One-click Dashboard- From a centralized dashboard system, the admin can potentially manage entire back-end operations. The panel allows the admin to track the total number of orders received, inventory management, and focus on other app activities.
Manage Customers- Admin can add or remove users anytime and view the customers' details like contact information, name, etc.
Driver Management- Convenient tracking of driver's details like contact no., login-time, the total commission earned, trip details, and real-time location tracking.
Feedback Management- Admin can look after customer reviews, ratings, and feedback.
Payment Management- The app allows managing app transactions like money refunds, successful and pending payments via this feature. Admin can track the complete app transactions and fix the rate of commission for other business partners.
Modify Elements of the App- An admin can perform multiple tasks under this option, from editing products or services-related data to modify the app design.
Manage Restaurants- Admin can edit the restaurant's listing on the application.
Offer Discounts & Promotions- Admin can use the app as a marketing tool to plan and run promotional campaigns and special offers.
Reset Passwords- The mobile application also acts as a secure database that includes details of all the business partners and consumers. Based on the user's request, the admin can change or reset the account passwords.
Reporting and Analytics- This feature provides business insights that help entrepreneurs to plan and strategize effective business management.
Campaign Management- Facilitates businesses to strategize and run social media marketing campaigns to promote their brand and services.
Push Notifications- Admin gets notified via e-mail for driver's order acceptance, rejection, and order delivery.
4. Delivery Agent App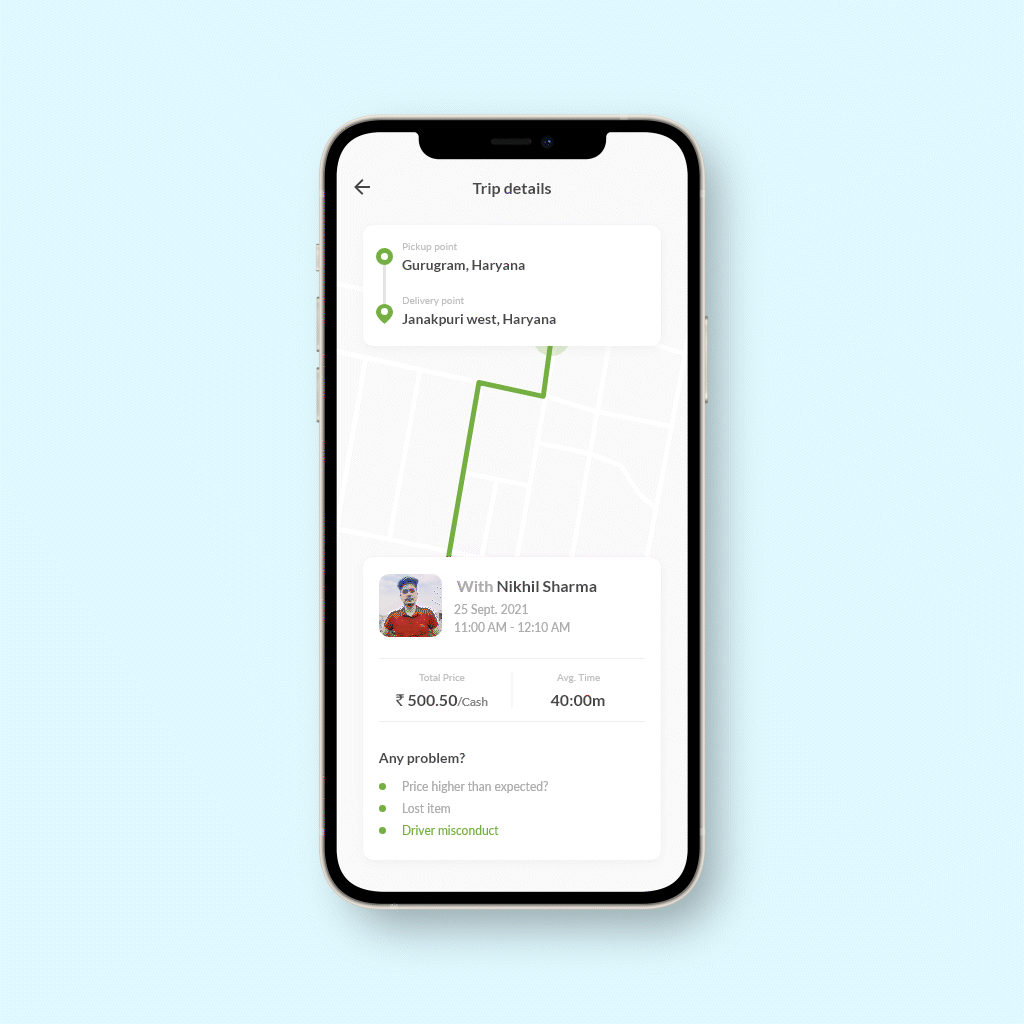 Registration- Firstly, the delivery agency needs to complete the registration process. Once the delivery person gets verified on the app, they can look for other options like order requests.
Orders Management- The delivery person can check view order requests and perform specific actions like accept or reject the order.
Call/Chat Option- Delivery agents can view the consumer's contact information and call them while facing challenges like finding the exact location.
Online Support- It establishes communication with the support team of the application. Delivery agents can get quick assistance in case of any complexity.
Delivery History- The delivery person can track the total number of deliveries, pending deliveries, and payment records for each product.
Status Update- The delivery person can update the delivery status.
Top Five Brands that are Dominating the Food Market
Grubhub
More than 95,000 restaurants are listed on the platform.

A free to use on-demand food delivery app.

The brand has more than 15 million active users.

The average count of grubs placed via the application is 423,200.

The leading food brand is in official partnership with London and 1,700 US cities
Postmates
More than 6,00,000 vendors are having a partnership with the brand itself.

Postmates have approx 10 million monthly active users, who place five million orders every month.

It operates in more than ninety cities across the United States.

Nearly 23% of consumers have Postamate's paid subscription plans.
Uber Eats
UberEats is an offshoot of Uber ride-hailing services.

It operates in developing countries like India, China-Japan, Mexico, Brazil, and the United States.

In recent times, the unbeatable food brand has acquired Ando. Ando delivers a lunch-only menu and operates for a couple of kitchens around Manhattan.

Provides a quick and convenient way to place bulk orders and schedule meals from local food service providers.

The app can serve both iOS and Android users.
DoorDash
The leading foodservice brand has 18 million users. 

The majority of app users are from the United States.

The brand has acquired Square's Caviar delivery services for $410 million.

The platform has completed 900 million orders since its inception.
Zomato
Zomato is one of the leading food apps equipped with the latest features.

The brand closed its extensive funding of $660 million in December 2020.

It serves nearly 25 nations that include Australia, the USA, and India.
Tech-stack Integrations to Develop a Food Application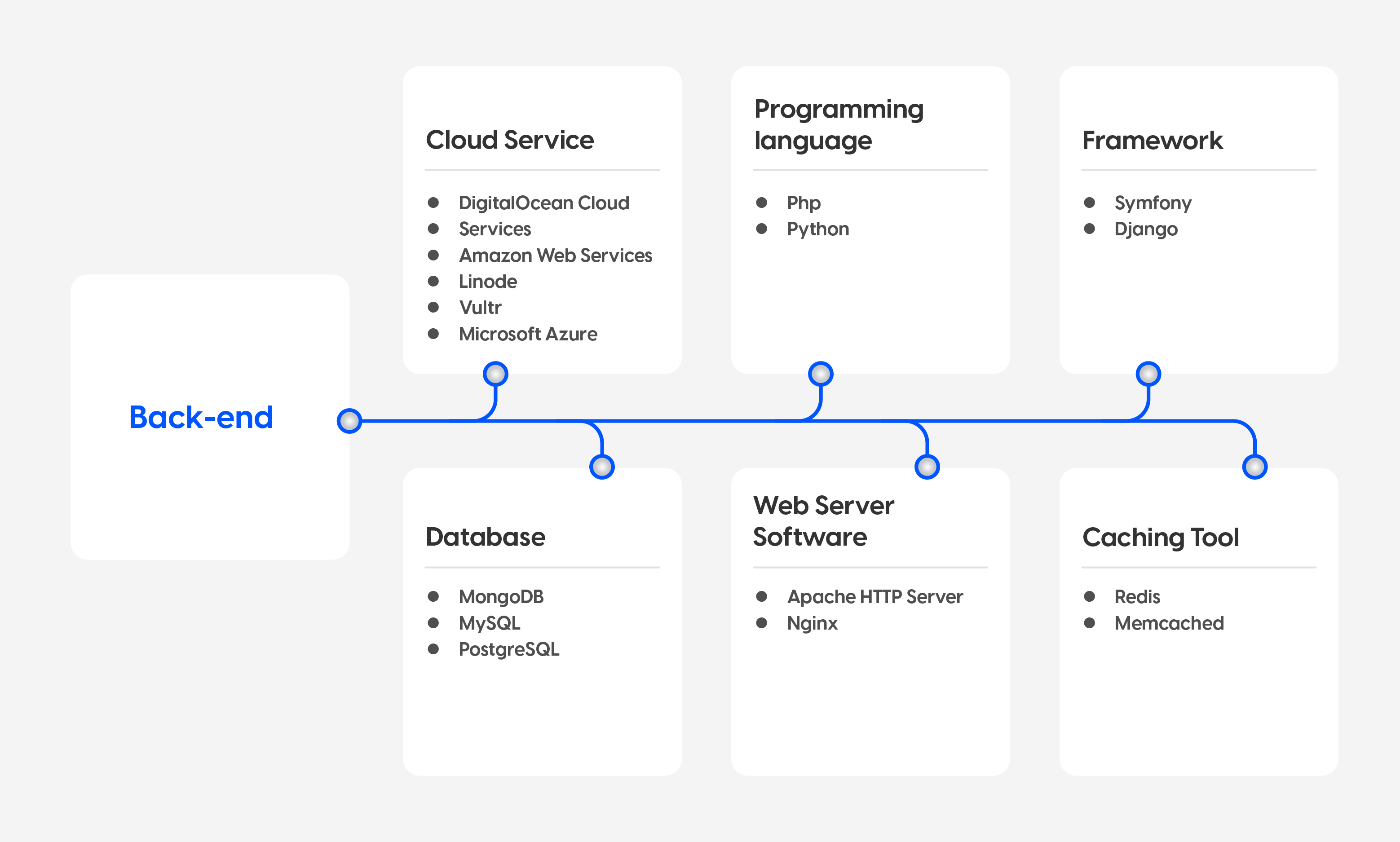 Tech-stack for Backend Development
Reasons to Invest in On-demand Food App Development
1. Customer Convenience

The online platform provides ease and comfort to millions of users. It ensures secure online payments, offers a wide range of features, and focuses on contactless and safe delivery. The ease of order placement on the fingertips and delivery on the doorstep is the key appeal to creating an on-demand food delivery app.
2. Increased Access to a Broader Market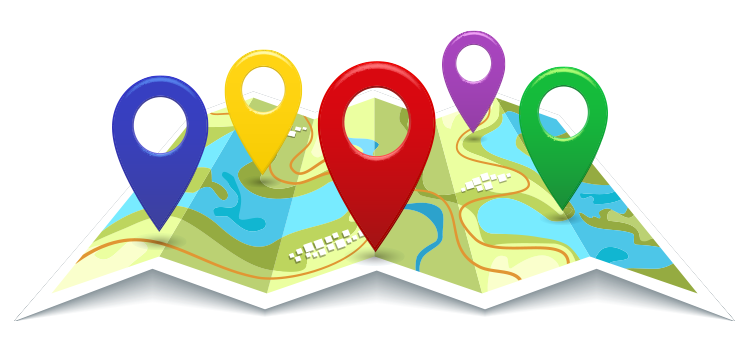 For business owners, it is impossible to work for 24 hours actively. But a mobile app can do this for them. Users can place orders anytime as per their needs. On the other hand, it facilitates businesses to access a large customer base and market reachability.
3. Increased Visibility (Exposure for Startups and Medium-size Businesses)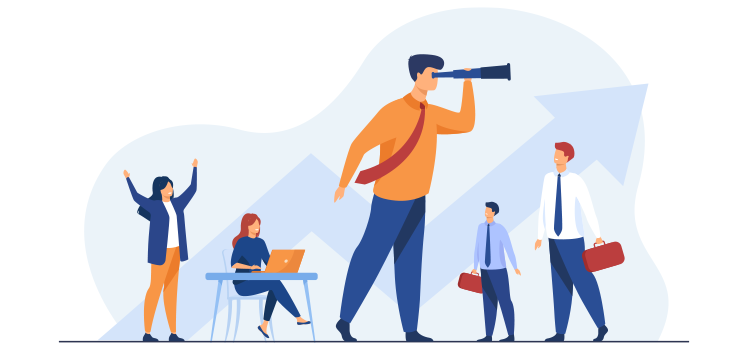 Regardless of the nature of your business, the mobile app acts as an excellent tool to explore many business opportunities. It can break the demographic barriers and allow companies to secure a place on a global scale. It is the best way to enhance online visibility and enable food chains to gain a robust digital presence.
4. Improved Food Delivery Process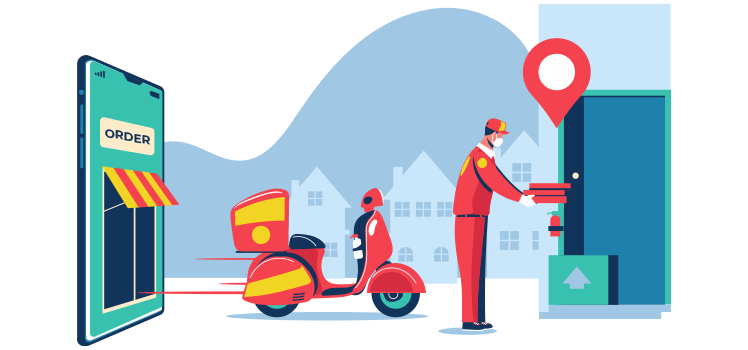 A feature-packed mobile application simplifies the business process and makes the delivery process user-friendly. It not only saves the time of business owners but also gives a great user experience.
5. Managed Database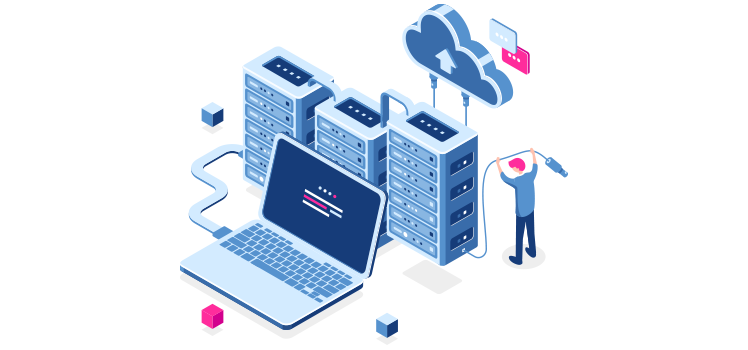 Food application acts as a secured database that records data like repeated orders, customer's shopping patterns, recurring consumers, transaction history, reviews, and ratings related to products and services. The app holds all the vital information that helps businesses to plan their next business strategy.
6. Increase Brand Recognition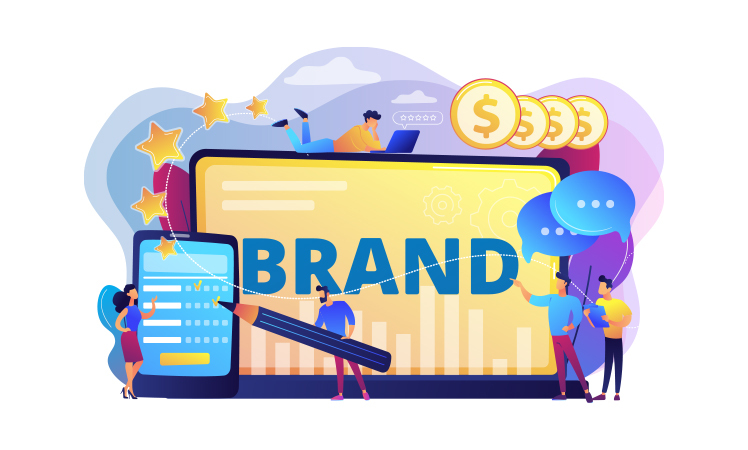 Today, global audiences use digital platforms to get their needs fulfilled. In this highly digitized world, having a considerable online presence is a must for the food business. It brings food brands to the frontline and makes them easily reachable to a wide range of audiences.
Summing-up
It is no secret that people choose to go with what brings them reliability and convenience!
The online food delivery app idea is not new. Earlier, people used to order tasty meals via phone calls that food chains aim to deliver to the particular address. With the growing usage of smartphones and easy internet accessibility, the food order process has become more simplified.
Get stories in your inbox twice a month.
Mobile apps have revolutionized the food market and taken it to another level. Moreover, it brought new business opportunities and became a great source of revenue generation for food service vendors.

mTraction Enterprise (mE) is equipped with highly qualified and experienced mobile app developers who are dedicated to building custom app solutions. We provide business-oriented on-demand app development solutions catering to global business needs. If you have a raw app idea that you want to convert into a productive digital solution, we can help you to get the perfect application tailored to your business needs.