Productivity Boosters : ERP Solutions Powered by Mobility Apps.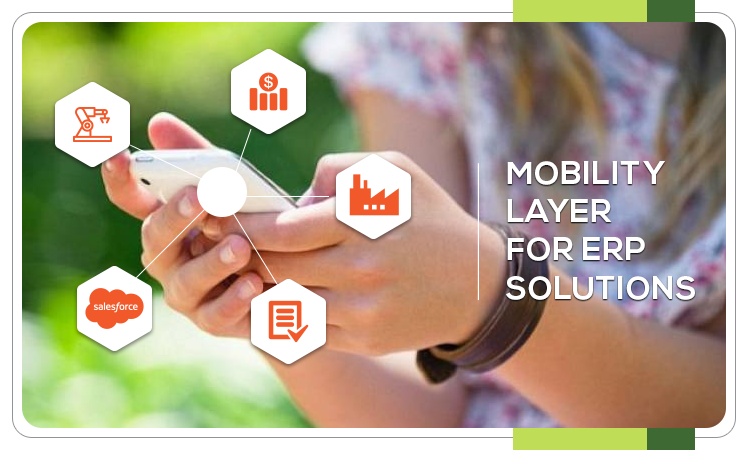 Mobility layers to ERPs in 2016 are what ERPs were to the industry in the year 2000. ERPs gained popularity in the mid-90s after the Gartner group presented them as the solution to all operational functions in government offices, large-scale industries and NGOs. The expansion happened in 2000 when CRM and SRM solutions took over, along with web-based real-time management.

Enter the year 2010; mobility solutions were fast replacing web solutions owing to their accessibility and convenience. Now we are looking at mobility apps to take us to the next level of productivity and optimization in conventional industries as well as modern setups. Establishing a need for a mobility layer is not the objective of this blog. It is universally accepted now that having mobile ERP increase productivity. Some studies claim that over 76%of users have agreed to better productivity owing to mobility solutions at work.

The objective of this blog here is to discuss how a mobility layer on top of a two or three-tier ERP solution is the next big thing for your business. This blog explains how PLC apps, administrative operation apps, inventory management, and distributor management mobile apps with mobile interfaces are just as good at managing big data and are more accessible and manageable than their desktop counterparts.
First, let's understand what kind of ERP solutions can adopt mobility and what industries they cater to:

1. Mobile ERP Solutions for Manufacturing:
Manufacturing a product or a service is the primary step in any industry. Manufacturing physical goods is very different from manufacturing software or services. Still, all product cycles have a dedicated cycle time, from the first step of planning to the last step of execution. The most challenging task is to coordinate among different teams that are involved. Especially now, when waterfall lifecycles are getting replaced by efficient, parallelly running processes under Agile. So if you are willing to develop an ERP app, you can directly consult the mobile app development company to discuss more.

Mobile apps and mobility solutions can be used for project management or production control. These are like mobile SCRUM boards. They give cross-team visibility into the processes and help teams coordinate better. Better coordination leads to better time management and resource planning. This reduces cycle times and production costs by reducing the wastage of time and money.

Project management apps can also be used to supervise better. Managers can thus understand pain points in the product lifecycle, apply solutions and quickly gauge results with accessible data.


2. Supply Chain Management & Mobile ERP Solutions:
Supply chain management is imperative to industries such as FMCG and Pharmaceuticals.
After the manufacturing, the storage, logistics, and distribution of produced goods come under supply chain management. ERPs for Distribution management, Inventory planning, and Batch management are needed at this step. These services can be mobilised with a mobile presentation layer added to the top without making any changes to the database layer and business logic layer.

Since data associated with these processes is sensitive, it is advisable to keep a centralized database management system that is highly accountable. However, the presentation layer should be mobile and easily accessible for better visibility, planning, and round-the-clock management. Similarly, batch management for perishable goods can also be fast-tracked using mobile solutions, thus preventing wastage and saving money.


3. ERP Solutions for Administrative Management:
Large-scale conglomerates have large-scale operations and a vast number of employees. Running functions like Finance, HR, Janitorial services, or Maintenance bleeds money when mismanaged. When a  business is based out of several geographies, running these operations is expensive. Additionally, chinks like mismanaged funds, miscommunication and the absence of centralized supervision make these daily activities harder.

All industries need administrative functions to run smoothly. They make for less frustrating, happier workplaces. They also help take care of essential tasks such as travel bookings, employee attendance management,  handling employee grievances etc.

The retail industry is one industry heavily dependent on its human resources. Quality salespersons across stores and uniformity in customer services are essential to maintain a brand image.

A classic case of how mismanaged administrative functions can cause successful businesses to fail is the American retail chain: Sears. Sears was the yester years Walmart in North America. In 1992 they suffered a non-profit making quarter, a first after 1929's great depression. A closer look at the issue found that an acquisition by K-mart and massive cost-cutting by the new management caused administrative functions to fail. Employees started feeling disengaged and unmotivated. The stores looked shabby, with chipped paint and malfunctioning lighting. Like that, a massive name in retail came tumbling down.

Cost cutting may have caused the administrative functions to fail at Sears. But the major takeaway from here is that you cannot neglect administrative functions without suffering losses. Luckily, quick, round-the-clock mobility solutions help manage these functions and optimise cost with more significant insights into data and resource planning.

Mobility solutions can be built like a presentation layer atop any ERP solution. ERP solutions come in a two-tier or three-tier architecture, and in both these architectures, the presentation layer is distinctive from the business control layer and the database layer.

The best part is that even if you maintain a centralised DB or host it on a private cloud, it can be linked to the presentation layer, not compromising the security of the database layer. As a precaution, you could employ security measures to keep your servers and data safe. There has to be no third-party involvement beyond the business logic layer except for necessary data calls in real-time and no storage beyond the cache memory.

Also, as mobility experts, we advise well-researched UX and great UI to make mobility solutions convenient and accessible. Professionally designed apps can increase productivity, and poorly designed apps may cause productivity to fall. Reach out to us at mTraction Enterprise for a mobility solution consultation.

We'll cover more on mobility layers to different ERP solutions in the next blog; stay tuned. Communicate with us through the comments section below, and send us queries specific to your business through the Contact Us page.