From Television to Android TV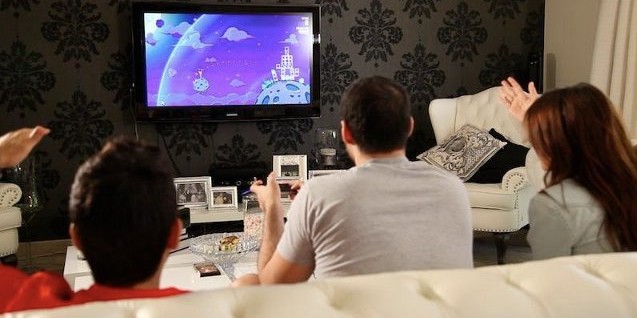 Applications and Android are the two terms which are more frequently used than hello and thank you now a days. Television which serves as the magic box everywhere has a new wizard to take charge. Its Android and it is going to be amazing. Just imagine you are using your smartphone to navigate and control the proceedings on your smart screen television.
As you are imagining……..
You need to know that this idea was actually initiated by Google with an intention of providing a better smart screen experience with a new dimension of possibilities altogether. The credit of integrating android and HD smart screen television technology goes to Google, thus giving rise to the concept of a"home theatre". But they couldnt gain a healthy response earlier when Android was not a part of their over promised smart screen experience. Now, as they have started inducing Android as the interface and simultaneously the medium of interaction between a user and a smart screen, Google is gaining more than positive response from the smartphone society.
What changed the scenario?
The very fact that the earlier google TV couldn't create that impact in the context of providing an over promised smart screen experience. Google needed to enhance its reachability and customer satisfaction in terms of being user friendly as their google TV platform had a complex connectivity module as it was dependent upon plugins to function and create a medium of interaction for its user. The other necessary component that further added to its drawbacks was the interface that had to be navigated by a QWERTY keyboard and some related remote control thus making it a confusing user experience.
What is so promising about Android TV ?
Android TV promises a much flexible approach towards making your smart screen experience more smart phone friendly as the language of interaction between the two smart gadgets is Android thus giving you accessibility of both your TV and your smart phone on one platform. Some really exciting features are going to be a part of this android enriched smart screen experience. The very amazing amongst them is voice accessibility over data. Simply it is like getting to know all the italian food hubs sitting on your comfortable couch and sipping hot coffee, within your vicinity by just speaking.
Well, it is just a matter of time to know how much Google has really done to please its long awaiting customers. But one thing is for sure, customers and the obvious market is waiting to welcome the new innovation. Android TV will run on every Sony smart TV built in 2014. Smart TVs manufactured in 2015 by Philips, Sharp and TPVision will also include Android TV, according to a recent post at PC Advisor. Other manufacturers may also follow suit to stay competitive. Affle Enterprise, the right place for your idea to be born, wherein you get the experience and expertise of 250 AppStuds who have all the skills and latest knowledge to nurture your idea. Our technically well-versed team has been working with clients and providing end-to-end solutions to make apps and the software module for the hardware interactive component for the 3D ultra HD TV sets only because of our customer-oriented approach and an up to date working atmosphere thus leaving no possibility of a flaw which might indicate lacking the latest technological trend. If you are working with Affle Enterprise, your idea is in experienced hands.

Get stories in your inbox twice a month.
We at Affle Enterprise have developed applications for enterprises, each built for a custom use case. Monitoring and witnessing the impact of their integration in real-time.
For any queries regarding mobile app development, drop us a line at enterprise@affle.com.