Smart TV and OTT Providers are Complementary or Rival?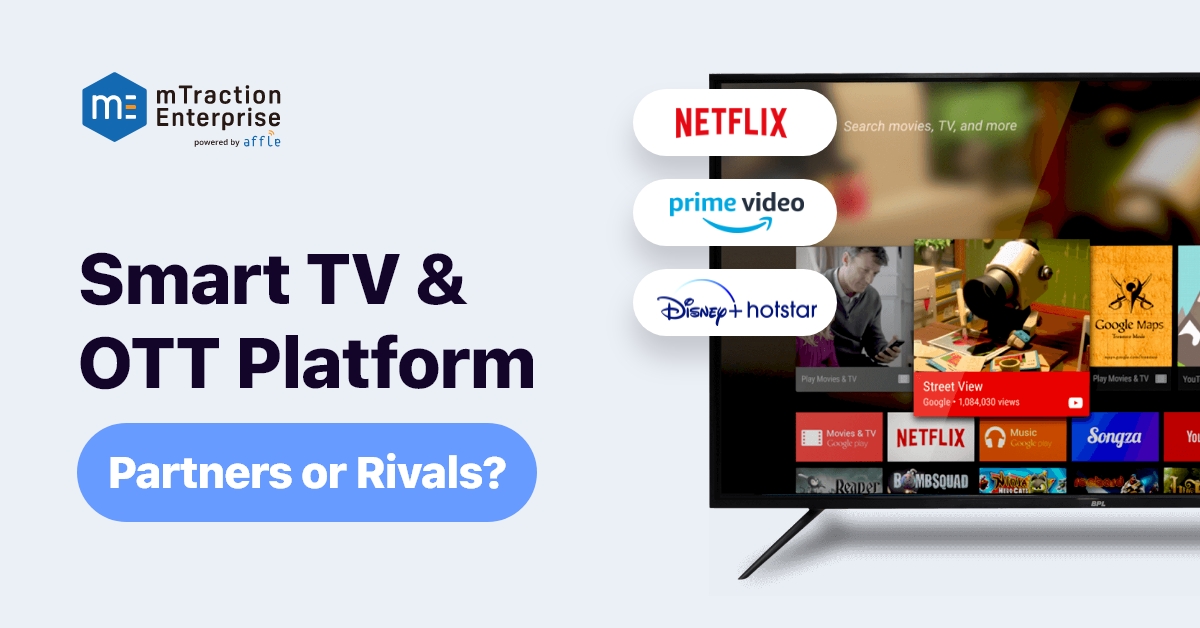 Digital is the new norm of the modern world, and it's no surprise that even media consumption around the world is now occurring digitally. Thanks to improved Internet accessibility and speed, unlimited wireless data plans, and rapid smartphone adoption, consumers can access their desired media content anytime, anywhere.
No wonder why Smart TV and OTT providers are challenging the supremacy of television that ruled our lives for decades as the OG of media & entertainment! The shift from traditional media consumption to digital media consumption is becoming more pronounced than ever. Digital consumers spend over six hours each day on online platforms, with mobile devices accounting for 51% of this online time. In this post, we'll focus on the rise of Smart TV and OTT providers fueled by the Internet and emerging digital technologies.
The Rising Demand for Smart TV and OTT  Service Providers:
Before we indulge in a full-fledged discussion on Smart TV and OTT providers, let's first understand Smart TV and OTT providers' concepts. A Smart TV refers to a setup including a traditional television set integrated with Internet service and Web 2.0 features. This setup lets you browse the Internet for media content, stream videos and music, and even view photos.
A Smart TV integrates traditional broadcasting media content with online media services like Internet TV, interactive media, over-the-top content (OTT), on-demand streaming media, and even home networking with other devices (mobiles, Bluetooth speakers, etc.).
OTT stands for over-the-top media service that allows users to stream media online directly through an active Internet connection. In this sense, OTT service goes beyond traditional media services, including cable, broadcast, and satellite television.
The market for Smart TV and OTT providers is booming, and India is one of the top countries with a growing demand for OTT services. The rising demand for OTT backed by robust Internet connectivity throughout the nation is further driving the growth of the Smart TV market in India. As per the latest stats, the Indian Smart TV and OTT market will grow at a CAGR of 5% between 2020-25. While the valuation of the Indian OTT market stood at US$ 303 million in 2018, it rose to US$ 493 million in 2019.
Why the Demand for Smart TV and OTT Providers is Skyrocketing?
The rapid proliferation of mobile devices is a primary contributing factor behind the steady growth of the OTT market in developing countries. Plus, modern devices like smartphones and Smart TV have opened up a host of channels for online streaming of audio and video content.
There's been a noticeable shift in viewer preferences. Online video streaming platforms like Netflix, Amazon Prime, Hotstar, etc., are preferred and highly popular among individuals aged between 18 to 34 years. These platforms deliver outstanding user experience, giving users the push to buy Smart TVs.
The increasing adoption of cloud-based services is another reason driving the growth of the OTT market. Cloud technology enables users to store and access their data on any device, anywhere, at any time.
A rise in the middle-income population's disposable income and ongoing digital transformation are encouraging people to shift from traditional TV sets to Smart TVs. The top OTT platforms in India include Hotstar, Netflix, Sony Liv, Amazon Prime Video, Jio TV, Eros Now, MX Player, and Voot, to name a few.
Smart TV and OTT: A Symbiotic Relationship
By now, it is clear that the relationship between Smart TV and OTT providers is largely complementary – each is dependent on the other, and each propels the growth of the other. Smart TV and OTT providers are gaining the consumer's attention due to two main factors – convenience and user experience. Smart TVs provide a unique content viewing experience, almost resembling that of your smartphone. However, this also leads to the growing demand for smart tv mobile app development.
It includes embedded features like Wi-Fi and Bluetooth connectivity and the Cast Screen feature that allows you to cast your smartphone video content on the Smart TV. Thus, you can connect your Smart TV via your broadband or phone's Wi-Fi and enjoy your favorite content on the TV screen. As for OTT providers, they allow you to seamlessly view content on smartphones and Smart TVs, whatever your preference is. So, you can view OTT content is always available on any platform using an OTT app.
Statista maintains that the global Smart TV market is continually growing and that by 2024, Smart TV tech will account for the sale of over 250 million Smart TV sets. This inevitably indicates that more and more people will choose OTT as their staple media consumption platform.
Wrapping Up:
The global Smart TV and OTT market is dominated by five regions – North America, Asia Pacific, Europe, Latin America, and the Middle East and Africa. North America boasts of having the highest revenues regionally, the Asia Pacific region will record the fastest growth (CAGR). With digitalization gaining ground, more and more consumers will opt for fast, cost-efficient, and tech-savvy options such as Smart TV and OTT providers. Rest assured, Smart TV and OTT providers are here to stay, with their growth graph only scaling up in the near future.
Get stories in your inbox twice a month.
We at mTraction Enterprise grasp your business challenges & ideate a personalized user experience to solve complex business problems. Connect with our team at enterprise@affle.com for a quick smart TV mobile app development consultation.