Benefits of Augmented Reality and Virtual Reality Based Mobile Apps in Business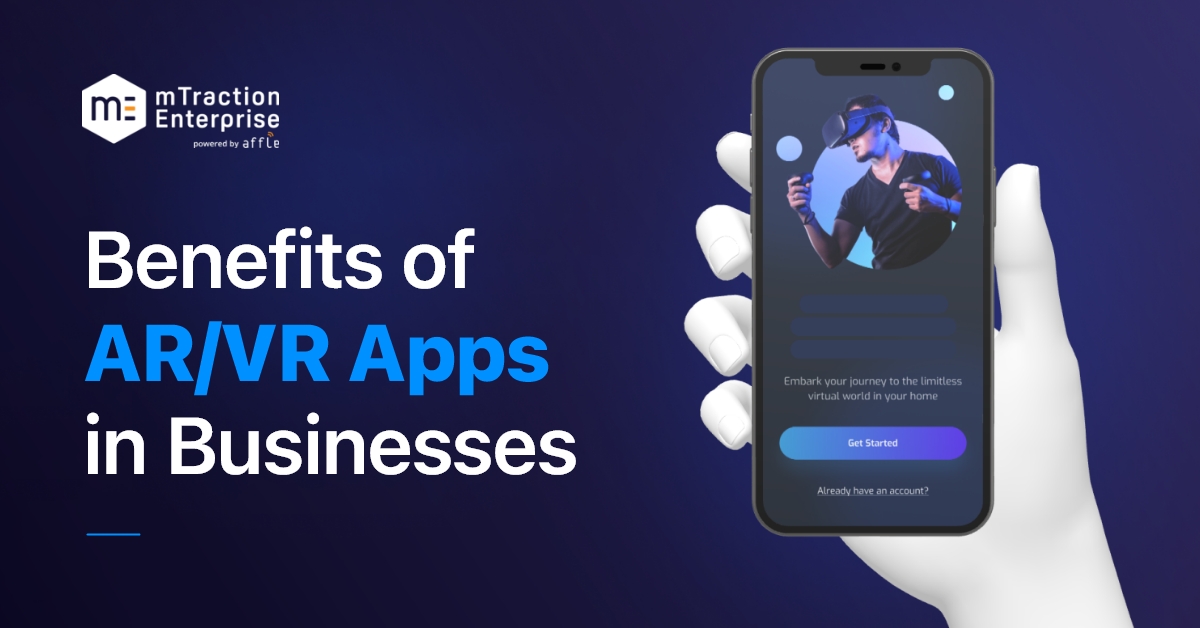 Since their inception, Augmented Reality and Virtual Reality have been actively introduced into the day-to-day lives of every individual and business. These technologies have gained attention among smartphone users, startups, and existing businesses. Entrepreneurs consider investing in AR VR Mobile App Development to skyrocket their business growth. These technologies encourage businesses to get a significant profit share and unlock new business opportunities.
The commercial world has joined a rat race to implement AR/VR in mobile app development to stand out in the crowd. With the increasing competition in recent years, businesses hustle to find an innovative approach to uplift their strategies and operations. This led companies to resort to digital platforms and join the tech competition. Multiple business domains highly adopt AR VR across the globe to sustain in the long haul. According to PR Newswire, by 2030 Augmented and Virtual Reality (AR & VR) Market will reach USD 454.73 Billion with a CAGR of 40.7%.
Four Main Types of AR/VR Apps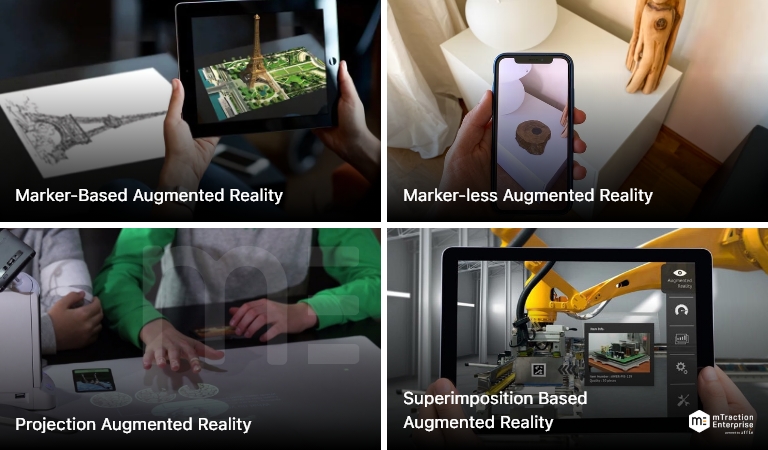 Keep reading to discover why you should think about AR VR app development, and how popular business domains are reaping the advantages of Augmented Reality and Virtual Reality.. Let's dive in!
How Popular Business Domains are Reaping the Advantages of Augmented Reality and Virtual Reality
1. VR for In-Store Experience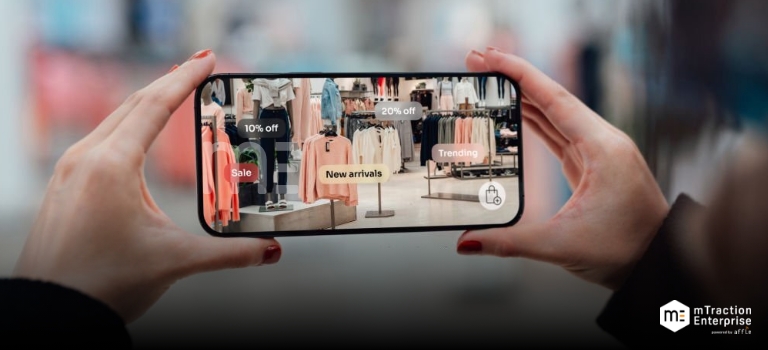 Where customers are rapidly moving toward online shopping, eCommerce businesses are considering investing in AR/VR app development for enhanced productivity and customer engagement. As the COVID-19 outbreak is still wreaking havoc and the future seems unpredictable, many eCommerce brands utilize Virtual Reality to drive customer attention.
Forecast share of global consumers who will have used Augmented Reality while online shopping by 2025, by country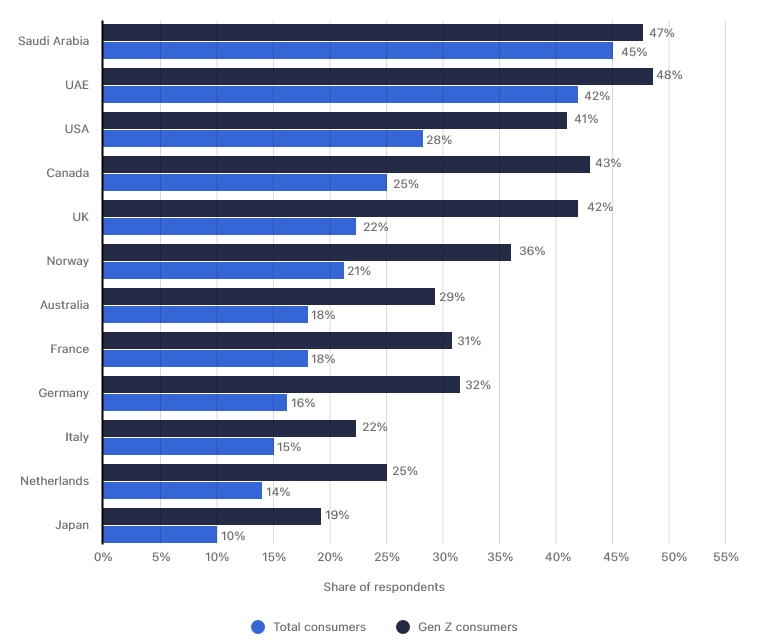 img src: Statista
The online store is investing in AR/VR app development to fill the gap between traditional stores and online shopping. The 3D product view allows customers to take a 360-degree tour around the products, deeply interact with a brand, and connect customers with virtual support members if needed.
2. Virtual Fitting
In 2022, progressive eCommerce projects are implementing AR/VR in mobile app development and introducing innovations like virtual fitting. It helps online shoppers to try on desired apparel using AR mirrors without physically wearing them.
Where virtual fitting solutions have gained extreme popularity in clothing and apparel, they are also becoming the center of the stage in makeup, furniture, glasses, footwear stores, etc. According to Statista, the global virtual fitting market is expected to grow over 12 billion U.S. dollars by 2028.
3. Navigation in the Online Store
Augmented Reality provides a quick tour of online stores and helps customers to find what they are looking for. Thanks to the AR-based mobile application inducing in-store navigation feature. The AR VR-based apps utilize advanced programming features like Python try-catch to offer customers much more than just AR routing. The apps help buyers to find the best shopping route, show products' locations, and even redirect them to the latest discounts, offers, and giveaways.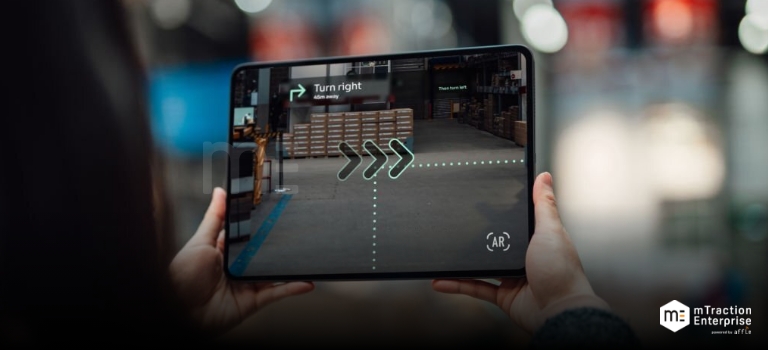 4. VR for Real Estate
Virtual Reality has transformed the real estate industry enabling buyers to take a virtual tour of their dream house/apartments. It allows the retailer to make an exact model of the residentials and invite buyers to view every corner of it virtually using a VR headset. The virtual model is created from the house under construction or can be remodeled.
The VR technology predicted the technological equipment from both users and content producers. At the same time, its counterpart Augmented Reality makes it more practical. Market leaders like Google, Facebook, Microsoft Corporation, and HTC Corporation are the lead players investing in AR VR app development for real estate.
5. Incorporation of AR/VR in Education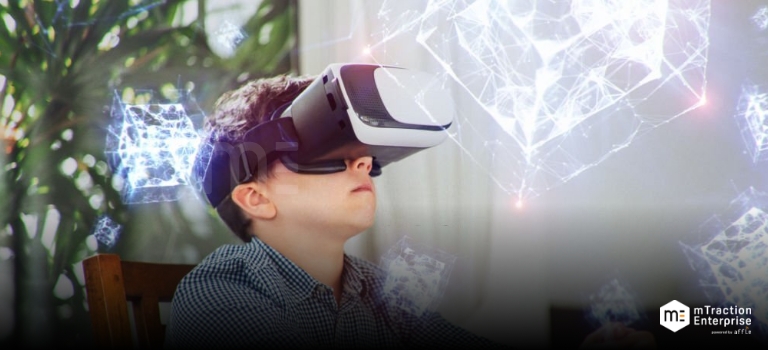 The eLearning industry is booming by implementing AR/VR in mobile app development. It enables engaging content creation and makes online learning a fun experience. This is more beneficial for learners residing at a remote location with no facilities of colleges, schools, or other educational institutes. It helps distance learners access various study materials and join the virtual classrooms, ensuring they don't miss out on the real-life classroom experience.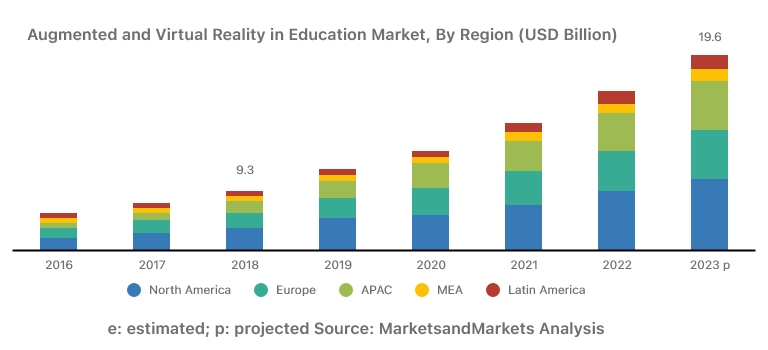 img src: markets and markets
6. AR/VR in Healthcare
The healthcare industry is reaping the benefits of Augmented Reality and Virtual Reality. The technologies have given the global healthcare business a new dimension and goal. It facilitates medical learning and healthcare training, offers 3D visualization, enhanced patient care, virtual surgery, and much more.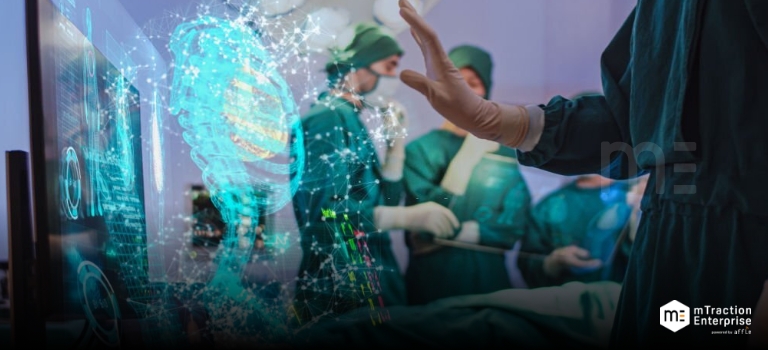 Moreover, surgeons follow a virtual examination of organs that need to be operated. With the advent of AR and VR technologies like Magic Leap and Microsoft HoloLens. The gates to new opportunities are now wide open in the healthcare industry. Reports by PR Newswire reveal that by 2027 Augmented and Virtual Reality in the healthcare market is calculated to reach USD 4367 Million at a CAGR 23.6%.
7. VR in the Travel Sector
The tour and travel industries are adopting VR technology as a part of their marketing tactic. The technologies offer realistic and in-depth interactions between customers and travel services. If we talk about the peak COVID times, when people were restricted from stepping out of their homes, AR/VR-powered travel mobile apps have provided alternative travel options. Yes, it allows people to take a virtual tour of any places they want to explore. Virtual Reality is also predicted to play a vital role in the post-pandemic tourism sector.
8. Gaming with AR/VR
AR and VR have brought a revolution in the gaming sector. The implementation of AR/VR in mobile app development helps create imaginary sitting and realistic sound effects to stimulate the physical presence of the games and give a real-life gaming experience. Pokémon Go is the ideal example of an AR VR-based gaming application. The game allows the user to interact with a new, augmented form of Reality. Research by Global News Wire says that by 2028, Virtual Reality (VR) in the gaming market will reach USD 53.44 Billion.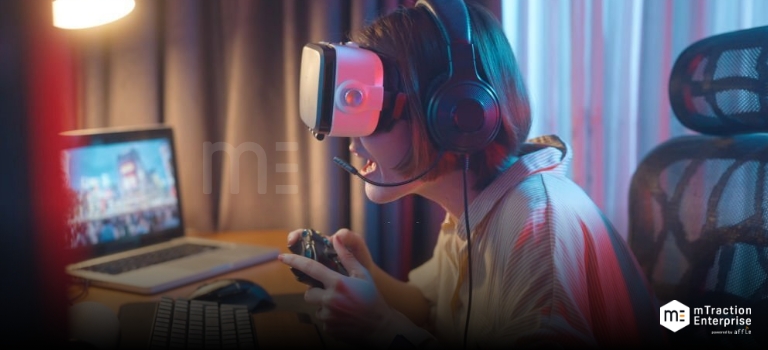 9. Remote Assistance via AR/VR
With AR/VR app development, remote assistance has become more manageable. AR remote assistance tech innovation incorporates live video streaming with Augmented Reality. The technology superimposes a computer-generated image on a user's view of the physical environment.
Both the technologies are combined to create a robust solution for remote guidance. The incorporation of AR/VR in mobile app development provides technical data, content, and other required information based on knowledge sharing and collaboration that simplify the remote assistance process.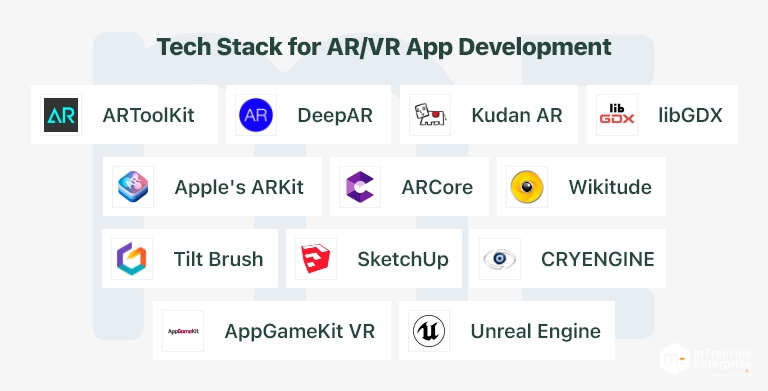 How to Integrate AR/VR Into Your Business?
1. Define your Business Goal
Before you make an approach to perform your business operation, choose a technology or build a solution, focus on the business goal you want to achieve. Knowing your goal to set the right business strategy and choose the appropriate tech stack to build a business-oriented digital solution is a must. Start with your project requirements, define your market niche, understand the tech needs, and make a layout that takes you to accomplish your goal in the best possible way.
2. Do Market Research
Rather than going with the hype, it is imperative to take a deep dive into the market matching your business niche and understand the potential of technology. You must invest your effort into augmented reality market research and competitive analysis to explore the advantages of augmented reality and virtual reality, its future, and how the technology helps the brands to be rank holders in the digital realm.
3. Examine Internal Business Challenges
To understand how a business makes a profit, first, you must focus on the challenges it may face. It is critical to understand the traditional business approach, loopholes, and what technical challenges you need to overcome. That implies exploring the different business segments, bringing the individual teams on board, and discussing the business-related complexities and issues. Based on your examination, you can hire a mobile app development company to help you overcome your business challenges and achieve your goal.
4. Hire an AR App Development Company
Once your business problems and outcomes have been evaluated, the next thing is to hire an AR VR app development company. Hiring a company with a pool of professional and experienced mobile app developers can help you turn your app idea into a futuristic app solution. We at mTraction Enterprise help businesses to develop AR VR-enabled mobile apps that satisfy their business criteria and needs.

Let's Make a Futuristic AR/VR App Today!
Augmented Reality and Virtual reality have transformed the current market trend tremendously. Mobile app development companies continuously take the benefits of Augmented Reality and Virtual Reality to create a bridge between imagination and reality.
Get stories in your inbox twice a month.
The technologies have already recreated how customers interact with the brand, and it's still growing to redefine the future of businesses. Industries have a lot to explore by implementing AR VR in mobile app development; all it takes is to ideate and take the initiative to invest in AR VR app development.