Is Demand for Smartphones Driving the Connected Car Industry?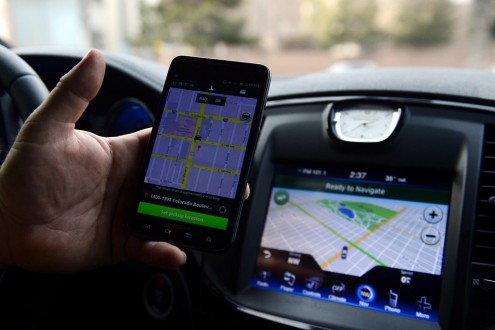 Automotive industry is now entering the age of connected cars. Their product innovations are more aligned towards connected car apps because apps can make cars in-tune to customer's digital lifestyle expectations : relevant, useful and, above all, safe. Now, people don't prefer the car that's "the ultimate driving machine," they want "the ultimate app machine". This demand for connected-car technologies, in-vehicle telematics, navigation, infotainment systems and web connectivity has compelled car manufacturers to engross in-car app technology.
Smartphones are swapped every two years or so, but not Cars
After recognizing the importance of in-car technology and the sluggish pace at which it updates, more and more car manufacturers are heading towards smartphones to drive innovation. They know that people change their smartphones in every two years or so, but swap out their cars infrequently. Due to increasing popularity of in-car technology, 3rd party car app developers consider it as a minefield. And to better avail this opportunity, developers aspire to get into action, too, but they are stuck due to a few issues. According to Vision Mobilereport highlights – In the car app market, "Developers are faced by enormous fragmentation, small addressable markets and high friction in the distribution and monetization of their software". We can say, car app market for developers is a nightmare. But yes, there's still hope.
One of the best ways to incorporate apps is in-vehicle infotainment (IVI) systems like the ones provided by – Blackberry: ONX Car and Microsoft: Windows Embedded Automotive. According to Vision mobile report – there are three different ways through which automakers integrate cars and smartphones:
Smartphone apps can be controlled by the use of steering wheel controls and built-in voice recognition.

Reversely, IVI apps can be controlled by the use of smartphone voice recognition (e.g. Apple's Siri or Google Now).

By using APIs the built-in infotainment system becomes a second display for smartphone apps.
There are standards for consistently connecting our cars to our smartphones like – Ford, leading the pack, recently open-sourced its AppLink system as Smart Device Link, Car Connectivity Consortium's (CCC) Mirrorlink, an alliance of consumer electronics companies (Mirrorlink has roots in Nokia) and car makers.
Who will dominate the battle of car-app innovation?… Google, Apple or Microsoft?
Recently, we have seen the battle in the context of connected cars between Apple, Google and Microsoft, which ignited with the launch of Apple's CarPlay and Google's Android-based Open Automotive Alliance. With these options in hand, car manufacturers are behind their respective technology banners, with each one pledging fidelity to one or another. With a view to go "over-the top", Apple and Google are finding ways to efficiently connect cars with apps through its On-Board Diagnostics (OBD-II) port. For over 10 years, the OBD-II port has been mandatory in cars, which offers app developers to connect directly with cars without awaiting for formal approval from Ford, Fiat or others. Currently, there are around 200 apps in the Google Play store that use OBD-II. However, OBD-II integration doesn't allow apps to actually control the car, but, yes developers may get sufficient access and a lot more development freedom, which are the main ingredients for strengthening innovation.
The Future Of App-Enabled Cars
Get stories in your inbox twice a month.
For developers, after recognizing the biggest and addressable car app market, integrating apps with car is the biggest and best target, so far. However, the car app world is broken. We can say, it is broken much like mobile app market was in 2008. Today, for developers it's not a contented target, that they can easily salivate over. In 2012, there were 84 million new vehicles manufactured, a small portion of these were "app-enabled" models. According to ABI Research, in 2012, there were fewer than 8 million OEM-installed connected car telematics systems.
It's always seen that pushing new technologies and applications for automakers is always going to be slow. But, as said, there is always a hope. By leveraging the same strategies that created the smartphone revolution, car apps could also be on the brink of major innovation.