Singapore Ranks 1st in the Asian Digital Transformation Index, Twice: Let's See How!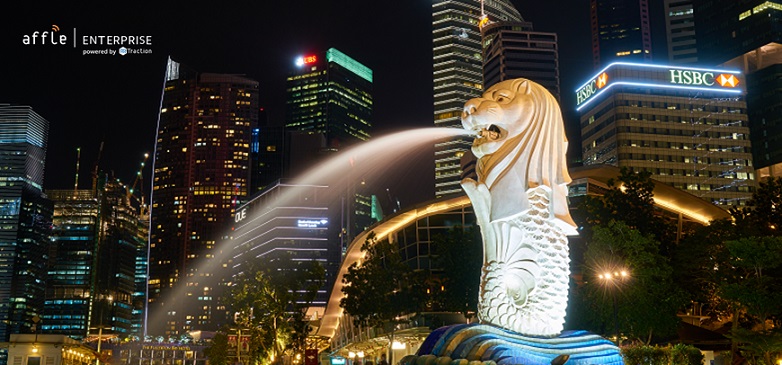 With the advent of Artificial Intelligence (AI), Machine Learning (ML), and the Internet of Things (IoT), the era of digital transformation has begun. Leveraging these technologies in solitude and in combination, businesses around the world are coming up with innovative business models and disruptive ways of customer satisfaction.
Asia has emerged as the leading hub of digital transformation, showing a remarkable penchant for digitisation. With over 60% of the global populace residing in Asia, it is home to some of the fastest-growing companies in the world.
According to a report by Cognizant, by 2025, all the disruptive technologies of today (Internet, cloud tech, IoT, robotics, AI, ML) are projected to foster nearly 30% of GDP growth in Southeast Asia alone. And one country has become the crowning jewel of Asia when it comes to digital transformation – Singapore.
Singapore has emerged as the leading nation on the Asian Digital Transformation Index, not just once, but twice (2016 and 2018).
EIU Asian Digital Transformation Index 2016. 
An initiative of the Economist Intelligence Unit (EIU), the Asian Digital Transformation Index is a holistic definition of digital transformation that is a "quantitative ranking of 11 Asian markets and three global comparators using 20 indicators across three key categories relevant to business performance: digital infrastructure, human capital and industry connectedness."
According to the Asian Digital Transformation Index report published by the EIU,
"Singapore remains Asia's frontrunner in this category, thanks partly to its continuing clarity of digital vision and consistent implementation of ICT (Information and Communications Technology) development plans."
There are numerous reasons for this. The primary reason is the Singapore government's proactive participation in the digital transformation drive. For a long now, the nation's (ICT) and regulatory policies have always been in sync with its broader vision of developing a concrete digital foundation.
This has been singularly responsible for boosting the overall business framework of the nation. Entrepreneurs in Singapore have been actively harnessing the power of digital tools and platforms, generating both profit and an enhanced degree of customer satisfaction.
Stressing the importance of customer satisfaction, Neeta Lachmandas, the Executive Director of the Institute of Service Excellence at Singapore Management University (ISES), affirms that the quality of digital customer experiences one provides can reach new heights or be the reason for its downfall. She states:
"The digital consumer age means greater access to information online. Most times, customer expectations are shaped by online experiences and research. Businesses that are not able to keep up with these expectations risk losing savvy customers to more digitally-equipped competitors."
In Singapore, citizens can readily access a host of government data sets from data.gov.sg. One can search a host of topics that impact a county's progress on the global platform, including economy, finance, health, education, technology, infrastructure, environment, and transport. This little move has helped the nation's citizens become aware and literate and compelled individuals and businesses to rethink their business models and strategies.
Singapore's Progress
While the 2016 Index report shows Singapore lagging in terms of human capital and industry connectivity, the 2018 Index report shows that while Singapore still leads on the digital infrastructure front, it has also clearly overcome the barrier of human capital:
EIU Asian Digital Transformation Index 2018. 
Singapore is readily grabbing every opportunity to incorporate advanced technologies into its national infrastructure and has consistently pushed the implementation of its long-term ICT plans.
For instance,  Singapore holds the record for having the highest fibre-to-the-home (FTTH) and fibre-to-the-building (FTTB) take-up rates among all the Index economies. FTTH and FTTB are the fundamental elements of next-generation (5G) networks.
It is a known fact that digital expertise is a rarity in most parts of the world (especially when it comes to AI and advanced analytics), and Singapore has the most substantial talent pool in this field. The reason behind this is Singapore's increased stress on developing its educational infrastructure. Over the years, Singapore has undertaken numerous initiatives to ensure that both schools and universities produce technically and digitally sound individuals.
Today, India is treading the same course. In the 2018 Index report, India has moved up by four positions (in the field of digital infrastructure) since 2016. This is primarily due to India's increasing investment in ICT infrastructure.
The International Telecommunications Union maintains that in India, telecoms investment increased from 0.4% of GDP in 2015 to 1% in 2017 (the highest recorded growth in all the Index economies). Furthermore, the Digital India initiative is also giving a significant boost to digitization.
With its proactive approach and disruptive policies, Singapore has emerged as a role model of digital transformation and development for nations across the globe. It has shown the world how active government participation can radically transform an entire nation for the better and help it emerge as a global leader. While every nation has different problems and issues, the key to solving these lies in using the technologies wisely.
Get stories in your inbox twice a month.
We at mTraction Enterprise are enabling thriving startups & giant enterprises to solve complex business challenges through our Mobile app development services. Please get in touch with our team at enterprise@affle.com