BlackBerry moves to instant messaging grooves!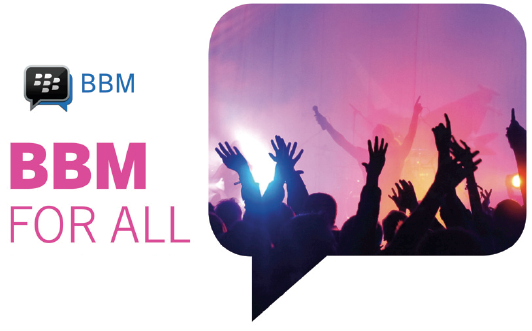 When deterioration of BlackBerry's colossal empire was announced by media, claiming job cut and sell out left many BBM lovers thwarted. However the disappointment of not matching up to the latest instant mobile messaging though got stuck in lapse of time but has finally made its mark on the rival Android based devices and iPhones. The free download instant messaging software was launched on 21 September 2013 in amidst of all the conjectures.
The headcount slashes up-to 40% by BlackBerry was highlighted in The Wall Street Journal however an email response to a query by Mint, Blackberry refused to comment on any "rumour and speculation". Fairfax Financial Holding Ltd, the major stakeholder at the BlackBerry's might take smartphone maker private as reported by Reuters on 10th September 2013. Though BlackBerry is evident on its Z10 touch phone and Q10 model based on its BB10 platform and relying upon the famous BBM, BBM channels and BES10 to map the loss market place amongst the youth and companies in Indian Smartphone segment, it will have to pace up extraordinarily to catch up with the latest instant messaging apps. As an add on services BBM is to include a social engagement platform, allowing users to connect with brands, artists and communities in real time- not unlike Twitter.
According to BlackBerry's India M.D. Sunil Lalvani BBM has 60 million users worldwide and 10 million BBM messages sent daily. BBM shall bring with it features like video, video chat and screen share as an icing on the cake to project BBM's spectra beyond the smartphone product to augment the growth of BlackBerry.
BlackBerry initiative to launch Instant messaging software for IOS and Android is the upshot of the report that states a figure of 102 billion annual download growths of mobile app stores by 2013 and free app forecast is accounted for 90% of global download in 2017 as per the reports. BBM despite being leader of its time will have to struggle to match up with US-based WhatsApp which top list with 250 million active users and China based WeChat with 195 million users as per the company's quarterly results upto may 2013.
The existing Nimbuzz, Kakao Talk and Line with similar features to that of BBM, the road seems long to catch up and BBM will have to take steps to draft its niche space with innovations to place itself ahead of the lot. Highlighting on the BBM selling propositions BBM runs on a private network, so delivery and receipts are assured. "BBM allow the privilege to know when someone has read the message as well. It's not just a 'read' sign (as with Whatsapp) but actual delivery of a message that matters since a 'delivered' message indicates that the user, too, has got the message," said Lalvani. Keeping the security part intact Lalvani added that since BBM is based on a personal identification number (PIN) and not on one's phone number, it allows users to choose who they connect with "rather than become an IM (instant messaging) contact to anyone who has your number…In the event that you change numbers, BBM does not expose your address book to the next person who takes your number,"BBM is lawfully compliant in India, and meets the Indian government's requirements for monitoring by security agencies".
Despite all the new initiative it is presumed that offering BBM on other operating system the move seems to be too little and too late to recover Blackberry lost market-share in India over the last two years. The move made by BlackBerry will be the deciding factor to answer all the speculations and customer loyalty of the brand. BlackBerry projected move to compete with the over-the-top (OTT) messaging services, such as WhatsApp and Skype would be an interesting watch in the forthcoming future.