Smartphone growth to slow down to 6.2% by 2018 and the tech industry to pursue other avenues like wearables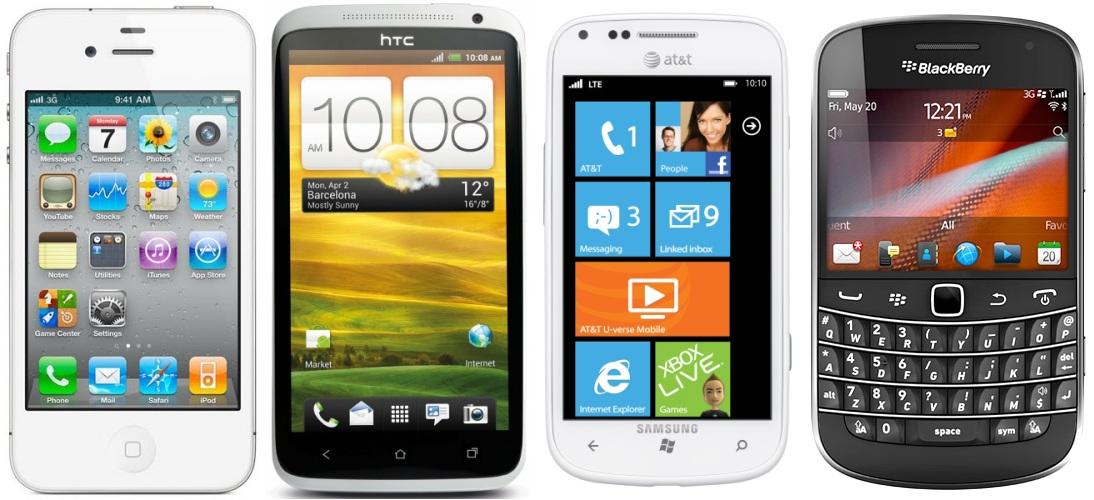 SmartPhone 'Growth Market' is one of the new buzz words that got dropped a lot at Mobile World Congress 2014. SmartPhone's growth markets also known as developing markets, or emerging markets will continue to drive smartphone sales growth for the foreseeable future. Focused on providing essential insights on current and future trends in the world mobile industry, every year MWC- the world's largest trade show devoted to the wireless industry, share the growth of smartphone sales around the world, apart from challenging and educating attendees whilst covering the latest technological developments, next-generation services and growth strategies.
2013 saw 1 billion smartphone sold worldwide
According to a research firm, International Data Corporation (IDC) – For the first time, more than 1 billion smartphones were shipped in a single year. In 2013 over 1 billion smartphones sold worldwide, showing nearly 40% overall growth. As the Smartphone growth markets begin notifying some form of saturation, It is expected to get rates shrink to under 10% in 2017. IDC also stated that – by 2017, due to receding sales in Smartphone largest markets like the US, Western Europe and Japan are expected to slow down smartphones sales growth globally to 8.3 % in 2017 and 6.2 per cent in 2018 from close to 40% in 2013. If we discuss for 2014, there will be a marked shift in how that growth continues. That is a far departure from what we have seen in the past, but was an inescapable outcome.
Google's Android will maintain its tight grip on global smartphone
By 2018, Android operating system will command the Smartphone market with a share of 76% on global smartphone shipment, says IDC. While Apple's iOS that runs iPad and iPhone will capture 14% of the market. And, Windows Phone platform is expected to grow the fastest, nearly doubling its market share from 2014 to 2018, according to IDC. For BlackBerry 's future IDC has taken a conservative stance. The company's recent moves to shore up its presence with government and enterprise users as well as its strongholds within emerging markets will be under constant attack from the competition. However, its higher-than-average prices compared to other platforms could inhibit its growth potential. Let's have a look on this: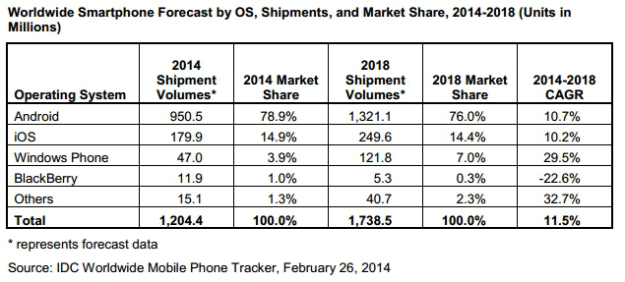 However, we can expect a fall in the prices of Smartphones in order to maintain any measure of growth. The average price of a smartphone in 2013 was $335. By 2018, that average should fall to $260, ignited by what will be an exponential increase in low-price-point devices. Smartphones like the Nokia Lumia 520, the new Nokia X as well as the Motorola Moto G are just the start.
Get stories in your inbox twice a month.
Wearables – the next growth wave in mobile technology
It's not just snazzy smartphones that captured the attention of the masses at MWC 2014 but smart wearables were also at their peak of the show. The unspoken truth is: Wearables are no longer outlier tech, they represent the future unfolding before us in real-time. Wearable tech is becoming more and more prevalent in the era of mobile technology turbulence and is capturing the public's imagination for the last few years.