APPINDEX Features Affle Enterprise As Top Market Leader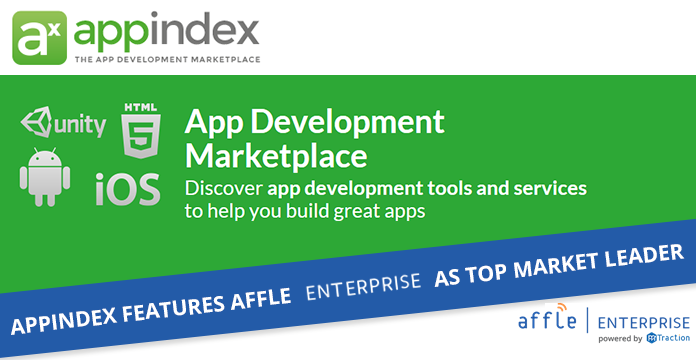 Affle Enterprise is committed to the motto of "Research Driven Design-Led Engineering". We aspire to produce our highest quality work and take pride in delivering cutting-edge solutions to the digital landscape. It always motivates us to see our contributions and perseverance being recognized in the industry. In July 2015, Appindex, the B2B Marketplace for App and Mobile Game Developers added us to their list of Top 10 iPhone App Developers across the USA, UK, Asia, India, Europe, Australia and North America. And now, we are proud to announce that, Affle Enterprise has also made it to their list of Top 10 Android App Developers, which came out this September.
Our company profile includes several focus charts detailing our expertise, including service lines, client focus, and a breakdown of our mobile platforms. After being featured in Appindex, we have received several truly flattering reviews from our clients who have collaborated with us in the past:
"Once you are working with a coding team, the frictional cost of changing to another team is prohibitive, so it is easy for the incumbent to overcharge. Affle Enterprise doesn't do this – they do seem to walk the talk when it comes to treating the relationship as a partnership." — Founder, Photo-sharing Application
"Affle Enterprise had a real drive about them. They wanted to make the project a success. We could see that, and it took the project to the next level." — President, San Francisco Location Services Startup
Appindex looks at various factors and criteria while including the top developers in its merit list. It also consults the reviews of developing companies on popular websites like a clutch. co, crunchbase.com and LinkedIn to identify the top-performing developers. Rankings are assessed based on critical points like straight-up coding, UX/UI design, branding, level of business focus, company size, key clients, and average hourly rate to deliver. We are happy to be recognized in the USA, UK, Asia, India, Europe, Australia and North America as a top market leader.
Special thanks to Appindex and everyone who gave us a good review on their website. Be on the lookout for some more significant updates from our end!
Do you have an app idea? Let's talk about getting it live. Give us a shout!