Inception of iPhone x and rise of bezel-less devices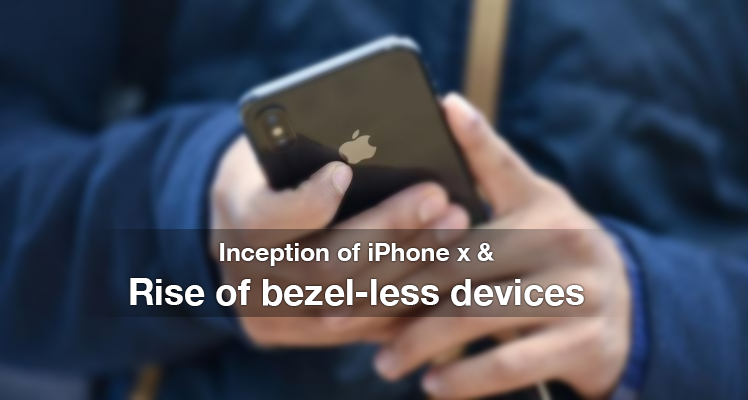 Introduction
The launch of Apple's iPhone X in the revolutionary market of smartphones and mobile apps has added another new feature in smartphone design i.e. 'bezel-less designs'.  In consideration of the brand value and customer buying trends of Apple's iPhones, it is apparent that this wonderful feature is going to increase the efficiency of smartphones in the market and hugely attract customers.
Rise of bezel-less devices ?…..a glimpse
People have always demanded enhanced display sizes or viewing areas of their smartphones as previously, there was a set limit to the size/viewing area of each smartphone one purchase as per their convenience or budget. Consequently, bezel-less designs or devices have been introduced which offer wonderful solution to this emerging demands of customers. There has been an increase in the effective viewing area of the display i.e. 18: 9 displays without enhancing the whole size of the smartphone. The first bezel-less device was launched in 2014 by Sharp's Aquos and lately, the much better versions of bezel-less devices are presented by Samsung and LG. LG came up with LG G6 that flaunted a super-attractive 18:9 bezel-less display whereas on the other hand, Samsung presented its brighter and OLED display.
The emergence of bezel-less devices has opened new vistas for mobile app developing companies as it will enable uninterrupted border access that will make apps more appealing and user-friendly. The enhanced viewing area of the display will give better display of apps and allow mobile app developers to insert innovative features. This will reduce the display restraining challenges of mobile applications and give an amazing experience to users.
Inception of Apple's iPhone X…..its WOW features
Hurray! Tech giant Apple has come up with its most awaited launch this autumn i.e. Apple iPhone X (aka iPhone 10). The anticipations of consumers have turned into reality when it sported technologically advanced feature i.e. bezel-less OLED display. The buyers are amazed by this incredible feature which flaunts just the display at the front of the phone having a tiny cut-out at the top. The durability of its front and back glass is very promising and is comparatively the best among all the other incredible smartphones in the market. In addition, it is the first ever smartphone that allows its users to record as many as 4000 Videos at 60 fps that would help in compressing videos.
In the era of mobile apps, this phone guarantees incredible compatibility in terms of time of downloading apps, their operations, and functioning. With amazing features, it allows effective configuration leading to less downloading time for mobile apps on iPhone X in comparison to other phones in the market. It would facilitate users to share files through mobile apps and enables their smooth functioning. With its large display and effective storage capacity, iPhone X would be a tech-pack treat to customers who are into mobile apps.
Impact of bezel-less devices
Bezel-less devices are creating ripples amongst consumers and are offering enriching experience to users in several ways. Affle Enterprise is one of the leading mobile app developing companies and ensures that with bezel-less devices, it can develop mobile apps that would be visually impactful and can be activated by simply swiping the edge of the screen upwards or downwards. It can develop innovative mobile apps that can potentially and creatively adapt evenly to the landscape mode of bezel-less devices.
It is also observed that the launch of iPhone X in this version is going to put bezel-less devices into limelight as well as give a boost in the purchase of bezel-less smartphones. This rise in demand for bezel-less devices including iPhone X might increase their prices to the higher side and may keep the manufacturers on their toes to meet the rising demand. Still, the inception of bezel-less smartphones is an imminent feather in the hat of technology and the human mind.