How is E-Scooter App Development Transforming the Business?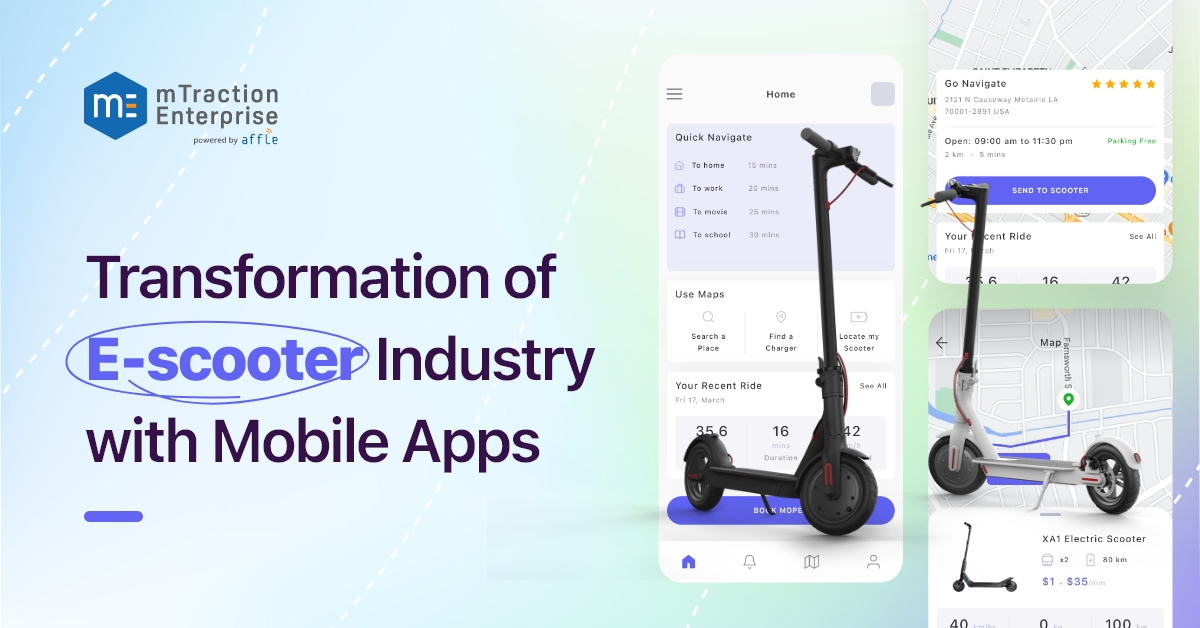 Thousands of people feel under burden when it comes to traditional car services. Pricey gas, insurance, maintenance, and annoying traffic jams are some of the reasons that make self-car driving troublesome. No wonder electric scooters and other e-vehicles have become mainstream around the globe. The E-scooter App Development industry has grown gradually and encourages businesses to develop their scooter-sharing services.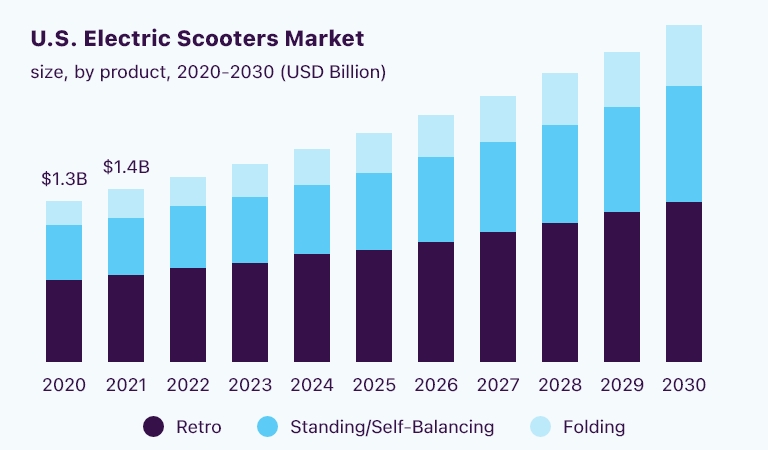 img src: Grand View Research
The increasing ease and access to travel services are fueling the demand for E-Scooter app development. These on-demand mobile apps are transforming businesses and have gained huge funding and support from the digital economy. The EV adoption by the E-scooter industry is going to be largely adopted by two and three-wheelers. The Li-Ion battery makes up 50% of the total EV cost, and the cost of this battery is pocket-friendly in the market.
This is the key reason behind the affordability of E-scooters for both consumers and manufacturers. E-scooter mobile app development is the next revolution. People are looking for convenience for their day-to-day work-commuting needs, and E-scooter has become a versatile servant for this. The on-demand mobile app market is experiencing a sheer rise in app development of e-scooter.
How E-Scooter App Development is Re-shaping the Industry?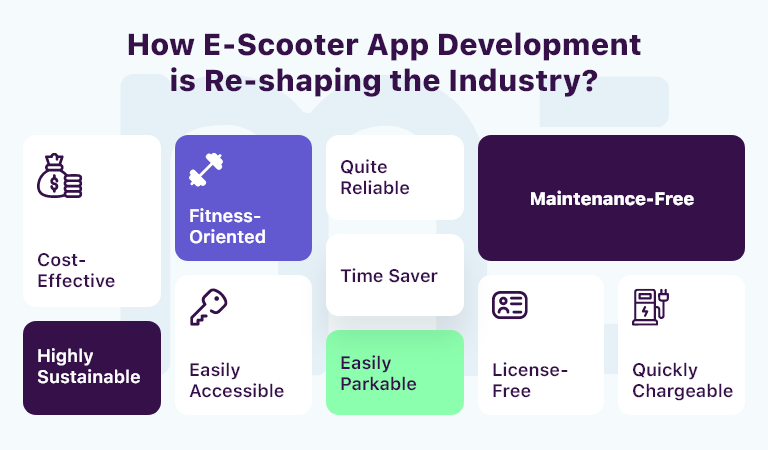 1. Cost-Effective
Electric scooters utilize a rechargeable battery and run on electricity. Investing in online E-scooter services removes the cost of expensive fuels and gas. The machines and motors incorporated in E-scooter are pretty affordable and save cost on manufacturing and travel services.
2. Highly Sustainable
E-scooters are eco-friendly as they don't use fuels. It is free from any fuel burning and fumes. They produce no polluting components and keep the environment free from harmful effects. They do not harm the climate balance, which is why it is widely adopted in many big countries like the United States.
3. Easily Accessible
The most significant advantage offered by the electronic scooter service is its ease of accessibility. Anyone can get the eE-scooter from anywhere, anytime. It keeps you free from worrying about heavy traffic, road congestion, and many more day to day traveling hustle. Also, E-scooters are easy to operate and require less manual effort.
4. Quite Reliable
While compared with trucks, cars, and other heavy vehicles, E-scooters are pretty reliable. It needs less maintenance, and also, these are eco-friendly. The electronic scooters offer 500 to 1000 miles of maintenance-free ride. Not only does its tubeless tires with sealant reduce the maintenance cost and effort, but most of its parts, including batteries, have enough lifespan with minimal maintenance.
5. Time Saver
Put it straight, an E-scooter is a time-saving machine. Yes, It eliminates the waiting time when other vehicles get stuck in heavy traffic. It avoids road closure and provides a seamless travel experience dealing smartly with crowds and road congestions.
6. Fitness-Oriented
When you stand on an E-scooter, it immensely improves your stability and strength. It asks you to use your muscles and your whole body by standing on the scooter. This ultimately enhances your pelvic, abdominal, and back muscles and reduces the risk of lower back issues with the growing age.
7. Maintenance-Free
If you own a car, you have to invest time and money to timely send it to the service center in order to keep it maintained. You have to spend thousands every time you visit a service station, but this scenario is not in the case of e-scooters. You only need to keep them clean and charge their battery, which is enough to keep them running for a time.
8. License-Free
Suppose you are going somewhere in a hurry and forget to take your driving license. You may get caught by cops and be charged for hurting the driving rules as driving the vehicle strictly requires a driving license. The E-scooter never asks for a driving license; anyone can operate it without any licensing.
9. Easily Parkable
Finding a safe parking space is the most extensive matter to deal with for personal vehicle owners. Electric scooters are designed compactly, so they don't need spacious parking. You can even park them in a small space, and you do not need to hustle to find a parking slot.
10. Quickly Chargeable
Plug-in and charge is the only short and easy method to charge electric scooters. Also, it takes less time to fully charge and gives a good battery backup. Suppose you are using an E-scooter to go to your office, you can keep it in charge during lunch hours, and it will be enough for you to drive back home in the evening.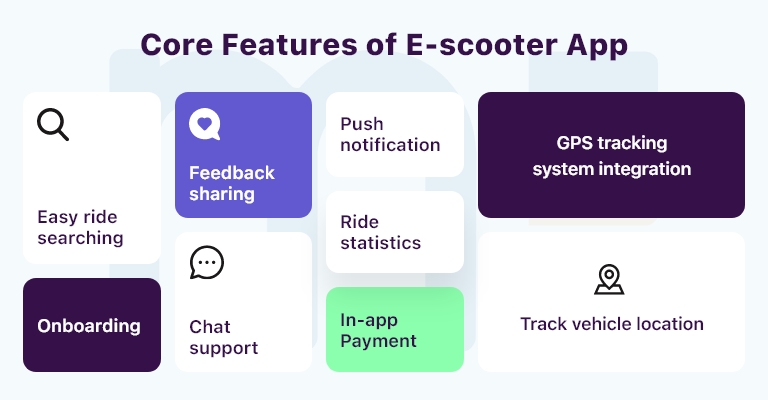 How Much Does it Cost to Develop an E-Scooter App?
The cost for app development of e-scooter depends upon several factors. The overall cost calculation depends upon many factors involved throughout the mobile app development process. Here are the critical cost influencing factors to E-Scooter mobile app development.
1. Choice of Backend Development
For backend mobile app development, the mobile app developers mainly have two options, Monolithic or Microservices. The choice between the two depends upon the project size and scalability. Moreover, microservice can also opt for the same, but it will cost you a bit more.
2. Choice of Platform
The platform you choose to create an electric scooter app like Bird may be the most significant cost-driving factor. If you opt for an IoT-based mobile app for your business, then it will cost you more. If you want to blend multiple platforms for your E-scooter mobile app development, the overall cost calculation of your app will rise.
3. The Location of the Agency
As we have discussed this many times, the location of your partnered mobile application development company is expected to significantly influence the overall cost of E-Scooter mobile app development. If you go with easter nations based companies, it would be a bit more affordable and less chargeable as compared to the companies based on western locations.
4. UI/UX Requirements
The UI/UX of a mobile application plays a lead role in enhancing customer engagement. It is the most crucial aspect that impacts the overall cost of app development for e-scooter. The more complex UI UX elements you add to your app, the more costly it will become.
Invest in E-Scooter App Development Now!
The electric scooter mobile app industry is growing at a rapid pace. This is the right time to ideate an innovative app for e-scooter. If you have a raw idea for an electric scooter app development, share it with us.
Get stories in your inbox twice a month.
We at mTraction Enterprise help businesses meet their mobile app requirements by understanding their goal. We are a well-known mobile app development company that caters to global business needs. From design to post-launch support, we offer full-stack mobile app development services.