AI for Marketing & Sales: Your Friendly Sales Guy is a ChatBot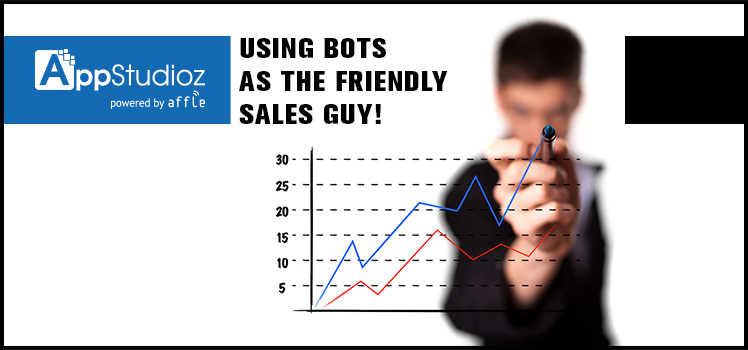 One of the most exciting  marketing developments was the rise of the chatbot in 2016. A lot has been said about the same, here we tell you how and why it needs deconstructing still, and how entrepreneurs and the whole of e Commerce industry can prep for this eminent change. 
Bots, data and AI:
Messengers have started implementing bots for services. Skype bots are also helping intra organizational communication by retrieving simple calls for data extraction and display.
Facebook, Slack, Google Ads, Google sheets have dedicated chat abots to help you analyze advertising data. The predicted marketing bots that strike a conversation with the user to sell them the right products are touted to be the next big thing. This can be extended to the B2C markets with eCommerce, Lifestyle and Media apps, extending users this convenience of chatting away from their woes.

But how successful is this one to one communication and marketing technique?
Does it hack into the user's thinking pattern, strike a chord and most importantly does it sell?
If yes, how do you amp your mobile apps to sell with the same strategy.
Read here:
The Big Brand Theory:
H&M and Sephora made sure that last year they started targeting their user base over messenger bots. The current ones just give you product tips on the basis of your online search & browsing history. If the brands decide to use this technique as an end to end marketing and sales platform, it would turn into a highly personalized experience, albeit, a little intrusive, wherein consumers may have to choose between convenience and privacy.

More commercialized bots have a pre-requisite of Natural Language Processing or NLP.
Last year, API.ai, the brains behind speech assistant apps, created an unparalleled API for Slack. This allowed people to build Slack bots which actually functioned with natural language instead of command statements. While the command statements enabled the technically semi-skilled to operate them in a work set up, NLP helps this technology in going viral.

Big brands have been waiting on this opportunity to sell. With Facebook enabling bots on messenger last year, the service and subscription bots are spreading like mushrooms.
Booking tickets with a ping or ordering lunch over a chat is not just a conceived idea but a reality over messengers such as Slack and Kik.
The Response:
WeChat pioneered the chatbots in China. The Baidu, Alibaba and Tencent trio have capitalized on the opportunity with service bots. The Chinese have lapped up the idea of conversing and converting business on bots but there is a catch. One has to focus on the fact that China is a big demography, bound by the same culture/language/messenger. This helps the narrow ability bots to function fine for the lot on one messenger platform. How will this shape up for individual businesses across messengers? Would Whatsapp/Telegram and the others alter abilities to work with commercial bots, and if not what is the near future strategy to sell with chatbots?

For bots to be universally applied a lot of research and development in AI is being put into making decision trees for varied responses, in different languages, with NLP. Add to that the browsing data is not be constricted to a section of the internet. It  requires a more efficient neural network. The biggest concern is accumulating the user's response. Creating more advanced AI's and personalized channels will take more hardware and software advancements. To add this to the mobile sphere means processing abilities and memory space that is currently exclusive to high end smartphones. As personalization on the UI also takes a toll on the individual processing of decision trees.

With the advent of 128 GBs of space and octa processors we are looking at phones which are an overkill for the existing AI but it will be a while before they spread to most people in the world and the more populated developing countries are able to tap on this technology. Hence, enabling the brands to reach out to more people. On the other hand the audience with these phones can already be targeted for direct conversions on app messengers.
Adding your own Chat SDK and Chatbots.
With messengers becoming open source, enabling chatbot for in-app sales, is the next level conversion strategy using AI bots. This could be used as an added feature for the time being but it may become the necessity for apps to sustain.

A chat SDK installed within an app may help you sell better. While some apps employ chatbot in apps for support purposes a SDK that supports service and subscription chatbot would actually be better for in-app selling. Any functionality that reduces the browsing and scrolling on the mobile UI would be a welcome change for the user.
The New Divide:
ANI : Artificial Narrow Intelligence apps have been around for a while but to truly exploit advertising we will need more advanced APIs. Just like the ones API.ai is devloping, to encompass more functions. Last year the Google Allo app allowed the user to actually search for mentioned locations, bars, restaurants while being a part of the group chat, the messenger apps will have to allow users to match keywords with the eCommerce website descriptions, thus allowing them to buy products for this to be a truly fruitful venture. This requires the more complex form of AI called Artificial General Intelligence.
To create a truly personalized, seamless advertising and sales experience we need to amplify the hardware, raise the stakes and prepare ourselves for encountering huge amounts of data that could exceed the current system by a few exponents.
Get stories in your inbox twice a month.
To create an automated and convenient way to browse, create your own bots on chat modules or use smart chatbot SDKs. Ask us for more information on this.