4 Digital trends to look out for in 2018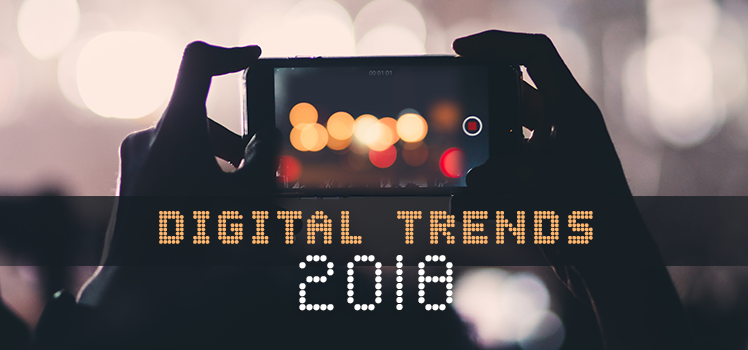 With Moore's law still flourishing, we have digital tech continuing to grow at a furious pace. What this means is that computational power continues to double every couple of years. What was revolutionary in 2016, becomes the norm in 2018 and archaic by 2020. So let's unravel what digital trends 2018 promises us.
Artificial Intelligence
'Alexa, tell us what is happening in the world of AI ?'
Home Automation: 2017 was the year when home automation finally took off. 2018 is when it will get mainstream. People didn't know they wanted to talk to their house, but now that they do, they don't want to stop. Amazon is currently ruling the market with its Amazon Echo, but the competition is about to get denser with the advent of the Apple Home pod sometime in early 2018. Powered by Siri, it can potentially challenge Alexa's in-house domination. Will 2018 see the rise of voice-only apps?
Enterprise AI: On the mainstream level, mobile phones have made AI's such as SIRI, Cortana, Google now, etc so accessible that even toddlers know how to use them. In short, that's old news. But when we look at the business side, there is so much potential there. Businesses have just started to inculcate the usage of AI in their activities. In HR, AI is being used to hire applicants by comparing them against open positions. In Customer service, 2017 was the year of chatbots. Powered by machine learning, they continuously analyze and learn from customer interactions. Thus providing customers the required assistance. The coming year will see the integration of AI continue to grow, leading to smarter work being done in lesser time at lesser costs.
Cloud Computing
Cloud computing platform models such as SAAS, have helped showcase cloud computing as the platform to remotely store, and manage data with utter flexibility. Businesses are now realizing cloud's potential to drastically cut their costs while increasing mobility. With the increasing popularity of Cloud computing, data storage capacity is expected to grow exponentially in the coming year.
Big Data & IoT:  2017 has seen IoT rise, getting integrated in more & more smart devices. 2018 will see that trend continue, pushing it even further. But the crown jewel of IoT integration is the gargantuan amount of big data generated. With smart devices recording various patterns of consumer behavior such as their interactions with AI, conversion process, consumer decision processes etc, this information (Big data) coupled with machine learning, design thinking, blockchain, and data intelligence, will be continuously churning out insights previously inconceivable.
The rise of 5G & Security Challenges: Though 5g won't actively be launched in 2018, the operational testings will begin. There is a growing movement among groups such as Qualcomm Snapdragon towards full 5g deployment. The launch of 5g will exponentially boost the world of cloud computing as well as those linked to it, such as IoT, AI etc. But with great speed comes greater perils. The stakes are getting higher, 2017 saw a record number of cyber attacks, wannacry ransomware and Vault 7 to name a few. With the increasing shift towards cloud-based networks, 2018 will see even more attacks targeting them. Businesses will realise the need for SIEM (security information and event management) tools for cybersecurity. This could see businesses outsourcing their cybersecurity needs from experts in the fields of software and malware.
Augmented Reality
With both Apple and Google focusing on building up their AR arsenal with ARKit & ARCore respectively, 2018 is poised to see AR get bigger. AR is already wooing the e-commerce market with powerhouse brands like Ikea launching Augmented Reality apps. The Ikea place app, for example, allows consumers to test furniture in their native home settings using an AR environment. This gives users the contextual relevance before indulging in the buying process. Virtual Reality is also poised to grow, but even Mark Zuckerberg believes that mobile phones will be the platform to deliver this experience, not headgears.
But there's another technology that might ace them both, i.e Mixed Reality. Being a combination of AR and VR, it brings elements of Augmented reality to a wearable headset. Microsoft's Hololens, for example, allows users to interact with virtual elements in real settings using hand gestures and voice commands. It gives potential to applications ranging from virtual physical gaming to informational apps teaching in a virtual classroom. Then there's Magic Leap, the super secret global corp working on some covert project they won't let us know about.
Blockchain
By now everyone knows about cryptocurrencies, Bitcoin's never-ending surge saw to it. The impact of it being huge, that it pushed coinbase to the top of the App Store. 2017 has seen people realize that cryptocurrency isn't just a bubble, waiting to burst. They now see it as Jack's beanstalk tree, growing on and on. This realization has seen even the hardest of sceptics jumping aboard the crypto-train, possibly pushing the prices even farther.
In 2018 we expect the craze to grow, and so would the no of platforms needed to deal with it. As of now the most popular Application for trading in Cryptocurrency is Coinbase, but even it has seen its servers struggle in handling this ever-growing demand. So there appears to be room for improvements.
The potential of Blockchain isn't just limited to cryptocurrencies, that is just what we've discovered as of yet. In fact there are a number of blockchain powered developments happening. From handing diplomas to distributing medicines. The potential is endless. And 2018 looks very promising for this new technological development.
---
Get in touch to discuss more on the possible tech trends that you think 2018 awaits! Drop us a line at marketing@affle.com