Mobile ERP – Ensure Enterprise Mobility With Data Security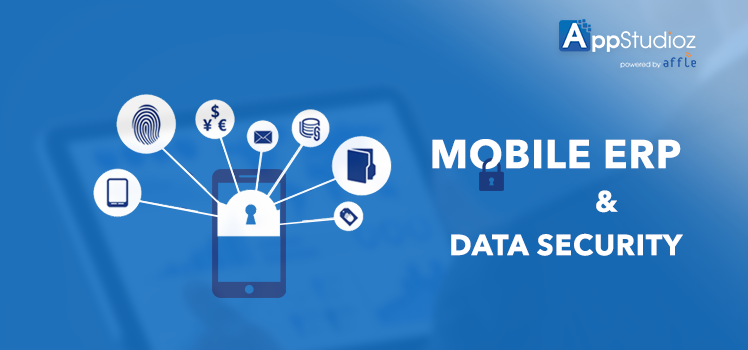 ERP goes Mobile:
Recently, we've seen several big enterprises take the alleyway towards the app economy. This has caused a paradigm shift in how large corporations view their business models today. By embracing the app culture, these enterprises are now looking at the bigger picture, where they're aware of the vast scale benefits that mobility solutions offer. This gives them a competitive edge and helps them improve their performance through efficient resource planning that reduces wastage and increases overall productivity.
Mobile Enterprise Resource Planning (Mobile ERP) solutions help large corporations streamline business processes, keep track of inventory, interact with customers on time, manage human resources and ultimately, boost business revenues. No wonder mobility in ERP is a revolutionary move for the industry. It's the perfect coming together and utilising the ERP software and a mobile workforce. Mobile ERP has made it possible to have vast amounts of data on the go. This progress has been fuelled by the availability of well-designed mobile apps and devices fully equipped to manage such vast data.
Business Data Breach Concerns:
However, this all-time access to large databases on mobile devices has also raised concerns about data security.
Be it an enterprise from the pharmaceutical industry or the retail industry, protecting their sensitive data from hackers is a top priority. For example, pharmaceutical data contains crucial information about drug recipes or cooking processes, so data theft could imply enormous losses for a pharmaceutical enterprise. Similarly, a financial enterprise will always require a solid security cover to ensure the complete protection of customers' bank account details from the attack of hackers.
According to the IBM-sponsored study, 2016 Cost of Data Breach Study that was independently conducted by the Ponemon Institute, the average consolidated total cost of a data breach turns out to be $4 million. In addition, the cost incurred for each lost or stolen record containing sensitive and confidential information was reported to increase from a consolidated average of $154 to $158. Going beyond the cost data, the global study puts the likelihood of a material data breach involving 10,000 lost or stolen records in the next 24 months at 26 per cent.
Given these market findings and predictions, enterprises are taking data security very seriously. So, opting for an Enterprise Mobility Solution has become quite a testing decision for big businesses, and a mistake here could jeopardise the entire Enterprise Mobility Management (EMM) solution.
So, here's a checklist of security features for a sturdy Mobile ERP Solution:
1) Device Security – 
Under this, enterprise apps can include some remote functionalities that enable locking or wiping the mobile device in case the device gets lost or stolen. Another possible feature is to incorporate corporate password policies and set up a mechanism to detect device misuse through fiddling with the device settings, meddling with peripherals, rooting of devices and other such suspicious activities. In addition, security device features like device lockdown and the blacklisting of suspicious apps or apps from unknown sources can also enhance the protection of data from hackers.
2) Location Tracking – 
Although this might come across as an essential security aspect for an EMM, it is nevertheless vital. Locating and tracking the device could minimize a lot of security issues.
3) Secure Remote Access – 
This security aspect includes setting up a private, encrypted connection between mobile devices and corporate networks. With this measure, information transferred over the private and encrypted connection becomes challenging to decode the hackers, whether information exchange is happening inside the office premises, a home network, or even a public Wi-Fi hotspot.
4) Encryption – 
To dive deeper into encryption, it makes sense to have encryption as a part of an EMM. The enterprise's IT can control the system and encryption process through a separate app-based workspace containing all the saved corporate data. With a secure workspace, whenever users switch to an app outside the workspace, the protected apps with crucial data get automatically locked. With a strong encryption backup, data will remain safe in a device without password protection.
5) Data leakage protection – 
The DLP enables the prevention of deliberate or unintentional exchange of data from a mobile device. This means that DLP may provide access to authorized applications on a device when it comes to viewing a file, but it won't allow any untrusted application, like a cloud-based app, to open or save the file (as they might have shared folders).
6) Secure Software Distribution – 
This security measure makes it possible to push applications and software patches securely. It also can track the installed applications and successfully uninstall applications which violate the security mandates or tend to harm the system.
7) Advanced features & support in Platforms like Android, iOS, Windows – 
Some advanced EMM features like Android for Work offer excellent scope for enhancing data security. With the separation of business and personal data at the OS level, it's possible to ensure high-level encryption on Android smartphones and tablets.
How can we help?
Although the drive to ensure data security is always ongoing, the security aspects discussed here are a good starting point for ensuring a sound Enterprise Mobility Solution.
As a part of its mobility solutions, mTraction Enterprise offers several additional security features depending on the specific requirements of an enterprise and strives to provide a powerful EMM setup and environment. This empowers enterprises to run their business processes in a more automated manner which indirectly contributes to maximizing ROI through improvements in flexibility and productivity of the workforce.
In addition to that, mTraction has strong back-end integration skills that can facilitate a smooth process of integrating enterprise apps with existing MDM solutions like Airwatch and MAAS360, which are widely used by big enterprises today. Our expert team of engineers and developers has years of experience developing apps incorporating best development practices that align with the OWASP guidelines. This helps eliminate critical issues like sensitive data exposure, security misconfiguration, broken authentication and session management, insecure direct object references, and other issues. Directly Contact Us to know more.