On-Demand Mobile App Development – Statistics and Trends!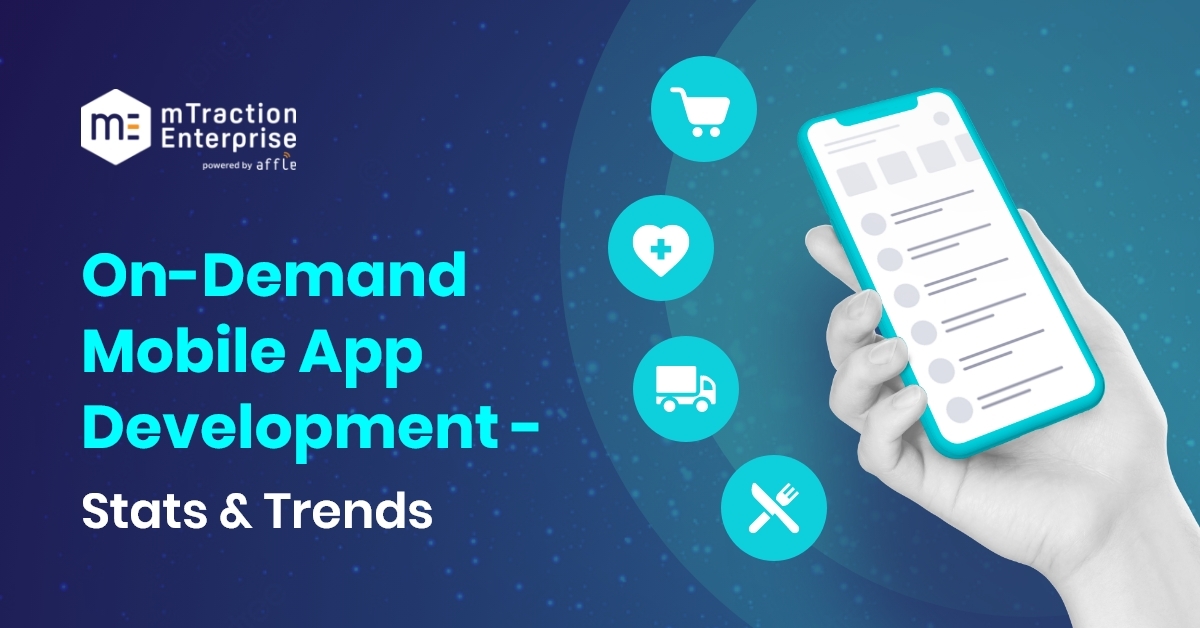 On-demand mobile apps are leaving a spot everywhere – we can hardly imagine any market segment unknown to the on-demand applications. The variety of services, quick accessibility, secure transactions, and quality make these apps popular and widely used on a global scale. Moreover, enhanced reliability and ease of access have increased the demand for on-demand mobile app development.
What is an On-demand Mobile App?
On-demand mobile applications are platforms that connect potential customers with independent service providers or agents. Such mobile apps are more like a bridge between businesses and customers, enabling them to establish a relationship with each other on mutually agreed terms and policies.
These apps transform the traditional business approach and introduce digital transactions that simplify the customer's as well as the entrepreneur's life. With on-demand mobile app development, it becomes easy for vendors to promote their products and services to their targeted audience. On the other hand, consumers can access their day-to-day necessities with a couple of clicks.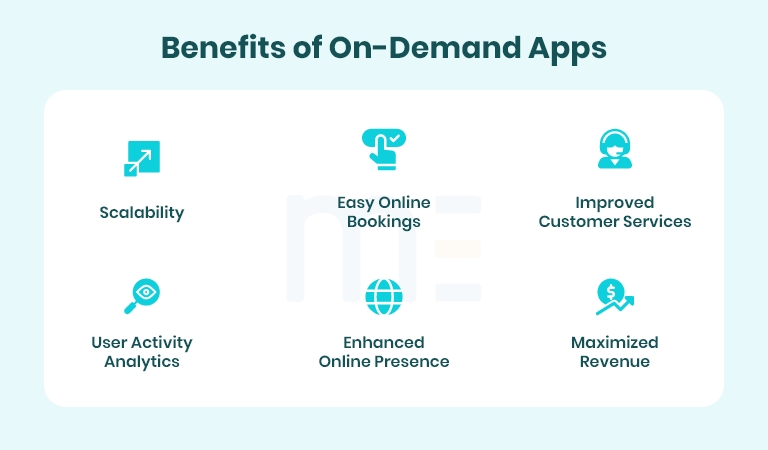 These applications have gained popularity due to their potential to fulfill the demand of every individual. As the number of smartphone users is multiplying every day, users' expectation is taking a shift and rising to get everything at the moment. They chase for the solutions that can bring them required products and services to their home by tapping on their mobile screens. The bar has grown so high that no alternate option meets the on-demand standards exists. Take a quick look at some recent statistics to know more about the on-demand service market landscape and how on-demand apps are transforming businesses.
Types of On-Demand Mobile Apps
Enterprise to Person(E2P) / Business to Consumer(B2C)

E2P or B2C on-demand mobile applications facilitate transactions of goods and services between vendors and consumers. In other words, the business makes money by employing candidates to fulfill the demands of the end users who pay for the products or services rendered to them. McDelivery, Booking.com, and Starbucks are examples of B2C apps.

Enterprise to Enterprise(E2E) / Business to Business(B2B)

B2B on-demand mobile app development focus on connecting businesses. These apps offer secure business transactions across the globe. It simply means the business can extend its reach to another market without any demographic boundaries. Cargomatic, Eventio, and Catalant are good examples of B2B apps.

Person to Person(P2P) / Consumer to Consumer(C2C)

These on-demand applications act as customer-centric platforms where they can perform the exchange of goods and services. The buying and selling of goods and services among customers take place via a C2C on-demand app. Successful platforms that use this model include BlaBlaCar, eBay, and Etsy.
Best On-demand Mobile App Ideas Worth Investing
1. Online Food/Drinks Delivery
Whether you own a restaurant or are willing to start an aggregator business, collaboration with food service vendors is a must to serve the plethora of food lovers in the market. Hence, establishing a delivery network through on-demand food delivery app development is necessary. It connects the food business with the customers and serves them their favorite cuisines at their doorstep. It also promotes discounts, coupon codes, and other customer benefits. Due to the wide range of benefits, food businesses are shifting to launch their on-demand app to drive customer engagement and maximized revenue.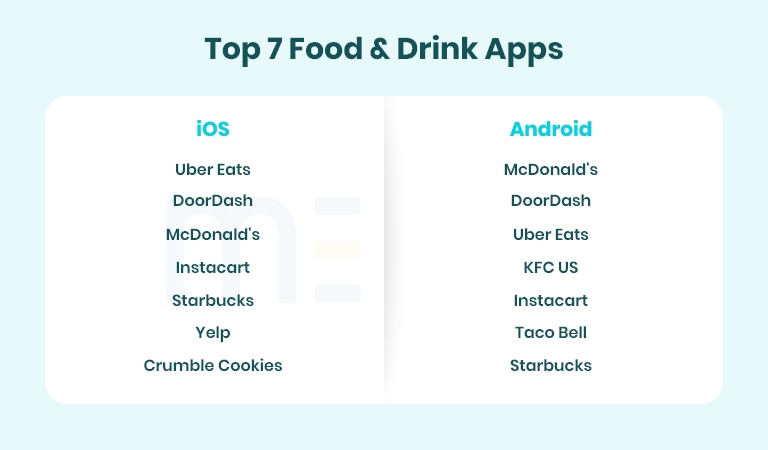 There have not only been a few players who have transformed the online food businesses and reinvented themselves to grasp the benefits of the growing on-demand tide. The global pandemic severely hit Uber, but Uber Eats was a perfect pivot that has become one of the leading brands in the on-demand food delivery market. The deadly virus has not only shifted customers' preferences to online services but also caused post-pandemic on-demand app growth.
2. Groceries
With India's vast geography and travel prices, on-demand grocery mobile app development is a way ahead. With a few clicks on your smartphone, you'll get your required groceries delivered to your doorstep on the same day. All you need is to install an Android/iOS groceries delivery app on your personal mobile devices, and here you go to get your necessary grocery stuff at your home. It won't be wrong to state that groceries delivery apps have become the most prominent business niches.
3. Travel/Transportation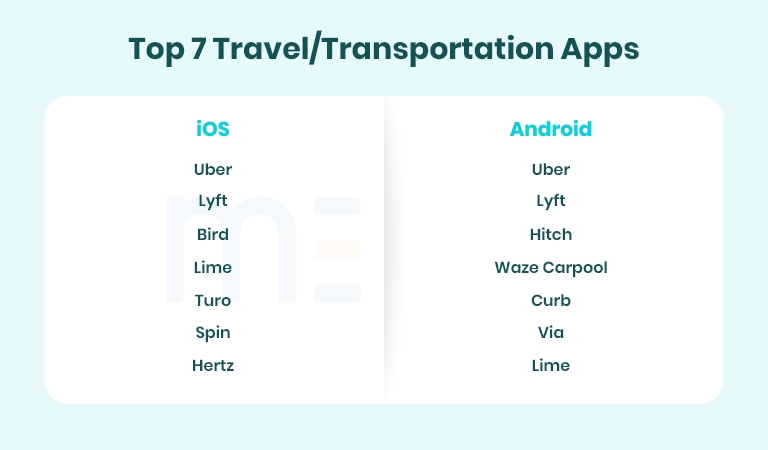 While it's a bit complex to figure out the most-downloaded tour and transport on-demand mobile applications (thanks, App Store and Google Play, for putting all travel-related stuff in a single place), we're mainly discussing cars on demand and E-scooters services. The on-demand travel app is available to everyone at precisely the same place. Customers can take benefit of these apps for local traveling or going outstation. Such apps offer secure payment transactions, location tracking, estimated traveling time, and many other features. Here are some of the top on-demand iOS and Android transportation apps.
4. Online Dating
An online dating mobile app offers online dating services presented through a mobile phone application. Such apps extract the advantage of a smartphone's GPS location capabilities, always an on-hand presence, and quickly access photo galleries and mobile wallets to transform the traditional dating approach.
These apps mainly emphasize simplifying and improving chatting, scheduling meetings, and getting involved in a new way of dating style among partners. The launch of the Tinder dating mobile application in 2012 led to a rise of online dating applications by traditional online dating services wishing to expand into the mobile app market.
5. Home Services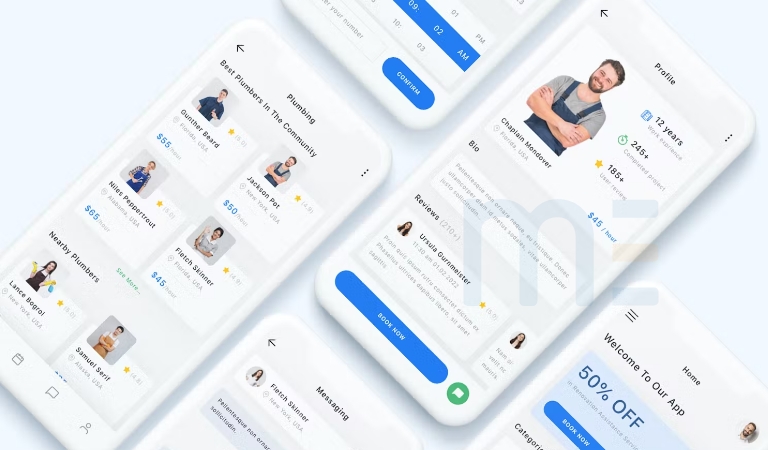 The on-demand home service app development providing home servicing is still in its early stages. Still, some brands have already introduced home services and got customers' attention. It is undeniable that the demand and adoption of smartphone applications have skyrocketed amid the deadly pandemic.
The sole positive impact of this pandemic was that it maximized the value of digital solutions. In this market domain, some of the lead players include Urban Company, TaskRabbit, Handy, Thumbtack, etc. This is why the current market trend is the right time for you to create an on-demand home services mobile app to capitalize on profitable business deals.
6. Flowers/gifts
It might be more of a niche and probably with fewer competitors, but you can (of course) get flowers and gifts delivered on-demand mobile apps for your business. Such apps are hosted as newcomers in the flowers-as-gifts department, many of which are on-demand services with extremely quick turnaround times.
7. Healthcare
The healthcare sector has been completely transformed due to on-demand clinical/medical apps that are specifically built to cater to different medical necessities of patients, pharmacists, and medical practitioners. The doctor-on-demand mobile app development drives convenience and simplifies the job of medical professionals. Doctors across the globe use variety of on-demand clinical apps developed by proficient healthcare mobile app developers to serve their patients with best-in-class healthcare services.
8. Beautycare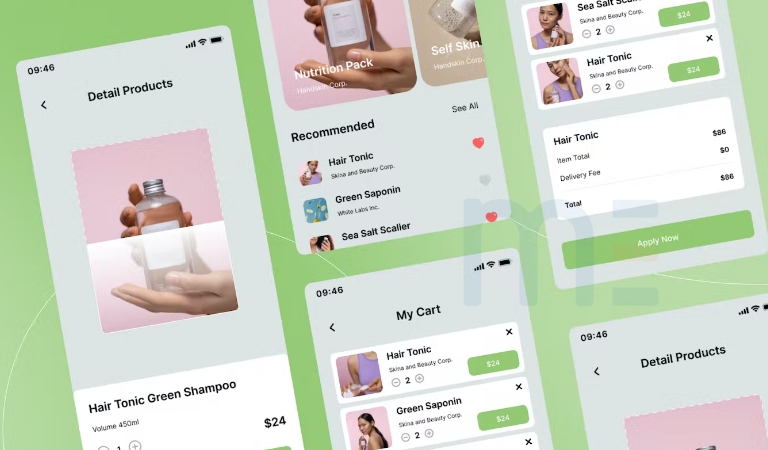 In today's busy working schedules, many people find it really complicated to visit a beauty salon for their routine skin and beauty care. The long queues and annoying waiting times at salons make it even harder to think about visiting salons. Discerning customers need a more convenient and effective solution that perfectly caters to their beauty services regimen.
Here comes the concept of an on-demand beauty service app that meets the customers' exact needs. Such apps enable customers to get the required beauty services done at their chosen time slot and in the comfort of their homes. Sounds brilliant, isn't it? Worldwide, the beauty industry is growing exponentially as beauty brands continuously seek to offer better alternatives to audiences. The global beauty industry is worth over $532 billion and is estimated to reach approximately $716.6 billion by 2025.
9. Same-day-Delivery Apps
From groceries, food, beauty care products, and services to medicines, eCommerce businesses are rapidly imparting into the on-demand delivery mobile applications. The Coronavirus pandemic and the lockdown across countries obviously played the role of cupid here.
Now, most people prefer home delivery of products rather than stepping out of their homes to buy their daily essentials. Due to the growing customer demand, businesses find it best to invest in same-day delivery apps for fast delivery. Entrepreneurs reach out to an experienced on-demand mobile app development company to build custom mobile apps that ensure much speedier delivery of packages to the doorstep.
Factors that Influence the On-demand App Development Cost
Mobile app development cost involves several factors for cost calculation. The critical cost- drivers of app development, vary in its building strategy, development platform, device compatibility, app functionalities, security, testing, hosting, and maintenance. Above all, the working business model of the enterprise determines the overall on-demand mobile app development cost.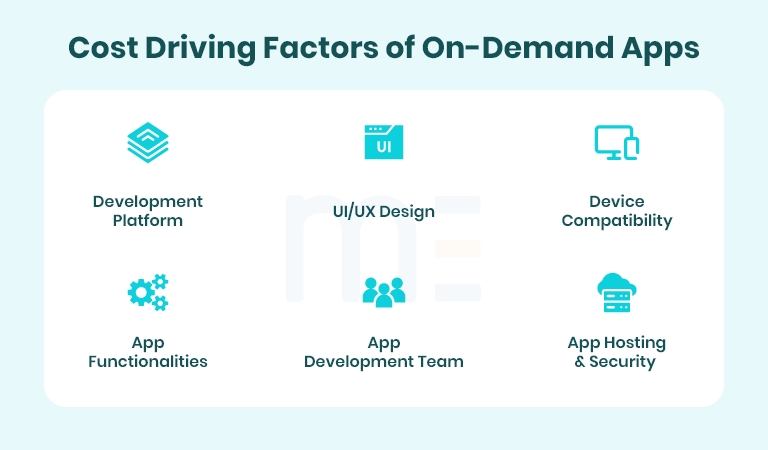 What are the Key Challenges in On-demand Mobile App Development?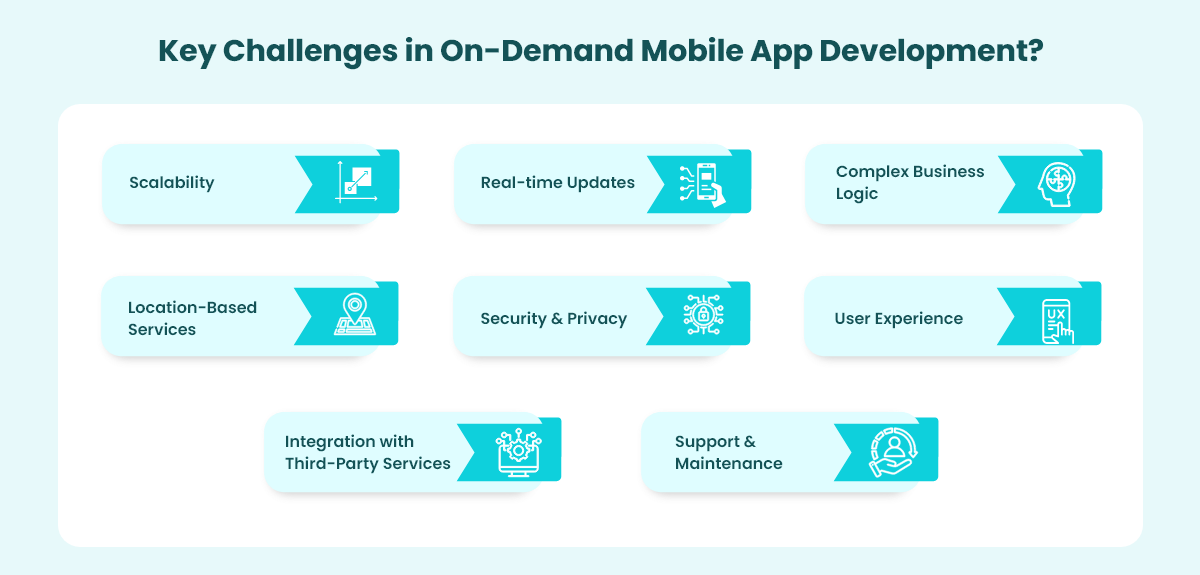 On-demand mobile app development comes with its own set of challenges. Here are some key challenges often encountered in on-demand mobile app development:
Developing an on-demand mobile app that can handle a large number of concurrent users and scale seamlessly as user demand increases can be challenging. Ensuring the app's infrastructure and backend systems can handle high loads and provide a smooth user experience requires careful planning and implementation.
On-demand applications often require real-time updates to provide users with the most current information, such as availability, location tracking, and status changes. Implementing real-time features like push notifications and live updates while maintaining data integrity and synchronization can be complex.
On-demand apps involve complex business logic to manage various processes such as user requests, service provider matching, scheduling, payments, and ratings/reviews. Implementing and managing this intricate logic in a user-friendly and efficient manner can be challenging, requiring meticulous planning and development.
Many on-demand apps rely on location-based services to connect users with nearby service providers or deliver services to specific locations. Accurate geolocation tracking, map integration, and managing location data can be challenging, especially in scenarios with weak or unstable network connections.
On-demand apps often handle sensitive user data, including personal information, payment details, and location data. Ensuring robust security measures, data encryption, secure authentication, and compliance with privacy regulations are critical challenges to address.
Delivering a seamless and intuitive user experience is crucial for the success of on-demand apps. Designing user-friendly interfaces, optimizing app performance, minimizing loading times, and providing intuitive navigation can be challenging, especially when dealing with complex workflows and data flows.
Integration with Third-Party Services
On-demand mobile apps often need to integrate with various third-party services, such as payment gateways, mapping services, SMS gateways, or social media platforms. Coordinating and implementing these integrations while ensuring smooth data flow and compatibility can pose technical challenges.
On-demand applications require continuous support and maintenance to address user queries, fix bugs, release updates, and add new features. Providing timely support, managing user feedback, and efficiently handling app maintenance can be challenging, particularly as the user base grows.
Overcoming these challenges requires a thorough understanding of the on-demand business model, careful planning, effective project management, and collaboration between developers, designers, and stakeholders. Addressing these challenges successfully can result in a robust and successful on-demand mobile app that meets user expectations and drives business growth.
How to hire an On-demand Mobile App Development Company?
Hiring an on-demand mobile app development company requires a systematic approach to ensure you find the right partner who can meet your specific requirements. Here are some steps to follow when hiring an on-demand mobile app development company:
Define your Project Requirements
Start by clearly defining your project requirements, including the app's features, functionality, target audience, platforms (iOS, Android, or both), timeline, and budget. This will help you communicate your expectations effectively to potential development companies.
Research and Shortlist Potential Companies
Conduct thorough research to identify potential on-demand mobile app development companies. Look for companies with relevant experience, a strong portfolio, positive client reviews and ratings, expertise in your industry or niche, and a good track record of delivering high-quality apps.
Review their Expertise and Capabilities
Evaluate the expertise and capabilities of the shortlisted companies. Assess their technical skills, knowledge of relevant technologies (such as app development frameworks, databases, APIs, etc.), and their ability to handle the specific requirements of on-demand apps (real-time updates, geolocation, complex workflows, etc.).
Check References and Portfolios
Request references from the shortlisted companies and reach out to their past clients to gather feedback about their experience working with the company. Additionally, review their portfolio to assess the quality and variety of their previous app development projects.
Evaluate Communication and Collaboration
Effective communication and collaboration are crucial when working with a development company. Assess their communication channels, responsiveness, and project management practices. A company that is transparent, proactive, and maintains open lines of communication will ensure a smoother development process.
Consider Cultural fit and Time Zone Compatibility
If you are outsourcing to a company located in a different country, consider cultural fit and time zone compatibility. Ensure that the company understands your business goals, values, and target market. Time zone compatibility is important for real-time communication and minimizing delays.
Assess Development Methodologies and Processes
Inquire about the development methodologies and processes followed by the company, such as Agile or Scrum. A company that emphasizes collaboration, regular updates, and iterative development can provide better visibility and flexibility throughout the project.
Request Proposals and Quotes
Request detailed proposals from the shortlisted companies, outlining their approach, timeline, cost breakdown, and any additional services they provide (such as UX/UI design, testing, maintenance, etc.). Compare the proposals to determine which company offers the best value for your specific project.
Conduct Interviews and Clarify Doubts
Schedule interviews or video calls with the top candidates to discuss your project in more detail, clarify any doubts, and gauge their understanding of your requirements. This will also help you assess their communication skills, professionalism, and commitment to your project.
Make an Informed Decision
Finally, based on all the evaluations, compare the strengths, weaknesses, and overall fit of each company. Consider their expertise, project approach, communication, cost, and client feedback. Make an informed decision that aligns with your project requirements and budget.
Remember to sign a clear and detailed contract that outlines the project scope, deliverables, timelines, payment terms, intellectual property rights, confidentiality clauses, and any other important considerations. By following these steps, you can identify and hire an on-demand mobile app development company that can bring your app idea to life and contribute to its success.
Conclusion!
The on-demand mobile app economy is changing the way businesses operate and serve end customers. The proliferation of on-demand service platforms continues to remain as a growing and trending business opportunity. After knowing the true benefits of on-demand mobile app development for both vendors and customers, you must have realized that it's a money-making business opportunity.
At mTraction Enterprise, we help businesses build futuristic on-demand mobile app solutions. We are the most prominent on-demand mobile app development company that helps businesses to reinvent themselves with a feature-rich mobile app that offers excellent scalability, robustness and helps your brand connect with your customers.
FAQs for On-demand App Development!
Which Technologies are Commonly Used for On-demand App Development?
On-demand app development often involves a combination of technologies such as mobile app development frameworks (e.g., React Native, Flutter), backend technologies (e.g., Node.js, Python), cloud storage (e.g., AWS, Firebase), and payment gateways (e.g., Stripe, PayPal).
How can I monetize my On-demand App?
There are several monetization strategies for on-demand apps, including charging service fees or commissions, offering premium subscriptions, displaying in-app advertisements, partnering with businesses for promotions, and leveraging customer data for targeted marketing.
How can I ensure the Security of User Data in my On-demand App?
Get stories in your inbox twice a month.
To ensure user data security, implement measures such as secure data transmission (HTTPS), encryption of sensitive information, user authentication mechanisms, adherence to data protection regulations (e.g., GDPR), regular security audits, and strict access control to the backend and database.