Evolution of Enterprise Apps: SAP meets Apple.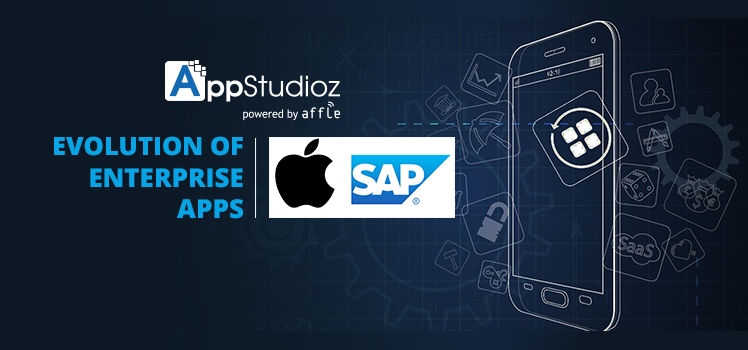 The Rise of the Mobile Enterprise App
The mobile enterprise app is quickly becoming one of the most important tools for business and for good reason.
These mobile apps continue to increase productivity, bring efficiency to all-time highs, and empower workers in their respective fields like never before. Nowadays, businesses are also on the go more than ever and the ability to work from mobile platforms will continue to be a huge part of ensuring success in business.
While enterprise apps have been around a while, they are being asked to handle increasingly vast amounts of data. This means that the market is demanding well designed mobile apps and devices that can handle such vast amounts of data. This demand has recently lead to a new and exciting partnership that will truly take the mobile enterprise app to the next level.
The New Partnership: SAP and Apple Join Forces
The tech giant, Apple, is known for their mobile devices with great hardware and software design. While these devices have been immensely popular in consumer markets for some time, Apple has lately been focusing  more on enterprise applications. They took another giant leap in this direction in May 2016, when Apple announced a new partnership with SAP.
SAP is an expert and leader in enterprise software and they have been empowering businesses since 1972. As mobile solutions become more in demand, it was only natural for SAP to divert its focus towards mobility enterprise solutions. They had incredible success in doing so, and SAP's mobility enterprise solutions are now used by 76% of businesses across the globe. They continue to innovate, and in 2011 unveiled SAP HANA, an in-memory, column-orientated, relational database management system that's used to handle and deliver huge amounts of data to mobile applications. In this exciting development SAP's expertise in enterprise software and ability to handle huge amounts of data will be coupled with Apple's superior design principles.
SAP + Apple: Big Data Meets Great Design
This relationship means a number of things for both SAP and Apple. When it comes to enterprise apps, functionality has always been the singular focus, with usability and user experience taking a back seat. But this partnership means that the great design Apple is known for will now be available to enterprise users as well. SAP applications will now have a native Apple user interface that will simply make life easier for business users. This means that enterprise apps will look and feel like native iOS apps, not generic ones that could have been designed for any platform.
This great design achievement hasn't come by sacrificing function as this partnership will allow enterprise apps to fully utilise SAP HANA and therefore handle huge amounts of data.
But how big is 'big' data?
Estimates from 2014 state that there is 667 exabytes of data out there.
An exabyte is equal to one billion gigabytes, meaning that big data, is indeed very big.
Not only do mobile applications need to access this data, but this data is largely unsorted meaning that it needs to be sorted through, analysed, and delivered to mobile applications. This is the ability that SAP HANA is bringing to the table in this new partnership.
What Does This Mean for You?
Ultimately, this partnership will empower mobile enterprise app developers such as Affle AppStudioz. Apple and SAP have already announced some key components that will result from this partnership. The first is a new SAP Fiori, SAP's design language, specifically tailored for iOS. They also announced a suite of native iOS SAP apps for critical business operations, and a SAP Academy for iOS. These tools will be released along with a full software development kit by the year end. These tools will give app developers the power to create unique and innovative enterprise applications for a seemingly endless amount of custom business solutions.
This is extremely beneficial as millennials continue to flood the workforce. This group is part of a BYOD, bring your own device, culture and catering to this preference with custom mobile enterprise applications on iOS will certainly keep new talent ready.
Majority of this generation is already familiar with iOS and providing a native experience with enterprise applications will make for a seamless entry into the everyday business activities demanded upon them.
Applications That Are Only Limited by the Imagination
So, how can this new partnership and the resulting SDK be used to help enterprises?
The possibilities are nearly limitless.
If any business is looking for great design, and requires the ability to access huge amounts of data, they can utilize Apple products and native iOS SAP applications to come up with custom solutions.
App developers such as Affle AppStudioz can provide custom applications for any number of business solutions.
Imagine a busy doctor's office, where doctors are constantly on the move going from patient to patient and handling a number of other duties. By utilising a mobile enterprise solution, they can keep a huge amount of resources in their pocket. This data will be available and easily accessible with the great design and a UI they are already familiar with in the form of iPhone or iPad. Utilising the SAP HANA data management service, these doctors can quickly access patient records, journal articles, or other medical databases quickly and efficiently.
We can also look to the mobile workforce of large corporations who are traveling globally. These professionals need access to the entire data set of large corporations to do their job. SAP HANA has the ability to store and retrieve this data no matter where these professionals might be as long as they have a data connection. They can even do it with ease as it's possible for it to be done through native iOS apps that blend seamlessly with their devices.
A Bright Future for Mobile Enterprise Applications
Mobile enterprise solutions are only going to become more and more common and it is essential that businesses keep up with these new technologies so that they can operate as efficiently as possible. This means taking full advantage of new partnerships like these to access big data while giving employees the easy-to-use and elegant user experience Apple is known for. The future of mobile enterprise solutions is bright, and businesses would be wise to partner with expert mobile app developers such as Affle AppStudioz to develop custom solutions and take full advantage of the great design principles of Apple and the amazing capabilities of SAP HANA.
---
Get stories in your inbox twice a month.
About the author:
This post is a contribution by a tech blogger (ghost writer)