How Building AI Based Mobile Apps Improve Customer Experience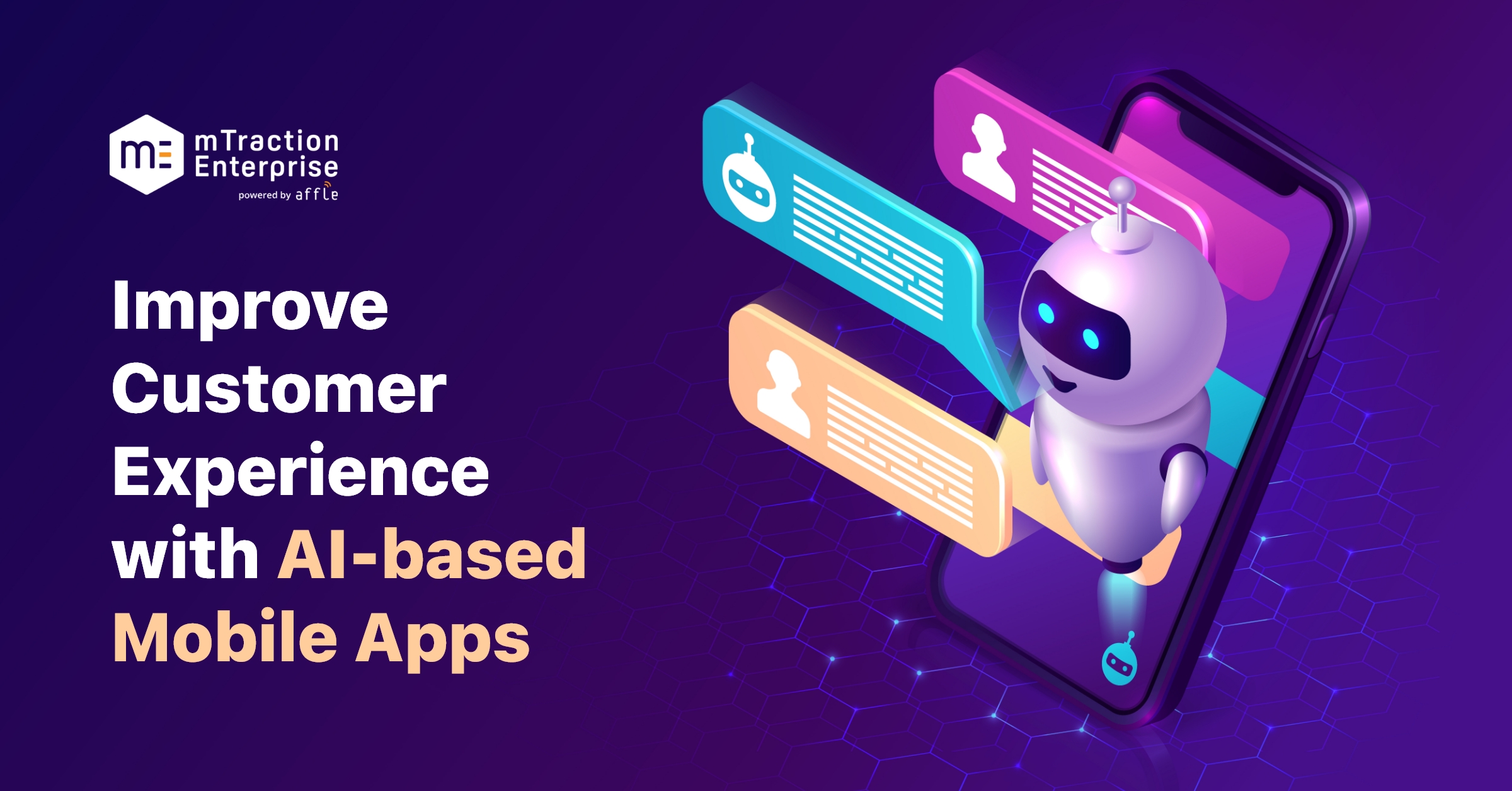 Artificial Intelligence is the most prominent innovation in the tech industry. Technology has transformed the way enterprises operate and make business decisions. The incorporation of artificial intelligence in mobile apps has boosted personalized recommendations, introduced automation, reduced manual efforts, and empowered chatbot systems.
AI is an inspiring combination of Machine Learning (ML), Natural Language Processing (NLP), and Deep Learning (DL) algorithms. Famous tech giants enable companies to operate voluminous data and drive valuable insights. Companies invest in building AI Based Mobile Apps for agile data insights to plan their next move, perform predictive analysis, and focus on the growth factor.
Why Should Businesses Adopt AI in Customer Experience Enhancements?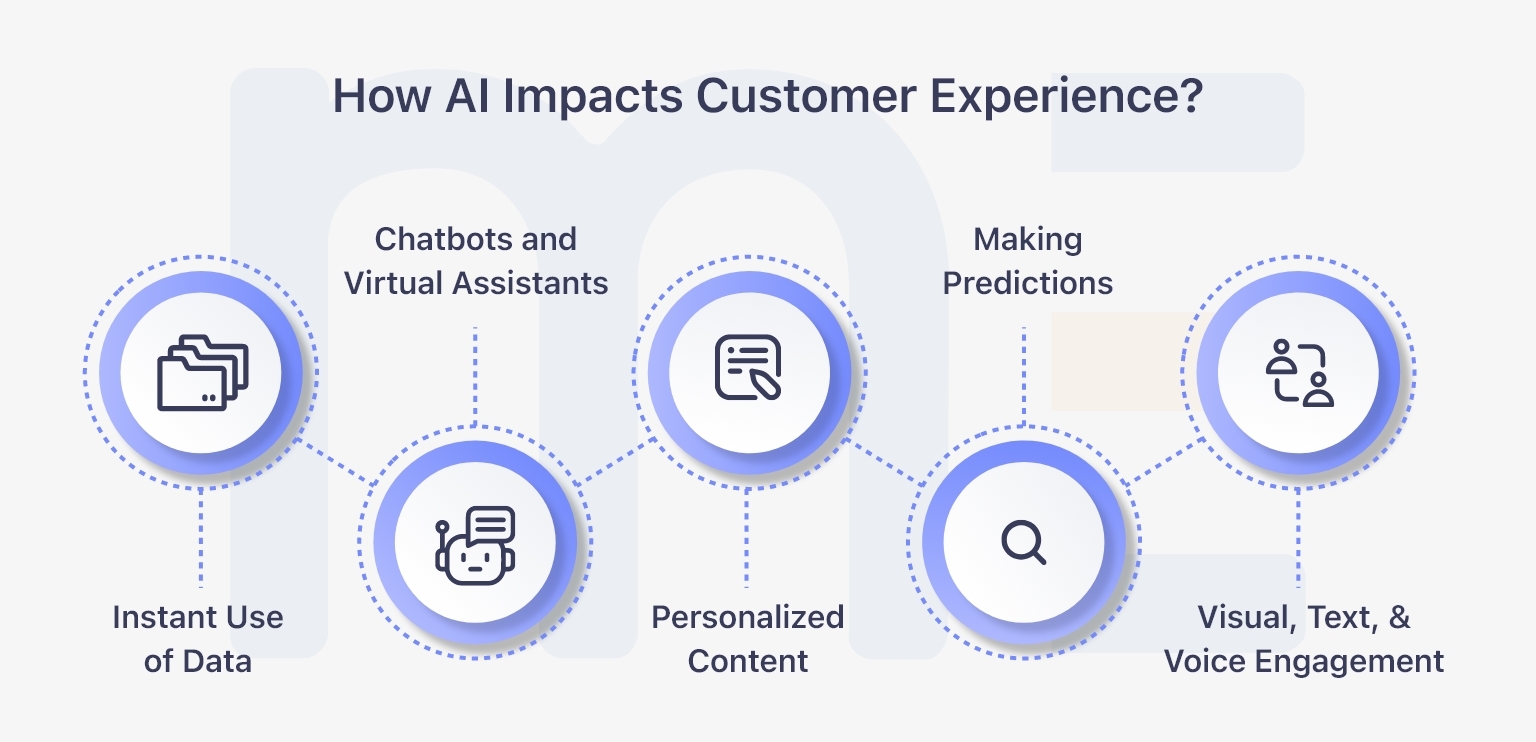 If you're concerned about the fast growth of your business, delivering top quality and refined customer experiences then opt for the AI based mobile apps . The customer experience goes beyond your product and services. You must ensure that you are not only focusing on your band but also on the customers interacting with your brand.
Customer experience is imperative for rapid business improvement. When you leave an exhilarating experience to your end-users, they become your brand advocate and will refer your brand to their connections. This may create a long chain that leads to your brand awareness and improved visibility in the market.
Features like content personalization, automation, low-energy solution, etc., clearly defines the role of artificial intelligence in customer experience. According to Statista, 4.2 billion digital voice assistants have been used globally. The forecast reveals that this figure is expected to reach 8.4 billion units in 2024. The voice assistant is the most noticeable feature offered by AI that has gained massive popularity, and the report by Statista is talking enough about the same.
1. Instant Use of Data
AI based mobile apps can proficiently gather immense customer data. It can track customers' past shopping behaviors, analyze transactions, collect data and help businesses to make informed business decisions. The integration of Artificial Intelligence in mobile apps offers real-time data insights that enable companies to improve customer experience with data analytics and recommend the most sensitive area that requires quick action.
2. Chatbots & Virtual Assistants
The most significant impact of AI is automation, how customers communicate with brands, and how stress-free the business process has become. The AI-powered chatbot systems are reshaping the way clients interact with the brand. The automated chatbots are intended to reenact customer communication and give personalized and prompt responses 24*7.
Undoubtedly, the never-ending customer support is one of the biggest reasons businesses opt for artificial intelligence in customer experience. The automated chatbot system removes the delays in response to customer queries while taking care of their grievances. It lets customers quickly discover what they are looking for by being their personal shopping assistants.
3. Personalized Content
Another compelling way AI based mobile apps transform the customer experience is by delivering personalized content. Customers love to get a recommendation as per their likes. The enablement of AI in platforms like Netflix and YouTube recommends users video clips, films, and shows based on their browsing history. This clearly denotes the role of AI in customer experience and how it takes care of the customers preferences and serves them their choice of content.
4. Making Predictions
Predictive personalization is another way AI is giving exquisite experience to the end-users. Depending upon the customer's preference and explicit interest, AI enables businesses to provide personalized content to their target audience.
The integration of artificial intelligence in mobile apps has made companies utilize data based on buyers' persona, browsing behaviors, etc., to personalize their experience depending on the data collected. AI offers a fundamental approach for monitoring the customer's subsequent stage by demonstrating precisely what they need to see.
5. Visual, Text, & Voice Engagement
The AI based mobile apps offer optimal customer experience to the targeted audience. The visual, text, and voice engagements depends upon the user's voice and facial expressions. Technology like chatbot assistants and biometrics simplify detecting the user's emotions and sentiments. The AI-enabled face recognition and voice command analysis positively affect users and give them a more personalized experience.
Top Industries Delivering Higher Customer Experience with AI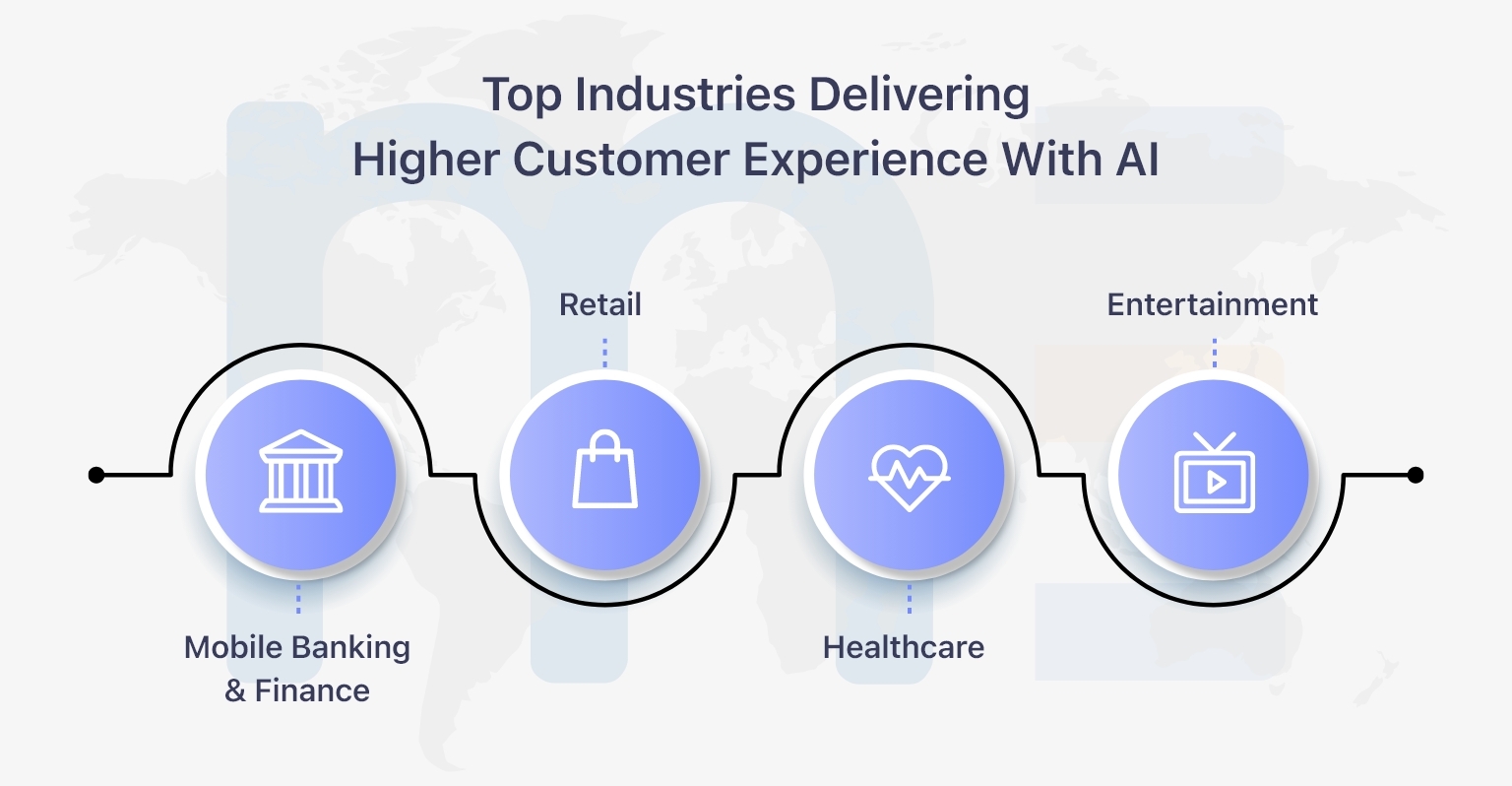 1. Mobile Banking & Finance
The mobile banking and finance industry is also not untouched by AI's power. The chatbot assistants help customers find the right investment plan by being their 24*7 personal assistants. The technology also offers quick fraud detections that ultimately enhance customer loyalty.
Artificial Intelligence in mobile apps have revamped the finance industry in multiple ways. From performing money transactions with a couple of clicks and processing bill payments to robust security interactions, its has offered a whole new way to operate online transactions.
2. Retail
While talking about industry that AI transforms, the hit one on the list is Retail. Utilizing machine learning and transactional data, AI streamlines the tracking and analysis of customer purchase patterns, which helps businesses to offer the right deals at the right time to gain customers' attention. The clear evidence of the impact of AI on the retail industry is the growing customer satisfaction and decreased churn rate.
3. Healthcare
The transformation of the healthcare industry is one of the biggest influences of AI. Yes, AI has reshaped the healthcare market in multiple ways. AI has simplified medical operations from virtual analysis of patient health history and regular health monitoring to providing quick medical assistance. It permits patients to take online medical consultation and guidance at their homes and also get access to on-demand medicine delivery services from their nearest stores.
4. Entertainment
AI and its subsets like Machine Learning and NLP are creating history by delivering superior customer experience in the entertainment industry. Market leaders like Netflix are idol examples for the same that talk about how AI has reshaped online streaming services. The technology enables entertainment companies to connect with the customer's likes, preferences, and choice of content to give a personalized experience. This is boosting the customer's loyalty and customer retention rates as well.
As we have covered in this article so far, the role of AI in revamping customer experience one way or the other. But will the impact of AI continue in the future also? Will AI be in the front row for a remarkable customer experience? Let's look at the below interesting facts and find the answer.
Conclusion!
Artificial Intelligence can make mobile apps more powerful and give businesses a winning advantage over competitors. As we have covered how AI is redefining the market and its future impact, it's time for you to invest in AI-based mobile app development. If you have any idea about building an app for your business using AI, then mTraction Enterprise is here to help you the best way possible. We are an acclaimed mobile app development company that serves global business requirements.
Get stories in your inbox twice a month.
Our team has in-depth knowledge and excellent domain expertise in futuristic mobile app development for diverse business needs. Our team can build a mobile app that helps you gain quick data insights and create a groundbreaking customer experience that your end users adore. We ensure that your business gains a robust online presence via a customer-centric mobile application. Our vision is to help your business grow faster than your competitors.