5 Stages of the Design Thinking Process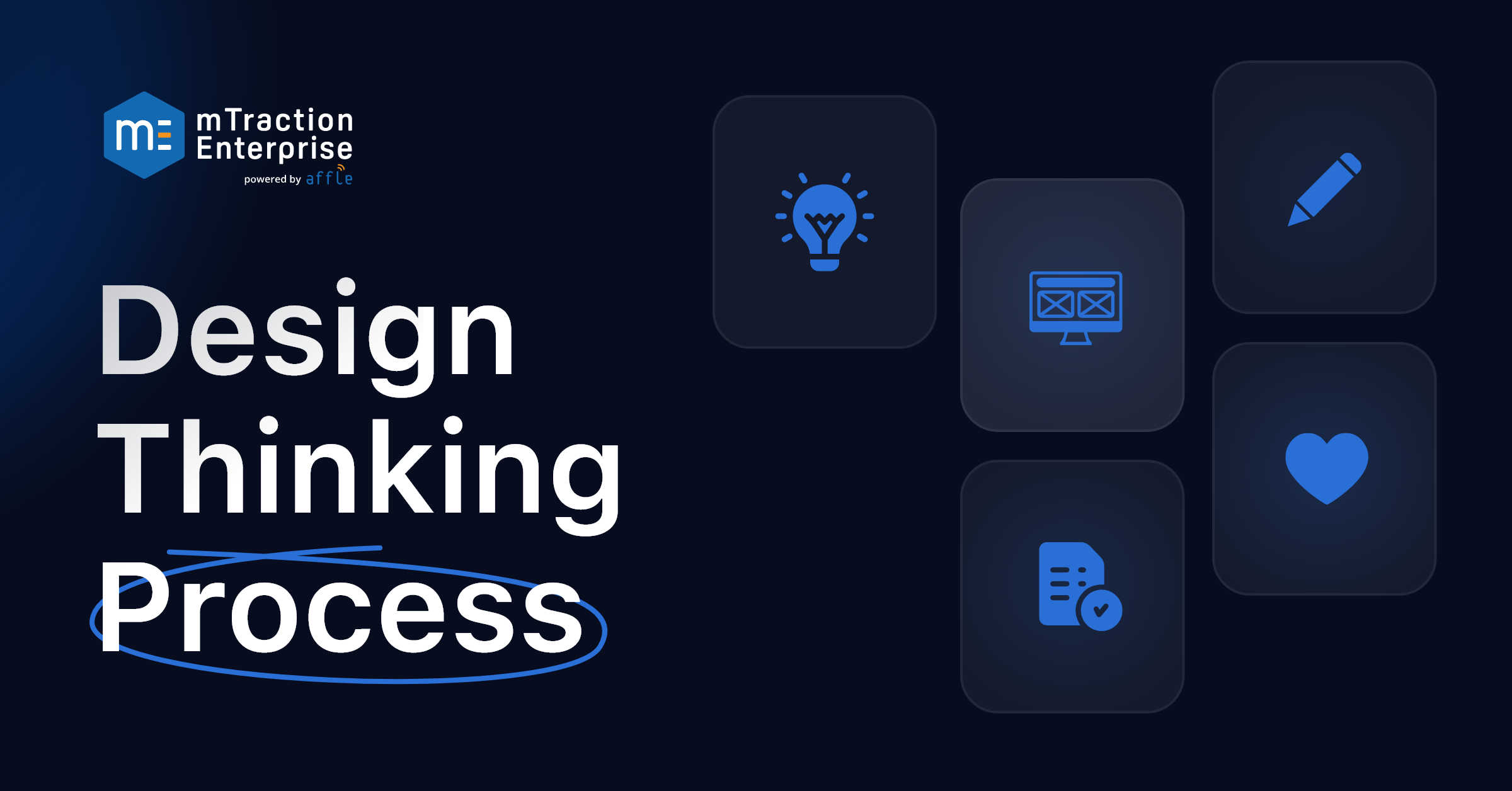 What is Design Thinking?
Design thinking helps in untangling the in-explicit or complicatedly defined issues. It is about analyzing, imagining, and providing a solution to problems. When a designer provides an ideal solution based on the real needs of people, then voila, it is a success!
The Five Steps of the Design Thinking Process
Design thinking was created and popularized by Stanford d. school is a five-step process which is as follows:
Empathize
Define
Ideate
Prototype
Test
This process is used to first identify and then creatively solve problems using a human-centric approach. We can think of bifurcating it into a two-phased approach.  Problem-finding phase (Empathize and Define) and Solution-finding phase (Ideate, Prototype, and Test). Test
"Most people make the mistake of thinking design is what it looks like. People think it's this veneer – that the designers are handed this box and told, 'Make it look good!' That's not what we think the design is. It's not just what it looks like and feels like. Design is how it works."

Steve Jobs
We are going to talk about the whole process with a challenge to solve. Let us brainstorm our minds over this problem- "How might we improve the overall meeting experience at work?"
1. Empathize: 
This is a self-explanatory title; empathy is about imagining what someone else (in this case- the user) might be thinking or feeling. Empathizing, in the design thinking process is about: engaging, Observing, and Immerse.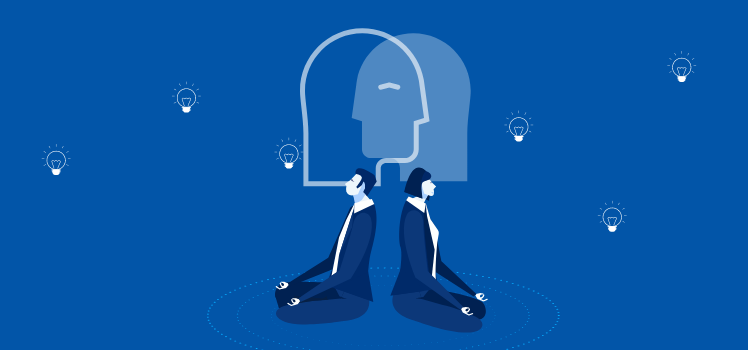 Engage: Interview as many stakeholders as possible to understand what their needs might be and what challenges they might be facing, and gather as much information as possible. In our case, interview the people coming in or going out of the meeting rooms.
Observe: Put yourself in the space of the design challenge. In our case, sit near or walk in the meeting room and observe people's behavior while attending a meeting.
Immerse: Try to put yourself in the user's shoes. Try to understand what a user might be going through while completing the said task. In our case, try to arrange a meeting with your team to get the first person's perspective.
The interview process can be exhausting for both the interviewer and the interviewee. That is why it is essential to ask questions smartly. You should know how to start and dig the most out of the conversation within a short span of time. The 4 types of questions to ask sequentially:
I) Ice Breaker: It is about warming up the interviewee for all the questions. This should be easy and generic, leading to a direction towards the problem you want to talk about. For example, Hi, are you here for a meeting?
II) Grand Tour: In a grand tour, you ask for an interview to walk you through an experience. For example, walk me through the last time you scheduled a meeting here.
III) Dig Deeper: This is when you get a hold of the interview. Dig a little deeper into their experience with the design challenge that would lead to stories and essential information regarding the challenge. For example, how often do you schedule these meetings, and how much would you rate the current flow?
IV) Magic Wand: This is when you ask them for some suggestions on something they might want to change with the current process. For example, if you could change one thing about this meeting experience, what would it be?
2. Define:
After talking to all the stakeholders, we might realize that what might work for one person might not work for another, and hence after all the probing, we come up with a point of view for the design.
The point of view is about focusing on solving our actual problem instead of all the problems. For example, one interviewee says, "the meeting rooms are mostly always booked, and it is hard to know when the room is available." This is an actual problem that needs a solution.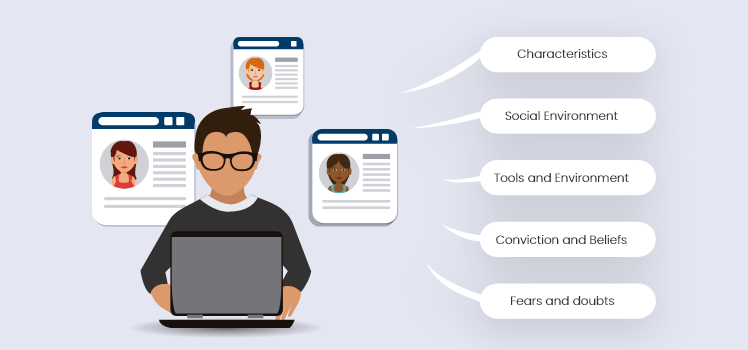 Another interviewee says, "My laptop hangs every time I present my screen." This problem can be overlooked for our challenge.
Once interviews are done, then comes the personas in our problem-finding phase. Persona is a user-centric design that represents a user type. There are 5 major traits of personas.
i) Characteristics: This includes answers to questions like what they do, how they like to spend their time etc.
ii) Social Environment:  This includes answers to questions like where/ with whom they spend most of their time of the day, what impacts them the most etc.
iii) Tools and Environment: This includes all the physical entities that are surrounding them.
iv) Conviction and Beliefs: What your user cares about, what their likes are etc.
v) Fears and Doubts: What are their dislikes, what are they most concerned about, and what makes them nervous?
3. Ideate:
Now comes the solution-finding phase, this is where you and your team get to sit together and brainstorm in finding all the answers to the problems. The solutions should be related to "the point of view" statements, and they must solve the problem. The key is to present even the smallest idea, quantity works here. Make as many "How might we" statements as possible to provide a solution.
For example, how might we monitor meeting rooms' availability, and how might we book meeting rooms efficiently?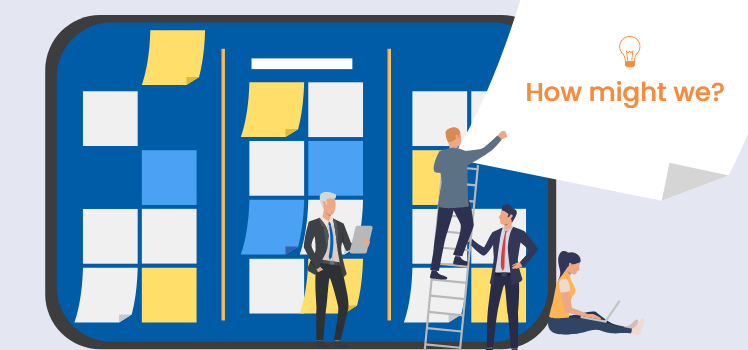 Things to keep in mind while brainstorming the solution to your problem:
Open conversation.
Welcome, all the ideas. You never know if one small idea might lead to a solution.
Provide a headline for your ideas, there is no need for solution-explanation at this stage.
Try to be creative.
Do not counter at this point. Any idea can be a good idea.
Quantity works here. More ideas, the better.
4. Prototype & Test:
Once we have our solution with us, now create an easy and quick prototype. Make sure, this version of the answer must be inexpensive—hand over the solution to the user or the client or anyone outside the design team. Let them experience your solution and give their perspective on it.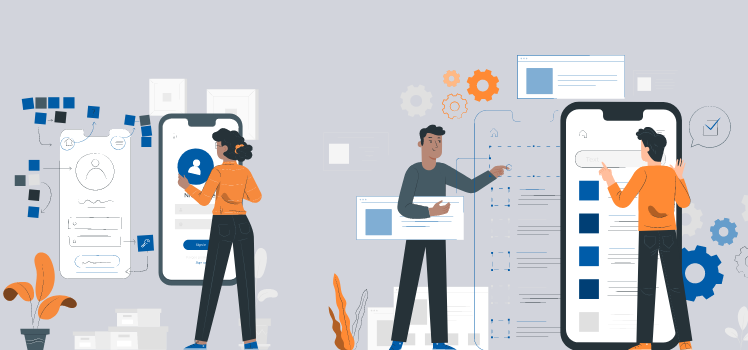 Keep in mind this is an experimental stage. Feedback is most important right now. The user can investigate the problem solution and either accept, improve, re-examine, or reject it based on his experiences. This helps in building the final solution.
Testing is nothing less than a second round of empathy. When you have your solution with you, and you hand it over. You should have your interview questions prepared, "how do they like your solution, is there anything they would like to add?". Even during this phase, alterations and refinements are made to achieve the best version of the solution.
Conclusion:
To summarize, the design thinking process is flexible. Curiosity brings the best solutions. Putting emphasis on delivering solutions based on how real users think, feel, behave, and accurately follow this process gives the smoothest solution w.r.t. user experience.
Get stories in your inbox twice a month.
We at Affle mTraction Enterprise grasp your design challenges and ideate a personalized experience to solve complex business problems and provide mobile app development consultation. Connect with our team at enterprise@affle.com for a quick UI/UX design consultation.