Is It Worth to Invest In the Workforce Automation Application?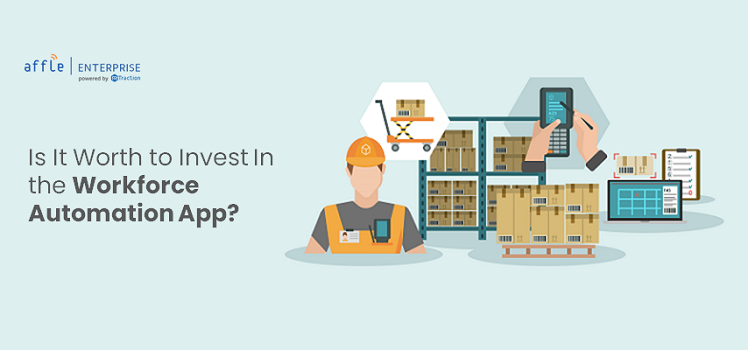 Despite the debate about machines and automation systems replacing humans in the next ten to fifteen years, machines can be used as tools for increased productivity and better business outcomes. They can help people in managing everyday tasks that are both mundane and time-consuming. So the question arises, Is it worth to invest in the Workforce Automation Application.
As per the Statista, around 86 percent of respondents stated their organizations would retrain the employees that are going to be displaced by intelligence automation (IA) for different other tasks.
Workforce automation application is capable of managing multiple tasks with efficiency and divert the human workforce where it is precisely needed.
The factors explaining the worth of a workforce automation application are given here:
1. Easy Employee Analytics
Many companies are implementing a workforce management application that can gather employee data to understand their true potential. Businesses have realized that employee analytics is more than just statistics. This results in efficient task management as managers can assign tasks to employees whom they see fit for the job.
Employee data analytics also includes organizing and characterizing sophisticated employee data which is further utilized for a detailed employee performance analysis.HR managers and decision-makers can use this data for predictive analysis and evaluation of employee potential and tenure.
Many departments in a company including human resource management are turning to data collection and management to deal with turnover, overtime, and headcount-related aspects.
2. Hassle-Free Hiring Process
Sending interview invitations to candidates manually is a tedious task for HR managers and sorting and shortlisting the right candidates is even more tiresome. Here, a workforce automation application comes to rescue as it can single-handedly manage these tasks. It can send automated messages to the candidates and shortlist the chosen ones.
This reduced the task of HR managers to a macro level where the experts only have to choose the candidates with the required skills and qualifications, and the rest can be left to the software Workforce automation application also uses anti-bias technology which maintains transparency in the process and keeps it impartial.
This technology only focuses on a candidate's skill and qualification regardless of his/her background, college, or university. For instance, a hiring manager may prefer certain candidates belonging to a university or college which can discourage other candidates and the company may also miss out on a deserving candidate just because he or she does not belong to a specific institution.
3. Easy Management of the Facility
Workforce management is not only for big companies and Multinational Corporations (MNCs). It can be readily employed in a relatively small workshop or a startup. For instance, the software can create, manage, and maintain the technician's shift patterns and gain visibility of their working hours.
This can be further utilized for analyzing their true activity hours and evaluating their productivity. This is achieved through virtual calendars that can track, maintain, and manage employee data on a micro-level. Therefore, a highly managed workplace results in high employee productivity, better utilization of resources, and enhanced customer satisfaction.
In addition, Invest in the workforce automation application and it will automatically eliminate the need for a separate admin as the software itself can calculate leaves, working days, working hours, and compensation of employees and technicians. The manager only has to authenticate the outcome presented by the software and salaries of the employees as per their respective evaluation will be credited automatically.
4. Minimize Compliance Risks
Workforce automation platforms can help companies maintain records related to state and government bodies that are required to sustain legal compliance. Such compliance records are not easy to maintain as manual management may lead to errors.
Here, even the smallest errors can be hazardous to the health of a business as these can cost huge fines. Workforce automation software can maintain these documents and notify the management in case of any requirements. In addition, it is easy to keep track of the documents that are stored in one place.
However, managers may worry about the security of documents due to them being stored virtually. They do not have to worry as workforce automation platforms are equipped with high-tech security measures such as encryption and data tracking that require proper authorization before accessing crucial data and in the case of data theft. Invest in the workforce automation application as they can also track data.
5. Easy Customer Database Management and Support
The primary function of workforce automation software is data collection and management. Therefore, it can help in customer database management and in facilitating excellent customer support. This is because decision-makers can integrate employee's performance reviews to the company's customer satisfaction index.
The workforce automation platform is capable of handling and maintaining customer data along with measuring and authenticating customer satisfaction. This can be an added advantage as decision-makers can encourage employees to maintain specific levels of customer satisfaction with ease.
Smart workforce automation applications are not here to steal jobs. Instead, these have the potential to completely change the workplace management for good. The seamless integration of this software to the core systems is capable of facilitating the uninterrupted flow of processes.
Get stories in your inbox twice a month.
We at Affle Enterprise are enabling thriving startups & giant enterprises to solve complex business challenges through our Chatbot & Mobile app development services. Please get in touch with our team at enterprise@affle.com