How Your Mobile App Can Make More Money?

In recent years, due to technological advancement, increased affordability and sleeker designed mobiles have become a world for equalizer which has resulted in flooding of apps in app-store. According to analysis done by flurry – "overall apps used in 2013 posted a 115% of growth over last year." Every hour new mobile users are increasing rapidly and mobile space is teeming with lots of apps.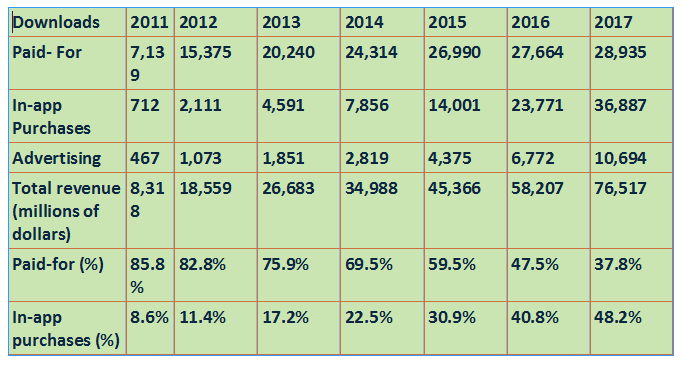 Source: Gartner (September 2013)
Most importantly, mobile app developers and publishers have found the immense potential of earning money from these mobile apps. But, making money from the app is the largest challenge, which can be a bit tricky. However, as compared to free apps it's easy to earn money through paid apps. But, still there is a good opportunity even for free apps to score big in the mobile marketplace—if you have a good addictive app. For free apps the medium of earning is ads, but having ads in your apps may likely be an annoying, disruptive experience to the user and may harm your brand name as well.
How do you make money with your apps?
Due to lots of alternatives available in the mobile world, users hop from app to app looking for the right combination of uniqueness, simplicity, service and value. It has became challenging for app developers and marketers to retain the users in their apps. However, a few mobile app companies have truly cracked the perfect mobile advertising strategy. They have proved that having ads on your app won't mean that it would not make money. If you have an amazing and addictive app you can earn money by getting good downloads. An app should be developed by considering user's perspective, because it takes a considerable effort for downloading an app but a few minutes to delete it.
But, the next question arises – How to know whether a mobile app is going to make money or not? What we can do is – we can hope, we can plan, or try to follow the best business model. But, wouldn't it be better to look for all the aspects before start developing an app. Let's take a look on those aspects:
What should be the Foundation?
Is your app affordable?? Is your mobile app free? If not – is it worth to pay that much for your app? Are you offering freebies or discounts. One smart way of getting your app selected is using "Freemium" model and having In-App purchases. A freemium model is a model which offers free "lite" version of the app and usually works for p reemium apps as well. By using the "freemium model", users can be encouraged to download the free version and get a feel of the app.
Is your app useful?? – Every good app needs to solve a problem or helpful in making any difficult task easier like Daily Expense Manager. It acts as your personal money manager or finance manager and keeps records of your finance.
Is your app easy to understand?? – Make your app simple, easy and effortless to understand and use. As easy as Spoodle or Instagram?
Recognize your app: Every app has a different model like for business critical apps you need to develop an application for work – like CandidMarkets. It is a tool to value stocks and pick investments that will deliver returns with reduced risk. Games would not.
Make your app addictive – Games are not needed to be business critical, but they should be addictive. Facebook is also addictive, as is my favorite addiction, Bribe Your Friends
Built In-Virality – Integrate some viral features into the core functionality of the app, so each user that enjoys the app can potentially attract a network of new users. Viral features is better and more engaging because through it users invite friends to use the app. Like Instagram, Wechat, and WhatsApp are fun only if users can connect their friends too.
How to Communicate??
Showcase where you can show off your work – Any app that provides you the platform where you can show your work, taste or anything – Pinterest, Tumblr, Digg, LinkedIn, Dribbble etc.
Channel or Conduit – An app that provides a passage to place your posts on various social platforms at the optimal time for your audience like Buffer.
Social system – An app that makes you connected with your Smartphones anytime and every time – Facebook, Twitter, Pinnum, Instagram, Snapchat.
Well-defined marketplace – A marketplace where your target audience is specific like Kids apps, business apps, sports apps etc.
Multichannel capability – An app that has the multi – channel capability, performs various tasks and some of them seem to be everywhere online and offline.
Multi-Platform – Apps that support various platforms like Android, iPhone, Windows etc. seem to add better value as compared to apps that support single platform like Speaking tree.
What should be the Monetization methods??
Publishing an app and expecting it to become a hit without a well-defined marketing strategy is a poor decision. Your app monetization has to be so effective that it should attract the target audience.
Try Quick wins & Pursue Recurring Revenue Models!
Incentives – If we talk about incentives "Dropbox" is a good example. Through Dropbox, you can save photos or videos to your Dropbox and share them with your friends in just a couple taps.

Rewards – Through rewards you can reward users through points, coupons and virtual goods.

Cross-sales – This model is mostly used by games . You can offer users to buy virtual goods or other paid games from inside the app.
Subscriptions – You can add subscription model through Media publications, like the NYTimes.

Upgrades – Through upgrades we can always offer premium service to users. Like we discussed earlier "Freemium model" would be an option of upgrade for recurring revenue.

Scalability – Scalability is a marketp lace that charges a small amount per transaction but make their money from scale like Esty
Developing an app is difficult, but marketing of an app is even more difficult. It requires a multi-faceted approach that needs to be coordinated and consistently evaluated. Each of the above mentioned steps will lead a thriving results. But none of them is silver bullet. You have to develop a well- designed app and consistently promote it through as many networks as possible. With a lots of hard work and little luck, you can develop a successful app that will drive your business ahead.