11 Pre and Post Mobile App Launch Pitfalls to Avoid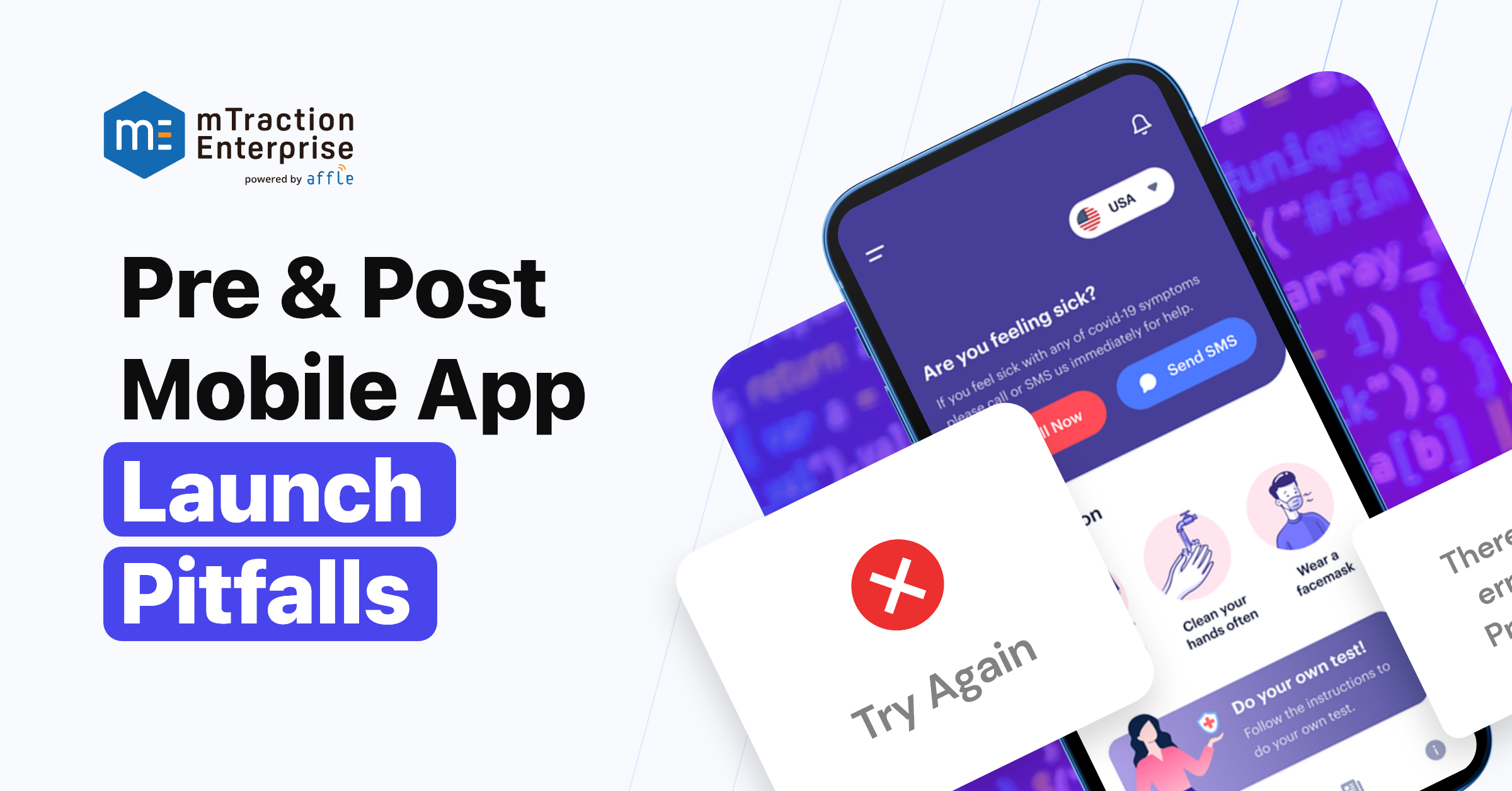 The market for mobile apps is on an upward trajectory that shows no signs of plateauing out any time soon, making it a very exciting space to dabble in. There is huge scope for app development and retail to avoid mobile app launch pitfalls.
The market was already valued at US$ 106.27 billion in 2018, according to data released by Allied Market Research, and the future is even brighter. The market – fairly pandemic-proof – is expected to grow at a compounded annual growth rate of 18.4% to reach US$ 407.31 billion in the next five years, by 2026. 
While demand is set to nearly quadruple, supply is keeping pace, if not exceeding it. There are about 2.86 million apps on the Play Store and about 1.96 million apps on the Apple App Store.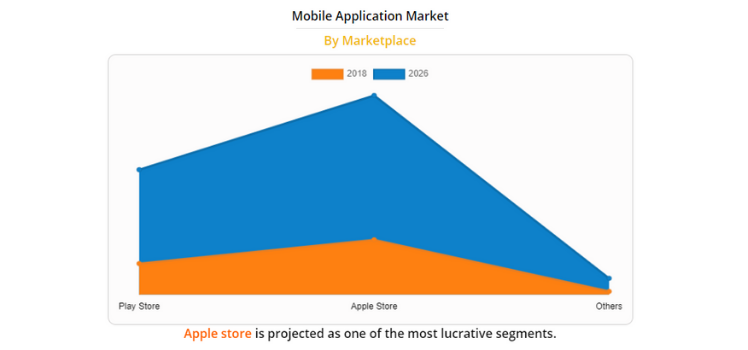 As a result, to be successful, app marketers must create and adopt effective strategies that can help their apps stand out in the crowd. It is not as easy as developing an app and putting it on the market – just like any product, apps, too, face tough competition in the market. Thus, mobile app developers need to focus on the USP of their apps to make them stand out in the crowd and carve out a niche for themselves among app users.
How can you ensure that your mobile app takes the crowning glory? 
It is not uncommon to be so excited about the usefulness of your app that you forget about paving the way for your mobile app's launch. But you need to keep your wits about you – if you want your mobile app launch to be a successful one, make sure to avoid the following pitfalls! 
Pre-launch pitfalls:
1. Neglecting market research
If your app is the first of its kind, research your target audience and any lacuna that they are facing, that might get them to use your app. Similarly, perhaps research other apps that your target group might utilize and observe their comments on such apps – what do they appreciate and what do they complain about? 
If your app joins several others of a similar nature, be sure to jot down a list of features offered up by the competing apps. Use these apps to get a feel for their advantages and disadvantages. Again observe user comments and take stock of what to replicate and what to avoid – this is a great advantage of not being an early mover. Learn from the mistakes of others.
2. Skipping the beta test phase
All the biggest tech brands out there conduct beta testing and it should be no different for mobile apps. You can get your beta testing underway as soon as your app is nearly ready for launch. Make sure that you keep time on hand for any changes that might need to be affected as a result of beta test feedback. A simple google search will give you a whole lot of beta testing websites to choose from.
3. Not involving the marketing team in the initial stages
Your marketing team needs to know all the intricacies of your app to effectively make it the preferred choice for your target audience. Bring them in early on and allow them to be part of the process so that they have a handle on everything that your app stands for. This helps them figure out keywords that will get your app picked up.
4. Not having an app release date
The date might go for a toss as delays often take place but it is important to have one in mind and work backward also so that you can create excitement through influencers, tech bloggers, and the press. 
Post-launch pitfalls:
5. Letting users forget you
You can use paid marketing channels to obtain users but must engage your users and keep ensuring that the app stays relevant to retain these users in the long run. 
6. Insufficient focus on customer support
The angriest reviews are usually seen from app users who have been unable to get customer support. Avoid landing yourself in this soup by optimizing your customer support services before your mobile app's launch.
7. Neglecting measurement and monitoring of traffic
As long as your app is making money, things are great, right? Right, but what about tomorrow? You need to keep track of how many active users you have on a daily weekly and monthly basis; you need to know when and where you lose users and you need to know how often your app is used by them. 
8. Not utilizing the app's update description space
Just like a blank Instagram profile or Tinder profile looks shifty, an app with no description confuses and scares away potential subscribers. And also, why would you forgo a free marketing opportunity?
9. Stressing too much on push notifications
Most people will not mind a push notification now and then but making it an everyday affair is a big no-no. Here are some clear mistakes to steer clear of when it comes to pushing notifications:
Allow them to be turned off. EASILY! 

Do not make push notifications a daily occurrence.

Tailor push notifications according to time zone.
10. Failing to customize app review blitz emails 
App reviewers get tonnes of emails from app developers daily. Personalize your emails, do not spam reviewers, include a link to the app at the app store, including a video of your app, and also include your press kit. This lowers your chance of being sent to the reviewer's junk folder immediately. 
11. Not being clear on software-related agreements 
Remember to ensure that your Service Level Agreement and Maintenance Agreement points are met during software maintenance. Non-adherence is a pitfall to be avoided at all costs. One way to ensure app quality levels and optimum service is to ensure that your SLA covers all the core components – 
Goals and objectives.

Customer service type (for example, will it be telephonic assistance?).

Response time for customer queries, complaints, and issues.

SOPs related to customer requirements including any payment at predetermined intervals, and timelines, and specifications regarding the expiry of the app developer's service or app updates.

Guidelines with regards to how any requirements with regards to changes in the service will be communicated and handled.
Be sure to keep a check that all of the above are being adhered to when the app is live. 
Meanwhile, your maintenance agreement should cover all points related to how the quality of service will be upheld. Mention clear deliverables on how the app will be maintained to keep pace with evolving trends.
Conclusion
To conclude, it is important to keep an eye on how your app is performing – in terms of traffic and usage – on a regular basis. Maintain historic data and be sure to analyze trends. Any decline in numbers should be taken very seriously and addressed – have your support team work round the clock to fix any errors. Also, appearances are everything. Keep an eye out for trends in terms of making your app look up to date. 
The key to avoiding these 11 pitfalls is the same as it is with any product – impeccable planning, a thorough understanding of the target audience, and of course, attention to detail. 
Get stories in your inbox twice a month.
We at Affle Enterprise grasp your design challenges and ideate a personalized experience to solve complex business problems and provides mobile app development consultation. Connect with our team at enterprise@affle.com for a quick app design consultation.