Cyber Monday Knocks The Door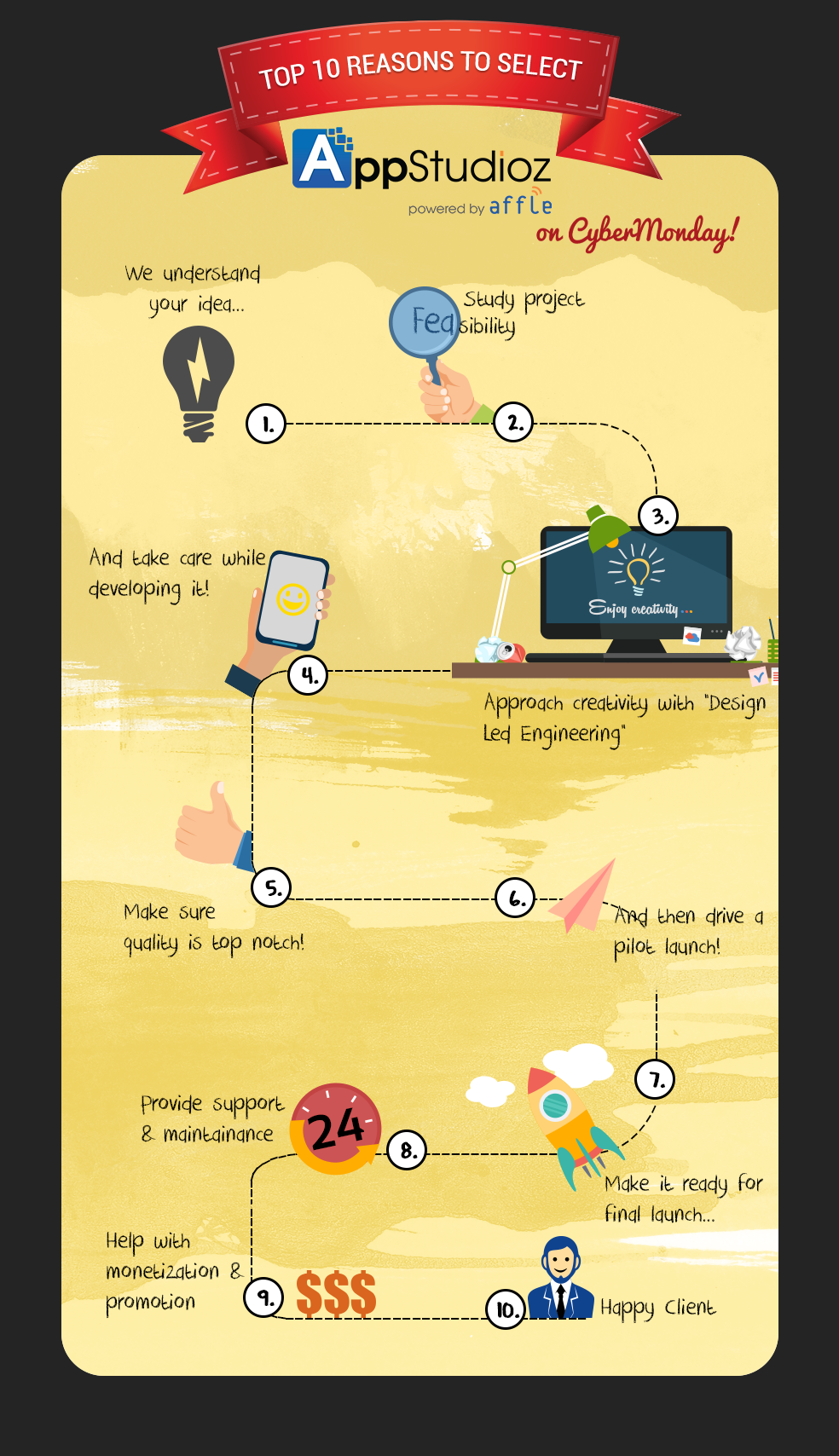 It is known to be a companion shopping "holiday" that follows Black Friday and is the first Monday after Thanksgiving. This day has quickly gone from known-among-geeks to well known among the general populace.
Talking about the awareness of Cyber Monday, we thought we shall also make you aware of the reasons why you should choose the Affle AppStudioz as your Mobile Apps Development Platform.
Get stories in your inbox twice a month.
Success in app business directly relates to your understanding of the marketplace. Apple iTunes Store and Google Play are the top marketplaces for the app businesses across the globe. Typically our clients come to us with an idea for an app or a mobile asset. Using our years of knowledge & expertise in the domain blended with some pre-market research, we convert your idea into a vision hence helping you to visualize the true potential of your idea.Then our team of experts comprising analysts, code-geeks, design experts and psychologists talks to you and do a feasibility study which leads to a proper foundation of the agile process which we follow here at  Affle AppStudioz. In the initial phase we take up your requirements and try to put forward the case for as to what shall make your app different from the rest of the apps in the marketplace.
                         Then we turn this research into something tangible.
We at Affle AppStudioz are a Design driven Engineering team. When we are working on a design for an app, we take care of all the aspects related to it. Be it human, scientific or infrastructural, etc for us design and content are the most imp components of an app. The virality of an idea/ app depends on its UI to a greater extent. In this process we ask our in house team of experts to go through designs, conduct surveys, and even ask our design scientists to conduct small studies to measure the success of a design.
 Once the designs are in place, we make sure the development takes place better than the market standards keep you at vigil during all our development cycle. We follow the agile process to deliver a project and hence take care the functionality of the app (if it is as per the client requirement) Quality is of the utmost priority to us, and so we make sure that any app we deliver is properly tested by our team of experts. In addition to the normal software testing which is a standard, we float the app among Our team of 300+ employees and ask them to report any error, bug, etc. they come across be it design or functionality. This way we get your app beta tested and make sure we have a user's perspective while testing too.If you opt for it we even provide you a pilot launch of around 500 to 1000 app downloads. Affle (Affle AppStudioz parent firm) is also having a mobile ad network of its own which is having a global outreach.
 So on the basis of your target audience, we can even provide you a Pilot Launch Campaign for high quality application downloads. And on that basis the results, it finally becomes your call to move ahead with Affle Ads or not for the final launch. On the basis the analytics from our pilot campaign, we package your final app and provide it to you. Now your app is ready to go in the market and become a part of its target audience's life. This delivery do not mean that we won't be there to help you ahead, we are always there to provide you maintenance and support whenever needed.
And finally to make it sweeter for you, we even help you promote your app on Dribble, Behance and all other app promotion platforms for free (to get you more downloads). And well, when you are sure that you are ready to go all out and would want to turn your vision into a phenomenon, you can even use our Affle Ads for App Promotion and monetization.
 On all of the above,we never get to see any less than a happy faced client at the end of this process & this is what our most important reason is.This is what we do in Affle AppStudioz — We make our clients happy and keep them satisfied.