What Dominant Travel Apps Teach Us: Travel Application Leaders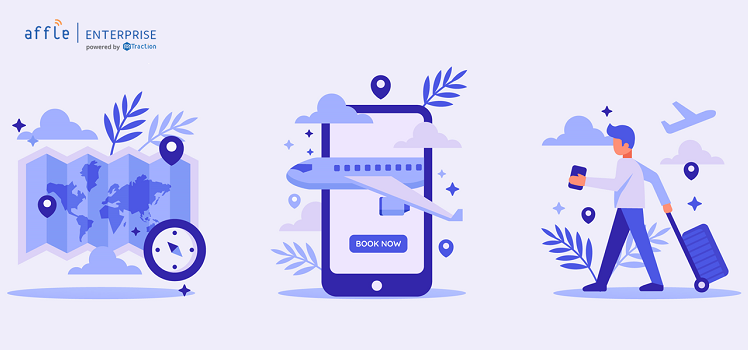 The mobile phone industry dominates the market in terms of the online interaction of users. The reasons are personalized experience, cheap mobile data, and of course, mobility.  Therefore, it is vital for companies to incorporate quality features in their travel apps in such a populous business environment.
As per Statista, the travel industry, which is adapting to the new demands of the traveler by anticipating their future technological needs. Mobile devices and the apps they run are a large part of these needs.
The example of dominant travel apps can be taken here to identify the essential factors that can convert a regular travel app into an excellent travel app. Some important aspects of travel app development can be understood by reviewing some of the industry's leading apps of 2019.
Dominant Travel Apps
1. Airbnb
Airbnb started with a revolutionary idea of enabling locals to offer hospitality services to travelers across the globe. Guests are provided access to Airbnb databases where they can view available rooms as per their preferences and use keywords for specific locations such as 'close to cochin port' for easy exploration.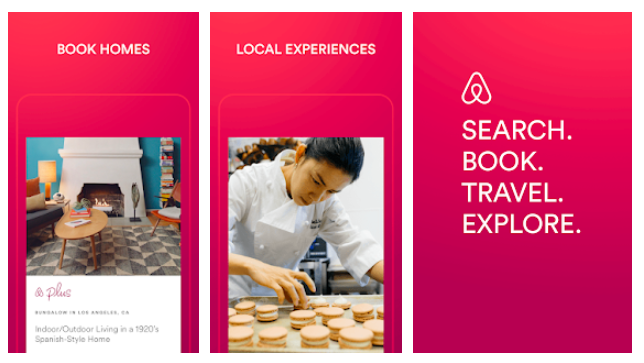 The hosts only need to have decent spare rooms, good food, and a will for hospitality. The service covers approximately 81,000 cities in 191 countries across the globe and it also offers personalized experiences and tours at specific places across the globe. The app has over 50 million downloads which show its popularity in the industry.
2. Google Trips
This is a travel organizer app from Google that needs no introduction. It is a new entry in the travel industry that boasts more than 500,000 downloads.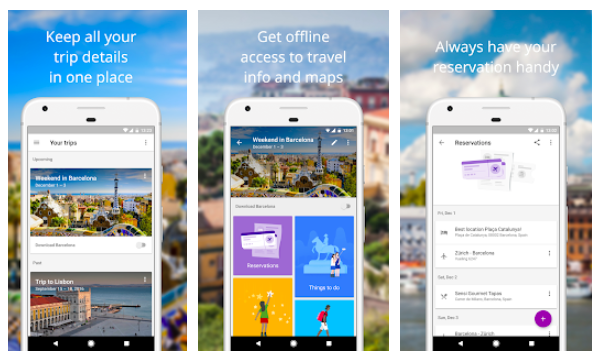 The app is available on Android and iOS platforms and facilitates both online and offline access and works as a travel planner that allows customers to plan their schedule and scout places. Since it is from Google, customers only have to sign in with their Google accounts to access its multiple features.
3. Tripadvisor
This is one of the top companies in the travel industry. The company is popular among customers worldwide and boasts more than 100 million downloads and is available on both iOS and Android.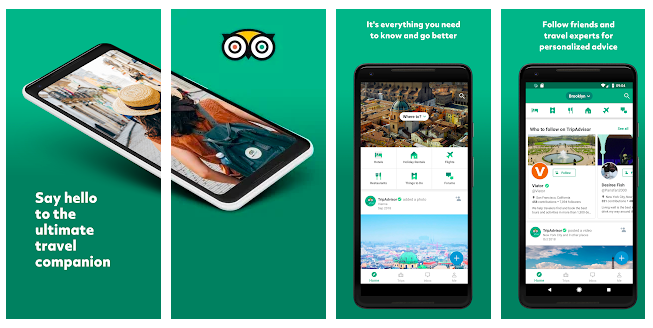 The app is known for its authentic customer feedback and reviews. The app offers everything from flight bookings to hotel bookings along with a wide array of additional services such as comparing airfares, tariffs, and discussions on Trip Advisor forums.
4. Culture Trip
This is a relatively newer addition to the list of top global travel apps but the user reviews reflect the quality of services facilitated by it.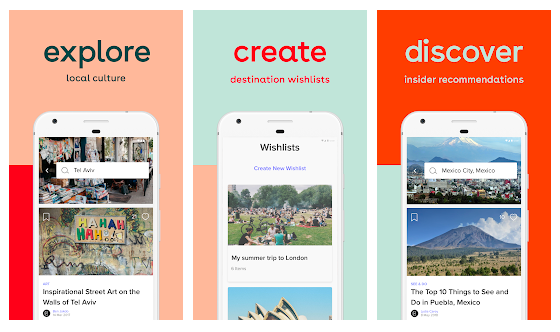 The app has more than 100,000 downloads and features a variety of services including wishlists, guidance from locals, and insider recommendations.
5. Lonely Planet
It is also a new entry in the field but loved by its customers. The app is available in different variants as per the specific needs of the customers. Some examples are Guides by Lonely Planet and Trips by Lonely Planet.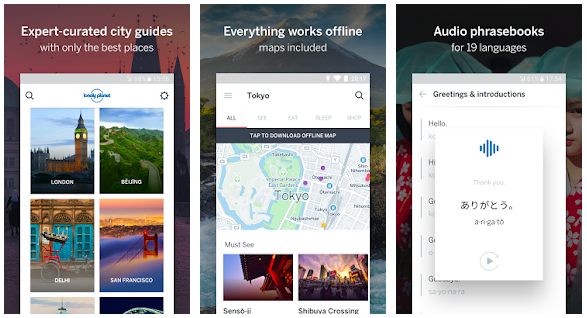 The app is focused on providing wholesome travel solutions including services such as city guides, offline access, wishlists, and currency converter along with some unique features like audio phrasebooks that allow customers to use and translate local phrases for better communication.
New enterprises willing to enter the industry must consider the features of the industry's leading apps and try to incorporate those in their travel app development process.
[sc_fs_faq sc_id="fs_faqux71053sy" html="true" headline="h2″ img="" question="Must-have features for a travel app" img_alt="" css_class="" ]1. Flights, Hotels, and Cab Booking Facility <br> 2. Specific Filters for Popular Spots and Attractions <br> 3. Integration of Users' Personal Accounts to their Social Media Accounts <br> 4. Navigation <br> 5. Multiple Payment Gateways <br> 6. Users' Feedback/Ratings/Reviews <br> 7. Offline Access <br> 8. Notifications for Deals and Offers[/sc_fs_faq]
Here is a detailed explanation of the above-mentioned features to get customers' attention and add value to their services
1.  Flights, Hotels, and Cab Booking Facility
Almost every leading travel app features various types of booking facilities as it offers maximum convenience to the users. They do not have to switch platforms for flight, hotel or cab booking. Some of those apps also feature a loyalty program that offers special discounts to members.
In addition, partnering with airlines, hotels and cab companies increases the visibility of a travel app as it gets multiple platforms for the promotion.
2. Specific Filters for Popular Spots and Attractions
In today's day and age, finding attractive locations and vacation hotspots across the globe should not be an obstacle for a customer. A travel app that features filters that can segregate popular places in a travel destination is loved by customers.
In addition, integrating wishlist or 'suggestions from locals' feature to the filters allows customers to prioritize their visits as per their schedule and/or preferences.
3. Integration of Users' Personal Accounts to their Social Media Accounts
Maintaining users' personal accounts on a travel app is a great way to collect organic data. This helps in understanding users' behavior and their lifestyle.
In addition, authorizing registration through social media accounts of the users will speed up the process and help the business gather more data through users' social media profiles.
Since the majority of mobile users are also active on various social media platforms, sharing their status or media through a travel app will promote the app as well.
4. Navigation
Once they arrive at the destination, many travelers wish to explore the place on their own for a genuine experience. This may seem an expensive feature and in fact, it is one but it adds sophistication to the app and convenience for the user. Google offers Google Maps SDK both for Android and iOS.
5. Multiple Payment Gateways
This is another great feature as the customer can prefer his/her payment method. In many parts of the world, plastic money and online payments are preferred over cash payments. However, the security of online payments is still an issue across the globe.
A travel app that is inclusive in nature must facilitate payments from the channels that are accepted worldwide. Some of these channels are Paypal, Google Wallet, Amazon Pay, Paytm, and Apple Pay. This enables customers to use their preferred payment method without the chance of a failed transaction.
6. Users' Feedback/Ratings/Reviews
Modern customers rely heavily on ratings, reviews, and feedback provided by other customers. This also helps in creating awareness and offer genuine information about a place, hotel or service provider. Although an ideal travel app should contain brief information about the hotel, restaurants, and cafes, the reviews and ratings can add authenticity to the information.
7. Offline Access
This is an aspect ignored by many travel app development agencies. The app must be accessible without the internet and certain features such as wishlists, reviews and descriptions about places and hotels should be available without the internet. While it is true that navigation and payment are only possible with the Internet, but the app must also provide access to basic features in the offline mode.
8. Notifications for Deals and Offers
Customers and budget travelers are always looking for discounts and deals. An integral feature of a travel app is to inform the customers about the latest and trending deals. This is possible through real-time notifications for reduced prices, cashback, exclusive offers, and membership programs.
Apart from these features, the company has to be mindful of critical factors such as safe transactions, choosing the right app development agency and overall cost of app development.
Get stories in your inbox twice a month.
We at Affle Enterprise are enabling thriving startups & giant enterprises to solve complex business challenges through our Mobile app development services. Please get in touch with our team at enterprise@affle.com