Top 10 Ideas for Fintech App Development in 2022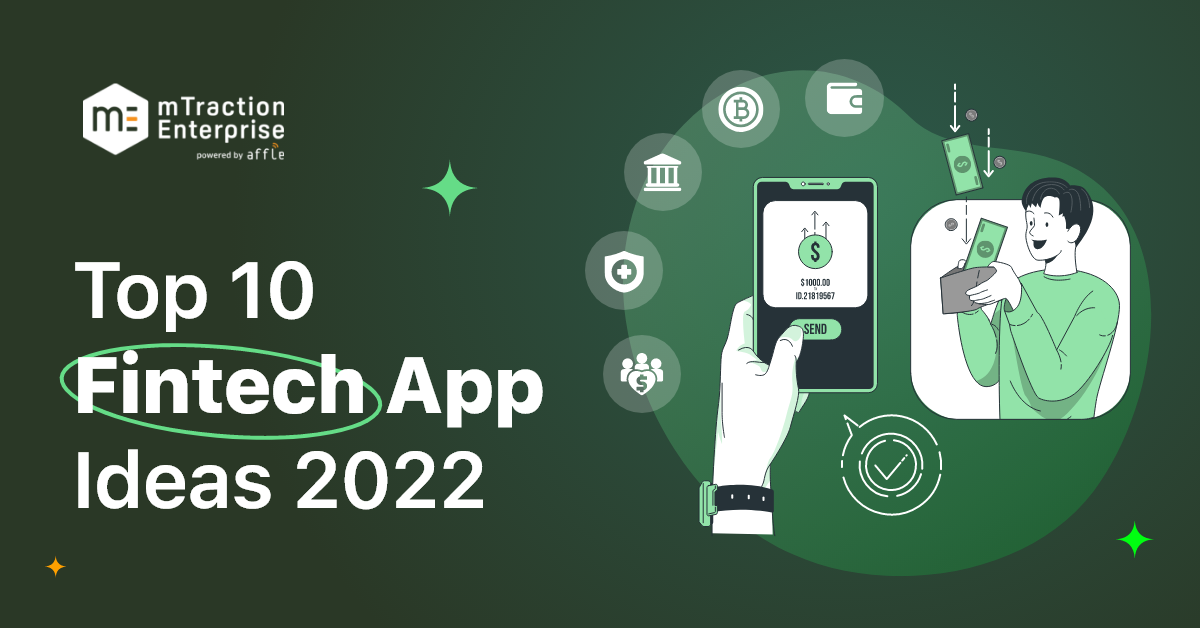 Fintech is the consolidation of finance with technology. Fintech applications have become lead players in serving financial services to people and businesses, whether it's about selling or purchasing cryptocurrencies. The finance app ideas for startups range from electronic payments and mobile banking to insurance and investment apps.
Finance startups are using the fintech technology to employ it in the back-end systems and enable cashless financial transactions under robust security. With the incorporation of Blockchain, the fintech apps have changed the finance industry's landscape by 180 degrees. No wonder it has become a critical part of the finance industry's growth.
Here are the Key Highlights Why You Should Invest in Fintech App Development in 2022
Fintech solutions have enhanced the ecosystem's profitability, security, and performance.
Unlocks new business possibilities, catered to the needs of the underserved, and left a significant impact on other domains like fintech app development company.
Provides low-cost services and products to non-bank customers. It reduces the cost of financial services and depending merely on digital access.
Anyone from everywhere can easily access it. Those who have never used any financial services can also benefit from fintech applications.
Fintech not only assists in the economy's growth but also opens up new employment opportunities for job seekers.
In this digital era, fintech app development in 2022 is giving a 360-degree transformation to the finance industry landscape, automating the supply and usage of financial services. The idea of fintech app development can let finance businesses explore hidden possibilities to grow more. Because the fintech industry has a lot to explore, we will discuss some fruitful fintech app ideas for startups and enterprises.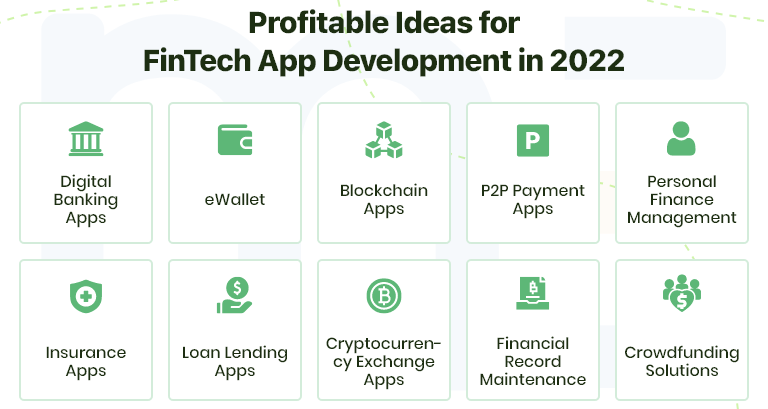 Top 10 Profitable Ideas for Fintech App Development in 2022
1. Digital Banking Apps
As people have started realizing how fintech apps provide ease and reliability to access financial services, the demand for digital banking is snowballing. The finance apps made banking operations stress-free and less time-consuming as users are no longer required to visit bank branches physically and follow the manual proceedings. From opening a bank account, performing money transferring, checking account balance, to paying bills, the fintech apps come with several benefits.
Number of active online banking users globally in 2020 with forecasts from 2021 to 2024, by region: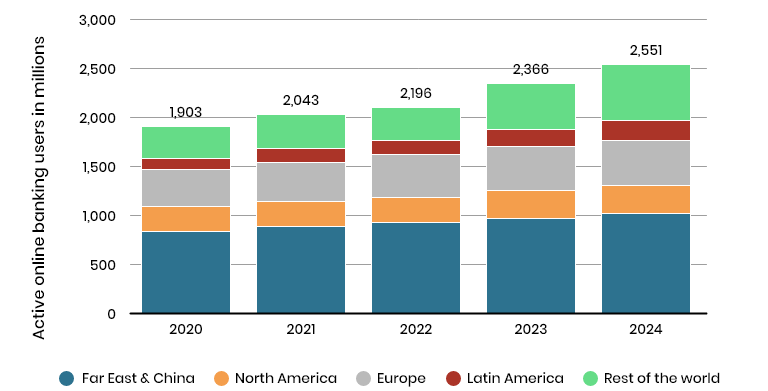 img src: Statista
2. eWallet
There must be an eWallet app that holds a place in your smartphone, right? Well, the growing popularity and usage of eWallet apps talk enough about its huge success story. eWallet has offered a simplified approach for users to pay various bills like electricity, phone, merchant stores, credit card bills, etc. The data stored in mobile wallets or e-wallets are highly encrypted and prevent data theft or illegal attempts. Mobile wallets are incredibly secure and reduce the risk of fraudulent activity compared to credit cards. As per the research by PR Newswire mobile wallet is predicted to reach USD 750.3 Billion By 2028.
3. Blockchain Apps
Blockchain is a widely used technology in the finance industry. The Blockchain eWallet applications simplify cryptocurrency trading. Most firms have already started investing in Blockchain app development by implementing modern features. Moreover, Blockchain apps are shrewd fintech app development methodology with a broader range of online transaction handling capabilities like money lending, asset management, digital banking, and many more. GlobeNewsWire reveals that in the year 2026, the global fintech blockchain market will reach US$8.7 Billion.
4. P2P Payment Apps
Peer-to-peer (P2P) payments apps focus on streamlining the fund transfer between two bank accounts by terminating any third-party involvement. The P2P apps make the process secure, proficient and gain enough attention in the finance market. However, tech enthusiasts continuously try to enhance P2P apps by incorporating features like biometrics, facial recognition, and many more. The peer-to-peer apps are pretty promising for business owners and the most preferred choice among mobile app developers as well.
5. PFM Apps (Personal Finance Management)
Personal Finance Management (PFM) apps help customers monitor and keep records of their online transactions. Today, people are not limited to single transactions. With numerous investment options, people invest their money in different stocks, funds, etc. The multiple investment options sometimes create a lot of chaos in keeping track of every single investment.
Here FMS applications came into the picture and helped customers monitor and manage all their transactions with a couple of clicks. Reports by Markets Insider reveal that the U.S. personal finance software market size is calculated to reach $343 million by 2026 with a CAGR of 5% from 2019 to 2026.
6. Insurance Apps
The name says it all! Insurance applications are a set of tools and software to provide an effortless approach to the customers for applying for insurance and paying their premiums online. Insurance apps assimilate cutting-edge technologies like Internet-of-Things (IoT), Open API, Artificial Intelligence, and Machine Learning for insurance automation and quick processing.
They can potentially analyze a comprehensive data set, market trends and understand customer transactional behavior. Based on the data collected, it offers personalized and quick policy comparison options that help users to opt for suitable insurance plans. Grand View Research claims that the global insurtech market between 2022 and 2030 is forecasted to be valued USD 3.85 billion at a CAGR of 51.7%.
7. Loan Lending Apps
The key objective behind loan lending mobile app development is to address the affair between loan seekers and lenders. These apps enable quick borrowing of money from banks based in your country as per their interest rate. Consumers can also get interest comparison options and opt for the one that suits their requirements. Simply put, money lending apps act like credit cards, enabling users to get a loan in no time. Users only need to go through some eligibility criteria checks for further accessibility.
8. Cryptocurrency Exchange Apps
Cryptocurrency exchange apps are a platform that provides an improved approach for the trading of cryptocurrencies for other assets such as fiat currencies. In effect, cryptocurrency exchanges act as an intermediary between a buyer and a seller and make money through commissions and transaction fees.
9. Financial Record Maintenance
Managing all payments, bills, EMI transactions, tax invoices, or keeping track of dozens of financial records can be cluttered. Isn't it? Not anymore! Financial Record Maintenance apps provide a quick approach to managing all your financial transactional data in a centralized manner. It enables you to save all your data in one place and offers fast accessibility as per your requirements. Apps like Zoho Books, Wave, and ZenBusiness Money are idol examples of financial record maintenance apps.
10. Crowdfunding Solutions
Crowdfunding is one of the most profitable finance app ideas for startups. Such applications are virtual platforms where people may release or donate funds for specific needs. Today, the market is filled with people donating the finances required to get the project off the ground. Statista said funds raised through crowdfunding surged more than 30% last year and are expected to grow more in coming years.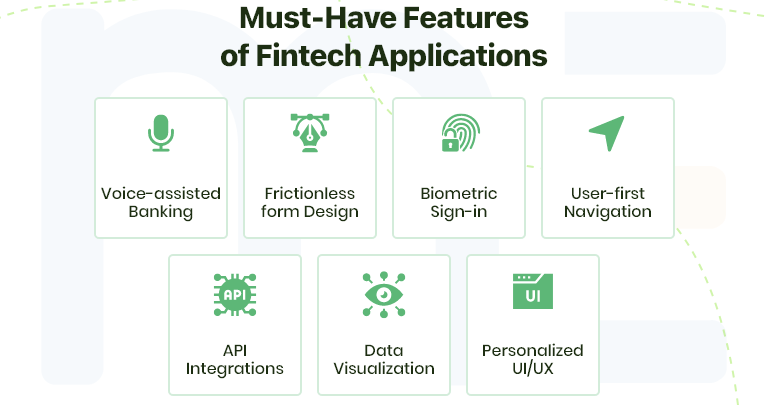 Things to Consider while Launching Your Fintech Startup
1. Focus on Compliances
When discussing finance app ideas for startups, it becomes imperative to prioritize legal compliance and regulation. It becomes a must to go through in-depth research to find all the legal regulations like GDPR, limitations, and security compliance. You need to be sure that your app does not hurt any security regulations that may cause the biggest future failure of your application.
2. Define your Market Niche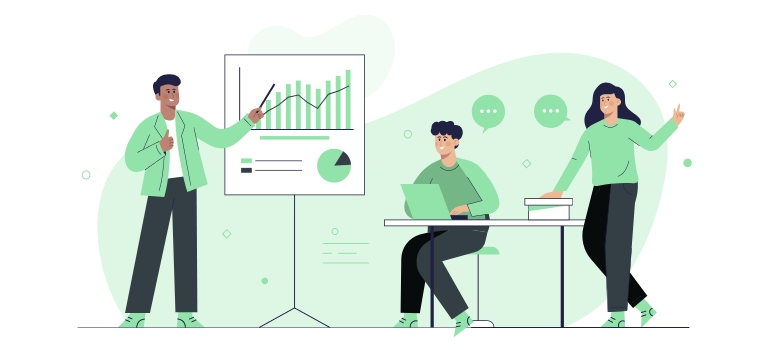 As I mentioned earlier, fintech is a vast market sphere that cannot be fully explored in one go. Before you invest in fintech app development in 2022, it is recommended to be particular with the market niche among a variety of its subdomains like Insurtech, Mobile banking, Payment and international money transfer, Personal finance management, Crowdfunding, Trading and lending, Data analysis and financial decision making.
Once you select a distinct market niche, initiate market research to know your target audience based on demographic, gender, age, region, country, and other filtered criteria. Doing this will help you launch your app on a local level first, then introduce it to the global market with an improved success rate.
3. Find your Startup USP
The fintech market is booming like never before because of the growing opportunities and profits. In such a competitive scenario, it is vital to come up with an idea for fintech app development in 2022 which is unique and makes you the best from the rest. Your finance app idea should beat the existing apps and act as your brand's USP. Find out what features, UI /UX design, functionalities, and other customers you can offer that others have failed to introduce in the market.
4. Raise Fundings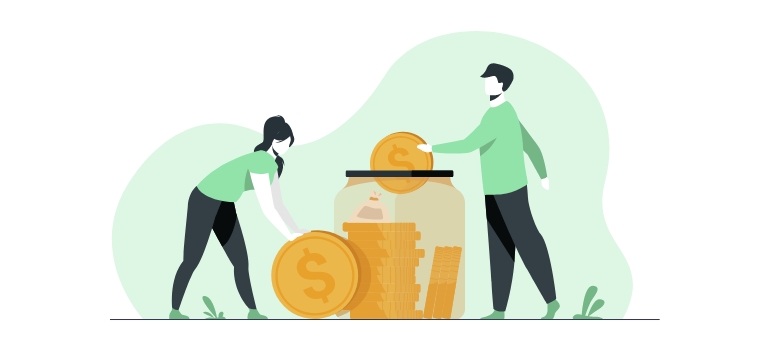 Funds are a key necessity to create and launch applications. Despite having some savings in your bank account, ensure that you have alternate ways as the cost of an app from design to post-launch is hard to predict. You can refer to numerous fundraising options like crowdfunding, angel investment, venture capital, etc., that are accustomed in the market. To make your app idea financially-backed, it is suggested to consider these options.
5. Hire the Right Fintech App Developers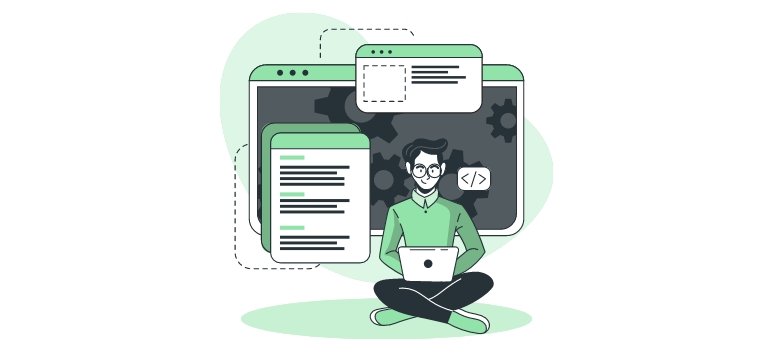 Believe it or not, to make an app idea a massive success in the market, you need to be careful while hiring a financial app developer. An expert and professional financial mobile app developer can reshape your app idea into a feature-Rich and successful mobile application. You can look after a reputed fintech app development company to connect with tech enthusiasts. You can hire a mobile app developer who can help you convert raw app ideas into an innovative application.
6. Launch an MVP
Launching a Minimal Viable Product (MVP) is last on the list but ultimately the most critical part of your app launch. It gives you the privilege to launch the most refined version of your application after testing it in the best way possible.
MVP launch helps you understand how your customer interacts with your application. What are those areas that have gained the least attention from the end-users? Which is the most liked feature of your app? Knowing these details can help you make some fruitful implementation in your app and finally launch it as per your target audience's preferences.
Conclusion!
With the growing demand and usage of fintech applications, the future of these apps is sure to rise. Before you step into fintech app development with your finance app ideas for startups, write a detailed specification in collaboration with your partnered fintech app development company.
Get stories in your inbox twice a month.
We at mTraction Enterprise have a pool of skilled and experienced finance app developers having deep experience in creating finance apps for various market niches. We can develop an app that streamlines your digital financial transaction processes and enhances your business operations. Our team is the finest composition of technical expertise, experience, knowledge, and creativity to make your app as expected. Let us help you in fintech app development in 2022 and take your startup idea to the next level.