VAS & Mobile Apps | Can they be friends?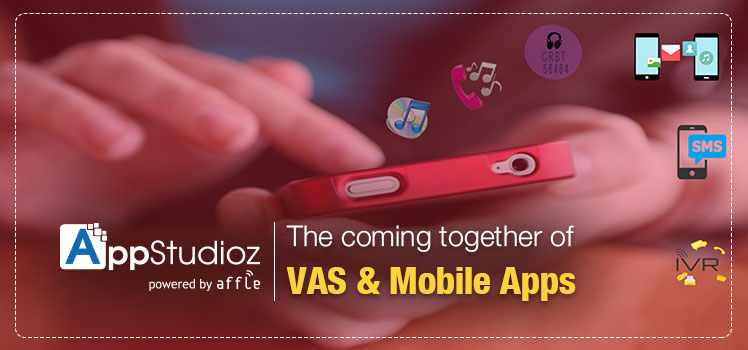 If we do a quick recap of all that mattered in the mobile services industry, it would be right to say that the arrival of Mobile VAS was a significant turning point for all the stakeholders.
Whether it was SMS, MMS, USSD, or interactive voice response (IVR) for that matter, VAS was the most viable option for mobile users for consuming content and availing various services like downloading songs and wallpapers, purchasing ringtones, chatting with other mobile users, etc. All of these services were billed to the mobile user's airtime or monthly bills. So, yes Mobile VAS surely had its heydays and it turned the mobile into something bigger; it turned a simple handheld device into multi-featured gadget that was more 'valuable' and to some extent, even 'personal'.
But then came along the gamechanger in the scene – 'Mobile Apps'.
With the advent of mobile apps, the whole process of dissemination and consumption of content along with the provision of services has gone through a paradigm shift. Today, the app culture has penetrated deep into the lives of millions of mobile users, which has enabled the quick access to content and services for users.
If we look at it, VAS & Mobile Apps are close competitors in the mobile services space. Even though the latter is a late entrant in this game, still it has clearly taken a lead here.
Primary reason?
VAS is way too expensive than Mobile Apps for the end user.
For example, a user would prefer buying a song from a mobile app using a credit card or mobile wallet rather than buying it through a premium SMS service.
VAS is more expensive because Mobile Network Operators (MNOs) take away a large portion of the revenue share. As pointed out by Alan Knott-Craig, in the case of South Africa, MTN takes away about 40% of the revenue share, while Cell C and Vodacom keep about 30% and 20% respectively. Craig also mentions that Visa and MasterCard are entitled to 1% – 7% of the revenue share pertaining to app purchases by users from the App stores. To add to the cost of the VAS model, it is known to bank heavily on advertising.
The prevailing cost structure and revenue share margins are likely to remain the same for VAS as the MNOs are used to functioning with profit margins higher than 20%.
Other than the price factor, mobile apps have a good number of advantages:
User-friendly & Intuitive
A major aspect where Mobile Apps win over VAS is that the former is extremely user-friendly and is intuitive by nature. It's easier to discover and purchase a service on a mobile app rather than punching in the exact service code of a service using a premium-rated SMS service (read VAS).
Cheaper data plans
Another thing working for mobile apps is the availability of affordable data plans, which is a far more economical proposition for the end-users as compared to the premium rated SMS or MMS services.
No dependency on MNOs
Mobile Apps have also made way for lesser dependencies on MNOs as nowadays, developers don't need to bother about integrating with carrier billing and can push across their services to a global user-base.
So, there's no doubt that mobile apps are definitely ahead of VAS in some ways. However, instead of fighting over their average revenue per user (ARPU), these two have a lot to gain from sharing a common stage.  
Yes, we're talking about the coming together of Mobile Apps & VAS.
Today, MNOs are constantly on the lookout for new revenue streams that can enhance their business model and the teaming up of VAS & Mobile Apps is exactly what they need. This union will enable the development of highly differentiated and cost-effective applications that will not only help MNOs in increasing their ARPU but will also improve customer satisfaction. No wonder, big MNOs like Vodafone and Airtel have already started exploring this partnership of VAS and Mobile Apps.
At AppStudioz, we leverage the latest technology and expertise of our developers and designers to create highly innovative and feature-rich VAS based Mobile Apps for MNOs. By implementing the best industry practices in development, testing and device integration, we build and provide reusable software frameworks to help MNOs with extremely customized VAS based mobile solutions.  
Focus on UX
With a unwavering focus on improving the UX, AppStudioz works towards creating highly gamified mobile apps that help MNOs to upsell their primary products and services. Be it special data packs, selling ringtones or wallpapers, the use of gamification hikes up the user-experience, which can lead to greater transactions happening inside the app.
Better productivity
By utilising our optimised frameworks, OEMs and ISVs can drastically reduce their product development costs, speeds up the testing and integration process and thereby, realise greater efficiency. Apart from the cost and time advantages, our extensive core network infrastructure capabilities across Mobile Apps and VAS ecosystems help in reducing the product development cycles.
Ensure Stickiness 
In terms of user-retention, it's easier to keep the users engaged in VAS apps. Inactive users can be targeted on time by sending out push notifications about service or product packs that are relevant to those users.
Secured transactions
VAS apps can be integrated with various e-payment channels or mobile wallets that maintain high security standards. So, it becomes very convenient for users to buy or subscribe to a service using these payment options. This is a welcome change if we look at the typical VAS model that requires pre-paid users to maintain a substantial (call) balance amount on their phones in order to make purchases.
Get stories in your inbox twice a month.
Leverage insights on consumer-behaviour
Considering the significant benefits to be realised from the 'VAS & Mobile Apps' partnership, MNOs actually have a very important role to play here. MNOs can leverage their valuable data on consumer-behaviour to build highly relevant apps for their user-base. By embracing this partnership, MNOs can strengthen their ties with their subscribers and provide them with tailored solutions concerning their choice of products and services.
This collaboration can definitely turn out to be a win-win game for both the VAS & Mobile Apps ecosystem.