The Emergence of Digital Revolution 4.0 in Indonesia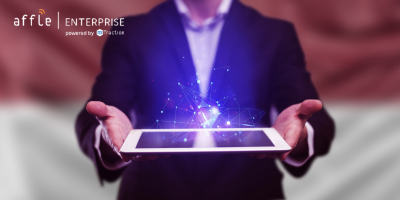 In April 2018, the Indonesian government launched the Making Indonesia 4.0 strategy to gear up the country for the Fourth Industrial Revolution (IR 4.0). The Making Indonesia 4.0 initiative emphasises bringing about a digital revolution in Indonesia powered by new-age technologies. These disruptive technologies will include Big Data, Artificial Intelligence (AI), the Internet of Things (IoT), cloud computing, and Virtual Reality (VR) & Augmented Reality (AR), to name a few.
The Making Indonesia 4.0 strategy has earmarked five sectors to pioneer the digital revolution in Indonesia – food and beverage, textile and clothing, automotive, chemical, and electronics. The Indonesian Ministry of Industry drafted a road map to guide national industries and transform them into globally competitive entities.
According to Indonesian Industry Minister Airlangga Hartarto:
"In the fourth generation of the Industrial Revolution, it becomes a major leap forward for the industrial sector, where information and communication technology is fully utilized. Not only in the production process but also across the industry value chain, creating new business models on a digital basis to achieve higher efficiency and better product quality."
Digital Revolution in Indonesia: What does Digital transformation mean for Indonesia?
The world we live in today – the digital age – is the playground for the ongoing Fourth Industrial Revolution. Unlike the previous Industrial Revolutions, IR 4.0 aims to improve and transform every aspect of our daily life through digital intervention. From creating new business models and optimizing value chains to transforming how customers interact with brands and enhancing customer experiences, digital technologies are changing everything around us.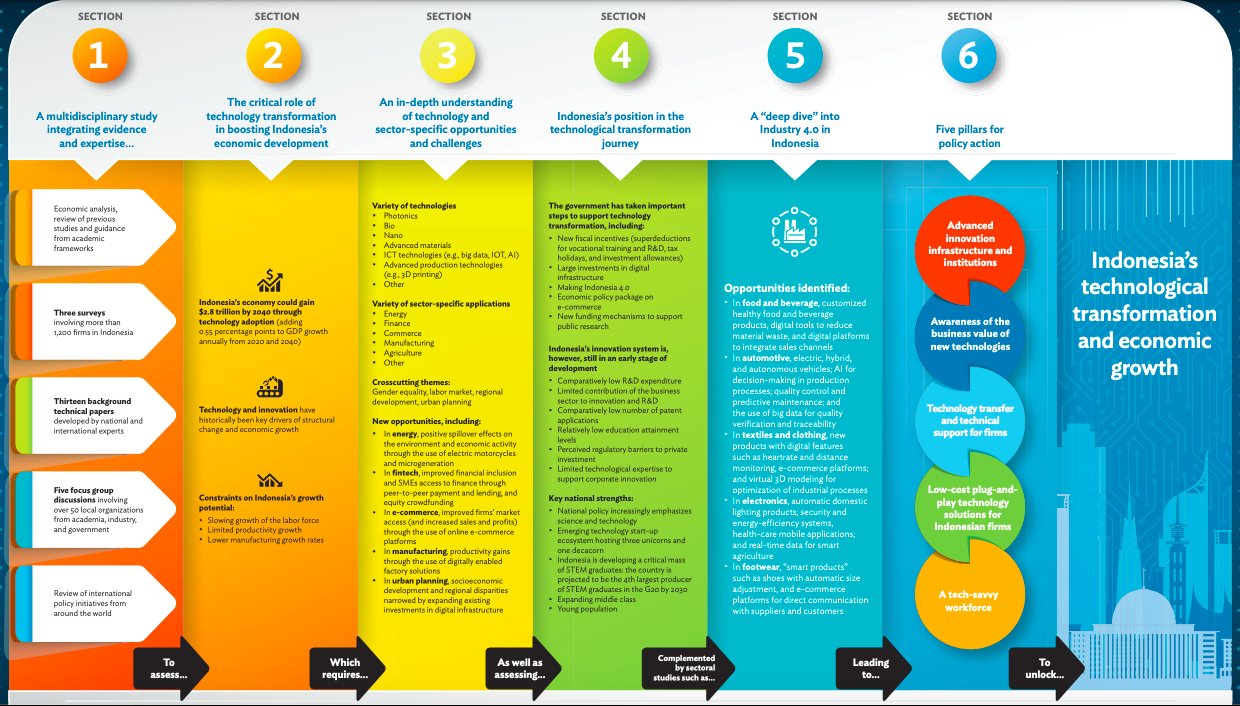 The Making Indonesia 4.0 initiative aims to make Indonesia one of the top 10 most robust and fastest-growing economies in the world by 2030. As per the latest projections, this initiative will create around 7-19 million jobs within 12 years while adding 1-2% to the GDP annually and boosting average annual growth rates between 6-7%. In fact, as per recent findings, Indonesian companies that have adopted and implemented IR 4.0 technologies witnessed a 40% increase in operational efficiency and productivity.
The four core disruptive technologies that drive the Digital Revolution in Indonesia include:
Mobile Internet – Smartphones and mobiles are no longer merely a tech trend; they are necessities. Mobile devices generate over 60% of online traffic globally. People worldwide use mobile devices as the primary means to access the Internet and take advantage of the numerous perks of the digital world (online shopping, video streaming, music streaming, etc.).
Cloud Tech – Cloud technology has radicalized the delivery of computing services (databases, servers, storage, networking, business analytics, and business intelligence) at scale. Cloud computing facilitates innovation while optimizing the use of business resources.
Internet of Things (IoT) – Thanks to affordable Internet connections, increased Internet penetration, and easy access to intelligent sensors and digital devices are spurring the growth of globally remotely controlled and connected devices. While in 2018, the number of connected devices stood at 22 billion, by 2030, this number will increase to 50 billion IoT devices.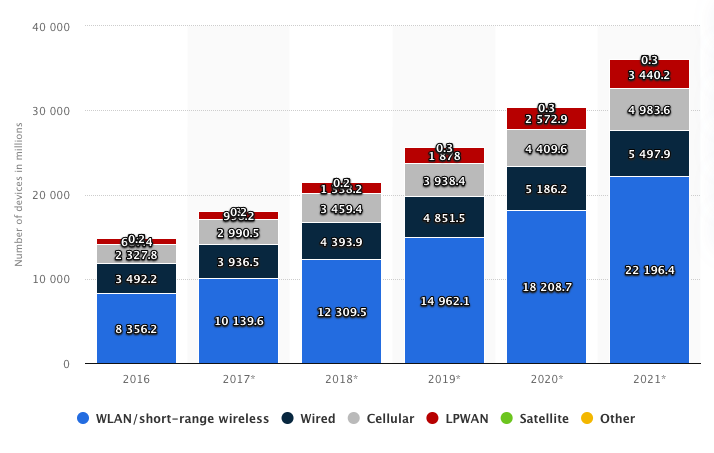 Big Data Analytics – The world generates a whopping 2.5 quintillion bytes of data each day! Increased Internet accessibility, smartphone adoption, usage of IoT devices, and implementation of intelligent business models are perhaps the biggest drivers of Big Data. Businesses need this data to innovate new products/services, optimize business productivity, streamline supply chains, personalize customer experiences, and create value for customers.
Although gradual, Indonesian industries have begun to adopt and implement these new-age technologies to build a strong foundation for increasing productivity gains, optimizing labour productivity, attracting future investments, and spurring economic growth.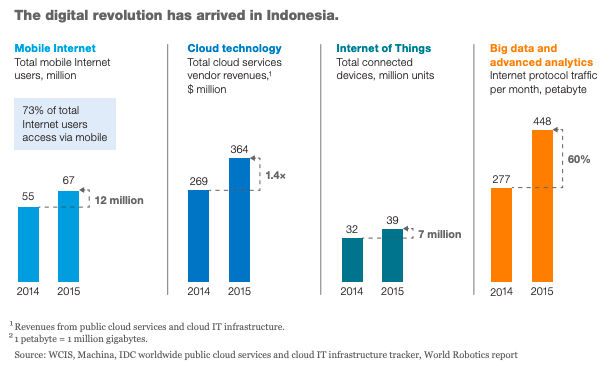 The Making Indonesia 4.0 strategy aims to scale up Indonesia's industry net export rate to 10%, double the labour productivity rate, and allocate 2% of GDP to R&D and technology innovation, which is almost seven times higher than the present allocation. The Indonesian government has formulated ten priority pillars to accomplish this goal:
Redesign the industrial zone
Reform the flow of materials
Build an innovation ecosystem
Attract foreign direct investment
Improve sustainability standards
Improve the quality of human resources
Strengthen the national digital infrastructure
Empower Micro, Small and Medium Enterprises
Implement incentives for technology investment
How should Indonesian companies gear up for the Digital Revolution in Indonesia?
According to McKinsey's research, Indonesia presents a digital paradox. While Indonesian netizens are one of the most tech-savvy and active digital citizens, along with low Internet penetration, the country's initiative to mobilize the benefits of new-age technologies is pretty slow.
Naturally, to materialize the vision of the Digital Revolution in Indonesia, Indonesian companies across all sectors must lead the way for digital transformation by leveraging Big Data Analytics, Cybersecurity, AI, and IoT, and adopt customer-centric business models to deliver multi-channel customer experiences.

Indonesian companies, startups, and enterprises should focus on driving the Digital Revolution in Indonesia by focusing on three key areas:
1. Identifying the new value frontiers
Digitization mandates that companies re-evaluate their business models and operations to identify new opportunities with immense potential. Companies must understand the nuances of the latest market/customer trends and customer behaviour/expectations to unlock the real value from new frontiers and evaluate whether they are risky or beneficial.
For instance, businesses can use IoT tech to identify opportunities in existing value chains based on highly accurate data. Again, IoT and Big Data Analytics sensors can boost supply chain operations' efficiency.
2. Creating value in the core business infrastructure
The next step is discovering unique ways to use digital technologies and tools to improve customer service. While businesses must adopt the multi-channel approach to communicate with their target audience, they must also understand the prospect or customer's thought process in each step of their buyer's journey.
This is where Big Data Analytics and tracking tools can help companies gain insights about their target customers. By unlocking customer data insights, businesses can customize their solutions and marketing campaigns for each buyer persona.
3. Establish the foundation for digital capabilities
The Digital Revolution in Indonesia can only succeed if companies invest their time and money in creating the proper task force that can handle new-age technologies. Modern technologies like Big Data, AI, ML, Cloud, and IoT require niche skills and domain knowledge. Thus, Indonesian companies must improve their human resource pool through upskilling and training programs.
The goal is to instil a digital mindset in professionals that encourages cross-functional collaboration, flattens hierarchies, and builds ecosystems to foster new ideas. Developing an integrated IT infrastructure that can seamlessly connect humans and machines is also pivotal.
Conclusion:
As Indonesia gears up for the Fourth Industrial Revolution, the digital transformation will require enhanced collaboration among multiple stakeholders, from the country's academic wing to government institutions and private companies. To spearhead the Digital Revolution in Indonesia, companies must take a customer-oriented approach, focus on agility, use Big Data to drive real-time decisions and strengthen the IT/Cybersecurity infrastructure.
Get stories in your inbox twice a month.
This is precisely how digital transformation can make Indonesia one of the biggest economies by 2030.
We at mTraction Enterprise grasp your business challenges & ideate a personalized user experience to solve complex business problems. Connect with our team at enterprise@affle.com for a quick mobile app development consultation.