The Advantages of AI-Powered Custom Mobile App Development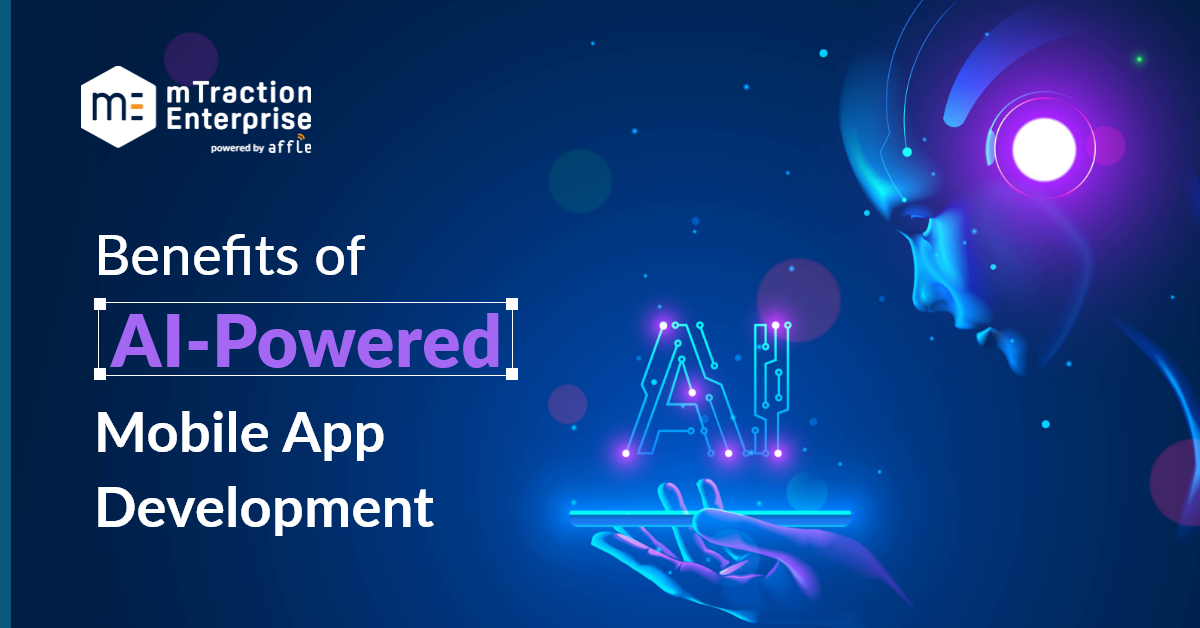 Artificial Intelligence (AI) is the simulation of human intelligence in machines that are programmed to think and act like humans. AI implicates creating intelligent algorithms and prototypes that can accomplish tasks that commonly demand human-like capacities, such as comprehending natural language, identifying objects and methods, making decisions, and retaining experience. The requirement for AI apps is increasing enormously. Artificial intelligence (AI) has evolved increasingly, especially in the mobile app development industry, due to its power to enhance user experience and crack complex business issues. AI technology in mobile apps enables understanding users' queries and reply them in no time, proposing a personalized experience.
Role of AI in Custom Mobile App Development:
AI-enabled apps can gather data by studying user behavior and dealings, which can be utilized to enhance AI powered mobile apps with state-of-the-art features that fulfill human necessities. AI can also enrich the functionality and user experience of augmented reality (AR)/virtual reality (VR) apps via real-time identification of objects and images.
The artificial intelligence software market has grown substantially in recent years and is projected to acquire approximately USD 126 billion by 2025. It demonstrates AI's essence in mobile apps and why the technology will evolve into a helpful asset for entrepreneurs looking to enforce it in mobile app development.
What are the Advantages of Using AI in Custom Mobile App Development?
Investing in AI and ML app development solutions can be beneficial for the following reasons: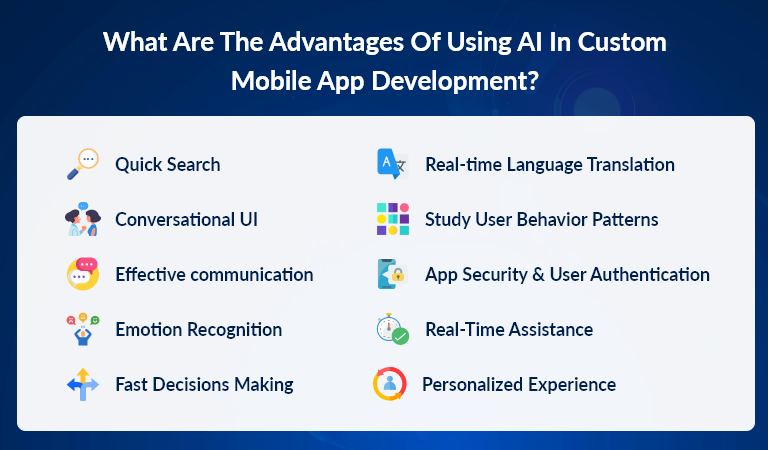 Voice search is evolving increasingly prevalent among everyday users who prefer immediate access to data. Organizations are rapidly moving towards voice search features to enhance customer interaction with the brand. Incorporating voice search into a personal assistant can assist with daily chores. Companies can hire an AI app development company for easy handling of daily business operations and dealing with customers' queries. This feature is becoming critical and will shortly become an integral component of user experience and improve search engine ranking.
Integrating artificial intelligence in mobile app development can improve app performance. The conversational user interface feature (CUI) allows apps to establish seamless communication between the app and the end users. We can say that automated chatbots are a standard example of Ai based innovation. With this feature, clients can efficiently address the customer's queries and serve the relevant answers.
Effective communication –
Siri and Cortana have become widespread innovative solutions powered by AI technology. As voice search offers a splendid personalization feature, it fully supports quick voice recognition and understanding of customer queries. It is a proven strategy for businesses keen to improve customer experience with AI apps. Simply put, AI-based chatbots can facilitate communication between mobile apps and users.
Real-time Language Translation –
Integrating artificial intelligence in mobile app development can facilitate the seamless incorporation of translators. Such applications are capable of performing in both online and offline modes. These applications are worthwhile for individuals who like to establish communication with others across borders without undergoing any difficulties.
Study User Behavior Patterns –
Combining machine learning with natural language processing (NLP) can build interaction between user activities. The fusion of these two technologies permits the investigation of user behavior and patterns and facilitates identifying their precise requirements. This simply enhances the personalization that builds a long-lasting customer relationship. The know OTT platform Netflix is the ideal example of this approach, as it delivers content that matches users' choices.
App Security and User Authentication –
In order to guarantee the security of user data from cyber theft and hackers, it must follow strict security guidelines and a user authentication process. The integration of AI can underrate possible threats and vulnerabilities. This impacts a seamless user authentication method that minimizes the risk of data breaches and establishes a secure data transmission between customers and the app.
Advanced image processing and audio data interpretation allow AI to
read human minds and understand their sentiments and emotions. The technology can deeply analyze the customers browsing behaviors and analyze their feelings and emotions. This simply helps in delivering content that goes according to their mood. The relevant content delivery and recommendations increase customer engagement and improve the user experience.
AI-powered chatbots and applications deliver real-time assistance to consumers without the constraints of human employees, like taking leaves, getting emotionally impacted, or falling unwell. They can manage numerous consumer requests simultaneously and deliver adequate 24/7 assistance.
AI technology aids more immediate decision-making by accumulating and interpreting data in a shorter time. It helps businesses by forging data like customer browsing manners, app activity, and other logs that assist in making informed business decisions for coming evolution.
Predictive analytics and machine learning entitle adequate predictions concerning the future, allowing organizations to make informed decisions. Predictive analysis lets industries explore data insights to improve predicting future business operations and strategies.
Personalized Experience –
AI applications allow real-time client relations, data collection, and personalized experiences, leading to a substantial advancement in artificial intelligence, primarily in retail. AI technology is recasting the world and opening new possibilities for industries. Technology has benefited a variety of business prospects to enhance productivity and ROI.
The Top Five AI-based Mobile Applications are: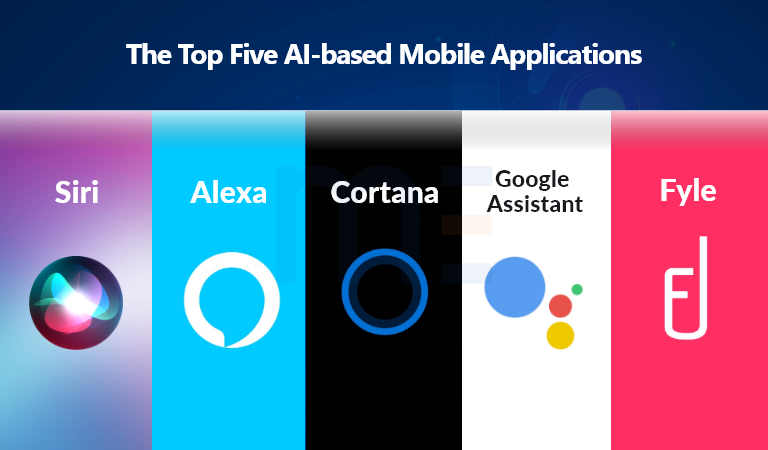 Siri, the well-known virtual assistant invented by Apple, is a globally recognized AI application that needs no introduction. It is open on different Apple platforms such as iOS, iPadOS, macOS, watchOS, tvOS, and audioOS. Siri operates on the basis of voice commands and a natural language user interface. The innovative solutions offer versatile features like making phone calls, answering users' queries, sending text messages, and delivering suggestions. Moreover, it can deal with other Internet services while answering search queries and voice commands in parallel.
Since its launch in 2016, Google Assistant, an AI-powered virtual assistant, has created outstanding headway and is now believed to be one of the most progressive virtual assistants. Google has partnered with multiple organizations to create Google Assistant is reachable to various devices such as smartphones, fridges, headphones, and cars. Google Assistant delivers various services, including voice commands, voice searching, voice-activated device control, task assistance, online information recovery, reminder setting, appointment scheduling, and real-time translation. It helps both voice and text entry and uses natural language processing.
Amazon Alexa, an AI-powered virtual assistant, was launched by Amazon Echo and Amazon Echo Dot smart speakers. However, it is now available on Android, iOS, and other platforms. Alexa employs natural language processing and voice queries to deliver various services, including voice interaction, music playback, creating to-do lists, setting alarms, and streaming podcasts and audiobooks. Besides, Alexa can inform by real-time weather conditions or make predictions as per the weather forecast reports. Also, it can roll out traffic, news, sports, and more additional information. With an uncomplicated setup process, Alexa can also be used on Windows and Mac PCs.
Cortana, the virtual assistant devised by Microsoft, is a well-known AI app that can be accessed on diverse platforms such as Windows 10, Amazon Alexa, Android, iOS, Xbox One, and summon smart speakers. It can also be operated with popular headsets like HyperX CloudX, Razer Kraken 7.1 V2, Logitech G933, and Sennheiser GSP350.
Cortana comes pre-installed on Windows 10 PCs and can help users deal with daily chores. This AI-powered assistant can handle multiple tasks, like answering customer queries, setting reminders, creating notes, organizing tasks, and managing calendars. As time passes, Cortana can learn and address more intricate tasks.
Fyle is a desktop and mobile expense management application that employs artificial intelligence. It has evolved into a noteworthy player in intelligent expense management and has newly incorporated with Google G Suite and Microsoft Office 365. Businesses have already started investing in and utilizing such apps. Leading brands like Royal Enfield and Communicorp use Fyle, which proposes a wide range of features, including real-time data extraction, cost reporting, corporate card tracking, policy assessments, approval workflows, travel refinements, travel requests, analytics, and integration with prevalent travel management, HRMS, accounting, and ERP software solutions.
Why Should Businesses Invest in AI-based Software & Mobile Application Development?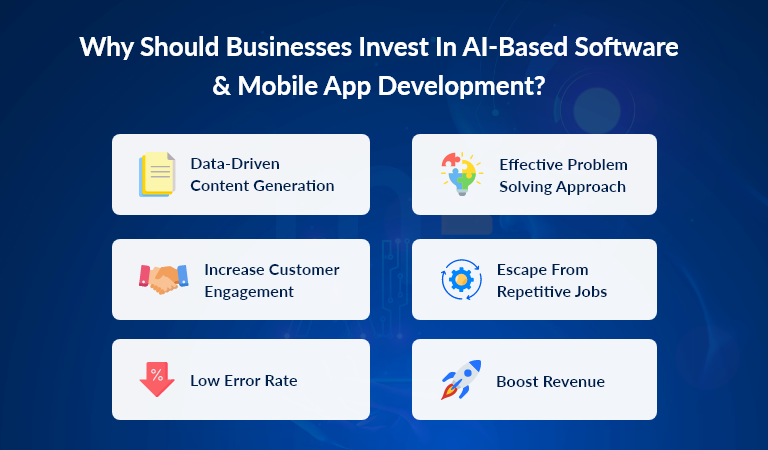 Data-driven Content Generation – 
The AI-powered mobile apps support data-driven content generation. In this approach, data is collected, reused, and anatomized to gain insight and information that can be used to make informed business opinions. The process can involve a range of ways and tools, including web analytics, social media monitoring, and client feedback. By assaying this data, entrepreneurs can extract valuable data that they can further apply to their business strategies.
Effective Problem-solving Approach – 
AI applications can provide effective problem-solving approaches by leveraging large amounts of data. It identifies customer data browsing patterns and generates insights that humans may be unable to recognize independently. The four standard ways AI apps can offer effective problem-solving approaches are data analysis, predictive modeling, Natural Language Processing (NLP), and complex system optimization to reduce cost and time consumption.
Escape From Repetitive Jobs – 
AI technology facilitates escape from reworks or task repetition, checking records, and arranging data in a specific sequence. Simply put, AI can help businesses avoid doing similar tasks repeatedly by automating tasks, making decisions grounded on data, analyzing data requirements, and using robotics to perform repetitious tasks.
AI technology enables the workforce to escape from repetitive and monotonous tasks such as creating files, checking records, and arranging data in a specific sequence. Simply put, AI can help individuals and organizations escape from repetitive jobs by automating tasks, making decisions based on data, personalizing experiences, predicting maintenance needs, and using robotics to perform repetitive tasks.
Mobile apps can come with futuristic and intuitive features through artificial intelligence. Entrepreneurs can understand customers' opinions about the product and services in a better way by incorporating AI-powered sentiment analysis. Also, AI- invested technologies like NLP, image recognition, and image recognition can help businesses gain client fidelity through workforce robotization. For example, AI-powered OCR technology can make banking apps more effective and streamlined.
AI-powered mobile applications can help businesses boost profit by strategizing marketing and dealing with pains by using predictive analytics to make more suitable business decisions. Also, AI-powered apps offer 24/7 client service through AI chatbots, assaying deals and patterns that may indicate fraudulent exertion. Enforcing AI in the app can optimize supply chain processes by identifying inefficiencies.
Increase Customer Engagement – 
Enforcing AI in mobile apps can enhance client engagement by redesigning marketing and sales strategies, offering round-the-timepiece client support via chatbots, and presenting custom-made suggestions. An AI app enables glitch-free and uninterrupted communication through voice assistants and assessing client feedback to comprehend their preferences and uncertainties.
Tasks automation is the most significant advantage offered by AI; that decreases the error rate or manual mistakes. It facilitates task automation, identifies inconsistencies, finds errors, and auto-corrects the data. AI-powered apps offer better decision-making and examine written content for inaccuracies or contradictions.
Concluding Thought!
AI will continue to impact the mobile app development market in the future. To remain competitive, entrepreneurs must give consumers multitudinous benefits and the most recent features and functionalities in the mobile app. AI can assist them in achieving this thing. By incorporating this technology into an app, business owners can anticipate advanced business productivity, excellent user experience, improved client engagement, and maximized growth. You can Contact Us directly to learn more.
Frequently Asked Questions!
How to choose a suitable AI technology stack for my custom app development?
To choose the right AI technology stack, you must first look after your app's specific requirements. Researching and comparing different factors, like the app's requirements, AI frameworks, the right cloud provider, etc., is essential to make an informed decision.
How long does it take to develop a fully-functioning custom AI mobile app?
Get stories in your inbox twice a month.
Generally, developing a custom AI mobile app involves several stages, including planning, design, development, testing, and deployment. Each stage can take a few weeks to several months, depending on the project's scope.
How long does it take to develop a fully-functioning custom AI mobile app?
The custom AI-based mobile app development cost depends on several factors. Some of these factors include the complexity of the AI model, the data processing type, the size and scope of the app, the development platform (iOS or Android), and the level of expertise of the development team.