The Advantages of AI-Powered Custom Mobile App Development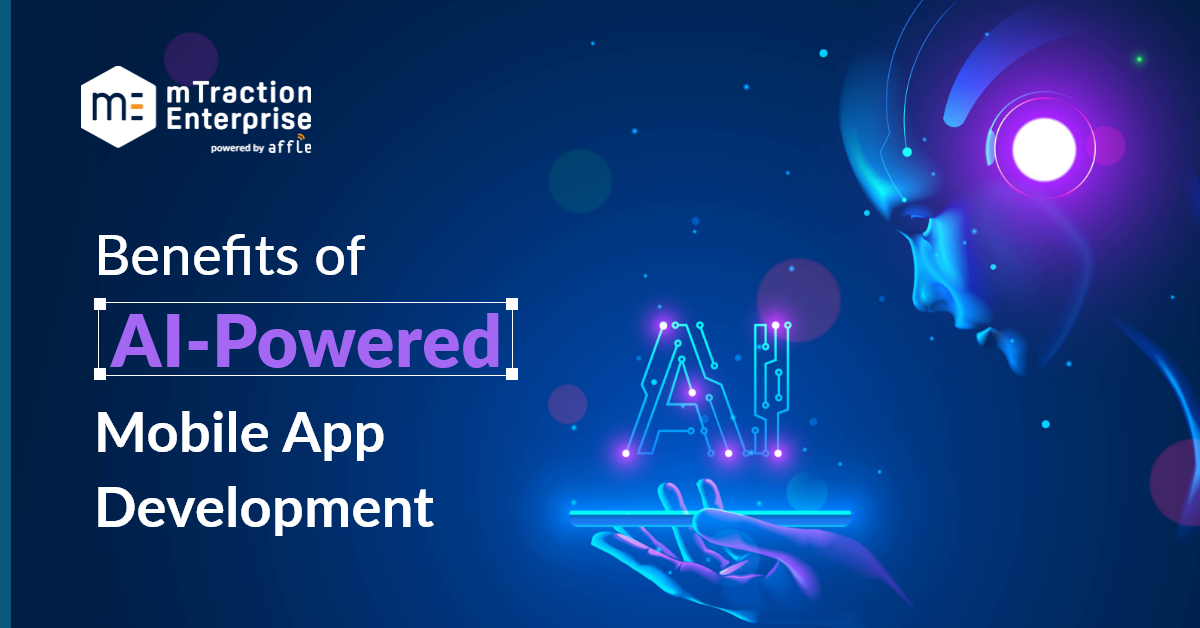 Artificial Intelligence (AI) is the simulation of human intelligence in machines that are programmed to think and act like humans. AI involves creating intelligent algorithms and models that can perform tasks that typically require human-like abilities, such as understanding natural language, recognizing objects and patterns, making decisions, and learning from experience. The need for AI app is growing significantly.
Artificial intelligence (AI) has become increasingly significant in the mobile app development industry due to its ability to improve user experience and solve complex business problems. AI technology in mobile apps facilitates understanding users' queries and respond them in no time, offering a personalized experience.
Role of AI in Custom Mobile App Development:
AI-enabled apps can collect data by analyzing user behavior and interactions, which can be used to improve AI powered mobile apps with advanced features that meet human needs. AI can also enhance the functionality and user experience of augmented reality (AR)/virtual reality (VR) apps through real-time recognition of objects and images.
The market for artificial intelligence software has experienced significant growth in recent years and is projected to reach approximately USD 126 billion by 2025 USD 126 billion by 2025. It clearly indicates the importance of AI in mobile apps and why the technology will become a valuable asset for entrepreneurs looking to implement it in mobile app development.
What are the Advantages of Using AI in Custom Mobile App Development?
Investing in AI and ML app development solutions can be beneficial for the following reasons: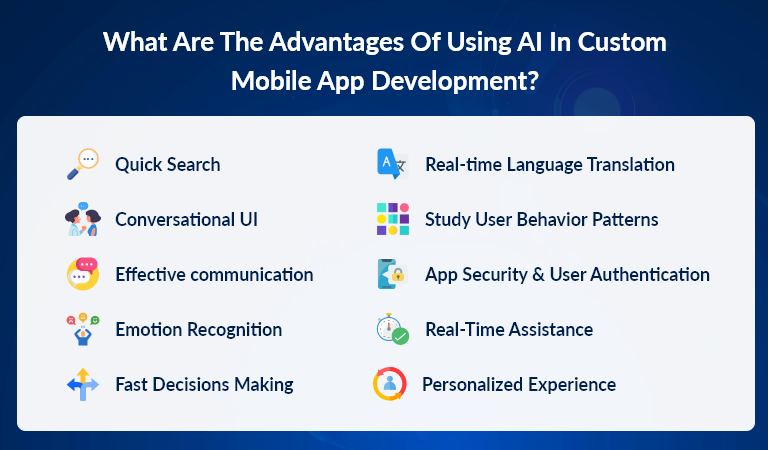 Voice search is becoming increasingly popular among modern users who desire quick access to information. Companies are working towards transforming voice search into a personal assistant that can help with daily tasks. You can hire an AI app development company to Optimize your existing website for voice search. This feature is evolving into a necessity and will soon become an essential element of user experience and search engine ranking.
Incorporating artificial intelligence in mobile app development can result in improved app performance through the use of conversational user interfaces (CUI). Chatbots are a common example of this technology and can significantly enhance customer satisfaction by allowing them to communicate their needs and concerns easily. With this feature, clients can efficiently address their queries with their customers.
Effective communication –
Siri and Cortana have become popular examples of voice search technology and are a great addition to traditional search patterns on the internet. As voice search moves from voice recognition to voice understanding, it will become more intuitive and personalized. It is a proven approach for businesses willing to offer improved customer experience with AI apps. Chatbots that are powered by artificial intelligence technology can streamline communication between mobile apps and users. These chatbots are becoming more advanced and can recognize and study emotions.
As a result, more online users are interacting with mobile apps and websites through chatbots. With the introduction of AI, chatbots can interact with users as humans do and learn from previous experiences. This makes interaction with chatbots more like communicating with a real consultant in a store. The automated AI-powered chatbot system assistants provide a personalized experience by streamlining communication with users.
Real-time Language Translation –
With the incorporation of artificial intelligence in mobile app development, it is possible to integrate translators enabled with AI. These apps have the potential to operate in both real-time and offline modes. These applications are beneficial for individuals who want to establish communication with others from different corners of the world without encountering any difficulties.
Study User Behavior Patterns –
Combining machine learning with natural language processing makes creating an interaction based on user actions possible. This technology allows for analyzing user behavior and patterns, enabling the identification of their specific needs. Doing so makes it possible to offer personalized services that foster long-term engagement. For example, Netflix uses this approach to suggest content based on user's preferences.
App Security and User Authentication –
In order to ensure the protection of user data from cyber theft and hackers, mobile apps must keep up with technological advancements in security and user authentication. The integration of AI technology can minimize potential threats and vulnerabilities. This result in a seamless user authentication process that eliminates concerns about data breaches.
Advanced image processing and audio data interpretation enable AI to read human emotions by capturing human senses, voice recognition, and facial expressions. This allows AI to understand the emotions of a human. Analyzing human emotions help with providing relevant content recommendations.
AI-powered chatbots and applications provide real-time assistance to customers without the limitations of human employees, like taking breaks, getting emotionally affected, or falling ill. They can handle multiple customer requests simultaneously and provide 24/7 effective assistance.
AI technology aids faster decision-making by collecting and analyzing data in less time. It helps businesses by generating data like customer browsing behavior, app activity, and other logs that help in making informed business decisions for future growth.
Predictive analytics and machine learning allow for better predictions about the future, enabling organizations to make informed decisions. Predictive analysis allows businesses to analyze data insights to enhance predicting future business operations and processes.
Personalized Experience –
AI applications enable real-time customer interaction, data collection, and personalized experiences, leading to a significant rise in the use of artificial intelligence, especially in the retail sector. Overall, AI technology is transforming the world and unlocking new opportunities for industries. Technology has served a variety of business opportunities to improve productivity and ROI.
The Top Five AI-based Mobile Applications are: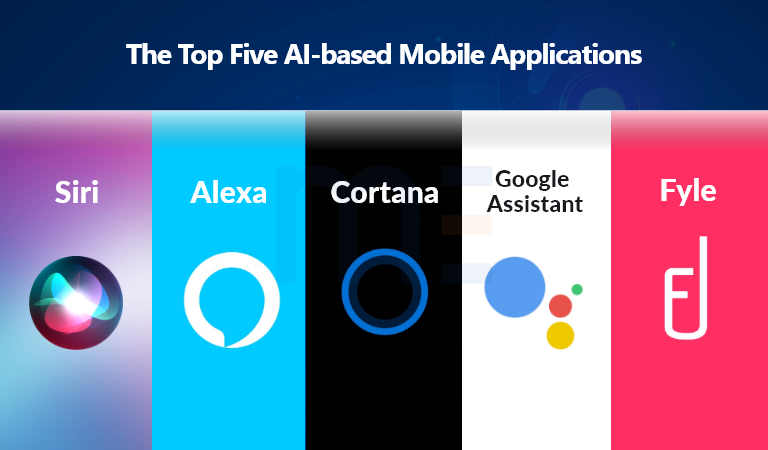 Siri, the renowned virtual assistant developed by Apple, is a widely recognized AI application that requires no introduction. It is accessible on various Apple platforms such as iOS, iPadOS, macOS, watchOS, tvOS, and audioOS. Siri operates using voice commands and a natural language user interface, enabling it to make phone calls, send text messages, provide answers to queries, and offer suggestions. Additionally, it delegates requests to multiple internet services while adapting to users' language, searches, and preferences.
Since its launch in 2016, Google Assistant, an AI-powered virtual assistant, has made remarkable progress and is now considered one of the most advanced virtual assistants available. Google has partnered with numerous companies to make Google Assistant accessible on various devices such as smartphones, fridges, headphones, and cars. Google Assistant offers a range of services, including voice commands, voice searching, voice-activated device control, task assistance, online information retrieval, reminder setting, appointment scheduling, and real-time translation. It supports both voice and text entry and utilizes natural language processing.
Amazon Alexa, an AI-powered virtual assistant, was initially introduced with Amazon Echo and Amazon Echo Dot smart speakers. However, it is now available on various platforms such as Android, iOS, and more. Alexa utilizes natural language processing and voice queries to provide a range of services, including voice interaction, music playback, creating to-do lists, setting alarms, and streaming podcasts and audiobooks.
Additionally, Alexa can offer real-time weather, traffic, news, sports, and more information. Some devices with Alexa can be activated with a wake word, while others require a button to be pressed. Alexa can also be used on Windows and Mac PCs with a simple setup process.
Cortana, the virtual assistant developed by Microsoft, is a well-known AI app that can be accessed on various platforms such as Windows 10, Amazon Alexa, Android, iOS, Xbox One, and invoke smart speakers. It can also be used with popular headsets like HyperX CloudX, Razer Kraken 7.1 V2, Logitech G933, and Sennheiser GSP350.
Cortana comes pre-installed on Windows 10 PCs and can assist users with basic tasks. This AI-powered assistant can perform various functions such as answering questions, providing reminders, taking notes, managing tasks, and organizing calendars. As time passes, Cortana can learn and handle more complex tasks.
Fyle is a desktop and mobile expense management application that utilizes artificial intelligence. It has become an influential player in intelligent expense management and has recently integrated with Google G Suite and Microsoft Office 365. Renowned businesses such as Royal Enfield and Communicorp use Fyle, which offers a range of features, including real-time data extraction, expense reporting, corporate card tracking, policy checks, approval workflows, travel advances, travel requests, analytics, and integration with popular travel management, HRMS, accounting, and ERP software solutions.
Why Should Businesses Invest in AI-based Software & Mobile Application Development?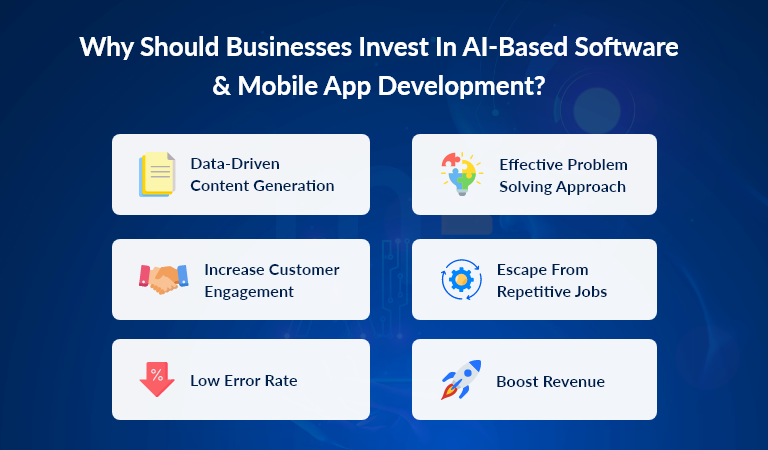 Data-driven Content Generation – 
The AI powered mobile apps facilitate a data-driven content generation that is influenced by data analysis. In this approach, data is collected, processed, and analyzed to gain insights and information that can be used to make informed business decisions. The process can involve a range of techniques and tools, including web analytics, social media monitoring, customer feedback, and user testing. By analyzing this data, entrepreneurs can gain valuable data insights that they can further implement in their business strategies.
Effective Problem-solving Approach – 
AI applications can provide effective problem-solving approaches by leveraging large amounts of data. It identifies customer data browsing patterns and generates insights that humans may be unable to recognize independently. The four standard ways AI apps can offer effective problem-solving approaches are data analysis, predictive modeling, Natural Language Processing (NLP), and complex system optimization to reduce cost and time consumption.
Escape From Repetitive Jobs – 
Get stories in your inbox twice a month.
AI technology enables the workforce to escape from repetitive and monotonous tasks such as creating files, checking records, and arranging data in a specific sequence. Simply put, AI can help individuals and organizations escape from repetitive jobs by automating tasks, making decisions based on data, personalizing experiences, predicting maintenance needs, and using robotics to perform repetitive tasks.
AI powered mobile applications can help businesses boost revenue by personalizing marketing and sales efforts and using predictive analytics to make better decisions. Moreover, AI-powered apps provide 24/7 customer service through AI chatbots, analyzing transactions and identifying patterns that may indicate fraudulent activity. Implementing AI in the app can optimize supply chain processes by identifying inefficiencies.
Increase Customer Engagement – 
Implementing AI in mobile apps can enhance customer engagement by tailoring marketing and sales strategies, offering round-the-clock customer support via chatbots, and presenting custom-made suggestions. An AI app enables effortless and hands-free interactions through voice assistants and evaluating customer feedback to comprehend their preferences and apprehensions.
Mobile apps can become more personalized and intuitive through the use of artificial intelligence. Developers can better understand users' emotions and opinions about the product and services by incorporating AI-powered sentiment analysis. Additionally, AI-infused technologies like NLP, image recognition, and predictive analysis can assist businesses in gaining customer loyalty through workforce automation. For instance, banking apps can become more efficient and streamlined with the use of AI-powered OCR technology.
The utilization of AI technology has the potential to decrease the error rate by performing tasks automatically, anticipating the need for maintenance, identifying errors or inconsistencies, facilitating better decision-making, and examining written content for inaccuracies or contradictions.
Concluding Thought!
AI will increasingly influence the mobile app development industry in the future. To remain competitive, business owners must provide consumers with numerous advantages and the most recent features of mobile applications. AI can assist them in achieving this goal. By incorporating this technology into an app, business owners can expect improved business productivity, user experience, customer engagement, and sales growth. You can directly contact us to know more.
Frequently Asked Questions!
How do I choose the right AI technology stack for my custom app development?
To choose the right AI technology stack, consider your app's specific requirements and choose the best components for your needs. Researching and comparing different aspects like the app's requirements, choosing the right AI frameworks, selecting the right cloud provider, etc., is essential to ensure that you are making an informed decision.
How long does creating a fully-functioning custom AI mobile app development take?
Generally, developing a custom AI mobile app involves several stages, including planning, design, development, testing, and deployment. Each stage can take a few weeks to several months, depending upon the scope of the project.
How much will it cost to develop a custom AI-based mobile app?
The custom AI-based mobile app development cost depends on several factors. Some of these factors include the complexity of the AI model, the type of data it needs to process, the size and scope of the app, the platform it's being developed for (iOS or Android), and the level of expertise of the development team.