China's largest Tech deal- Lenovo to acquire Motorola Mobility from Google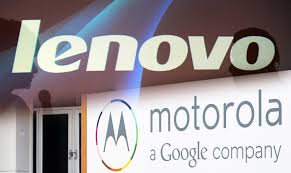 Google announced that it would be selling Motorola Mobility to Lenovo for $2.91 billion. Google has revealed about the deal on its investor relations website, and Motorola did the same on its official website.
The deal value is worth $2.91 billion and finally closed with a promissory note of $1.5 billion that includes- $660m in cash and $750m worth of stock. In this Lenovo- Motorola deal, Lenovo will get 2000 patents and a licensing arrangement with Google. Everyone is amused due to the substantial difference in the amount between the buying and selling off the Motorola's mobile division – As in 2011, Google paid $12.4 billion for Motorola and its patents.
According to Google, it will hold the "vast majority" of Motorola's patents as part of its deal with Lenovo. Google also stated that – when Google acquired Motorola in July 2011, $5.5 billion of the deal was apparently based on the Motorola's heap of 17,000 wireless patents. One of the major reasons for Motorola's acquisition was to take on their 17,000 wireless patents, which Google would utilize to protect Android licensees. Google CEO Larry Page said that – "This move will enable Google to devote our energy to driving innovation across the Android ecosystem, for the benefit of smartphone users everywhere." As a side note, this does not signal a larger shift for our other hardware efforts. The dynamics and maturity of the wearable and home markets, for example, are very different from that of the mobile industry."
Chinese tech giant Lenovo – Emerging as the most viable challenger to Apple and Samsung!!
Lenovo group- the biggest PC seller is on its way to beome the most prominent competitor to global smartphone pioneers Apple and Samsung. On one confrence, Lenovo's chief financial officer, Wong Waiming stated- "We are not only the number one PC company in the world but with this agreement we will become a much stronger number three Smartphone company".
As per the analysis done by IDC and Strategy Analytics – in the fourth quarter of 2013, Lenovo is ranked 4th among the gigantic global smartphone makers and ranked as the 5th largest player among smartphone manufacturers for whole year of 2013. Although, the company left a strong impact in its home market – China, but it has struggled a lot to get-up into Western markets. Yang Yuanqing, CEO of Lenovo said that – by 2015, the company's tablets and smartphones will be entering the U.S. and Western European markets.
It is interesting to note that Google and Samsung have already forged a broader patent-licensing deal that covers the companies' existing patent portfolios and all patents will be filing over the next 10 years. Not to mention, as of now, Samsung is the largest supporter of Google's Android platform. Although, with this deal coming across, Samsung is concerned about its dependence on Google, and hence, trying to develop its own smartphone operating system named 'Tizen'.
In the past months, Motorola has done a lot of changes and enhancements such as thinning down down its product portfolio. Its teams has started to lay down focus on the Verizon Droid franchise and signature phones like Moto X and has developed low cost mobile phones like Moto G. Important to note – even after having a significant difference in the amount of purchase and sell, Google managed to recover some value apart from Motorola's Patents. By selling Motorola Mobility's home division to Arris Group in the year 2012, Google earned $2.35 billion.
However, there is a concern around the future of certain projects, currently being run at Motorola, if Lenovo acquires Motorola. One of them is 'Project Ara'. in OCT 2012, Motorola kicked-off this project, which is being run under the guidance of Motorola Advanced Technology and Projects group. This is the unit led by Regina Dugan, a former DARPA (Defense Advanced Research Projects Agency) chief and now working with Google. In-spite of having a $10 billion loss on the sale of Motorola and having multiple 'running' projects, questions flickers- Why Google sold Motorola to Lenovo????
Let's Know – Why Google sold Motorola to Lenovo for just $2.91 billion??
According to the Verge's article – Despite 3 rounds of layoffs over 8 months that gashed around 6,000 workers, losses at Google's Motorola Mobility were accelerated. Motorola has always been an odd acquisition for Google. More than a year after the deal closed, analysts were still "scratching their heads" about what was thought process from Google. It puts Google in an awkward position by owning a company that competed with all of the other makers of Android smartphones. And while Google regularly protested that Motorola was just another partner, like all its other Android partners, it was a hard case to make. There was a similar situation at the height of the PC era in the mid 1990s when Microsoft had decided to undermine Dell and HP by buying Gateway and retooling it to selling Microsoft's own PCs.
Apart from Motorola's tremendous trove of patents, which were to be used to protect Android handset makers from getting sued by Apple and Microsoft, it is assumed that one of the major reason behind Google Motorola deal was to turn it into a flourishing counterbalance to Samsung. Because Samsung is one of the major seller of Android Smartphone and sells the irresistible majority of Android Smartphones.
According to Verge, Google did not purchase Motorola with an aim to earn profit. This can be seen by the fiery sale prices of one of the best Motorola's production Moto X and Moto G (even more cheaper). This shows that Google never had aimed to earn profit from Motorola but wanted to sell its Motorola Android phones at cheaper price so that more and more android phones can be sold out, which, in turn, will divert more consumers towards Android. This will make people use Google services indirectly. However, Motorola has been a loss for Google- hundreds of millions of dollars – every quarter, it's been on Google's balance sheet.
From the end user's perspective, Google is applying same maneuver to run Motorola, which it followed with its other Android partners like Asus. With Asus, Google launched Nexus 7 to run its branded tablets and other hardware, like the Nexus 7. That time too, Google sold its products for less than half price as compared to Apple's iPad mini.
However, it seems as if Google has suffered loss of around 10 billions, but actually Motorola has already helped Google to save billions of dollars on its taxes. Another perspective of this deal is Google has created a competitor for Samsung and which is Lenovo – The #1 seller of PCs in the hardware world, that has acquired IBM's low-end server business for $2.3 billion sometimes back.
Google paid billions of dollars to make the Android hardware space more diverse, but it seems to be worth because this deal has given Google trove of patents and lot of more consumers as well. Hence, it can be concluded that Lenovo – Google deal seems to be a win-win opportunity for both of them. As Lenovo, the Chinese tech giant, gets an entrance into the Smartphone market, while the Google gets the treasure of Patents. However, the money earned through this deal is just like icing on the cake for the search giant.
How Google-Lenovo Deal affects android ecosystem ???
Google-Lenovo deal brings another strong contender into Smartphone Market. There are only few prominent manufacturers in the smartphone industry. And, Lenovo is on the way to become one of them – a Chinese company who is currently the No. #1 PC manufacturers in the hardware ecosystem. Apart from having a prominent position in hardware space, Lenovo is planning to push itself in Android world as well.
Lenovo's historical parallels for buying IBM's PC business allude at what they are hoping to do with Motorola. Its hunger for success and willingness to make that happen can't be ignored. As its being revealed that through this deal, Lenovo will neither get trove of Motorola's patents nor advanced research team. But this deal will definitely help Lenovo in getting the manufacturing knowledge and expertise of Android Smart phones. One of the best Motorola's invention – Moto X & Moto G when paired with Lenovo's base and backing – will bring some magical results.
Get stories in your inbox twice a month.
This aggregation ultimately will build a strong Android ecosystem, which, in turn, will benefit everyone included in the branch of the smartphone ecosystem, including users.