How App Analytics Is Revolutionizing Mobile World?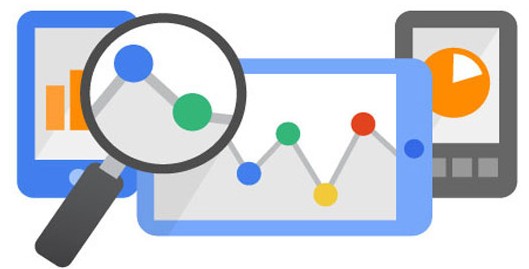 To ensure the success of your app, it is always important to keep track of the number of app downloads, user reviews, in-app activities like purchases, the average amount of time spent by a user and other metrics. But it's not the only thing you should be tracking. Proper analysis of your app not only has an impact on the number of downloads, but it also helps you to know your audience better. But if you want to know how well your app is doing, you need to know the factors that affect your app's performance. And believe it or not, your users are probably not using your app exactly like you think they are. A slight negligence in the analytics can ruin the potential of your app. This requires improving upon every feature of your app concerning the taste of your audience and the quality of other rival apps.
Know the Taste – What to Track and Why
Taste is a perfect word, but when it comes to knowing someone else's, experience matters. An app that was earlier an idea, which was worked upon and given a new identity, should always be pleasant to suit the technological taste buds of the smartphone society. This may not be following the technological perspective while discussing this topic, but this is what creates the difference.
The more you know your audience's taste, the better they will be pleased with your product. Now the question arises is how to know that your app is following your audience's taste? The answer is App analytics. The basic concept is based on five types of measurements of user behaviour.
Acquisition

Activation

Retention

Referral

Revenue
You can learn a lot about your users and improve your app by monitoring the right areas. Here are a couple of factors that need to be considered:
Start monitoring things before you publish your app on the app stores: even if you got only a few beta testers, the data could still be used as an indicator

Different tools for different apps: what might be a perfect tool for a kind of app might bring much less value to another

Track what makes sense for your app and audience, as every app does not have the same objective. And depending on which stage you are at, the KPIs that make more sense might change.

Cohort analysis is critical.

Know where your app is going: do your best to pick a tool you can still use (or afford) when you get more users, and add platforms or countries.
As an app developer or someone who wants to develop an app, analyzing the various aspects of an app before it hits the store is essential. The more precise the analysis, the better the profit and customer satisfaction. Various app analytical tools are available like flurry, Mixpanel, countly and universal analytics as the prominent ones. Let's see what they have for us:
Flurry Analytics: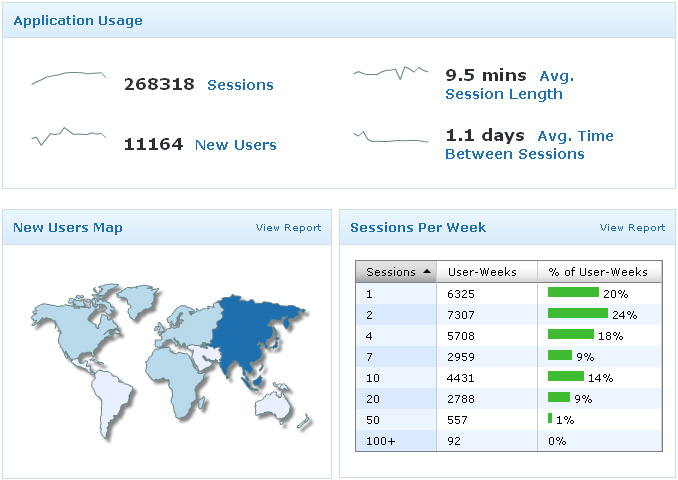 Price: Free
Platforms: iOS, Android, Windows Phone, Blackberry, Java ME
Flurry is a pretty complete tool for your mobile app analytics. For each app, you can use the "classic" dashboard or create up to 10 custom dashboards. That compensates for the fact that you sometimes need several clicks to get some analytics, which can get frustrating.
Here is the kind of info you can find or use in the dashboards:
Usage: active users, sessions, session lengths, frequency, retention, etc.

Audience: interest of users(your other apps + category), personas (type of your users – defined by Flurry), demographic

Technical: devices, carriers, firmware versions, errors

Events: define events, see user paths, create funnels
Depending on the data/charts you're looking at, you can filter via segments (age, first session, usage, country, etc.), app versions and dates.
Because Flurry offers many other services (like ads), this tool is free yet provides a lot of analytics.
Google Analytics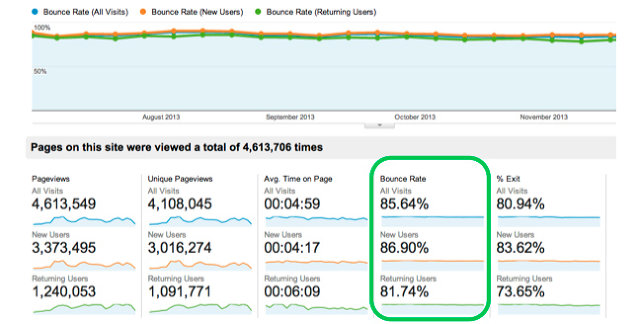 Price: Free
Platform: iOS, Android
The Google Analytics for mobile apps SDK was first only available in beta and is now part of Universal Analytics (out of beta since April 2014). Universal Analytics is a pretty big deal if your product is cross-devices and requires sign in because it is based on a User ID which allows, for example, to count three visits of one person across different devices as only one unique visitor:
In the same way, if you track conversion and revenue in Universal Analytics, it will be cross-device and even let you know the path (which action was done on which device).
What if you have a mobile app? You can analyze your app performance using Google Mobile App Analytics metrics through its four categories:
Acquisitions:  Find out who your new users are. For Android apps on the Google Play Store, you can also track where your users are coming from and know how many sessions they've used or the in-app revenue they've generated with Google Play Sources.
Google Play Referral Flow
Learn about the source from where your visitors come from and the number of installs and actual users you're getting. 
Mobile App Audience / Users: Like the web, you can know about new vs returning users, their country/language, the app version, etc.
Mobile App Behaviour / Engagement: You can use event tracking as you do on your website and get reports on speed, crashes and exceptions.
Mobile App Conversion: You can set up goals, track the conversion of your objectives and see the goal flow (Google's equivalent to the funnel/user path).
Those mobile analytics (and Universal Analytics as a whole) are pretty complete, and Google is probably going to roll out new features as well.
Mixpanel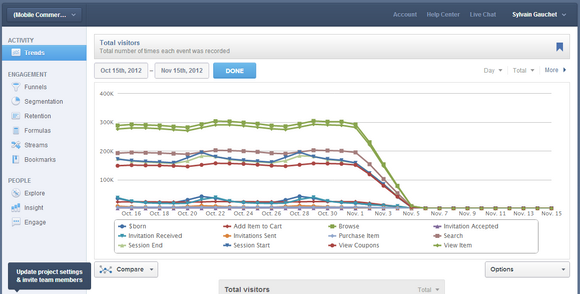 Price: Freemium (see prices here)
Stores: iOS, Android
Mixpanel is an event-based analytics tool: for account creation, sharing, upgrade, purchase, etc. You have to define events and event properties for your app.
Get stories in your inbox twice a month.
You can:
Track these events separately or create a series of events (funnels).

Use cohort analysis to see how often users return and engage with your application.

Build complex queries based on events and demographics

Tie mobile to web and vice versa

If you have users' info
It lets you analyze your app retention by seeing how often your customers return and engage with your application. And to get the whole picture, it uses cohort analysis which groups your users by day, week or month based on a specific event.
There are many tools like Localytics, Appsee, Countly etc., that are also good and have a lot of things to offer. But while choosing the tool, it's essential to check if it meets your current requirement. This is more like a goal-oriented analysis approach that needs to be understood. You use a tool according to a set objective of either monitoring your expenses and revenue or concentrating on the downloads, user satisfaction and frequency. It is up to the developer to decide which tool helps him the best. Only a well-aware developer can wisely choose among the many available App analytical tools. If you are willing to develop an app, you can contact a mobile app development company directly.
The reason is that
Even if you have an app analytical tool at your reach, the thing that matters is how effectively you execute the analysis process. If you are getting your app developed under expert guidance, then only you can be at ease with the development process.
With a skilled and adept technical team from every background working in an up-to-date environment, mTraction Enterprise is a place where you can develop your app without compromise. The young techs and their experienced heads mix creativity and experience in the workplace, providing an ideal condition for developing an up-to-the-mark app. Developers at Affle have made more than 1000 successful apps, and the most contributing factor towards this number was a precisely measured app analytical process for every app to be developed. Here at Affle, experts lay much stress on the design and simultaneously the analytical process, thus leaving no space for an incomplete void which in the future can prove to be a significant setback for your app.
Have an idea for an app? Get in touch with us.