How Much It Costs to Develop a Coursera like App?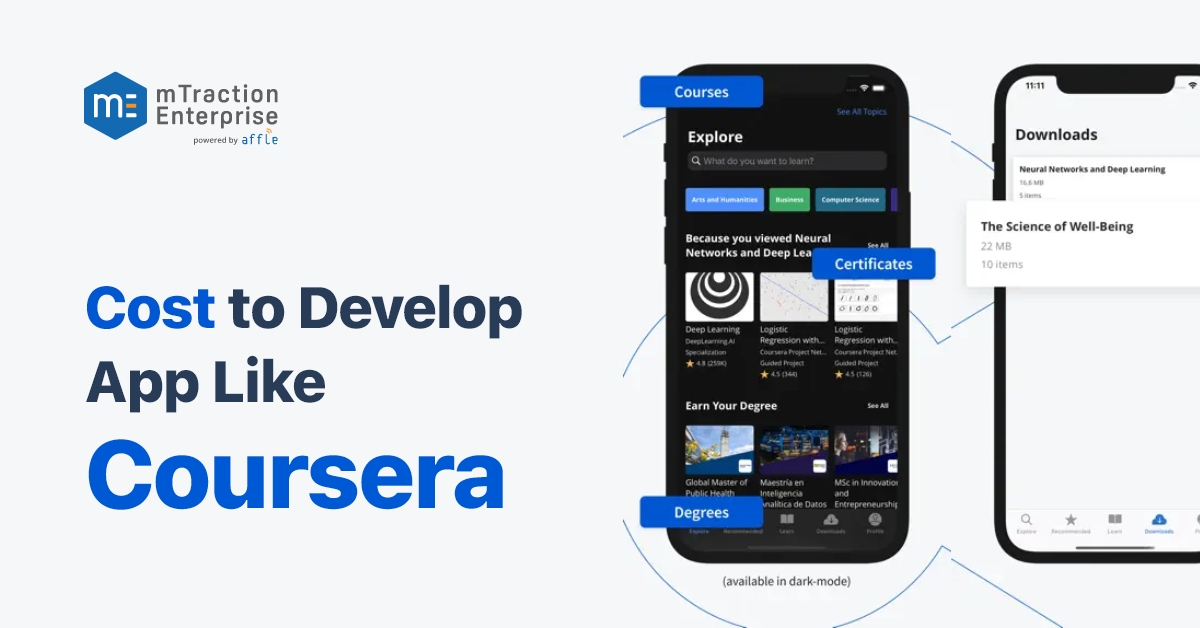 Online courses or online classes are web-based courses that aim to teach aspirants in the form of distance learning. Online courses allow students to learn the subjects of their choice or pursue a specific course at their convenience. These have become a hit for students who cannot afford to visit foreign universities that offer specific courses. Users can get quick access to a variety of learning materials in PDF, Video, and eBook formats.
Many courses usually involve a high education fee that is not feasible for everyone. In addition, many working professionals cannot attend full-time or part-time courses. The eLearning or online learning has become a proven approach for enhancing learning patterns and improving students' skills. According to Statista, the global e-learning market is forecast to grow approx 400 billion U.S. dollars by 2026. Check out the below stats to know how the global eLearning market is all set to expand in upcoming years.
Size of the global e-learning market in 2019 and 2026, by segment(in billion U.S. dollars) –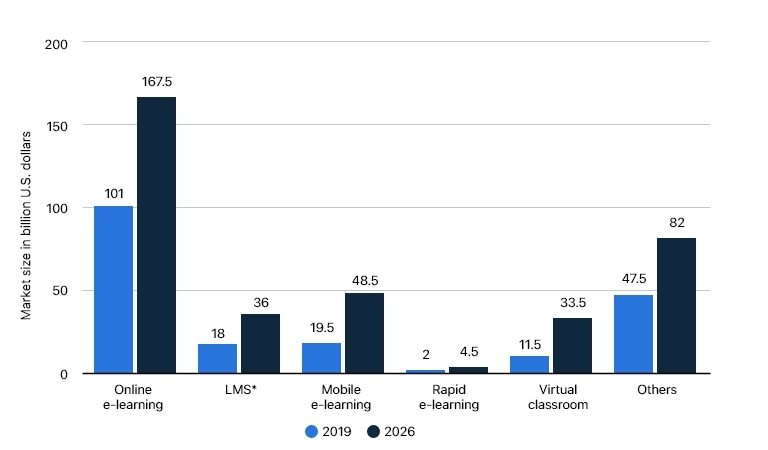 Image Source – Statista
Coursera – Analysis:
Coursera is such an app that has gained amazing popularity due to some exceptional benefits among distance learning students. The app offers a range of distance learning programs that include skill development courses to university degrees across the globe.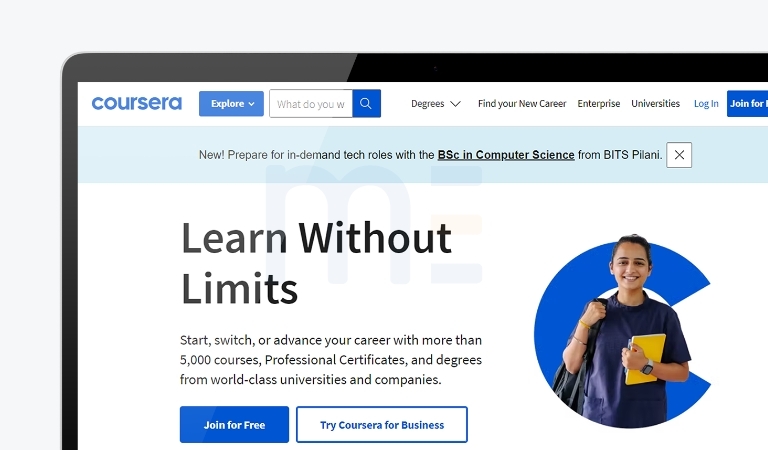 The price range starts from as low as $29 to as high as $25,000. The app focuses on 3 key areas viz. skill development courses, specializations/professional courses, and university degrees. The coursed are facilitated regardless of an aspirant's location and available time slots. The course is available 24/7 and students can access them at any possible time at their convenience.
It started in 2012 as a small idea of providing education to people across the globe at low fees and grew into a multi-million dollar business. Therefore, the business model of Coursera should be a subject of study for entrepreneurs who wish to establish a similar enterprise in the online education industry. In addition, to understand the cost of Coursera-like mobile app development, they must pay attention to a number of factors such as why they need to build a similar app, how Coursera makes money, and ways to develop an app like Coursera.
Why Should You Build an App like Coursera?
The online education industry is witnessing a drastic positive shift in the current global scenario. The increased digitization across the globe is a major cause of mobile app-enabled education. Entrepreneurs can capitalize on this sector as it is growing at a rapid rate. They can implement innovative marketing techniques to promote their business and attract students from all over the world.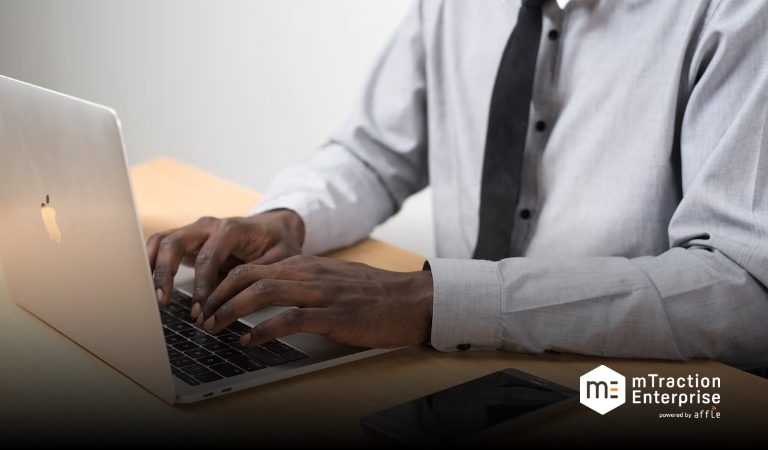 However, this industry requires serious trust-building activities as the future of an aspirant entirely depends on the quality of the learning that he or she is recovering along with the services of the portal. Coursera has set new standards in this sector as it has become one of the most trustworthy portals for online education in the whole world.
How Coursera Makes Money?
Coursera is a for-profit organization that has partnered with several private and government universities and organizations across the globe. It does not create any educational content instead, it outsources courses and facilitates it for the students. The portal offers more than 1,000 courses and works in collaboration with approximately 100 institutions and organizations worldwide. The information is transferred in the form of video lectures, slides, assignments, study material, and tests and quizzes.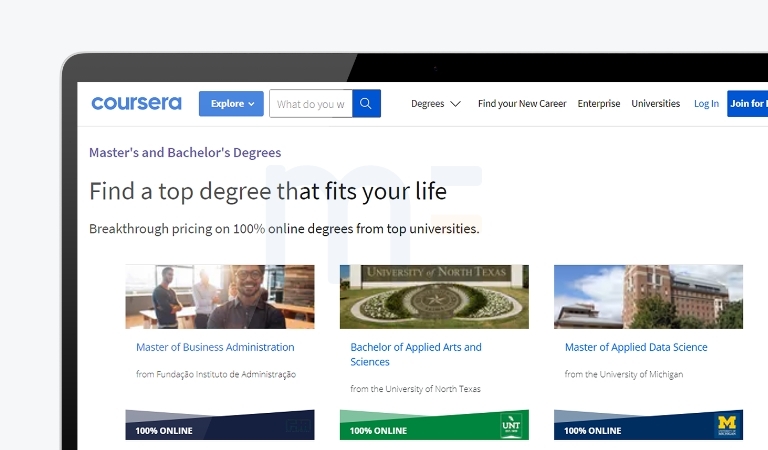 Coursera collects its majority of revenue from its 3 types of courses that are signature courses, specialization courses, and university degrees. The other sources for review include selling university-branded certificates for the respective course, access to human tutors for specialized approaches, a corporate version of Coursera for training and development, and advertisements. This clearly shows how dynamic a single organization can be and in how many ways it can earn money.
Ways to Develop a Coursera-like App and the Cost to Develop a Coursera-like App:
The exact cost to develop an app like Coursera depends on a variety of factors and the amount of personalization that a business wants. Some of the important aspects are given here that should be kept in mind while developing as these can also be helpful in estimating the cost to develop a Coursera-like app.
Target Audience:

Entrepreneurs have to be sure about the individuals that they wish to target as their customer base. Only then they can determine the courses they wish to offer, educational institutes that they wish to collaborate with, and their charges. In addition, their target audience will also determine the online marketing strategy and the partner that they wish to include.

Ease of Use:

Regardless of the platform, the online education app should be easy to use and navigate. It should include proper information about all the courses and services offered by the organization.

UI/UX of App:

The app should have an intuitive UI/UX and be based on the minimalistic design idea for an improved understanding of the content. Business owners should also focus on other issues such as loading time, payment methods, video playback, etc.

 Range of Services:

Education apps must have a wide range of services that can be helpful for both the aspirants and the organization. Value-Added services can be a good source of revenue and profit generation. For instance, Coursera offers a range of value-added services that include special lectures and assistance from specialized tutors. Such services can be a great help to students who need extra attention. An aspiring business can also implement similar ideas such as lectures for differently-abled individuals for increasing their range of services and customer base.
Conclusion!
Get stories in your inbox twice a month.
Coursera can be a good example of achieving success in the industry in such a small duration due to its trust-building activities, wide range of services, and impeccable revenue model. New players in the industry are seeking help from mobile app development companies to develop educational apps and facilitate the transfer of information through quality services. Get in touch with our experts for a digital transformation strategy and mobile app development consultation today!