Top Ecommerce Mobile App Development Trends to Accelerate your Online Business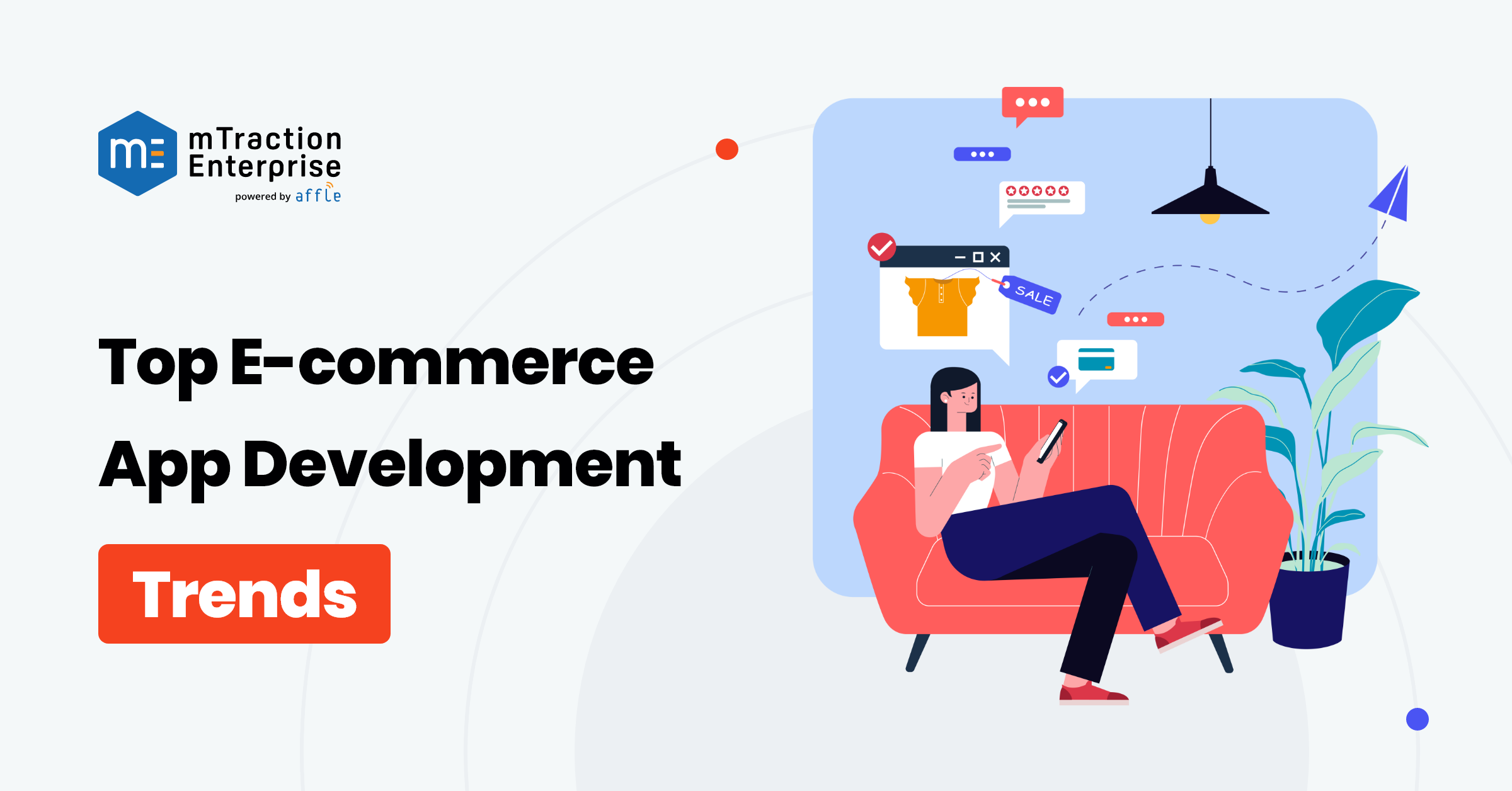 E-commerce is a dynamic industry that continuously adapts to the changing eCommerce mobile app development trends and market demands. It is the most competitive environment, and surprisingly the recent pandemic has become the biggest game-changer. It has demanded new ways to operate business and customer dealing approach. Companies have witnessed a sudden shift in customer behavior that prompts them to invest in eCommerce channels and internet marketing.
Moreover, the global pandemic has accelerated the eCommerce business with smartphone mobile apps that are taking the center of the stage. The eCommerce mobile app market has experienced a massive surge in customer demands across the globe. Business bodies are moving towards mobile app development services to carry out their eCommerce business growth and win the tech race over digital platforms.
Rise of Mobile Apps in the Ecommerce Industry
"There's an application for that!"
This expression was trademarked by Apple in 2010 and exemplified the possibility of a wide array of mobile apps that can perform almost all significant functions. In the era, with the absence of mobile applications, mobile phones have offered built-in software, a PPT/PDF viewer, an MP3/MP4 player, SMS, and E-mail functions for online connectivity.
In the era when the mobile devices turned into smartphones, the period of mobile application has started at its peak, dedicated to performing cross functionalities. Where some applications have been launched for entertainment and personalization purposes, some are uniquely crafted for business-related undertakings. Organizations rustle up to follow eCommerce mobile app development trends and develop their brand applications with the goal of selling their products and services anytime, anywhere.
A sudden surge in M-commerce has transformed vendor and buyers' journeys. It became the most considerable growth factor for enterprises by connecting with a wide range of audiences across the globe, selling products, services, discounts, offers, quick payments facility, and whatnot. On the other hand, customers love sitting in their room, ordering what they want, and getting it delivered to their doorstep with zero hassle.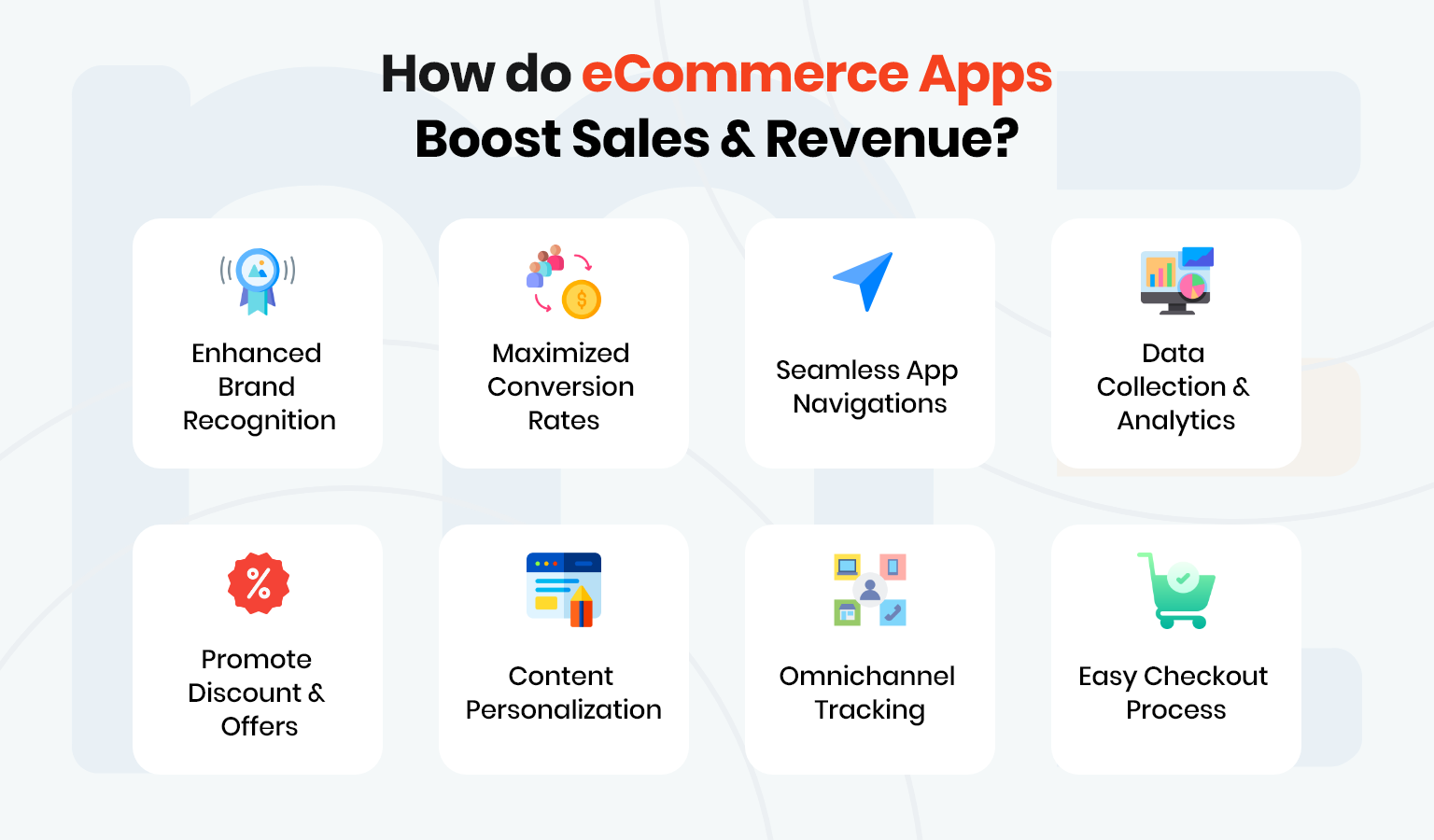 The rise of the eCommerce mobile app has reshaped the eCommerce business and continuously contributed to making it more advanced in the coming years. The eCommerce mobile app development trends are redefining the way customers browse online products and services in an improved way. Also, businesses are taking advantage of the latest mobile app trends to meet the changing customer necessities.
What are the Top Ecommerce App Development Trends you Must Watch Out for?
The competition in the e-commerce market is fierce. The company's brand value and market recognition rely on product quality and new technologies that make the customer experience more intuitive and engaging. Here are the top eCommerce application development trends to watch out for a futuristic app solution.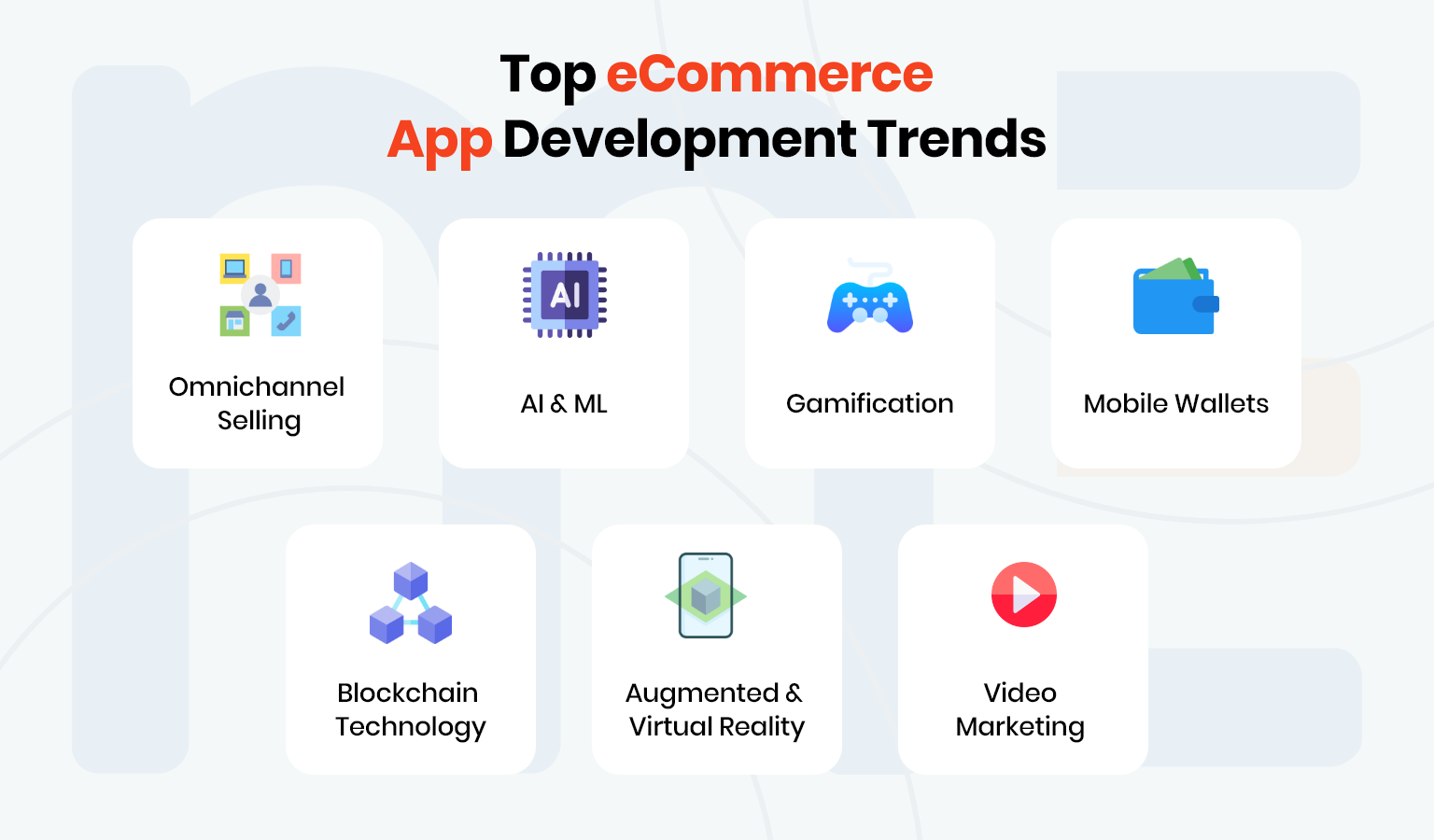 1. Omnichannel Selling
The year 2022 has paid great attention to omnichannel shopping. It unlocks new business opportunities by taking them on various social media platforms, retail websites, and marketplaces that ultimately increase the client base.
The omnichannel eCommerce mobile app development trends effectively transform the customer experience and buying journey regardless of the platform and devices they utilize. Today, people use social media platforms more often than any other online shopping platform, making it imperative to incorporate omnichannel selling in your eCommerce app development project.
2. Artificial Intelligence & Machine Learning
Artificial intelligence and all its subsets like machine learning, deep learning, and NLP are ever-growing eCommerce mobile app development trends in the market. It offers a personalized customer experience by recommending products based on the customer's tastes. Using predictive analysis and research, AI and ML analyze data like buyers' journey, shopping history, search criteria, gender, and demographics to showcase the relevant products to them.
Moreover, businesses get benefits from various predictive analysis tools, like image detection, behavioral analytics, inventory monitoring, management, etc. Also, the AI-powered chatbot has become the biggest sales booster and customer's personal assistant. According to Omdi, the global AI-based mobile app revenue is calculated to reach 36.8 billion dollars by 2025.
3. Gamification
Gamification has introduced a unique shopping experience and made it fun. Customers find this trend more entertaining, improving brand sales count, customer loyalty, and brand awareness. It offers online shoppers exciting rewards, discounts, e-vouchers, and convince customers to get into gameplay shopping.
In today's era of digitization, gamification has become a USP of many eCommerce mobile apps. Also, it enables excellent marketing opportunities for businesses.
4. Mobile Wallets
Mobile wallets have become an obvious one in the list of eCommerce development trends that optimize e-commerce transactions for mobile devices. Being an eCommerce business owner, investing in eWallet app development can be a money-making strategy for your online business. It provides not only seamless payment transactions but also offers a remarkable customer experience.
Mobile wallets, commonly known as eWallets, have become one of the hottest eCommerce development trends. Incorporating a mobile wallet in your eCommerce app development creates a secure payment system. With the growing number of online shoppers, the demand for eWallets is constantly growing. Better you consider developing one for your business.
5. Blockchain Technology
One of the top eCommerce app development trends dominates the eCommerce market. Yes, Blockchain is a decentralized system with multiple features like secure online payments and support for cryptocurrencies. It serves the needs of both consumers and vendors. It is a cost-saving option for businesses to accelerate their business operations and a fast payments gateways that enable users to make quick payments transactions with couple of clicks.
6. Augmented & Virtual Reality
Integrating AR and VR into eCommerce apps makes the online shopping experience more user-friendly, intuitive, and satisfying. This is one of the most prominent eCommerce mobile app development trends that allows the customer to take a 360-degree product view at their own environments before electing product purchase. This prominent eCommerce app development trend enables customers to shop for the right product at the first time by giving a detailed and immediate product look.
It won't be wrong to state that AR VR has transformed the eCommerce industry in many ways. According to research by TechCrunch, AR holds a strong position and demand in the eCommerce market due to the maximized demand for mobile devices. Leading brands like Apple, Facebook, Microsoft, and Google have become significant investors in AR to make the technology more advanced and forward.
7. Video Marketing
The movies or video content are the most influential marketing strategies to advertise your merchandise and gain new leads. You must focus on developing and setting the critical sections of your eCommerce store in the form of tutorials, unboxing videos, products pages, the home page, etc. Video content materials are the proven eCommerce app development trend that assists users in getting to know your brand better, getting in-depth product information, and making an informed purchase decision to get the needful product.
Conclusion!
Mobile commerce is the next big thing, and it is predicted to grow swiftly in the future. E-commerce mobile apps are pioneers in enhancing customer engagements, maximizing business revenue, and increasing customer retention rates. Today, if your eCommerce business does not own a mobile application, your brand will not exist in the online realm. As almost every user searches online for their day-to-day needs, investing in eCommerce mobile app development is imperative.
Get stories in your inbox twice a month.
In this digital era, having a strong online presence becomes a must for businesses to run over the long haul. It helps you compete with other brands, connects you with potential shoppers, and increases your business ROI. To build a scalable eCommerce app, mTraction Enterprise can help you create the best app solution by practicing the latest mobile app development trends. Our team can make a feature-rich and secure mobile app that allows your business to grow faster.