Healthcare Mobile App Development Cost and Timeline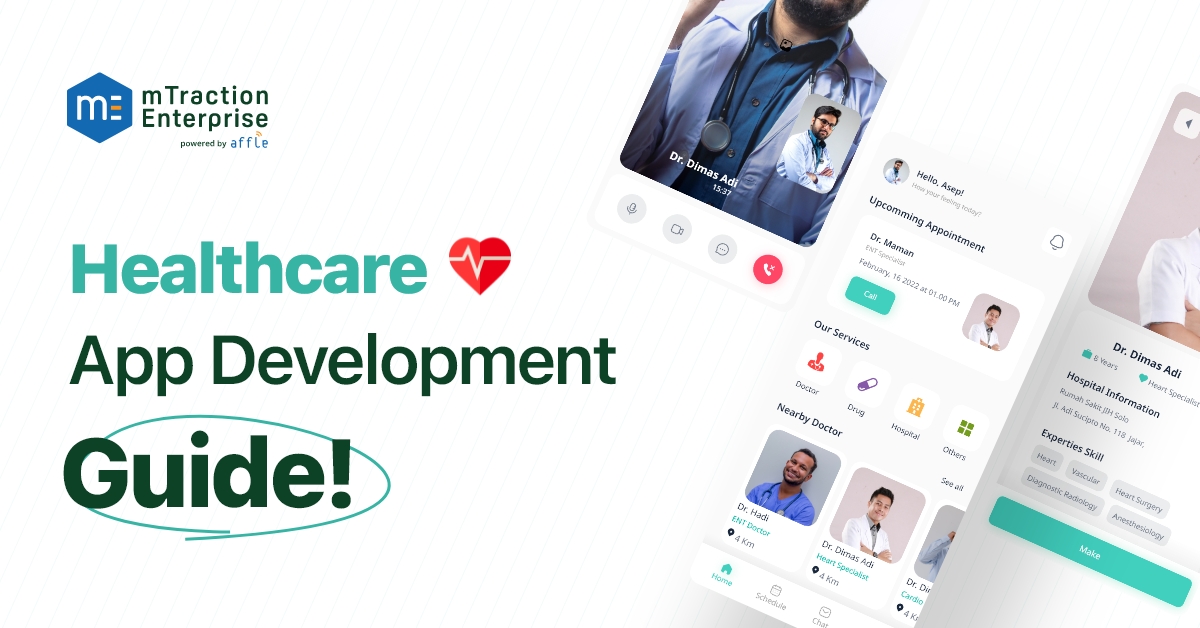 Technologies have impacted almost all spheres of our lives. There are dozens of mobile apps available on the App Store and Google Play store. Due to quick benefits and health support, app development in healthcare industry has skyrocketed. The healthcare mobile apps help in continuous health monitoring, provide ease of medical services accessibility at home, and simplify the work of medical practitioners and doctors. In this article, we will shed light on the latest healthcare mobile app development trends, the cost influencing factors and how it is transforming the industry in an exceptional way.
Healthcare Mobile App Development Market Outlook
Healthcare apps act as a tool that maintains a patients-centred healthcare model. It allows patients to keep track of their day-to-day health, understand particular medical conditions that need timely assistance and help them achieve fitness goals. With mHealth development, doctors and pharmacists can enhance adherence to medicines, therapy and provide effective healthcare services.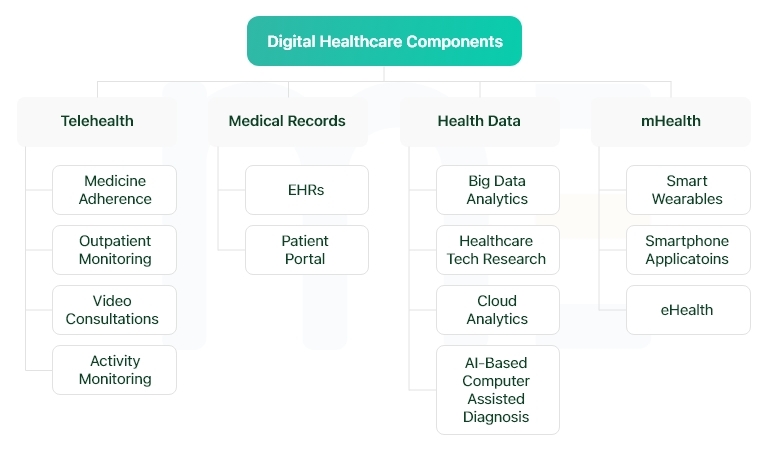 Concerning the representation above, the digital healthcare landscape has multiple branches. It extracts the benefits of innovative technologies like Big Data, AI, Cloud Computing, etc. to build effective online medical services. Moreover, chatbots are also being utilized for quick customer response. At the same time, implementing technologies like AR & VR offers a customized and seamless customer experience.
Undoubtedly, the global digital healthcare landscape took a 360° turn incorporating the trending technologies to enhance digital healthcare services. Reports by Grand View Research reveal that the global mHealth market is expected to expand at a compound annual growth rate (CAGR) of 11.0% from 2022 to 2030.
Impact of COVID-19 on Global Healthcare Market
Growing utilisation of smartphones & internet connectivity and government initiatives are the key reasons behind the increasing preference and demand for healthcare applications. It increases funding for mHealth to transform healthcare businesses and boosts market growth in the best possible ways. The global pandemic has pushed governments, enterprises, users and medical institutions to opt for digital healthcare services.
From analysing valuable health records, creating centralised databases, and facilitating remote monitoring to providing one-touch doctor's consultation, healthcare apps are becoming innovative tools to flourish digital medical services. In addition, AI-powered healthcare assistants help professionals to study infected cases, examine the virus and research the right drug composition to deal with the deadly disease.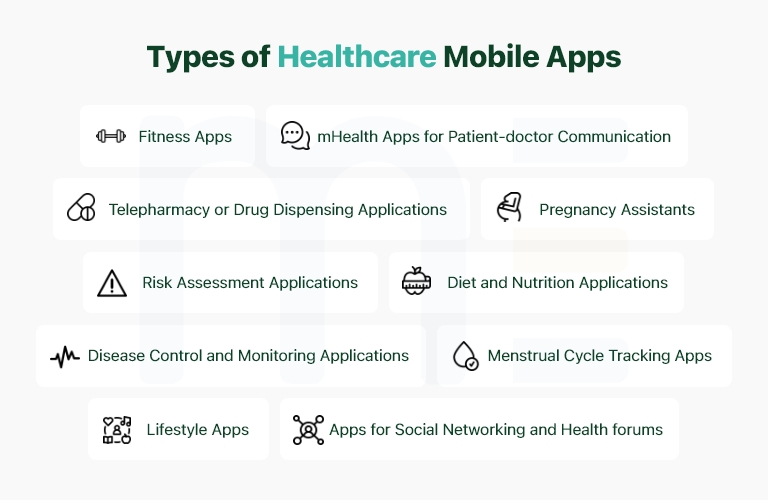 Healthcare Mobile App Development Trends
Down the line, worldwide, the healthcare application development market is predicted to reach $390.7 billion. Thanks to trends like Artificial Intelligence, Machine Learning, Big data, and AR/VR in healthcare that opened up a new path for the medical industry. Pharmaceutical companies highly utilize these technologies for clinical decisions and data analytics. Moreover, these technologies help in gaining detailed data insights, diagnostics, treatment variability and adapting to digital healthcare assistance. The healthcare mobile app development companies quickly adapt to the latest trends and drop out the outdated business processes.
Latest Healthcare App Development Trends to Watch Out in 2022!
1. Personal Healthcare Apps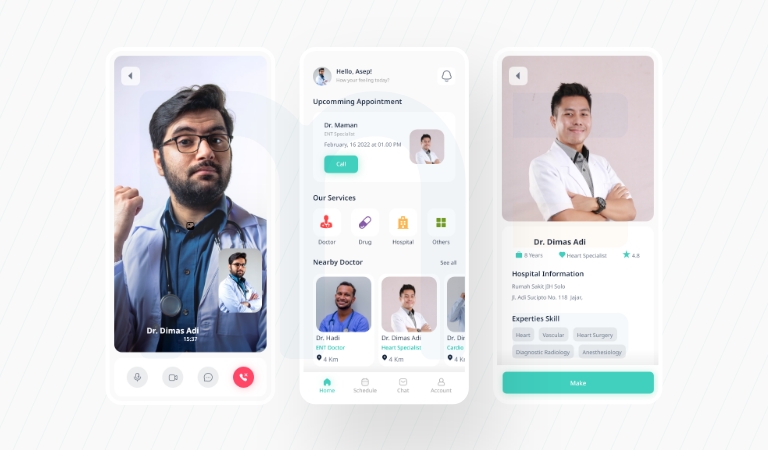 Personal healthcare apps mainly emphasize tracking patients' personal health records. It monitors factors like per day calorie intake, heartbeat, daily steps, water intake, etc. These apps use wearable integration for real-time diet and activity tracking. Personal healthcare applications also help monitor the daily stress level, anxiety, sleep status and other factors that may cause seriousness if left untreated.
2. Telemedicine App
Telemedicine app development is the result of contactless healthcare services and become a need of an hour during the COVID era. It is the most popular choice among healthcare service providers and patients. It establishes a quick and secure communication between them to share medical information and health-related data. For routine health checkups, patients can book an appointment, consult with doctors online and get prescriptions without physically visiting hospitals. It saves time and reduces the efforts to get immediate medical attention.
4. Incorporation of Artificial Intelligence
The incorporation of Artificial Intelligence and its counterparts like ML has transformed healthcare services. It offers better outcomes, generates valuable data insights, and quickly analyses patients' health conditions. The technology provides early diagnosis of severe disease and suggests supportive measurements to take the right actionable at the right time. Moreover, the intelligent AI-powered chatbots provide quick responses to patients' queries 24*7.
3. Blockchain in Healthcare App Development
The urgency of Blockchain implementation in healthcare mobile app development has arisen due to quality health facilities. Blockchain technology plays a vital role in secure healthcare data transmission. It focuses on two key aspects, which are accessible services and the availability of in-hand healthcare resources. The digital healthcare landscape is moving towards a patient-centred approach. This leads to the rapid adoption of healthcare apps for digital transformation.
Blockchain has become a proven solution to offer adequate patient care, better research, improved data sharing on public wellbeing, and enhanced treatment for different communities. The most significant area that needs immediate focus in the digital healthcare environment is data protection and interoperability in health management. The technology comes to overcome these challenges and acts as a centralized database for constructive management of the entire healthcare system.
4. Remote Monitoring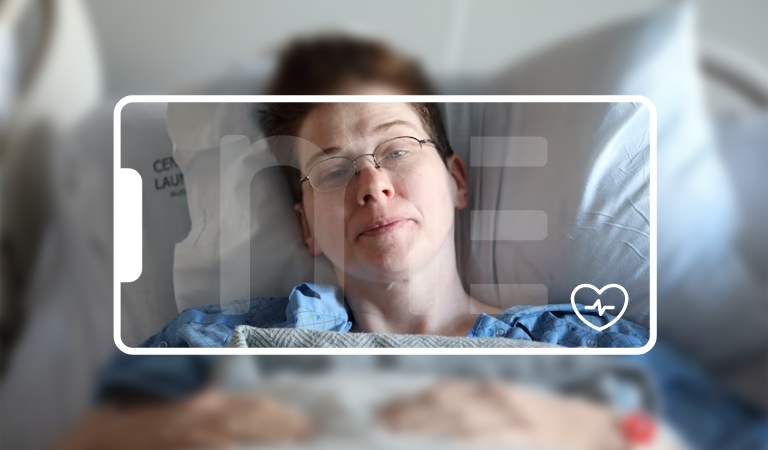 The remote monitoring technologies enable monitoring of elderly or chronically ill patients at home and allow high-risk patients to avoid hazardous hospital visits. The remote monitoring system eliminates the need for patients to stay under continuous monitoring of their respective physicians. The app controls the patient's health condition through wearable devices and notifies them and their caregivers if any preventive measures are needed.
In the coming years, such applications will lead the market due to the ease or accessibility of medical services. Some patients need day-to-day medical assistance but cannot visit the hospital regularly. Here remote assistant apps come to the rescue and streamline their daily treatment plan.
5. Cloud-based Solutions
Since the healthcare business operates in a dynamic environment, Cloud technology is used in this field in multiple ways like cloud-based healthcare systems, patient portals, electronic medical records, devices with IoT, big data analytics, etc. Cloud platform offers flexibility and scalability that helps in the informed decision-making process.
With 24*7 availability, healthcare providers need scalable data storage and networking based on the changing service demands. Cloud-based healthcare mobile apps can increase or decrease the data storage capacity according to the requirements of medical practitioners and healthcare professionals.
6. Contact Tracing Technology
Contact tracing technology is the most recent trend in healthcare mobile app development. This is a unique healthcare solution that enables tracing people who got infected by deadly viruses like COVID. Such apps mainly assist the government in keeping track of COVID-affected patients and analysing their health.
This app helps doctors identify the infection ratio and how the infection spreads from patient to patient to raise the vital measurements. Countries like India, Singapore and the United States continuously use the technology to maintain a COVID relief plan and break the chain of infected patients.
7. Wearable Integration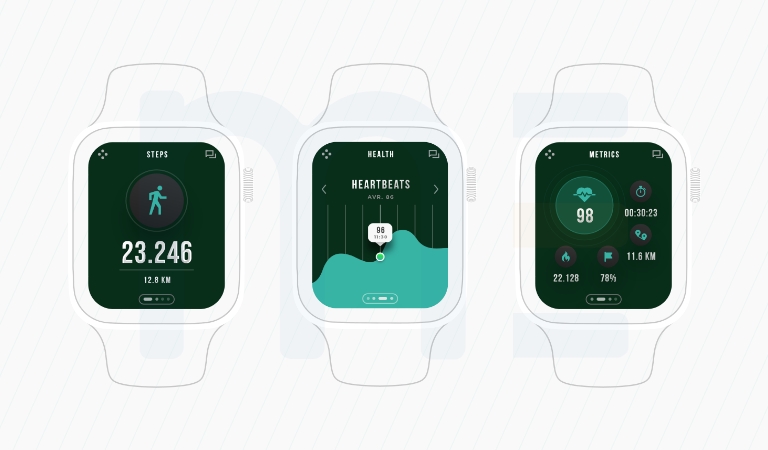 The integration of wearable technology in healthcare app development enables real-time health monitoring. Such apps are connected with wearable gadgets like smartwatches and on-wrist activity trackers (such as Fitbit). Wearable technologies track physiological and biochemical parameters during daily life. The most valuable data measured via wearables devices are heart rate, blood pressure, body temperature, blood/oxygen saturation, posture, and physical activities through ballistocardiogram (BCG), electrocardiogram (ECG), and other wearable devices.
8. AR/VR in Healthcare
Patient experience is one of the elusive things when talking about implementing AR VR into healthcare systems. These technologies offer enhanced data analysis and healthcare practices, establish new ways of interaction between patient and doctors, provide remote assistance and offers more personalized care. There are many benefits that AR VR brings to the healthcare industry like immersive patient experience, psychological treatment, body mapping, advanced diagnostics, surgery run-throughs, and remote surgery assistance.
Take a quick look at some key stats that indicate the success and future of healthcare app development:
325 000 mobile health applications are the market estimation of upcoming healthcare mobile applications
60% of smartphone users have installed a mHelatch application on their device at least once
Research by Accenture reveals that 75% of patients are aware of the value of health-related apps
$17.14 billion by 2026 is the expected market size of mHealth
The telemedicine application market will reach $17.14 billion by 2026
Global mHealth market forecast by Type of Service, Device, Stakeholder, and Geography – CAGR Expected to Grow at 25% by 2023
How Much Does it Cost to Develop a Healthcare Mobile App?
Medical facilities have become more costly worldwide, and the demand for digital solutions is booming. This has raised the mHealth development cost. Development spending has risen massively in recent years and will continue to increase. The cost is rising due to the constant proliferation of emerging technologies, compliance with legal and security regulations, and the time-consuming nature of mHealth development. Although the overall cost of healthcare application development depends upon multiple factors: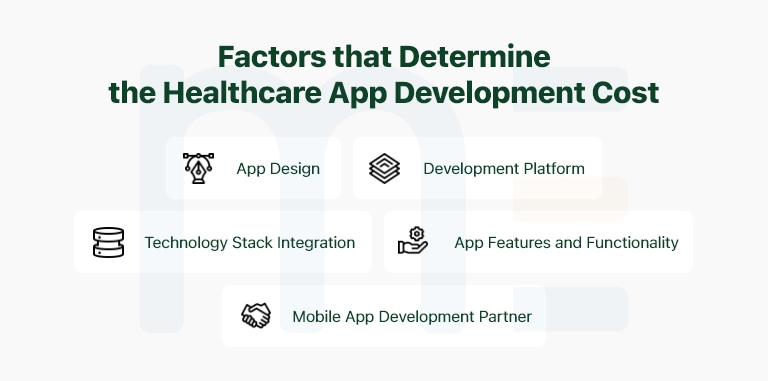 Why Do Some Healthcare Mobile App Ideas Fail? Avoid Such Mistakes!
A lack of UX design simplicity and accessibility
Ignorance of legal and security compliance
Flawed monetization model
Development without concrete app concept & purpose
Undefined target audience and demography
Less understanding of the digital healthcare environment
Failure to use user-friendly content and language
Avoiding the latest healthcare app development trends
Choice of healthcare app development company/development partner
Why Should you Choose Affle mE for Healthcare App Development?
Team Affle mE never fails to bring additional value to your business by making a healthcare app a gateway to your infrastructure, including EHR, medical practice management, revenue cycle management and other systems. As a leading healthcare mobile app development company, we understand the importance of data protection and strictly follow security regulations and compliance like HIPAA. We ensure that your app does not hurt data security ethics and meets the desired business requirements.
Over to You!
Get stories in your inbox twice a month.
At mTraction Enterprise, we have a team of seasoned and passionate mobile app developers with significant years of industry experience. Our healthcare mobile application development services are specifically designed to help you enter the digital healthcare market with the best product. If you have a raw healthcare app idea, feel free to share it with us anytime. Let's create a great team to innovate and transform your digital healthcare business.