You are Never Late to Invest in Healthcare Apps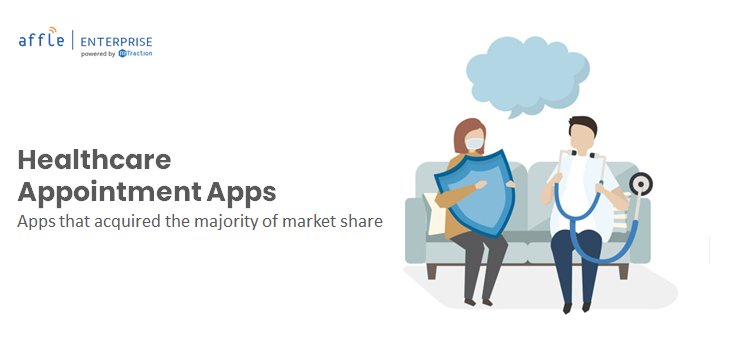 In the healthcare industry, many aspects are managed at a manual level including scheduling an appointment/seeing a doctor or completing paperwork. The processes are not user-friendly and they require a lot of time and effort on both sides. Additionally, a large amount of money and people's well-being remains at stake as well.
In this facet, technology has emerged as a life-saver as it can save time and offer ease-of-use to the consumers. Such a scenario has enabled both new and experienced players in the industry to offer automated healthcare solutions.
A healthcare mobile app which is also full of user-friendly features can be a great way to ensure profitability in the healthcare app development industry.
There are multiple startups in the healthcare domain that entered very late and acquired the majority of market share quickly due to their range of services and popularity among users. Some examples of leading healthcare apps are mentioned here. 
WebMD
Already popular as one of the most preferred symptom checkers, WebMD has launched its own healthcare app. WebMD has been trusted by users for online consultation of almost every kind of healthcare-related symptoms. It has extended its reach even farther and is trusted by millions of people across the globe.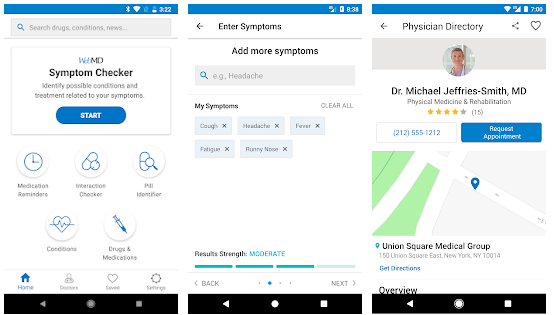 In contrast to the website, the WebMD app is innovative in every way. It includes medication reminders, habit and fitness tracking, first aid tips, drug database, and a section for educational content as well. Users can also schedule appointments with a physician. 
The app interface is easy and intuitive and all the advice and recommendations are reviewed and qualified by experienced doctors for authenticity. The app is available on both iOS and Android platforms and has more than 500,000 downloads.
Medscape
This is another quality addition in the healthcare app development segment from WebMD LLC. Medscape is a reference app both for doctors and patients. The app focuses on delivering clinical news for self-medication through more than 6,000 drug brands including a variety of Over the Counter (OTC) drugs and prescription medicines.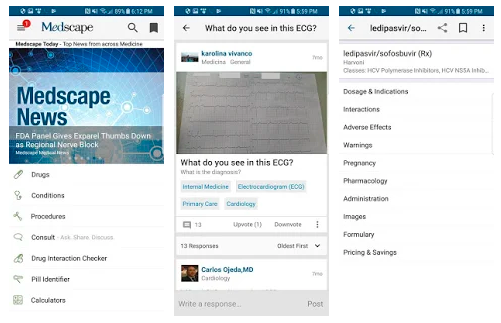 The app includes features such as drug-interaction checker, specialty-specific calculator, pill identifier, etc. Users can also watch videos on drug intake procedures and avail discounts on medicines. The app also provides access to the community of clinical advisors for discussing real cases.
The app has over 5 million downloads worldwide and it is available on both Android and iOS.
ADA – AI Doctor
Development in the field of artificial intelligence is going to be the next big step in the journey of humanity. ADA is an AI-powered doctor application designed to reduce pressure from healthcare professionals. This healthcare app was developed by a London-Berlin based startup and it took 6 years to build.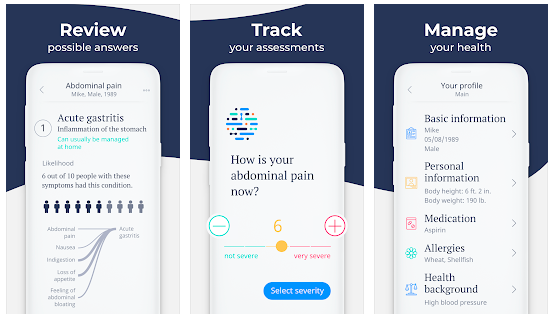 ADA asks simple questions to its users and compares answers from databases to find the most relevant solution. Once the issue is diagnosed, the app provides advice on the next course of action. The advice can be related to either self-medication or seeking professional assistance.
The application boasts more than 100,000 users and is available on both Android and iOS.
Doctor on Demand
This is a quality app from Doctor On Demand Inc that facilitates medical appointments. The app allows users to book appointments within minutes without having to wait for hours in waiting rooms. The app makes video calls directly to the doctor or therapists and users can schedule appointments as per their availability and preferences.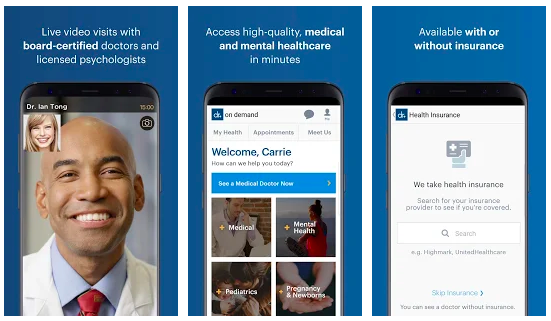 In addition, according to the situation, doctors can also ask questions about the symptoms and prescribe specific measures such as lab tests for more information about the subject matter as well. The app claims to have 24/7 availability of doctors and scheduling immediate meeting in the case of an emergency. The healthcare appointment app is completely free and one can easily check the doctor's fee before booking an appointment. The app has more than 100,000 downloads to date and its user-base is increasing at a rapid pace.
Talklife
As the name suggests, this is a conversational app that offers a safe space for people so that they can express themselves. This is more than just a talking healthcare app as it can be quite helpful in dealing with depression, behavioral disorders, self-harming tendencies, etc.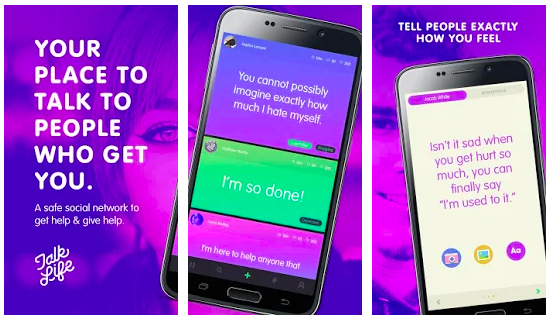 Among all the modern lifestyle issues, mental health problems, and stress are the ones that are causing major harm to society. People do not discuss their personal or professional issues even with their family members due to the fear of being judged.
This is a dangerous situation where both the individual and his/her family are affected. Talklife provides a safe platform where people can create a virtual help group and share their problems with fellow users who feel the same way or who have already been through similar situations. This is a relatively newer addition in the healthcare app segment that has over 100,000 downloads only on the Google Play store.
Fitbit Apps
Fitbit is a popular wearable tracking device that tracks biological indicators to diagnose the state of basic health and fitness. The device has a display panel that shows the recorded information. However, to record the information and compare it to the previous records, the Fitbit app is also there.


Get stories in your inbox twice a month.
The app is there for maintaining a database of the recorded information. Apart from the basic Fitbit device app, there are other Fitbit apps available as well. These are Fitbit Plus – Health Coaching, Fitbit Coach, and Fitbit Finder. Fitbit app has several useful features such as heart rate monitor, GPS tracker for monitoring the distance covered, LOG for workout and other activities, etc.
Despite being known as a general fitness tracker, the data derived from the app can be used as a tool to assess the level of physical fitness or the gathered data can be utilized to diagnose medical problems.
Fitbit apps are available on both the Google Play Store and App Store, and it has more than 10 million downloads on Android.
Mobile technology is rapidly changing the healthcare industry by facilitating seamless interaction between consumers and health care providers through numerous touchpoints. This is the future of the healthcare sector were making appointments for diagnosis, tests and consultation will become a thing of the past as healthcare apps will dominate the industry.
We at Affle Enterprise grasp your business challenges & ideate a personalized user experience to solve complex business problems. Connect with our team at  enterprise@affle.com for a quick mobile app development consultation.