5 Must Haves To Build MOOCs And M-Learning Apps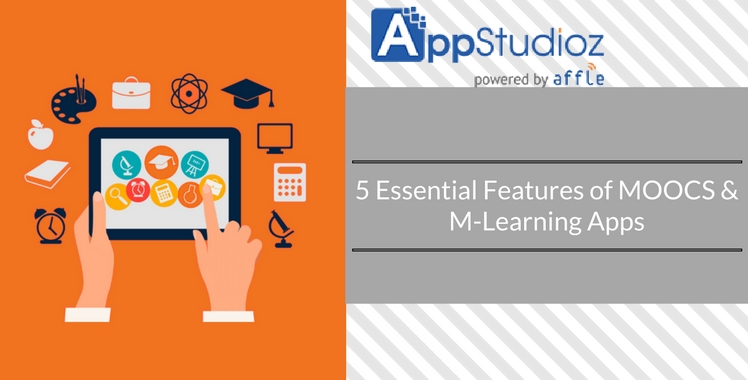 In 2012, two professors from Stanford, Sebastian Thrun and Peter Norvig decided to offer 'Introduction to Artificial Intelligence' for free online. Designed to reach out to an English speaking population under the prestigious Stanford banner. There were 160,000 Applicants and the seed to the open online education platform Udacity. Two more platforms came into being within that year Coursera and EdX. Ever since there has been a flood of online courses and online learning communities.

Now comes the question, why do MOOCS need MOBILE apps to sell?  Mobiles are the most widespread devices in the world now. The number of smartphones went up from 1.5 billion in 2014 to 2.1 billion in the year 2016, and is estimated to go close to 3 billion by 2019. That's 3/7 of the world's population.

According to a Gartner estimate the number of computers in the world is 2 Billion. Which means that the mobile devices have already outdone computer devices. Majorly because it's easier to own a $50  mobile device for the financially underdeveloped demographic rather than owning personal computers. The accessibility of apps is unmatched by any mobile responsive website.  But not all MOOC apps make it to the niche list. While there are fifty apps in the same category only the first five may be worth a shot and the rest may be dummy apps. So how do you put together a perfect M-Learning App? Read On:

1. Choosing the M-Learning App Categories:
There are categories and subcategories on the Android App Store or the Apple App Store.
All MOOCS are listed under the broad category 'Education'. But your subject content could vary. There are specific subcategories such as language learning apps, Math apps, apps for 6 to 10-year-olds. These Subcategories help you come into the limelight. When you are a new player in the market your app may be listed as the 100th app on the app store in the Education category. But you could feature in the top five in Google searches if you keep a content-specific description in-app store. For example, if you are a language learning app, your app store description should be SEO covered and your content should align with the description for your app.

2. Well Designed Content:
Content matters, not just the educative content or research that the SMEs design for your application but the content that drives user's response on your app. A lot of Psychological research goes into deciding layouts, color schemes and button placements that help users access your app better. Your app content decides user response which decides your app rating.
Just as the wrong subject content can affect user response even research lacking psychological insights into user groups can affect your app's performance.

3. App Indexing for MOOCs
App Indexing helps your apps get discovered on Google Search. The reason why you should optimize app descriptions and have app SEO is to be easily discovered in searches. The Google Firebase kit is integrated into apps by app developers for the same purpose. Making any app without this SDK added to it is not so smart a move. There is a hoard of apps serving educational content to people and like all industries what they see is what they buy. To get your app more visibility App Indexing is necessary. Make sure your app developers know of this and don't get you into believing that it's one of those things that you can do without.
4. Timely Updates for M-Learning
Most App owners don't pay a lot of importance to the fact that apps need maintenance after they are rolled out. It's important to establish the fact with your developers that the initial stages need quick updates based on suggested improvisations. Your developers should help you through the beta launch to the real launch where in you have a better app strategy ready for your app. This could include Freemium features and classes after the basic courses or freebies for your users or new subject matter from SMEs to make sure that the app content is never outdated.

5. Scalable Video Pipelines:
Get stories in your inbox twice a month.
Videos are an integrated component of all MOOCs content. With respect to media content there are several factors that have to be included: formats, multi device responsiveness, video quality,  compression algorithms etc.  This again requires better development practices and codecs that includes scalable video pipelines that allow videos to be play  in good quality over mobile devices on different bandwidths, LTE, or 3G as per the available service. This needs optimized codes from expert development panels. For more on the same read our blog on apps with media content.

These are the five most important factors that one has to span out at the development stage itself. It doesn't matter if you are an established business or an upcoming one. An app's success is not dependent on the scale of your business alone. A good app has great design merged with sound development practices and strong marketing strategy and advice. At Affle Enterprise we cover all of these factors well. Take a sneak-peek into our portfolio for M-learning apps.

Contact us for a free consultancy on M-learning and leave a comment to discuss more about the topic.