The Effects of the Metaverse on E-Commerce Business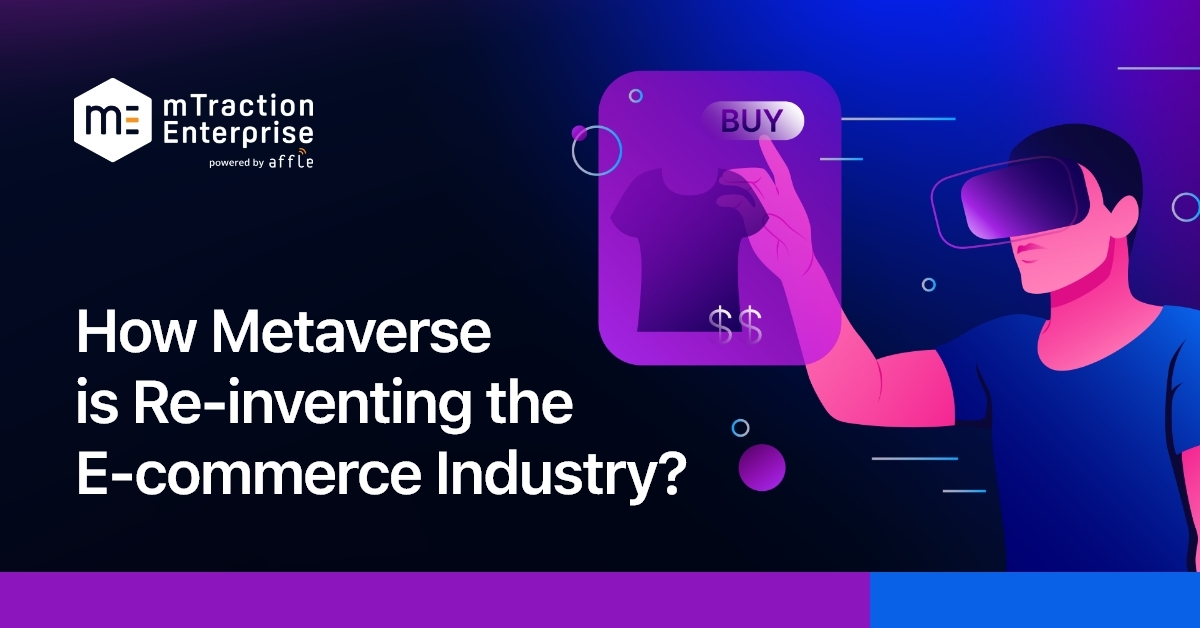 What is Metaverse?
Today, a trending talk about metaverse commerce is going everywhere. "How will metaverse introduce the new era of digitization?" It is bringing a new era of digital connectivity, eCommerce business, and virtual experiences. Tech business giants are betting big on it. Microsoft's massive US$68.7 billion acquisition of game-developing giant Activision Blizzard reflected the company's desire to strengthen its reputation and ranking in the immersive entertainment space.
The metaverse is an integrated virtual world connecting 3D objects. This world can be experienced via a VR headset. Users can wear this headset to navigate Metaverse using voice commands, eye movements, and a feedback controller. The VR-powered headset gives users the physical sensation of being in a place virtually. With its constantly increasing popularity, the metaverse is revolutionizing the business and opening new opportunities for the eCommerce industry.
Metaverse and E-Commerce!
The Metaverse will take absolutely faucet into the eCommerce industry with the aid of allowing users to access augmented reality. A lot of video games permit customers to purchase gaming assets from online stores, so the idea of purchasing and owning property on a digital platform is not new. Through virtual contracts on the Blockchain, customers within the Metaverse can have complete ownership of selling products in the Metaverse.
Nowadays, online consumers pick out products listed preferred consumer interface. Through metaverse commerce, online shoppers can turn out to be avatars in online shopping, being entirely on the other side of the virtual world. There are already many possibilities for eCommerce in the Metaverse. The consumer base of manufacturers like Roblox and Second Life is already enormous. As agencies apprehend the ability of augmented and mixed reality, they are maximizing their capability for enhanced customer interaction and experience. By partnering with an experienced metaverse development company, companies are investing in e-commerce metaverse development to revamp their business model.
What are the Building Blocks of Metaverse?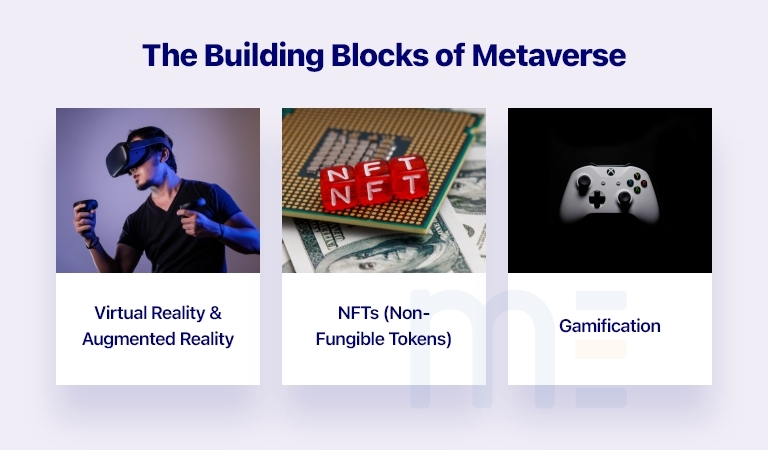 Virtual Reality and Augmented Reality
Today, online shoppers prefer to make a purchase from websites that utilize augmented reality and virtual reality technology. Consumers have already signed up for Meta's horizon virtual reality platform for a seamless shopping experience. When it was challenging for vendors to sell their products and services by acquiring a top position online, AR VR has become a proven approach due to the remarkable capability of immersive shopping experience.
Retailers of cosmetics, household goods, cosmetics, and fashion apparel are gaining great returns due to the implementation of the underlined technologies. The growing popularity of AR VR technology empowers eCommerce businesses to harness the potential of Metaverse. Business leaves a unique experience to the target audiences and improves the customer experience by setting up a virtual environment.
NFTs (Non-Fungible Tokens)
Non-Fungible Token or NFTs is blockchain technology where digital tokens have evolved into everything. From fashion, culture, and memes to many other innovations, we can witness the implementation of NFTs. This is the most sophisticated innovation by tech giants. The key thing that makes it the most critical element of Metaverse is its excellent ownership authentication offering. Both customers and brands can utilize NFTs to improve transactions. However, developing new metaverse products that boost brand value is also recommended.
Gamification
No wonder gamification in metaverse commerce has become the hottest trend in the market that keeps customers engaged in online activities. It's an inherent competition to tempt customers to spend maximum time on online activity. Challenges and rewards are the main factors of gamification to grab customers' attention. For immersive digital experience, gamification has brought the concept of video games that keep customers engaged, making it their enjoyable pastime.
How will Metaverse Revolutionize E-Commerce Business?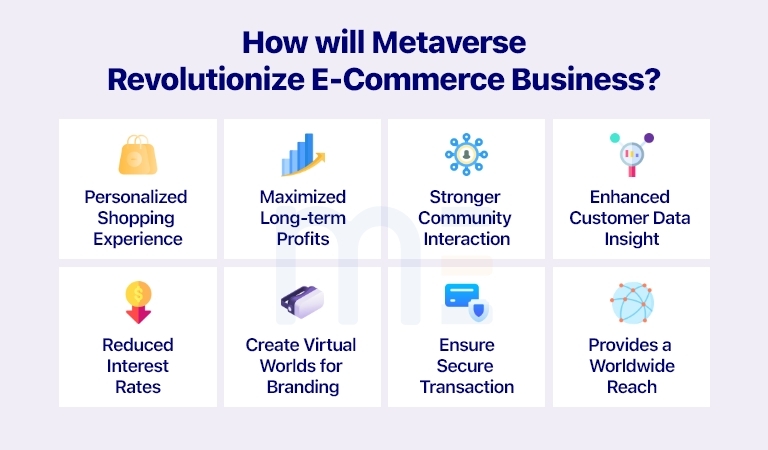 Personalized Shopping Experience
A personalized shopping experience is the first priority to enhance the nature of online shopping. It primarily starts and ends with products recommendation, discounts, and offers. With the implementation of the e-commerce metaverse, brands are no longer required to deal with real-world hurdles. It makes them provide fully-customized products and services to the customers in a virtual landscape.
Maximized Long-term Profits
Customers are highly fascinated with 3D-evaluated products. They spend more time getting product details in 3D view. It simplifies their shopping journey and helps them make informed shopping decisions. They can fully explore the products they have shortlisted with 360-degree product visualization. The e-commerce metaverse enables brands to increase the capability of product view, maximizing their profit margins.
Stronger Community Interaction
Since Metaverse keeps your customers engaged and active in your brand's activity, it establishes a more symbiotic customer relationship. With an immersive user experience, Metaverse helps brands retain their customers and give them a unique shopping experience. With visually appealing and interactive user interface elements, online stores can grab huge customer attention and get maximized conversion rates.
Enhanced Customer Data Insight
For an eCommerce business, it becomes imperative to know its target audiences before setting up any business operational marketing strategies. After all, achieving customer appreciation is the key to enhanced branding and market value. Offering a virtual environment to your customers will let customers enjoy shopping at your e-store. It helps you evaluate how much merchandise you need to produce.
Moreover, you can extract customer data insights with fewer efforts. Customer data extraction can help you revamp your marketing and branding approach. Also, you can use this data to implement innovative business tactics and day-to-day operations to make it customer-centric.
Reduced Interest Rates
Building a virtual shopping landscape is imperative for a business to offer products that are pretty challenging to acquire online and face high return rates. Products like footwear, clothing, cosmetics, and home appliances may cause higher return rates that can be reduced by showcasing them in a whole new virtual environment.
Create Virtual Worlds for Branding
These virtual worlds can be utilized to promote products and services or give users an enjoyable digital experience. Metaverse combines the physical and imaginary worlds and offers an immersive customer experience. Customers can sense being in an imaginary world using a VR-powered headset without physically visiting the place.
Ensure Secure Transaction
Integrating Blockchain into the e-commerce metaverse platform has made online transactions more secure. It removes the expensive and fraudulent prone third-party payment integration. It simplifies the management of massive payment transactions over online platforms. End-to-end data security features prevent data from illegal or unauthorized access.
Provides a Worldwide Reach
It is not necessary for the business to set up an office in every country to sell the products on a global scale. Nothing is better than online shopping to connect with a worldwide audience with less physically operated offices. It creates a common platform to connect with global audiences in one go and removes the infrastructure cost and international shipping issues.
Conclusion
Creating exceptional brand experiences across e-commerce and social commerce is a terrific approach provided by Metaverse. Even leading market brands struggle to properly manage the IT stack and data unification required to efficiently build personalized experiences for every conceivable customer journey. There is no doubt that metaverse e-commerce is an ideal option for combining online and offline branding and sales, even though this is probably not how firms anticipated adopting multichannel marketing.
Get stories in your inbox twice a month.
If you want to create a virtual environment for your eCommerce business, team mTraction Enterprise can help you with a remarkable metaverse e-commerce solution. We have a team of tech experts who can connect with your business vision and help you build a digital solution that lasts longer.