How to Develop a Transportation and Logistics Mobile App?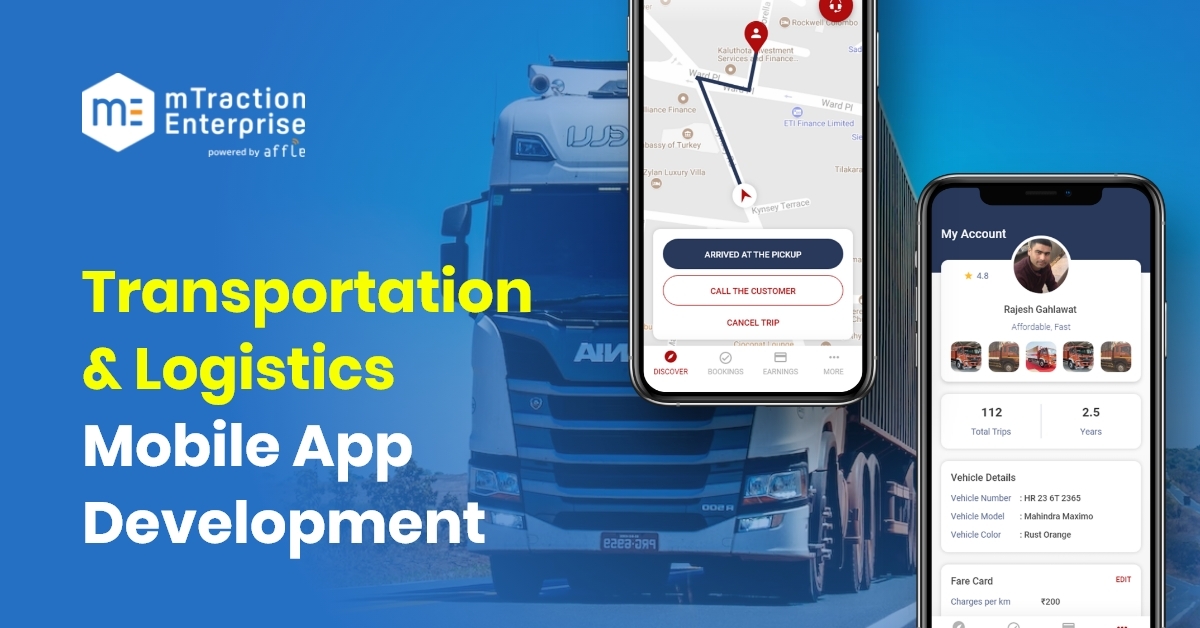 Ever since Uber revolutionized ride-hailing services, investors have started focusing on re-inventing their transportation and logistics business. They have started investing in transport and logistics app development. Smartphone applications have influenced travel choices and gained consumers' trust. The study reveals that the global digital logistics market is estimated to reach $77.62 billion by 2030, with a CAGR of 17.54% during the forecast period of 2021-2030. It clearly shows that mobile apps are the future of the logistics and transportation industry.
The transport and logistics app development services have won the hearts of users. Why? Due to its time saving, easy accessibility, convenience, affordability, and simplistic features. Over the decades, startups and many enterprises opted for Uberfication, and so do other industries as well. With the traditional approach of transportation and goods carriage, businesses have to deal with an ample amount of problems like time consumption, a lot of paperwork, manual intervention, proof of delivery, and whatnot. This instigated transportation and logistics mobile apps that have given a breakthrough to the industries.
Investors continued to look after low-energy mobility solutions that offer easy commute systems for riders as well as for logistic services providers. This has reinvented the industries and removed the traditional business approach. In this guide, we will focus on the steps for transport and logistics app development and how it benefits businesses. Today, multiple business bodies are switching to on-demand mobile app development, and the transportation and logistic industry are one of those niches. Due the this, we can witness the increments in the logistic mobile app market size up to $77.62 billion by 2030.
Why Should Businesses Invest in Transport and Logistics App Development?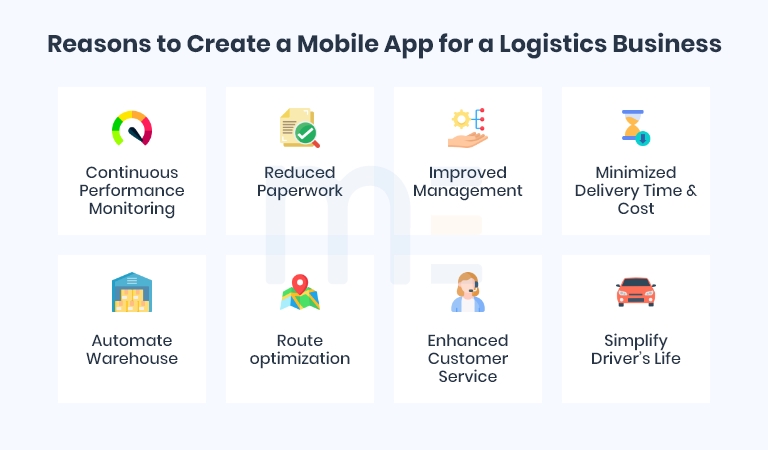 Not only transportation companies should think about developing a mobile application. Any company which is involved in the supply chain can take advantage of transportation and logistics mobile apps. It simplifies tracking fleets, inventory management, and warehousing, monitors logistics needs to ensure a seamless work process and network, and ultimately improves the delivery service.
The transportation mobile app development offers optimized supply routes, delivery schedules, fleet administration, freight dispatching, and much more. So, the idea for transportation and logistics mobile app development revolves around increasing service efficiency and reducing time and cost investments.
1. Continuous Performance Monitoring
The logistic business involves many human resources like supply chain operators, drivers, delivery executives, etc. The mobile app development for this domain offers complete transparency and organized processes. Tracking vehicles round the clock can be a hectic task, but mobile apps have made it easier with improved control over transportation and delivery process. The integration of GPS technology ensures accuracy and establishes a timely monitoring process.
2. Reduced Paperwork
Keeping a bundle of paper records and documents is a complex task. It is hard to maintain databases on paper. This has raised the need for digital documentation and data storage systems. The logistics and transportation business involves a plethora of data to manage, administrative work, and the need to manage past records. The transportation and logistics mobile apps simplify the employee's life. It saves a lot of time and effort in data management and documentation. With a well-organized administrative panel, an effective mobility solution automates the business process and reduces manual risks. A mobile application ensures secure storage of significant documents and sensitive business data.
3. Improved Management
With a well-managed administrative panel, it becomes easy for business owners to collect, process, and utilize vital data. It makes the fleet management system more effective and efficient. The transportation and logistics app development services offer multiple business metrics and KPIs. It may include order status, employee performance, secure payment transactions, real-time vehicle tracking, addressing technical issues, and whatnot. The mobile app offers easy accessibility of all the important data in one place and generates a business report in no time.
4. Minimized Delivery Time & Cost
A well-functioning transportation logistic mobile app automates the business process and minimizes delivery time. It guides drives to follow optimal routes, streamline fleet management, and fasten the delivery of goods. Moreover, it reduces operational costs and saves resources. It allows you to offer affordable and quality services to your clients that also enhance customer relationships.
5. Automate Warehouse
With logistic and transportation app development, you can automate the warehouse management task and optimize the corresponding distribution. Imagine dealing with a warehouse with no tech solution, feeling horrified? Well, the transport and logistics app development with advanced features help you manage the warehouse task with fewer human resources. Also, it enhances asset control and deprives your employees of workloads.
6. Route Optimization
Mobile app solutions for warehouse management with advanced features like barcode scanning features and a built-in database enhances freight dispatching. On the other hand, the delivery scheduling function enables business operators to choose the best way beforehand.
7. Enhanced Customer Service
On-demand mobile apps for logistics and transportation services should be tailored to the customer's needs. It offers multiple customer benefits like real-time order tracking, tracking exact product locations, and finding the estimated time of delivery. Also, it offers customer support, secure payments transaction, and a convenient online book system. Users are required to create an account, book cargo or parcels online, and manage delivery on their own.
8. Simplify Driver's Life
For drivers, the transportation and logistics mobile apps offer remarkable benefits and remove the hassle of quick delivery of parcels. It acts as a tool for them to get a notification, manage orders, and find the shortest and fastest route to reach the destination. Also, the mobile app offers vehicle drivers certain KPIs. A dashboard gives them at-a-glance access to view and accesses significant pieces of information about their trucks' condition, transitions status, completed orders, etc.
How do Transportation and Logistic Apps Enhance User Convenience?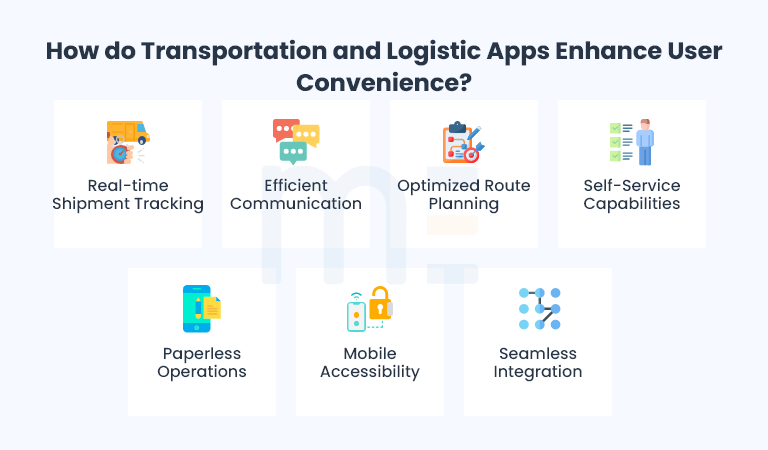 A Transportation and Logistics mobile app enhances user convenience in several ways:
Real-time Shipment Tracking
Users can conveniently track their shipments in real-time using the app. They can monitor the current location, estimated arrival time, and any updates or delays associated with their shipments. This eliminates the need for phone calls or emails to track the status, providing immediate and accurate information at the users' fingertips.
The app facilitates seamless communication between various stakeholders involved in the transportation and logistics process. Users can easily communicate with drivers, dispatchers, and customer support teams within the app itself, eliminating the need for multiple phone calls or emails. It ensures quick and efficient communication, reducing response times and improving overall customer satisfaction.
The app employs advanced algorithms to optimize route planning, considering factors such as traffic conditions, delivery priorities, and fuel efficiency. Users can input the pickup and delivery locations, and the app will suggest the most efficient route, saving time and reducing fuel costs. It simplifies the process of planning and executing deliveries, making it more convenient for users.
Transportation and Logistics apps allow users to digitize and manage important documents such as invoices, bills of lading, and proof of delivery forms. Users can easily upload, store, and retrieve these documents from the app, eliminating the need for physical paperwork. This reduces administrative work, minimizes the risk of document loss or damage, and enhances convenience in accessing and sharing information.
Self-Service Capabilities
Mobile apps empower users with self-service capabilities, allowing them to perform various tasks independently. For example, customers can schedule pickups, request quotes, track shipments, and initiate returns or claims without having to rely on assistance from customer support. This self-service functionality offers users greater control and convenience in managing their logistics needs.
Many Transportation and Logistics apps integrate with other business systems such as ERPs, CRMs, and WMS. This integration eliminates the need for manual data entry or duplicate work, as information seamlessly flows between different systems. Users can access and manage transportation and logistics data from within their existing software ecosystem, simplifying workflows and enhancing convenience.
With a mobile app, users have access to transportation and logistics information and functionalities on their smartphones or tablets anytime, anywhere. They can check shipment status, communicate with teams, make decisions, and perform tasks even while on the move. This flexibility and mobility significantly enhance the convenience and enable users to stay connected and in control of their logistics operations.
Overall, a Transportation and Logistics mobile app centralizes information, automates processes, and provides user-friendly interfaces, ultimately enhancing convenience for users by simplifying and streamlining various aspects of transportation and logistics management.
Steps to Follow for Transport and Logistics App Development
1. Select the Type of a Logistics App
Fleet Management Mobile Apps
If you have a variety of fleets, you must have track records of every vehicle and maintain them properly. A fleet management mobile app will help you to store and manage all the information about your vehicle. With logistics and truck app development, you can track fuel consumption, the location of the vehicle, service cost, and the vital metrics that need strict monitoring.
Fleet management apps include a driver's panel where the user updates vehicle details and an admin web-based application where you can assign the user's role, track vehicle statistics, schedule reminders, and so on.
Logistics On-Demand Mobile Apps
It's not necessary that vehicles will be fully-loaded with parcels. In cases of having any extra space in the fleets, some more freights can be placed inside the vehicles to get them delivered in the shortest time. With on-demand mobile app development for logistics and transportation, you can maximize your revenues and overall delivery services. On-demand delivery logistics apps create a bridge between company-owned vehicle drivers and shippers who need their cargo to be delivered.
To ensure the growth of your transportation and logistic business, you need to ensure that all your orders and shipments will be delivered at the stated time to the right place without any damage. In parallel, it becomes more important to track, manage, and monitor the status of hundreds of deliveries in real time. For warehouse digitization, it is imperative to invest in transportation and logistics mobile apps.
Such mobile apps are empowered with modern technologies and third-party API integration. Features like barcode scanning help warehouse owners update inventory status and other data in real-time. It minimizes human errors and enhances warehouse employee efficiency.
2. Hire a Logistic Mobile App Developer
At this phase, you need to look for technical expertise. You can hire a transport and logistics app development company. But why do you need to partner with a professional company? Well, there is numerous tech professional available in the market, and everyone claims to be the best. In such a scenario you need to make your technically strong, appealing, and unique which requires experienced and technically sound professionals. You can follow this checklist to choose the right vendor.
To make your product a future success, it is important to collaborate with an experienced logistic mobile app developer who can connect with your vision and convert it into a futuristic application. Communicate your requirements with your partnered mobile app development company clearly and make sure that you both are on the same page and share the same goal.
3. Sign NDA & Share your Requirements
Once your request from the transportation and logistics app development company is answered, the sales head will schedule a call with you. Make sure that you share all the key criteria, information, and project idea with him. Once it is decided to proceed with the company you have shortlisted, ask for the NDA Non-disclosure agreement). It is imperative to have a signed NDA to assure the confidentiality of your project details.
4. Choose App Development Platform
As we already know that there are options available for choosing mobile app development platforms. But, which one will be more suitable for your project will solely depend upon your project requirements and technical specifications. Whether you want to opt for Android app development, Windows, or iOS platform to build an app, make sure that it offers a wide set of features and benefits that satisfies your project needs.
5. Build and Run the MVP
Before logistic and transportation mobile app development, the team will create an app MVP (minimum variable product). The MVP is the app's first version that includes basic features and functionality required to prove your business idea. Launching an MVP is a must to test your app and check how audiences perceive your app and what they like or dislike about your app. Also, it helps you to know the areas where you need to focus more and enhance your mobile application.
6. Empower Logistics app with Advanced Features
Launching an MVP will help you to gather customer feedback about your app. This will let your development team understand where the changes are required to make the app customer-centric. This will decide what features will be implemented next to prevent an app from failing to get customer attention.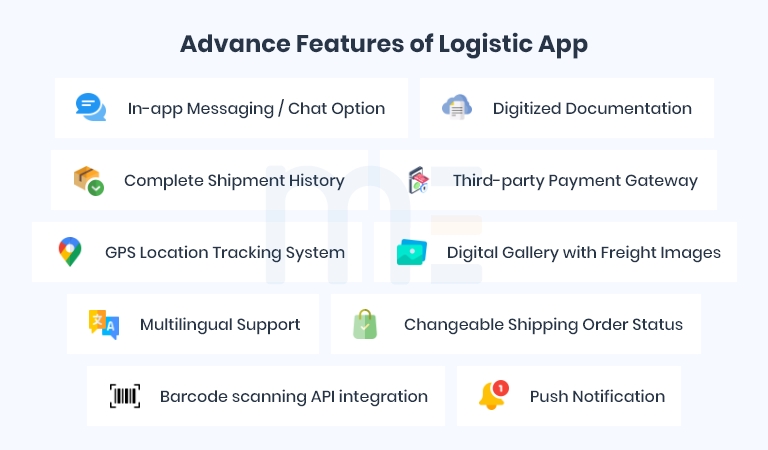 Questions You Must Ask Yourself before Investing in Transport and Logistics App Development:
Why do you need a transportation and logistic app?
Who will be the target audience?
What features should the app have?
What will be the tech stack?
How transportation and logistic app benefit will benefit your business?
How to Determine the Cost of Transport and Logistics App Development?
It's pretty complex to estimate the exact price of logistic and transportation app development. Since there is no one-cost-fits-all for building such an application, the cost will significantly vary due to the factors like the app's type and complexity, the number of required features, backend and front-end solutions, mobile app platform, chosen tech stack, and partnered mobile app development company and its location.
Concluding Thought
There is no doubt that transportation and logistics mobile apps are significant for the growth of your business. The enterprise-level mobile app solution helps you promote high-quality services at a lower cost. Team mTraction Enterprise specializes in building apps for your transportation and logistic business. We help you build simple yet powerful mobile applications that will take your logistic business to the next level.
FAQs for Transportation and Logistics Mobile App Development!
Can I integrate the Transportation and Logistics app with my existing systems?
Yes, many Transportation and Logistics mobile apps offer integration capabilities with popular systems such as transportation management systems (TMS), enterprise resource planning (ERP) software, warehouse management systems (WMS), and customer relationship management (CRM) tools.
How do I choose the right Transportation and Logistics mobile app for my business?
When selecting a mobile app for transportation and logistics, consider factors such as the app's features and functionalities, scalability, integration capabilities, user-friendliness, customer support, security measures, and pricing structure. It's also beneficial to review customer reviews and ratings to gauge user satisfaction.
Are these apps suitable for small businesses as well?
Get stories in your inbox twice a month.
Yes, Transportation and Logistics mobile apps can cater to businesses of all sizes. They offer scalable solutions that can be customized to meet small businesses specific needs and budgetary constraints while supporting larger enterprises' requirements.